Hire Dedicated Developers India
Hire dedicated developers in India to help you improve your software development capabilities by leveraging our team of highly qualified and experienced professionals. In addition to being a worldwide renowned full-stack software development firm, we have a team of more than 60 agile developers who are experienced in supporting organizations of all types and sizes with their development needs. You can hire Indian programmers and software developers from us whenever it is convenient for you.
Hire Dedicated Developers Or A Team To Adapt Digital Transformation
Hire dedicated developers in India to build your own development team and manage the complete development process of projects. We offer you tailored solutions for your needs of web and mobile applications with front-end, back-end, and full-stack developers on an hourly and monthly basis. Hire a dedicated development team from us with just a click!
Hire Software Developers In India To Cherish The Below listed Benefits
A cost-effective and flexible hiring methodology is utilized.
Highly skilled and experienced programmers and developers based in the country of India.
Authorization of the source code in its entirety.
Maintaining the confidentiality of ideas.
Establish a safe development area.
Compliance with the project's timetable.
Complete participation as well as control over your role on the team.
Team performance is monitored on a daily basis through the use of daily reports.
The team is easily and seamlessly accessible at all times and from any location.
Meetings with the client and regular reports to keep them up to date on the project's progress.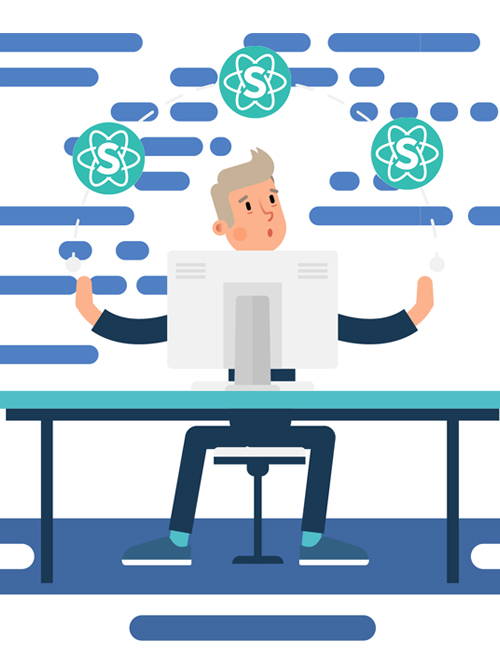 Hire Dedicated Developers to work according to your time zone, deadline, and milestone
Hire Dedicated Ruby on Rails Developers
For your business needs, hire a team of Ruby on Rails developers to design safe, scalable, and complicated RoR web application solutions for you.
Hire Dedicated ReactJS / React Native Developers
Use the skills of our highly skilled team of React developers, all of whom have vast experience in both React.js and React Native, to build your next project.
Hire Dedicated Node.js Developers
Cooperate with our highly motivated Node.js developers to construct large-scale, real-time, full-stack web and desktop applications that meet your
company's specific requirements.
Hire Dedicated AngularJS Developers
We were among the first to adopt and are now seasoned veterans of the most recent front-end technology. To develop enterprise-grade Angular web applications, hire Angular.js engineers.
Hire Dedicated Laravel Developers
Since the rise in popularity of the Laravel framework, developers at Next Big Technology have been working on Laravel and providing high-quality Laravel Development Services.
Hire Dedicated PHP Developers
You can hire dedicated PHP Developers with Next Big Technology, we are a team of expert PHP developers, who are well experienced in all CMS and Frameworks.
Hire Dedicated Flutter Developers
Engage with our Flutter developers to create safe, robust, and user-friendly cross-platform mobile applications for your company that include next-generation features and functionality.
Hire Dedicated Vue.js Developers
Because of our demonstrated expertise in Vue.js application development, we are leaders in the development of high-octane, performance-driven real-time apps.
Hire Dedicated Golang Developers
Take use of our Golang engineers' expertise to create efficient and productive applications that will propel your project to the forefront of development.
Hire Dedicated Python Developers
Get access to some of the most talented software programmers in the industry. Hire the best 1% of Python Developers available on the market to complete your product development.
Hire Dedicated Full Stack Developers
With years of experience dealing with both front-end and back-end technologies, we have assembled a highly skilled team of Full Stack engineers.
Hire Dedicated Salesforce Developers
We provide a comprehensive range of Salesforce development services that are aligned with the needs of customers all around the world.
Hire Dedicated .Net Core Developers
Bring in people who are knowledgeable and experienced. Develop enterprise-grade web and mobile app solutions using Net Core by integrating them into your existing team of developers.
Hire Dedicated AWS Developers
We can provide you with an AWS-certified solutions architecture to help you integrate the capabilities of AWS into your organization's needs.
Hire Dedicated Development Team from Next Big Technology
When you hire a professional development team from us, it will include experts in a variety of fields.
Agility Developers | Innovative UX/UI Designers | Quality Assurance Engineers | Scrum Masters
In order to hire dedicated resources, we provide three different engagement modes: hourly, monthly, and fixed cost basis. Please select the engagement model that best suits your needs and we will become your product development partner.
We operate as an extension of your in-house development team to handle the end-to-end delivery of your software projects in a cost-effective and efficient manner. To enjoy peace of mind, consider outsourcing a professional software development team that has no overhead costs to you. In order to accommodate your dedicated team's needs, we will set up, scale, and manage the necessary infrastructure.
Hire Indian programmers for Web, Mobile Development
Our state-of-the-art development facility is a hive of highly skilled and experienced online and mobile application designers and developers. You can hire dedicated developers in India from us to reduce the risks associated with training developers in new skillsets, resource management, infrastructure costs, and a slew of other issues.
Expert Programmers for Critical Situation
We have more than a decade of experience in the field of web design and development. More experience than the company itself is possessed by our dexterous programmers.
State of the Art Technology
Our developers keep up with the latest technology, trends, and methodologies in order to stay on top of the latest developments and produce high-performance results in today's dynamic environment.
Quality work
"Good Enough" never fills us with joy. We are firm believers in delivering exceptional value, which is supported by thorough and intensive research as well as a clearly defined development strategy.
Price and Time Flexibility
Do you need a development project completed in a short amount of time? We are here to help you. Utilize our degree of technical and development expertise to complete the task efficiently.
Task Ownership
This is what sets us apart from the rest of the web development service companies in the industry. If our skilled developers believe they are capable of handling a scenario, they will take the initiative and assume control.
No Invisible Cost
Select our staff augmentation services to fulfill your need for additional engineering expertise so that you may concentrate on your primary business goals. It provides the freedom to scale your team members according to your need.
Our Technology Expertise
In order to grow up your business, we employ best-in-class tools, cutting-edge technologies, and contemporary methodologies.
| | |
| --- | --- |
| FrontEnd | Angular, Vue.JS, React.JS, Bootstrap, HTML, CSS |
| BackEnd | Laravel, Node, PHP, Django |
| Mobile | Flutter, Native iOS, Native Android |
| Server | AWS, Google Cloud, Digital Ocean, Plesk, Cpanel |
| Database | MongoDB, PostgreSQL, MySQL |
| Version Control | Github, Bitbucket, Gitlab |
| Instruments of Communication | Zoom, Slack, Skype, Google Hangout, Google Meet, Whatsapp |
| Meeting | Google Meet, Zoom, Goto Meeting, Whatsapp |
| Tools for Project Management | Jira, Trello, Basecamp, Wrike, Productive, Asana, Rock |
| Other | Agile |
| CMS | WordPress, Drupal, Joomla, Opencart, Prestashop, WooCommerce |
| DevOps | Apache, Xcode, Hudson, Jenkins, Git, Android Studio |
| CRM | Salesforce |
Hire Dedicated Indian Developers
We are providing you with immediate access to employ web developers in India so that you can expand your team at a low cost. Hire mobile app developers from India without the headaches of continual monitoring of the developer's work; when you hire Indian programmers from us, you can rest assured that you will have the greatest product development experience possible.
Next Big Technology is a one-stop-shop for all of your software development requirements. If you are looking to hire app developers in India, you can benefit from the skills of our offshore development team to turn your potential business idea into a realistic solution. We recognize that, in order to attain the next level of the quality benchmark, your company will require a different technology stack, talent, and flexible work arrangements than it currently has. As a result, we provide developers with a variety of configurable involvement possibilities.
Contact us if you are looking to employ dedicated web developers in India. We will be happy to assist you!
Hiring Process We Follow
Requirement Gathering
Our experts thoroughly collect project requirements in order to fully grasp your product development requirements, and then we assign resources to your project on the basis of that information.
CV Selection
We'll submit the greatest possible CV for your consideration, one that is tailored specifically to your company's needs.
Hire Dedicated Development Team
You have the option of conducting as many interviews as you want before hiring your preferred dedicated development team with the desired skillset and experience.
Manage Dedicated Team
Once the teams have been matched, you will be able to oversee the offshore development team whenever it is convenient for you.
Continuous Support
Make use of the experience of our dedicated software development team to ease immediate adoption and to provide a quick repair for any unanticipated faults that may arise in the future.
Frequently Asked Questions
Is the 7 risk-free trial period completely free?
Yes, it's free. We use this free time period to analyze the hired trial resource's code quality, communication, on-time delivery, Agile software development methodology, and other aspects of his or her job performance and abilities. If you receive satisfactory work, you can continue with the engagement; if you do not, you can immediately terminate it.
Where is Next Big Technology based? What is your team's strength?
We have offices in the United States, UK, and India. We have more than 80 highly skilled developers working for us, with an average experience of more than five years.
I am not tech-savvy; will I still be able to work with your team?
Yes, you absolutely can. The fact that you chose us provides you with peace of mind, and we are here to assist you in bridging the technological gap on your behalf.
May I know your developer's expertise and industry experience?
In our team of very competent Agile software engineers, you will find individuals with in-depth knowledge and vast expertise in all of the industry's top-tier technologies.
Do you work as per the time zone preference?
Use our dedicated developers to work in your time zone (EST/PST/MST), according to your deadline and milestone requirements. Please connect with us to know more.
Will I have control over the hired developers?
Yes, the developers you hire from us will work on your project exclusively as your employees, and they will not work for anybody else. Through your simple communication platform, you will have full access to and control over them at all times.
Do you use any project management tools?
Yes, we make use of industry-standard project management tools such as Jira, Trello, Pivotal Tracker, Asana, and other similar applications. You will be able to track the productivity of developers and keep track of the development of your project on a daily basis in this area. You have the ability to set tasks, assign work, and track the progress of the development process.
How do you control the code version?
We make use of Github / Bitbucket for source code management and version control purposes. Our developers will push code to you on a regular basis, allowing you to simply evaluate and manage all of the commits.
Do you re-use code?
No, absolutely not. We make every effort not to re-use your licensing keys, patented methods, trademarks, intellectual algorithms, or anything else that was specifically created for your project and used exclusively by us.
How can I select a programmer of my choice?
In response to your project requirements, we send a qualified and experienced programmer to work on your project under the supervision of a well-established IT infrastructure.
If you wish, you can conduct as many interviews as you like with potential developers before making a decision on who to recruit. If the competence of a hired developer does not produce the intended results, or if you need to recruit more developers with a more broad skill-set, we will assist you in both circumstances as soon as possible. We are providing you with complete peace of mind, with 100 percent success guaranteed.
What are the cost and engagement options available at Next Big Technology?
There are three different sorts of hiring engagement models that we provide.
Dedicated Developer – Monthly basis
A total of 160 hours per month. 8 hours a day, 5 days a week is a long time.
Hourly Basis
Hours per month x 12 months We utilize time tracking applications such as time doctor and hub things to keep track of our time.
Time and Material Base
You are welcome to communicate your requests to our team. Our staff will review your needs and then get back to you with thorough estimation of the project, including time and cost estimates, as well as a timeline for the project and a project roadmap.
What's your pricing model?
There are three different sorts of hiring engagement models that we provide.
Dedicated Hiring: –
If you are recruiting or engaging dedicated resources, you will be required to make an upfront payment of one month's salary. The payment will thereafter be made on a monthly basis beginning with the following cycle.
Hourly Basis: –
Following the agreement reached with you in advance, you are needed to pay one week's advance payment on an hourly basis, and the remaining money can subsequently be paid in weekly, fortnightly, or monthly installments as agreed upon in advance.
Fixed Time and Cost Model: –
When hiring on a time and materials basis, you will be required to pay 20 to 30% of the project's total cost as an upfront payment, with the remainder of the payment based on the completion of each milestone, so that upon completion of each milestone, you will be releasing the next percent of the payment.
How absolute is my ownership?
You will be in complete control of your entire project from start to finish. It contains the non-disclosure agreement, copyright, source code, intellectual property rights, and so on and so forth.
Do you have a Contract Agreement in place?
Yes, we do have.
Why should I hire a dedicated development team?
There are a number of advantages to hiring a team of devoted and professional engineers.
The chance to collaborate with a team of devoted and skilled developers.
There is complete control throughout the entire development process.
Hiring a specialized team ensures that Quality Assurance is maintained and risks are minimized.
The cost of a dedicated Scrum Master (Project Manager) to manage your project and team is included in the price of the service. Totally free of charge.
A shared quality assurance (QA) system would be supplied at no additional cost to ensure quality.
Last, but certainly not least, is the fact that developers are considered members of your organization's team.
Does your team have the skills to manage high-quality service levels for my project?
Yes, We have Interestingly, our highly qualified and experienced developers have worked on a variety of projects, ensuring a smooth transition and efficient operations for our various clients along the way. Get in contact with one of our experts to learn more about the services we offer and the number of projects we have accomplished to date.
Following is a simple approach that we follow after you begin working with us on your project:
Gain an understanding of your current project requirements and the work completed by the other service provider.
Provide a Full Stack developer or a team of Full Stack developers who have the same skill set as you require for your project to be successful.
Provide daily stand-up conversations with our Project Managers to discuss the status of the job and to manage the progress report.
Last but not least, we will do everything in our power to meet your expectations of a smooth transfer.
Why NBT?
IT Professionals in the Top 3%
As an exclusive cluster of top devoted software developers, UI/UX designers, QA experts, and product managers with an extraordinarily unique and secret talent pool, Next Big Technology is unlike any other place you will ever work. Through us, you may gain access to the top 1% of IT talent, ranging from independent software engineers to fully managed teams.
Time Zones are synchronized
When dealing with Next Big Technology, there is no such thing as a time zone restriction. We operate on one very simple principle – the time zone of our developers and yours. You can hire specialized software engineers from us and collaborate with them in a different time zone to complete tasks according to your specifications such as deadlines and milestones.
Team with a lot of experience
We can assist you in both instances, whether you are searching for competent engineers in upcoming technologies or an extended arm to enhance your existing staff. We are a full-stack software development firm with more than 650 professional and experienced software developers available for you to employ whenever it is most convenient for you to handle the continuing business difficulties that you are experiencing.