CMS or Open Source Development is one of the great ways to attain enough online exposure these days. In fact, CMS tools like WordPress, Drupal, and Joomla are very popular these days and turning out to be the preferred platforms for web development. It is a versatile, dynamic, and cost-effective means for web development that targets the market effectively. Not only that, if CMS is your choice too, stay relaxed as you will definitely achieve maximum traffic to your site. Hire Cms Web Developers at Top CMS Web Development Company to get done all kinds of small or large web application development.
-CMS Development Services
-Magento E-commerce Website Development
-Magento Custom Extention Development
-Web Store Development
-Website Support & Maintenance
-Migrations & Up-gradations
-WordPress Website Development
-WordPress Custom Theme Development
-WordPress Plugin Development
-Joomla Website Development
-Joomla Custom Theme Development
-Joomla Module Development
-Drupal Website Development
-Drupal Custom Theme Development
-Drupal Module Development
-eCommerce Website Development
-Dynamic Website Development
-Informatic Website Development
-Membership/Subscription Website Development
-Job Board Development
-Saas Application Development
-Backend Development
-Multi-Vendor Website Development
-PWA Development
Benefits of Hiring from us
-Rated 10 out of 10
-Highly skilled and trained CMS developers expert in CMS web development
-Expertise in both Microsoft and open source technologies
-Seamless integration of social media networks
-Customer-oriented CMS services
-No maintenance or hidden charges
-Task monitoring and customer reporting
-Secure development environment
-Transparent project management along with continuous support
CMS Platforms we are expertise in: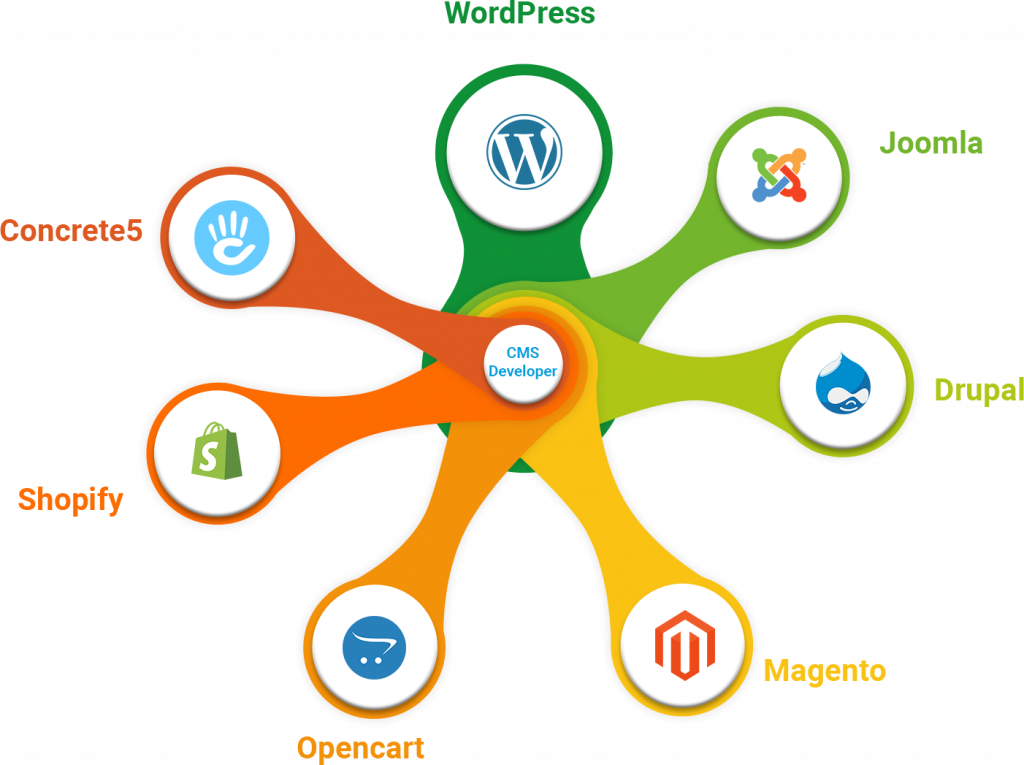 WordPress — WordPress is an online, open-source website creation tool written in PHP. But in non-geek speak, it's probably the easiest and most powerful blogging and website content management system (or CMS) in existence today.
Joomla — Joomla is an award-winning content management system (CMS), which enables you to build Web sites and powerful online applications.
Drupal — Drupal is an open-source platform for building amazing digital experiences.
Concrete5–An open-source content management system. A point and click, free CMS that runs on a web server.
Magento–Magento is todays' Best eCommerce platform built on open source technology. Magento offers powerful marketing, search engine optimization, and catalog-management tools.
PrestaShop–PrestaShop is a freemium, open-source e-commerce solution.
SilverStripe –SilverStripe CMS is an intuitive, open-source content management system and flexible framework.
Hire Cms Web Developers for all web application development needs. As a top CMS Web Development company, we provide complete end-to-end CMS Web Development services including all above CMS.