Since social media has been introduced, people have been able to connect, communicate, and learn across the world. Businesses have discovered a fresh medium for user interaction and communication, thereby aiding in superior user satisfaction and effective brand promotion. We are a top Social Media App Development Company, we use innovative technologies and processes to develop the apps of your choice.
NEXT BIG TECHNOLOGY follows industry benchmarks while developing your Social Networking Apps, we are an award-winning Social Media App Development Company
–Step1: We exhaustively study the idea, analyze the requirements and competitors, define the target audience and key performance indicators (KPIs) that are meant to be achieved through the apps.
–Step2: We draw mock-ups, basic outlines of the prospective apps. We design wireframes to help visualize the basic structure of the apps.
–Step3: We create a working model of the app also known as the prototype, it gives an idea to the customer how the final product is going to be before the coding process starts.
–Step4: Then we begin the development of the app. App Development and App Design run parallelly. We create back-end by setting up servers, databases, APIs using the latest technologies.
–Step5: Testing: We do manual and automatic testing of every part of the program at every stage of the development process.
–Step6: We deploy the fully developed and tested apps onto AppStore and Google PlayStore.
–Step7: We do marketing of the apps so that your apps reach the right customers and user engagement and user retention increase.
–Step8: We provide after-sales support and maintenance for the apps.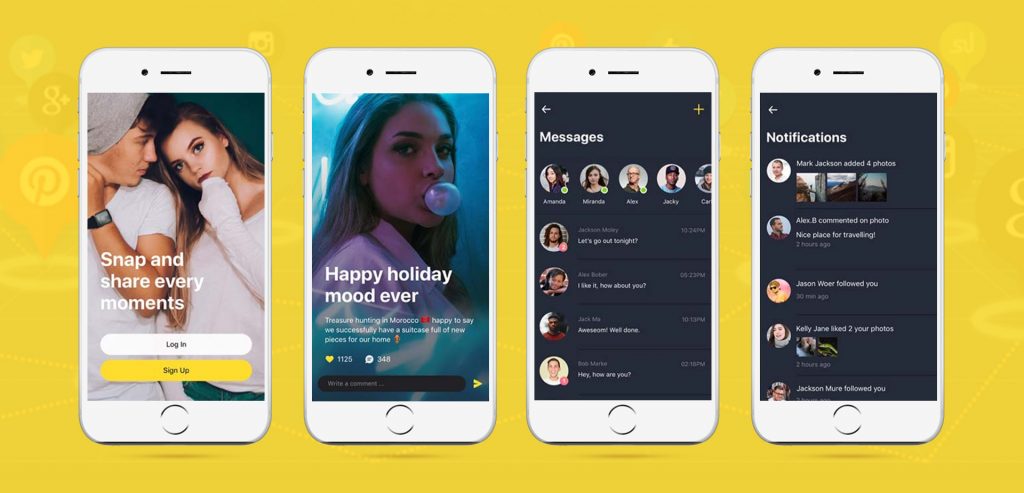 We develop a variety of Social Networking Apps
Forums
Blogs
Publishing Apps
Women Social Networking Apps
Community Social Networking Apps
Multimedia Sharing Apps
Online Job portals
Dating and Relationship-Based Apps
Matrimonials
Features of the apps developed by us include:
Simple and user-friendly UI/UX
Push notifications to provide real-time updates
Highly personalized user profiles
Newsfeed to get activity updates of other members/users
Private, public, and group messaging options
Multimedia sharing feature: audio, video, image, animation, GIF
Live video streaming options to multiple users at a time
Latest payment gateways integration like PayPal, Barclay, Paytm, Amazon Pay, etc.
Integration with other popular social media apps like Facebook, Twitter, Instagram, LinkedIn
Advanced admin panel for content and user management.
Hire Social Media App Developer at NEXT BIG TECHNOLOGY. We are the pioneers in our field and have won numerous awards to back our claims.