Best Taxi App Development Company
Flourish your taxi booking business globally by taking it to another level
Why you should start Taxi Business
The online taxi app of NBT is necessarily a lucrative business, where passengers are taken from one place to another. Due to this, a large number of people are pursuing it in every corner of the world. In other words, traditional taxi services have been transformed into a digitalized medium. Today, people prefer to book taxi applications via their smartphones in just a few taps. It provides them an opportunity to expand their ride by implementing various advanced techniques.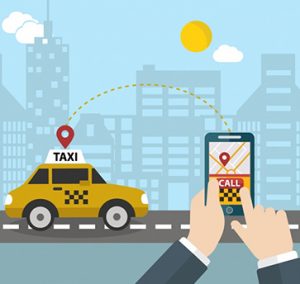 Taxi Booking App Development Company India
The developing entrepreneurs are growing towards a taxi business to earn a considerable amount of profit. NBT is considered as one of the best app development company to provide impressive and unique features and options. It will turn your taxi app solution into a user-friendly service at affordable prices and further provides an edge to the competitors.
The one-stop taxi app development solution is expanding with the increased requirements of taxi applications. Our team of proficient developers offers a mobile app for android, iOS, and native applications. At NBT, you can also access customized, responsive, and on-demand taxi app solutions as per your requirement and market needs. We offer a perfect blend of the latest and advanced technologies.
How Taxi Business is beneficial?
The increasing pace of the taxi business develops an interest in an individual that further becomes important and beneficial for many reasons.
Visibility Development
Quick Feedback
Real-time Tracking
Creates Brand Image
Observe Driver Efficiency to Generate High Profits
Large Availability of White Label Taxi App Solutions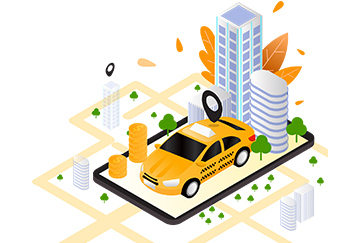 Taxi App Development With Us
At NBT, businesses can access on-demand taxi app solutions for global start-ups including extensive features for faster business growth.

Advance Taxi App Solution
We develop advance taxi mobile application, which cover all standard and advanced taxi app, we build it with all taxi app features like Uber App.
We develop a very easy to use taxi app solution, which can be easily used by non techi person, any one can easily access all its features.
Are you seeking a taxi booking solution?
Different Taxi App Services
Presents particular industries and attracts the attention of millions towards your business by adding exclusive features and never-ending services.
Outstation car rental service
Enhance the business of a journey through an outstation vehicle rental administration for your clients. NBT helps you manage travel ventures of your clients through easy to understand and great taxi booking applications.
Corporate Taxi Rental Business
For starting-up a taxi business, your customers need better services. NBT offers the fastest route through digitalization and helps you expand your customer's reach. Our team of professionals serves you with on-par ride-hailing apps that make the business better equipped to handle more trips. Moreover, our car rental applications are perfectly suitable for your corporate reasons, as it provides proficient guidance to your business clients.
Improve your travel business through an outstation vehicle rental administration to your clients. NBT delivers travel operations for its customers and offers quick, easy, and innovative taxi booking applications.
Limos always remain unique. Thus, running a limousine service business helps you expand your business in the market and develop a classy ride-booking app for your business. In the digitalization era, you will get professional limousine rental services and provides the flexibility of booking limos on-the-go or from the comforts of their homes.
Our taxi driven app solution panels serve you achieve your desired results. NBT facilitates smarter taxi apps like Uber and Ola for modern travelers. It has advanced features to maximize interaction. Moreover, the admin has complete control over the panel and monitors passengers and cab drivers for secure and reliable taxi services.
The taxi services to travel from one destination to another on the instant moment help passengers to find the nearby taxi drivers like uber and ola.
The taxi app solution at NBT allows the driver to choose the ride whether they want to take or pass it to other drivers as per their situation.
The complete information available on a single dashboard enables the admin to manage and fulfill all the requirements.
Key Features of our Taxi Booking Mobile App
NBT's taxi app solution offers an in-depth analysis with easy customization and advanced features based on the model of a taxi business.
White label & easy customization
The one-stop solution for the taxi business at NBT lets you use minor changes according to your business requirements along with an open-source rideshare software.
Multiple Payment Gateways
Our team of professional developers offers an integration of API that enables users to pay online fares via different modes like Paypal, Paytm, MobiKwik, etc.
The programmer's team of NBT serves you a robust and scalable software with hundreds of drivers in the city. The need for these features in an application is growing with time.
Our fastest software to our clients provides the best and instant service. It enables the ready to use factor with the minimum modifications and zero coding.
Our proficient taxi app developers make the administration easy and let them manage the admin panel, vehicles, location and payment history, etc.
Businesses can enjoy the hosting service on both dedicated and cloud servers.
Advantage of having an Online Taxi Booking Application
Responsive application.
Allows easy service tracking
Calculate fare automatically
Records in Digital pattern
Easy package planning management
Make usage easy
Application security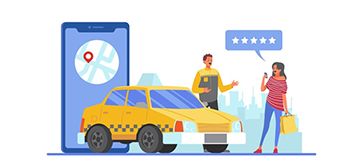 How Taxi Booking App Works
Bring the Best Uber Clone Script App Development Services
Stay connect with us to get the best app development services. Get crystal-clear information about our work quality and evaluation using our advanced uber taxi clone script. NBT guarantees the best ready-made services with utmost productivity.
Our Yandex clone script is a start-up idea that matches the market approach.
NBT offers the best uber clone app that enhances the wide experience.
Access the best Lyft clone with wide services that aim to leave no stone unturned.
Our team of professionals fulfills all requests with an advanced ola taxi clone.
Enjoy the customized 99 taxi clone with our own taxi mobile app development services.
Add an easy taxi booking feature in our taxi clone script.
Grab taxi clone app development services with 100% customizable features.
Enjoy my taxi clone at the right place at an affordable price.
Process of acquiring our Taxi Clone Script like Uber
NBT helps you access the best and visionary taxi clone script for both Android and iOS platforms. It ensures fulfilling all your expectations in the right way and further provides the services for the majority of platforms.
Boost your business experience with our expert and skilled developers who come with the best outcome using the best taxi clone script.
Our team member and client discussed the complete project requirements.
After a discussion, the design or draw estimate project needs.
Consider the time duration and cost of the project.
Then, an experienced and dedicated team of NBT starts working on the project and updates the projects of their clients.
Assurance & Predictability are the service indications by the company. NBT fix the timeline and fixed the cost for the project at the beginning. This is the best and simple method where customers can feel comfortable and further provides them a budget and a fixed timeline.
Our common Solutions for Android, iPhone, and WebApp
NBT facilitates a ready-to-use taxi app solution and an open-source rideshare software with minor changes as per your business requirements.
Our taxi iOS app development is the integration of all features like Professional Installation, Adaptation easy Updation to Any Mobile with a smooth user interface.
At NBT, users can access the flexible, Easy to Manage, and End to End service Solutions.
Being the leading app development company, NBT's taxi booking app helps you to build a successful website like an uber clone. It expands online sales & fulfills their customer expectations. Our existing businesses and start-ups provide an overall business solution to help you maximize production efficiency and create beneficial business strategies. Our Insight-driven solutions influence you to achieve the desired result.
Our team of developers collaborate with clients from time to time and helps you achieve your desired outcome. The flexible solutions of NBT are suitable for your specific needs and maximize the returns. We strive to give increased revenue to scalable solutions and let you experience and expertise solutions.
We have a team of specialized and in-depth knowledge of white label taxi booking app development. Customers can enjoy building native iOS & Android taxi/cab booking apps with all the key features and an intuitive UI to make seamless cab bookings.