Apache Cordova (formerly known as Phonegap) is a cross-platform language for the development of hybrid apps on Android, iOS, BlackBerry, WebOS, Windows Phone, Symbian as well as Samsung Bada platforms. Hence write code once and implement it everywhere. Hire Phonegap Developer with us to develop top-notch cross-platform mobile applications.
Our expert developer helps to bring down your organization constraints and development cost by multipurpose, delivering unique and cross-platform applications. These applications are well created with ensuring process efficiency, interface, and device-specific features with the least fixed time.
-Custom Apache Cordova App Development
-Apache Cordova Shopping Cart and eCommerce Solution
-Apache Cordova Application Migration and Testing
-Apache Cordova Business Applications
Our team is well experienced to develop any kind of mobile application in Apache Cordova, we have done many applications using Apache Cordova lately. We are well experienced to handle any kind of design or functionality requirements in Apache Cordova confidently.
PhoneGap is an Adobe System software development framework for creating mobile apps for all major platforms such as Android, iOS, and Windows.
Businesses all across the world can benefit from Next Big Technology's high-end PhoneGap development services. To design a solid mobile app and assist you in delivering native UX, our expert developers leverage Java and the specific capabilities of several mobile operating systems.
Hire a PhoneGap developer from us to create a mobile app that is cross-platform compatible, expanding your consumer base and propelling your business to new heights. We have a team of highly talented and experienced PhoneGap developers who can grasp all of your specific business requirements and turn them into reality.
You do not have to sign a long-term contract when you engage our specialized developers. Work with us on a temporary basis (daily, weekly, or monthly) while you finish your project. Hire our developer right now to achieve the results you want at a reasonable price!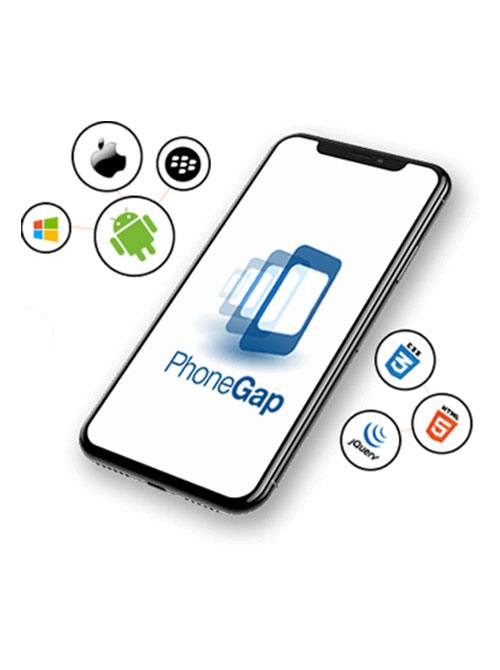 Why Should You Hire Us for Your PhoneGap Project?
We ensure the best possible outcome for your organization as one of the leading PhoneGap mobile app development companies. Once you've shared your ideas with us, we'll go to any length to suit your needs.
Here are some of the benefits of hiring our PhoneGap developer:
Team of Experts in Development
We have highly qualified people with extensive experience in the PhoneGap development field.
As a result, our programmers are capable of giving you exactly what you require.
Extensive Experience
Professional experience is important when it comes to the job.
Our highly skilled PhoneGap developers not only assist you but also contribute their ideas to help you create something truly unique.
Project Management
We appoint effective project managers to oversee ongoings and resolve complex issues so that your PhoneGap development projects proceed smoothly.
Transparency
Our experts retain maximum transparency once we begin working on your PhoneGap development project and provide frequent updates via phone calls, emails, and chats.
Flexibility
Because we use a flexible hiring procedure, you can employ our PhoneGap developers to work on your project for as long as you need (daily, weekly, or monthly).
Security
Your privacy is important to us.
All information you give us is always entirely safeguarded because we never share it with anyone else.
PhoneGap Developer – Our Specialties
Our PhoneGap development service reflects our skill and experience.
We customize solutions for a wide range of industries with maximum devotion and passion.
Take a look at some of our areas of expertise:
Mobile App Development with PhoneGap
We have a skilled PhoneGap development team that uses cutting-edge technology and web programming to create a mobile app that meets your business's needs.
Development of Hybrid Mobile Apps
Our PhoneGap developers are skilled at creating hybrid apps and modules.
We can help you migrate your native apps if you need it or if you already have them.
App Enhancement
We know how to improve your software in accordance with App Store guidelines.
Our developers carry out all of the necessary tasks to create the greatest application for your company.
Android PhoneGap Development
Because of Android's enormous popularity, it's critical to create a mobile app for the same platform in order to attract a large number of users.
Hire one of our PhoneGap developers to take care of it for you.
Development of Cordova Mobile Apps
We know how to combine the capabilities of PhoneGap and Cordova to create a unique mobile app for your company, complete with fantastic features and performance.
Development of Open-Source Mobile Apps
Our PhoneGap developers use powerful open-source tools to create a creative app that helps you amaze your target audience and grow your business while staying within your budget.
PhoneGap Developer from Us – Here's How It Works
We follow a well-structured approach when it comes to hiring our devoted and competent PhoneGap developers for your project.
When it comes to hiring our developers, these are the measures we take:
Explicitly stating your project's requirements
Fill out the form on our website or contact us personally with all of your project requirements.
When we receive it, we review and evaluate it thoroughly to determine exactly what you require.
Following a chat, we narrow down the most capable PhoneGap developers for your project.
Choosing Resources
We allow you to interview and communicate with our qualified developers for an extended period of time so that you can get a sense of their areas of expertise.
You can find out if our specialists are capable of meeting your expectations by asking them questions.
Choose resources from our development team based on interviews and interactive sessions.
Select a Hiring Model
You must choose the most appropriate recruiting approach while assembling your team and selecting your preferred resources for your PhoneGap development project.
You can employ them for a day, a week, or a month.
You can engage them for as long as you need them to finish your project because we offer flexibility.
You can scale up or down your development team to meet your changing needs, regardless of its size.
Timelines, terms, and conditions
Having a capable development team isn't enough to achieve the required results.
We establish schedules, terms, and conditions that must be followed when working on your project.
As a result, we've always been able to complete all of our clients' projects on schedule and without sacrificing quality.
Beginning with Project Planning
We instantly begin working on your project after establishing a deadline, terms, and conditions in order to deliver high-quality PhoneGap solutions on time.
We won't stop working on your project until you're completely satisfied.
Industries we work for
HIRE Apache Cordova developers to match the requirements of every industry, we have worked for different industries over time. our team of Apache Cordova developers is well experienced to understand every business requirements
-MEDICAL/HEALTH/FITNESS
-RETAIL & ECOMMERCE
-BANKING & FINANCE
-TRAVEL & TOURISM
-TRAVEL & TOURISM
-HOSPITALITY
-SPORTS
-EDUCATION
-BUSINESS
-NON PROFIT
-ENTERTAINMENT
-KIDS
-SPIRITUAL
-MARKETING
-Agriculture
Top PhoneGap or Apache Cordova developer
Are you seeking a low-cost PhoneGap development solution that includes everything?
Without hesitation, hire a PhoneGap developer from us!
With years of expertise in the PhoneGap development sector, we've been familiar with a wide range of advanced technologies and talents that enable us to create exceptional mobile app solutions just for your company!
Hire PhoneGap Developer or Hire Apache Cordova developer at Next Big Technology to full fill all your Apache Cordova App Development requirements, We have a very creative team of Graphic Designers as well, who help Apache Cordova App Developer to achieve creative and unique mobile applications.
We always focus on creative and unique ideas, we take clients' ideas and implement them over the canvas as per clients' needs and thoughts. We have done many Apache Cordova app for different industries over the last few years. We got a wide experience working with clients all over the world.
Please connect with us for any Apache Cordova Mobile Application Requirements.