With the increasing use of smartphones around the world, it has become necessary for every business to build strong and interactive Car Wash Mobile applications to increase customer outreach. If you are in the car wash industry, you can provide excellence in your brand image and improve customer service with a very good Car Wash Mobile application.
At present, all brands provide the best to stay in front of their competitors. When you build a Car Wash Mobile application of high-quality car wash, customers can schedule everything from their homes. They want a user-friendly mobile application that makes work easy and saves time.
Hire a car wash developer from us to build a Car Wash Mobile application that grows your business!
Why hire a car wash application developer?
The next big technology offers a comprehensive car wash application development service that suits your business needs. Our skilled development team is always available at your service, no matter how complicated your project needs.
Here are the reasons for employing our car wash application developers:
User-friendly solution
To make money in car wash services, you need to build interesting applications that customers can use easily. We ensure that users can mention the location where they will use services and enjoy accessing Car Wash Mobile applications at all.
Timely delivery
To achieve success quickly, you need to immediately build and launch a Car Wash Mobile app. With years of experience in the Car Wash Mobile application development industry, we can add rich features and send output on time. This helps you enter the market faster and immediately get maximum profit.
Cost-effective
We offer all-inclusive car wash application development services at affordable prices without reducing quality. In addition to development, we also offer overall care and support without charging additional fees. Hiring our app development team to build your application can always be a cost-effective but profitable decision.
Launch On Play Stores
The development of car wash applications is not enough. You need to launch it on the Play Store so that your customers can access it. When you employ our dedicated developers, we do everything starting from ideas to launch applications in Play Stores. After we launch your application in the store, people can access it easily causing extending your customer outreach.
Hire a Car Washing Application Developer
The next big technology comes with a very experienced and skilled Car Wash Mobile mobile application developer who can build the best mobile car wash application according to your needs.
Look at our specialization field:
Development of application users who can be downloaded
We build a mobile car wash application that can easily be downloaded from the App Store and Play Store. They can register for new accounts and enter the old account using credentials. Users can easily place service requests, choose the location of the car, date and time scheduled, prefer technicians, tracking, and additional services. In addition, they can adjust profiles such as and if needed.
Wash and detail
Washing service providers and car details can register and enter the application by entering credentials. With this application, they can add/delete information about their services, update service status, including location, add bids and discounts. They get notifications (that they can accept and refuse) when users request their services.
Admin management
Our car wash application allows the registration of technicians and receiving additional services. Admin can set the time zone, transaction details, payment history, service, and technicians according to requirements.
Advanced tracking
Modern tracking technology connects user applications and service provider applications. Using a car wash application, users can track the arrival of technicians at the destination. We build Car Wash Mobile applications that support all facilities offered by GPS services.
Push notification.
After the user chooses to service through the Car Wash application, the service provider concerned is notified of appointments and can accept/reject services according to availability. Notification features offer options for notifications of applications, email, and text.
Simple payment gateway
Our car wash application has the latest and updated payment options such as net banking, credit cards, debit cards, UPI, PayPal, and other payment gateways. Users can choose from a variety of fast and trusted payment options for use on the application platform.
Customer service
Our application has got an integrated assistance table where users and service providers interact with each other and resolve customer-related problems. The better the relationship between users and service providers, the more business growth. We apply advanced technology to facilitate the relationship.
Hire a Car Wash Developer from Us – Our Recruitment Process
When it comes to hiring dedicated car wash app developers for your project, we follow a well-structured process.
Here are the steps that followed when you hire our developer:
Share your project requirements
Send all your project needs to us by filling out the form on our website or contact us directly. After we receive the same, we discuss and analyze requirements to understand what you really need. After the discussion, we assign developers from pool of mobile application developers that are most suitable for your project needs.
Resource selection
We allow you to interview our developers who qualify and interact with them for a long time so you get an idea of ​​their field of expertise. By asking questions from our experts, you can find out if they are enough to meet your expectations. Based on interviews and interactive sessions, select resources from our development team.
Determine the recruitment model
When you build your team chooses your preferred source for your car wash application development project, you need to choose the most suitable recruitment model. You can hire them based on fixed price, hourly, daily, weekly, or monthly. Because we offer flexibility, you can hire them as long as you need it to complete your project. No matter the size of your development team, you can increase it up or down according to your changing needs.
Set schedules, requirements, and conditions
To get the desired output, building an advanced development team is not enough. We set the schedule, plans, and conditions that will be discussed and assigned when working on your project. Because of this, we have always managed to send all our client projects on time without compromise on quality.
Starting with project development
After arranging the timeline, terms, and conditions, we immediately start working on your project to provide high-quality car wash application solutions on time. We do not stop working on your project until you are satisfied with the results.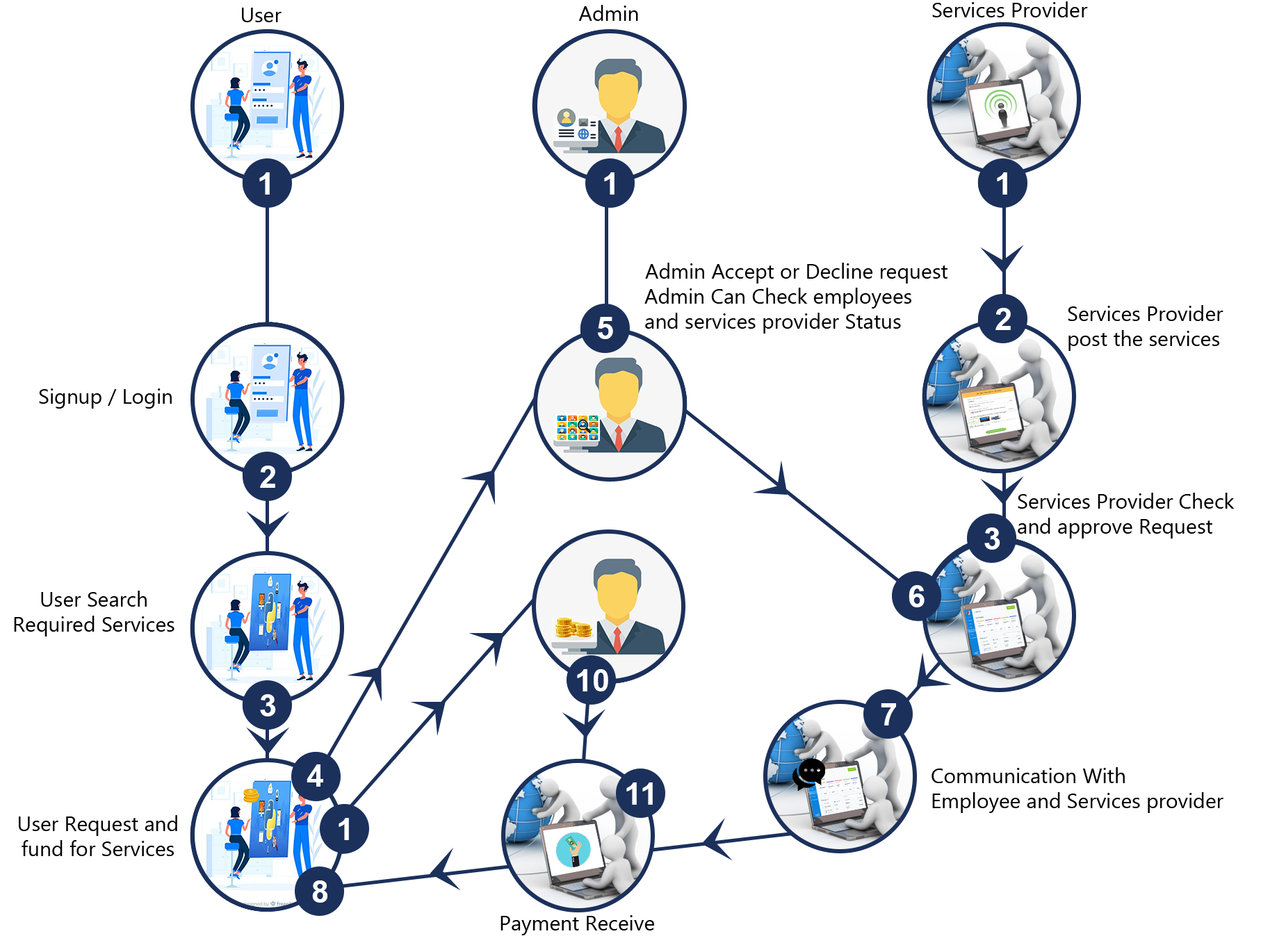 Hire our car wash application developer to meet your request
Are you looking for an all-inclusive car wash application development service at affordable prices? Hire a car wash application developer from us without a second thought! With many years of working experience in the car wash application development industry, we have been experienced with many advanced technologies and skills that help us build extraordinary mobile application solutions exclusively for your business!