Software as a service (SaaS) allows users to connect to cloud-based applications over an internet connection. Common examples are e-mail, office tools, etc.
Take the most common example of the e-mail services that we use every day. Users log into their accounts over the internet via a web browser. The mail software is located on the service provider's network and messages are stored in these networks. Users access this mail via a web browser.
It is a way of providing applications over the internet, instead of installing the software; organizations can simply access them over the internet. Thus freeing themselves from the nerve-wracking software and hardware management and, maintenance, these are taken care of by the service providers.
These applications are also known as web-based or on-demand software and run on the service providers' servers. Accessibility, security, availability, and performance are taken care of by the service providers.
SaaS provides a comprehensive software solution to the users, all of the underlying infrastructure, middleware, software; data are locates and stores in the service provider's data servers. The service provider is responsible for ensuring the availability, security of the data and the application. Thus SaaS helps organizations to use the desired applications at the minimum upfront cost.
Hosted applications
Operating systems
Servers
Storage system
Firewalls
Database management
Development tools
Data and business analytics
SaaS applications can be of many types like CRM, payroll processing, sales management, HRM, financial management, ERP, content management, etc. are just a few examples. Companies have to pay for the application via a subscription fee. This is a much cheaper option compared to the traditional model of paying through a perpetual license fee.
As SaaS applications are based on cloud computing it saves the organizations from the hassle of installation and running of the applications on their own premise, thus eliminating the cost associated with hardware, maintenance, and support. The initial set-up cost is also lower than enterprise software purchase.
Organizations can subscribe to SaaS applications/services as needed without having to buy a license and install the software. Savings are magnified in the case of applications that require new hardware purchases to support the software.
SaaS, PaaS, and IaaS are simply three ways to describe how you can use the cloud for your business.
IaaS: cloud-based services, pay-as-you-go for services such as storage, networking, and virtualization.
PaaS: hardware and software tools available over the internet.
SaaS: software that's available via a third party over the internet.
On-premise: software that's installed in the same building as your business.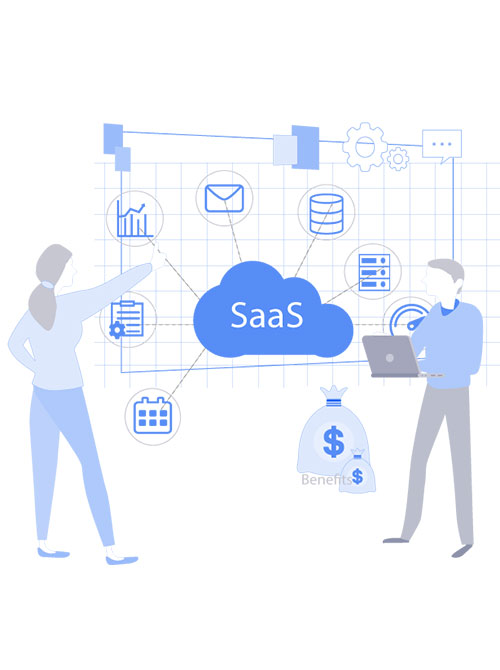 On-premise solutions:
What do organizations have to manage?
Applications
Data
Runtime
Middleware
Operating software
Virtualization
Servers
Storage
Networking
IaaS:
What do organizations have to manage?
Applications
Data
Runtime
Middleware
Operating software
What do service providers have to manage?
Virtualization
Servers
Storage
Networking
PaaS:
What do organizations have to manage?
What do service providers have to manage?
Runtime
Middleware
Operating software
Virtualization
Servers
Storage
Networking
SaaS:
What do organizations have to manage?
Nil
What do service providers have to manage?
Applications
Data
Runtime
Middleware
Operating software
Virtualization
Servers
Storage
Networking
Examples of SaaS, PaaS, and IaaS
SaaS examples: BigCommerce, Google Apps, Salesforce, Dropbox, MailChimp, ZenDesk, DocuSign, Slack, Hubspot.
PaaS examples: AWS Elastic Beanstalk, Heroku, Windows Azure (mostly used as PaaS), Force.com, OpenShift, Apache Stratos, Magento Commerce Cloud.
IaaS examples: AWS EC2, Rackspace, Google Compute Engine (GCE), Digital Ocean, Magento 1 Enterprise Edition
Common examples of SaaS:
CRM (customer relationship management)
MIS (management information system)
HRM (human resource management)
Geographic information system
Content management
Learning management system
ERP (enterprise resource management)
Database management software
Messaging software
E-mail software
IaaS Characteristics:
IaaS platforms are:
Highly flexible and highly scalable.
Accessible by multiple users.
Cost-effective.
PaaS Characteristics:
PaaS platforms are:
Accessible by multiple users.
Scalable – you can choose from various tiers of resources to suit the size of your business.
Built on virtualization technology.
Easy to run without extensive system administration knowledge.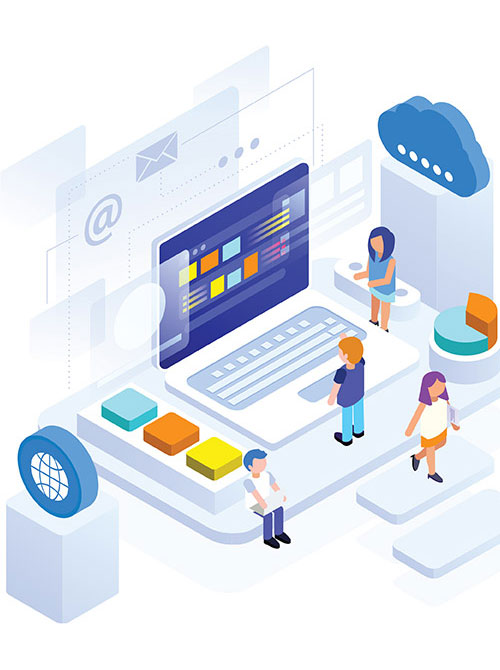 SaaS Characteristics:
SaaS platforms are:
Available over the internet.
Hosted on a remote server by a third-party provider.
Scalable, with different tiers for small, medium, and enterprise-level businesses.
Inclusive, offering security, compliance, and maintenance as part of the cost.
Advantages of SaaS
There is no need to install, purchase, upgrade, and maintain the applications, hardware, or middleware. SaaS makes complex software available at affordable for enterprises who lack the resources to purchase, install, manage and maintain the software and required hardware infrastructure.
Pay only for the services that you use thus saving the money
Data can be accessed anytime, anywhere via devices connected to the cloud over the internet connection. This also saves the pain of losing the data even if the mobile devices malfunction, data is safe and secure on the cloud. This also helps in mobilizing the workforce easily as data can be accessed easily anytime, anywhere via mobile devices
Services are generally cross-platform and cross-browser, and consequently, they have minimal technical requirements to use them
NBT is miles ahead when it comes to offering SaaS application development solutions. We make applications that reduce your operational costs and drive your business growth using top-notch hosted on-demand software. Our expert and skilled developers have years of experience working on SaaS applications, we developed curated applications as per your demands and specifications keeping in mind your business needs. NBT has a proven track record of delivering robust and scalable SaaS solutions using the best and latest web technologies. We are a leading SaaS-based software application development company having relevant experience in delivering high-performing applications for small to medium to large scale enterprises.
Our expert developers not only have hands-on experience on SaaS technologies but are also proficient in the strategic use of these applications to extract maximum benefit out of the applications. We offer you the professional commitment to timely delivery of the SaaS solutions at affordable prices.
Our SaaS services: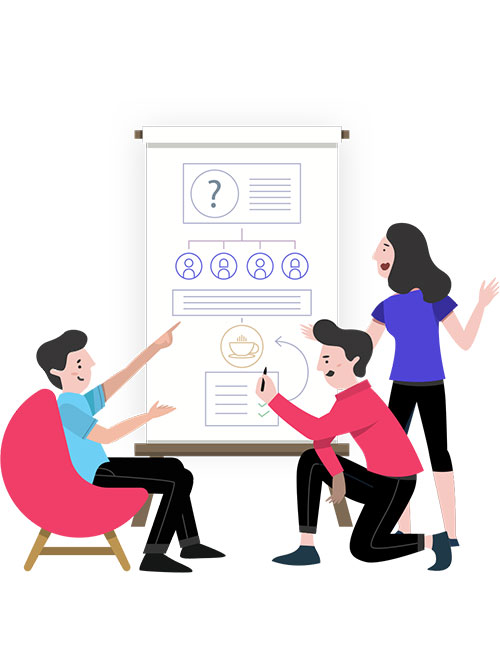 SaaS App Design & Development
Our expert team of SaaS developers converts your idea into a top-notch application having all the cutting-edge features to drastically improve your business KPIs. We provide best-in-class app design and development solutions.
SaaS Consulting Services
We provide SaaS consulting services to start-ups to leaders in the business; we help in planning and deploying SaaS applications with a proper deploying strategy so that you can get maximum benefits out of our applications.
SaaS CMS Development
NBT helps you in developing feature-rich web applications based on your choice of CMS. Our expert developers provide end-to-end SaaS CMS development solutions so that you get ROI and cruise ahead of your competitors and be on top of your business always and forever.
SaaS e-commerce Solutions
The deployment of our SaaS solutions makes your e-commerce business more profit-yielding. Our solutions help you to find new revenue streams and optimize your business model so that you could focus on making revenues and increasing your consumer base.
Third-party Integration Services
We link external data sources, payment gateways, APIs, and other third-party extensions to enhance the functions and features of the SaaS applications in a quick turn-around time.
Cloud Application Scaling
We help you to scale up the app-based application according to the growing needs of your business so that the applications always deliver the best to the customers.
Support and Maintenance
We have flexible hiring models, hourly or fixed, to extend support and maintenance for your SaaS applications to make enhancements, updates, upgrades, or remove errors in your software
SaaS Application Design
We provide SaaS application design solutions keeping in mind your audience to increase the stickiness to the software. We focus on workflows ad customer journey mapping to design a pixel-perfect UX for the application.
OUR DEVELOPMENT PROCESS
Tell us your project requirements
Our analysts will thoroughly review your project requirements and select the most experienced developers best suited for your project type.
Discuss details with our experts
Our experts will contact you within no time to discuss your project-related queries and to offer the best solution for your project development.
Choose engagement terms & timeframes
Based on the project consultation provided by analysts, you can choose the timelines as per your convenience for your project.
Secure payment methods
Pay through multiple options provided to you, our payment methods are highly secure and confidential. We start your project in no time as soon as we receive the payment. For your convenience, we provide the option of milestone payment.
Why are we the industry leaders?
We build websites that manifest excellence and aptly meet the diverse SaaS application Development needs of the businesses.
We have full technical expertise in SaaS application Development, we bundle the best-suited technology with every project to meet stringent deadlines.
We make detailed workflow models for every project to sync well with the requirements to deliver the highest quality projects with guaranteed satisfaction to global clients.
To keep up with the technological advancements and changes, we make our toolbox highly adaptable and scalable and implement these changes to our SaaS application services immediately.
Our team is one of the best and technologically strongest teams in the universe that guarantees to deliver the exact solutions for the requirements that you have asked for.
We believe in delivering the solutions that are the best in the market and are light on your pocket. Our price ranges are much lower than our competitors, so we can offer affordable solutions.
We are available round the clock to answer our clients' queries and help them serve better through different communication channels.
We never force you to take hosting or other services from us, the choice is the entire of the clients.
We always book domain and hosting on your name
We provide you prices that are affordable in pockets and are also highly competitive.
We offer content writing so that you get all solutions at one point and hence save on time and money.
Since we are experts in SEO/online marketing we ensure that your site is search engine friendly.
Our sites are fully responsive and mobile-friendly.
The website we develop is never a replica or duplicate of any other website. We offer a fresh, unique, and creative website that gives a unique identity to your business.
Customer satisfaction guaranteed:
TRANSPARENCY: At NBT, we believe in complete transparency, we keep our clients fully engaged and updated during the entire project development cycle.
100% ONTIME DELIVERY: Our highly developed and time-tested project management strategies have resulted in a 100% on-time delivery track record for the past 10+ years of our operations.
FREE ONE MONTH SUPPORT: To take care of our customers even after the project has been handed over, we provide free one-month support to our customers after the final delivery.
FLEXIBLE ENGAGEMENTS: NBT offers customized engagement models, crafted to meet the exact requirements of clients with different business needs.
24X7 SUPPORT: Our experts are available 24*7 so that you can discuss with our experts at any time and solutions are provided to you just when you ask for them.
 Top Reasons why our customers in 40+ countries trust NBT:
Highly rate and review on Clutch, Goodfirms, Topxlistings, Extract.
10+ years in Saas application and framework development.
3000+ successful Saas applications and portals delivered since 2009.
50+ dedicated developers and designers.
Web development services for small, medium, and large enterprises.
100% Satisfaction guarantee.
Flexibility to choose from Hourly or Fixed Cost payments
Industries we serve:
Medical/Health/Fitness
Retail & Ecommerce
Banking & Finance
Travel & Tourism
Hospitality
Sports
Education
Business
Non Profit Organizations
Entertainment
Kids
Spiritual
Marketing
Agriculture
Government Organizations
Hire SaaS Application Developer
Hire SaaS Application Developer
Hire our expert SaaS Application Developer to get customized solutions for your web application needs. Our high experience, qualified, and skilled developers have years of hands-on experience working with SaaS. The applications that we make are built using the latest technologies having all modern features that suit diverse business models at prices that are light on your pockets. Hire SaaS Application Developer on an hourly or fixed price basis to take your revenues, profits, reputations, and consumer base at astronomical levels. Get in touch with us to know more. We provide top-notch SaaS Application Development Services for all types of products. Hire a Dedicated Saas Application developer to get done your next custom ideas into a high-performing Saas Application.