ReactJS is one of the latest technologies – a front-end JavaScript framework that can be utilized to build fast and robust applications. You can expand your business by hiring ReactJS developers. You can hire ReactJS developers from Next Big Technology as the developers at NBT hold extensive experience and are proficient who can tackle any kind of complexities.
ReactJS Development Company
Next Big Technology provides ReactJS development services to build user-friendly and cross-platform applications. We use the latest and most successful technologies to satisfy our clients' needs.
NBT is a leading mobile and app development company in India and we have built several dynamic and impressive applications using ReactJS.
We offer superior mobile and app development solutions and if you want to expand your business and take your business to greater heights then ReactJS is the apt framework.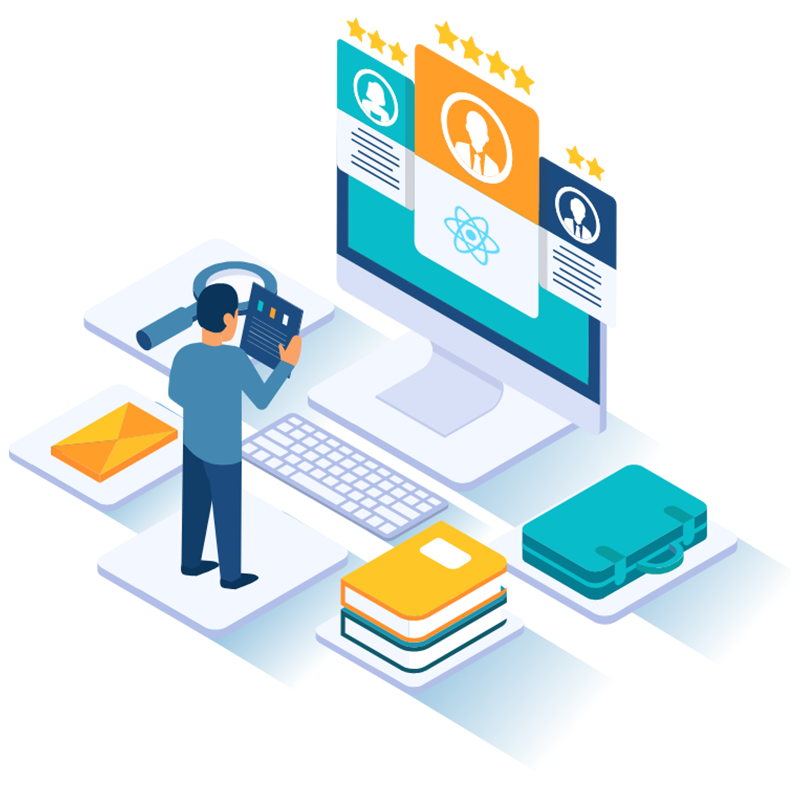 ReactJS development services:
Maintenance and support services.
Front-end development.
Plugins development using ReactJS.
Customized development using ReactJS.
Migration.
UI/UX development services.
Template design.
Web service integration.
Web app development using ReactJS.
E-commerce development using ReactJS.
Benefits of choosing ReactJS?
Increased productivity.
Fast applications.
SEO-friendly.
Wonderful user-experience.
Concrete community.
Easy testing process.
Re-usable components.
Secure and reliable.
Cost-effective.
Cross-platform app solutions.
Why do you need to hire ReactJS developers from Next Big Technology?
Our ReactJS developers are experienced.
We have worked with numerous industries.
Our developers are flexible and they can comfortably work with any time zones – globally.
Offer support at every phase.
Our developers are skilled and proficient and therefore can build innovative applications which can impress anybody.
Our developers are specialists who can build high-quality applications.
Our developers have built numerous front-end applications using ReactJS and customized web applications as well successfully.
We have worked with various clients globally and therefore our developers are exposed to working with diverse industries.
Our developers can build high-performance and fast web applications using ReactJS.
We are transparent with our clients.
Hire skilled and experienced ReactJS developers from Next Big technology as our developers can assist in building any kind of customized application according to your business needs!
We have built numerous front-end applications for various industries!
We can customize 100%!
Next Big technology consists of an in-house team of ReactJS experts whom you can hire on a part-time, hourly, or full-time basis.
Connect with us so that you can get all your doubts clarified!
Hire dedicated ReactJS professionals from NBT!
Frequently asked questions:
Why do I need to choose ReactJS?
ReactJS is very fast and it is very much easy to test the application. Re-usable components – another major advantage.
How can I hire ReactJS developers from Next Big Technology?
You can talk to us so that you get a detailed explanation. You can select ReactJS developers who can work in order to build ReactJS applications.
Does next Big Technology have experience with ReactJS development services?
Undoubtedly NBT has substantial experience as we have dealt with numerous clients and have built several applications using ReactJS.
How can I trust you?
You can trust us 100% and to protect your data we can sign NDA.
Are your developers ready to work at any time zone?
Yes, they are ready to work according to your timings/time zone.
Talk to us so that we can discuss in brief the project and you can hire dedicated ReactJS professionals from Next Big Technology!