Get featured-rich and fully-protected E-wallet mobile application development Services for all platforms (Android, iPhone, and Wearable Devices). Hire eWallet Mobile App Developers at Next Big Technology to explore the best possible services.
Are you dreaming to become a market leader in our business? Next Big Technology can add wings to your dreams and make your business fly high in the sky. We call these wings e-wallet business applications. We provide top-notch & secure eWallet Development Services as per your custom ideas.
The digitalization of every type of business has given a pace to digital payments worldwide. In these times of technological advancements and artificial intelligence, a digital wallet for business has become an essential need to survive the cut-throat competition within the industry. Also, the recent pandemic which has given birth to social distancing and contactless payment culture has made e-wallet an essential business requirement like other useful business assets. We at Next Big Technology understand the needs of our clients and provide useful and affordable solutions for dealing with market challenges and help their business grow higher. Being a leading App development company, we provide e-wallet applications for receiving money transfers from consumers as well as business parties. The digital payment system through our e-wallet application is completely safe and absolutely secure for both sending and receiving money online. And yes, not to worry! It is quite user-friendly. Hire eWallet Mobile App Developers to use best-in-class services for any kind of custom e-wallet solution development.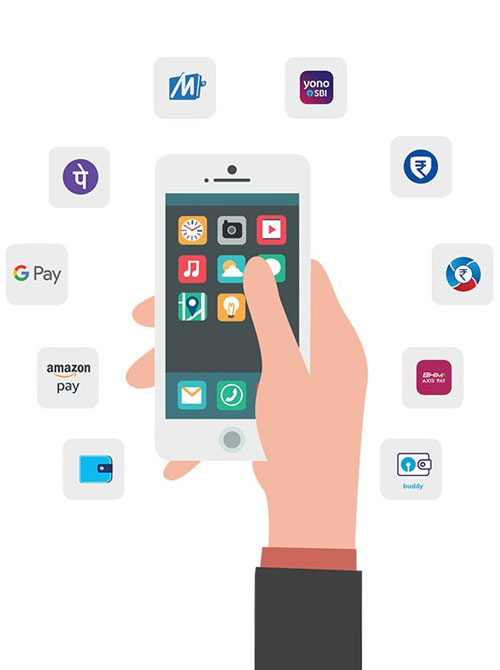 How does it work?
The application supports a range of features to make it more user-friendly. The features can be customized as per the requirement and nature of the business. All you have to do is to follow these stages:
a.Give details & Register Yourself – Provide us with some required business information of your company and sit back and relax, rest will be taken care of by our qualified and professional team of experts and app developers. The information will generally relate to business bank account details, frequency of payments, your wallet requirements, limit requirements, etc.
b.Get Guidance – Once you register with Next Big Technology, our expert will contact you and guide you for the best E-wallet mobile application development solution.
c.Make confirmation & Install – After the prototype application is ready, we will get your approval for the ready-to-use application. Our expert will help you install the application and train your staff to make effective use of the e-wallet application for your business.
d.Enjoy Good Customer Service – This is not the end! Our customer service executives will further guide you and assist you to resolve any discrepancy or issue arising in the future use of the application.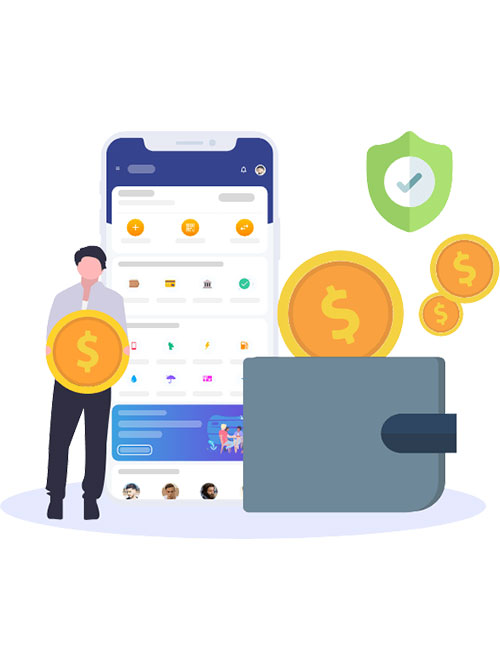 App features
Register with us to grab the best of the business opportunities by allowing us to manage your business payments and transactions smoothly and take your business to new heights. We are here to help you overcome the digital transaction challenges and issues to stand out as the business leader in the market.
Data Management
Customer KYC is mandatory for e-wallet registration. The data and personal information provided by customers for registration with the app is stored in our database and saved in the application database for future login by customers. The KYC and the sign-up process are done through identity verification by digital documentation or physical documentation as chosen by the customer. The bank details entered by the user are configured and approved from the concerned back to avoid fake transactions. The bank account is then directly linked with the wallet of the user. The mobile number or e-mail entered by the customer for registration will be used to verify and log in and change of password.
Password protection
To ensure the security of digital payments customers are asked to provide passwords in the form of a PIN, which is a 4-digit security code or pattern. The user authentication is done for important transactions including payment, bank account update, and confirming orders. Next Big Technology also supports biological authentication in case the business requires the same for its e-wallet app. This includes face detection and fingerprint scanning.
Money Transfers
One-stop solution for hassle-free and quick instant money transfer requirements of the business for its B2C as well as B2B segment is our e-wallet application. The business will be able to send money from the wallet and also receive money in the wallet. The app will also facilitate the transfer of money from the wallet to the business account directly or transfer from wallet to bank manually by the user. The money will be debited and credited with just one click. OTP or One Time Password will be used for the security and verification of the transfers. This OTP will be system generated and this will allow automatic verification process of the user.
E-wallet Passbook
Take advantage of the tracking of past transactions of business with this feature. The data entered in the application and data retrieved from the transactions performed through the app will be stored in an integrated database system managed by our team. The transaction history and passbook will be visible to the consumers and users of the app so that they will be able to track their funds and the balance of the amount transferred to their wallets. The order history will also be visible to the user.
Location tracker
This feature will allow the business to track the location of the customer for delivery of products and simultaneously customers will also be able to track the business stores so that nearby utility services can be availed of by the users.
Safety and Security
Next Big Technology believes in data security and adheres to the security protocols and safety regulations for application development and digital payments. We ensure the confidentiality of the information and security of transactions through the Information Security Management System of our company in compliance with our security policy. The data backup and restoration are also enabled for security purposes. Our customers reach to us for 100% data security.
Help and Support
We have a team of customer care executives who look after all the queries and issues faced by our customers. Our staff is quite friendly and supportive to help you with your digital payments and receipts and manage online transactions of money transfers. You can contact us for all the support your need with your app.

Seeking expert help? Hire NBT
Our professionals understand your unique business needs with years of experience in customized mobile app development coupled with multi-domain expertise. They are fully equipped with resources that can transform your business idea into a profitable mobile commerce platform.
NBT helps you build fully customized and highly scalable mobile applications configured for consistency between mobile devices, tablets, and desktops. We offer on-demand enterprise-grade customized eWallet app development solutions for native and cross-mobile OS platform environments.
Please connect with us for further inquiries for any requirements of E-wallet mobile application development. Hire eWallet Mobile App Developers with us to build top-notch eWallet solution as per your custom business needs.