Python has grabbed the world of development. Due to its immense capabilities, the Next big technology Web & App development company can do wonders for your business. We are a leading web development company, offering specialized Python solutions to all businesses whether small, medium, or large-scale who are looking for robust and scalable web applications and back-end software. NBT facilitates you to hire experts developers and programmers on a full-time or part-time basis as per your specific requirements. Now, start saving your money and speed up your software development process.
Hire the best Python Developers with us
Python is a high-level programming language preferred largely by developers for creating web apps, mobile apps, e-Commerce apps, IoT apps, machine learning, content management system, etc. It offers an easy syntax structure that allows developers of NBT to write code in lesser steps compared to other programming languages. They use a plethora of libraries that can be installed and helps you program your software in your desired language. Give your business a competitive edge with us.
At NBT, we offer top-quality Python development services considering your business goals. We have a pool of talented developers with years of experience and sound knowledge to deliver any type of Python application. Enjoy Python web development, mobile development, cross-platform development, or game development for your business. Our adequate skills will provide the most effective services to match your requirements. Since its inception, we have served so many start-ups and well-established corporations to build a presence on the internet.
NBT: the prime preference for Hiring Python Coders
The next big technology is one of the leading and trusted web development companies in India. We provide on-demand Python Django developers, programmers, and coders according to the business-specific demands of clients.
Skilled and Experienced Developers
We have acquired the best Python professionals in the market who know well how to take your business to the right path with their advanced solutions.
Regular Progress Reports
Our dedicated project manager shares your project status on a daily basis and helps you track your project progress easily and stay updated with its activities.
Trustworthy & Reliable
The next big technology is the right choice for designing a robust website that fits your requirements.
Affordable Price
Our services are pocket-friendly. We will never let your money go in vain.
Easy Communication
We propose easy communication between our clients and our developers via Skype, email, phone, and more convenient and easy ways as possible.
Quick & Agile Process
Here at NBT, we follow the quick and agile Python web development process to reduce software's time to market and provide on-time project delivery.
Client Satisfaction
Get the best possible functionality, stability, and operability in Python app programming to meet a 100% satisfaction level of clients.
100% Transparency
We care for your project's security and confidentiality. Our team maintains transparency with you and makes sure that you know your project every proceeding.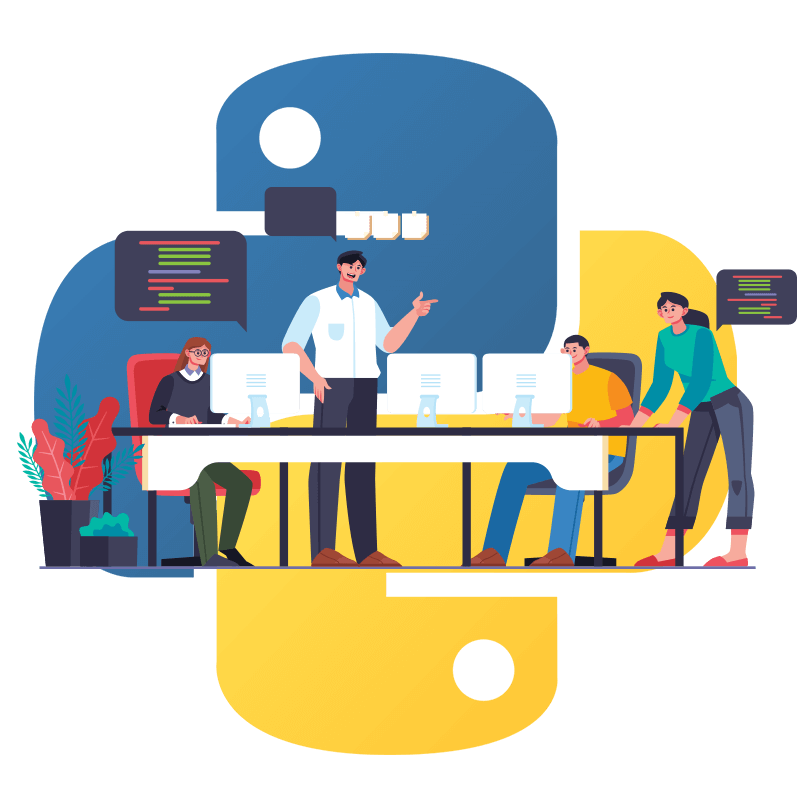 Major Industries that we work on
Next big technology development has experience in diverse industries in their career and rents you the updated and skilled developers for your business. Understand our most important industry-specific services.
Healthcare
We focus on providing the best services to healthcare industries. It includes HIPAA compliant development, healthcare apps, apps/medical integration along with maintenance and ongoing support.
Retail & Ecommerce
We at NBT, have highly experienced Python developers. They have gained expertise in providing exemplary services to retail & eCommerce businesses.
Travel & tourism
Trust our versatile Python developers who are always ready to offer their excellent service to your travel & tourism business. These services might include software technical consulting, e-ticketing & reservation management, and more.
Banking & Finance
Get the best banking & finance services like internet & mobile banking apps, data analysis systems, finance management, etc with us.
Education & E-Learning
We provide the best services to education & E-learning industries, including e-Learning web & mobile applications, web-based Training, etc.
Media & Entertainment
Our expert ranges of developers and programmers are quick-witted and provide entertaining and secured services of media & entertainment.
FAQS
We have lined up some frequently asked questions from our clients, to help solve your doubts in the best possible way.
Q1. What are the important points to consider while hiring a Python Developers?
Ans. Before hiring any Python developer, you should always ask for his/her previous work record and overall experience in this industry. It helps you to determine their efficiency and versatility along with the fact whether a chosen developer fits right for your business needs or not. Do not forget to count on his overall experience. The more experience your Python expert has, the more he will be comfortable in developing the complicated website, and web app for your business.
Q2. Is python only can develop web apps and websites?
Ans. No, Python can be used for many more things. It is one of the most popular programming languages and offers flexibility, versatility, and the ability to run on any platform makes. This aspect is the favorite among the developers. With Python, you can develop a highly scalable and efficient app for your business. It varies from gaming apps to using technologies like AI, ML.
Q3. What is the cost of hiring a Django developer?
Ans. As per the type and complexity of a particular project, the cost to hire experienced Python Django developers varies. The more complex your project is, the more time the Django developers will take to develop it. The more time is taken, the more will be the cost. While hiring a Django developer, you need to make sure they are well versed in the framework.
Q4. What other language can be good other than Python for a business?
Ans. Python is a great programming language and helps you develop both scalable and efficient websites and web apps. There are various other apps or websites which have been developed using Python. However, in some cases, PHP takes the stage.
Please connect with us to discuss further your requirements.