Are you looking for a seasoned jewellery app developer? NBT jewellers is the place to go. For over a decade, our team has provided consulting, design, and development services to a wide range of jewellery companies. We approach each project as if it were a collaboration. Our team begins by learning about your company, goals, likes and dislikes, current website and content, and overall vision for the jewellery app.
NBT JEWELLERS - App Development
We have a reputation for providing world-class services to our clients, which is only achievable thanks to the tireless work and dedication of our design and development staff. Our experienced team have the necessary abilities and knowledge to develop a mobile app that will alter users' app experiences and make it easier for them to purchase their favourite collections from any location.
NBT JEWELLERS - Package Includes
NBT has experience developing mobile apps for a variety of platforms. Our services are available on iOS, Android, and Windows. Our team of developers, graphic designers, and usability (UX/UI) professionals provide advanced app development services, ensuring that your app has all of the current features.

Easy To Use Interface
Many times, even after adding hundreds of useful features, your consumer may not be able to use it due to a poor navigation system. Because categorising your jewellery products may confuse or frustrate customers looking for specific designs.

Your Offline Stores
With an online and offline business, customers often want to visit your store before buying. Because they don't know your Jewelry brand or want to touch and feel it before buying. Customers will not trust a store address in the contact form. Instead, include a Google map or photos of your physical location. This will maintain client trust and increase traffic to your store.

Secure Payment Options
Offering numerous shipping and payment ways is like an add-on to your consumer buying experience because your customers adore their convenience when shopping online. Because not every consumer has the same credit/debit card, implementing multiple payment options can help you retain more customers.

Quick Checkout & Registration
Maintaining a simple registration process aids in the acquisition of additional clients for your designed app. Aside from that, make sure your checkout process is simple to use and place a purchase. Your retail app's cart abandonment rates will rise if your checkout process is long and time-consuming.Customer comfort.

Product Description
Make sure your descriptions are appealing, thorough, informative, and concise. Product descriptions are critical in establishing consumer confidence and making websites appear trustworthy and sophisticated. It will also help with the search engine optimization of your website.

SEO
Running a website isn't easy. Even though your website has all the necessary functionality, it may fail to generate revenue. Thus, SEO (Search Engine Optimization) is vital. You can manage your Jewellery eCommerce website by hiring SEO specialists. A expert will know how to increase traffic to your online store and sales.

Push Notification
One of the most significant advantages of having a mobile app is the ability to send real-time push alerts. Sending push notifications, according to one study, can result in up to 90 percent user engagement, which is far greater than traditional marketing channels like SMS and emails.

Photography
Your website must also provide price break-ups. Most dealers hide gem prices and merely show the piece's price. Offering pricing breakdowns such as gold, gems, making and waste charges, insurance (if any), etc. would assist build client confidence and goodwill. This feature can help you stand out from the competition.

Provide Value-Adding Content
Your website must engage with visitors. Having informative and entertaining films on our site, a live chat screen, and providing new users deals and coupons are all wonderful ways to communicate. While these methods are fantastic, bear in mind that they should not be overwhelming or drive away your customers.

Manage A Jewellery Catalogue
The administrator can construct a jewellery catalogue with all of the listed products and manage them by assigning a price to each piece.

It Has A Global Reach
Because smartphone applications are so popular right now, everyone will be aware of them. It has a huge and far-reaching impact. The more people who know about your store, the more sales you'll make.

Reviews & Ratings.
Customers' input in the form of ratings and reviews might assist you in enhancing your company.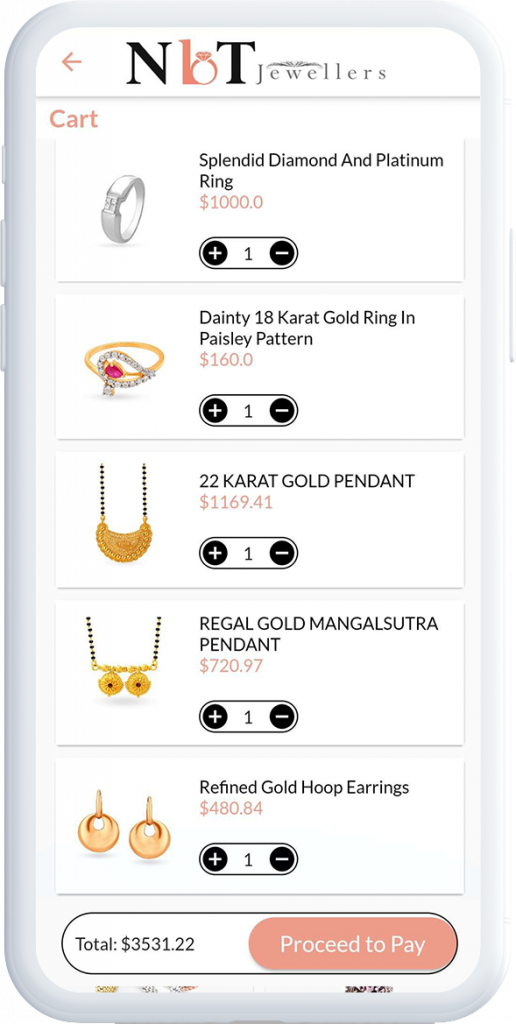 Display Your Goods
Given the large number of mobile users, it will be an excellent platform for showcasing new collections, categories, fancy and cutting-edge designs, and antique jewellery.

Keep Track Of Your Orders
With the application's Geo-fencing or Geotagging integration, both the admin and users may track orders in real time.

Reports & History
On the dashboard, the admin may see all of his orders, including those that have been placed, cancelled, reordered, or rescheduled, and generate reports that provide insight into his firm.