ON-DEMAND

MOVERS AND PACKERS APP Development
Our on-demand movers and packers app connect professionals and services seekers together to provide advanced features & technologies.
Packers

and

Mover's

Mobile App Development Services
Packing and moving services have seen exponential growth around the world in recent years. The powerful app of NBT is designed and developed with a customized clone script to facilitates new ventures in the market. Our professional app is available for customers, delivery agents, and a custom dashboard & panel for managers and admins. The one-stop solution offered by our team of experts considers the right ingredients and timely updates to grow your business and make your offering stand out in the market.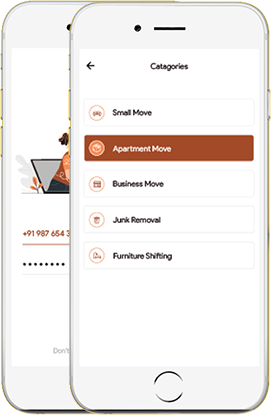 Perks of Having Movers and Packers App Solution
The dedicated app of NBT helps service seekers/customers to connect with professional packers and movers at nearby locations. Now, customers can track the product/service delivery, pay online, give feedback, and do much more via the app.
Registration/Sign-up/Sign-in
Customers can register using the sign-up option and adds an email & phone number to log in with their social media accounts as per service policy.
After getting confirmation on service requests, customers can view the details given by the service provider and track his/her real-time location.

Business admins share special codes to offer discounts or additional services. It will boost your user base.
At NBT, customers can rate the services and provide additional feedback as per their experience.

Book now/schedule service
Users or customers can request professional services or schedule the same for a later date and time.
After completing the service, users can pay online using different payment methods like debit/credit cards, net-banking, digital wallets, and other available options.
The "Re-book" button of our app helps customers to book the previously hired professional packers and movers.
Customers can now connect with professional service providers using the in-app chat and call feature.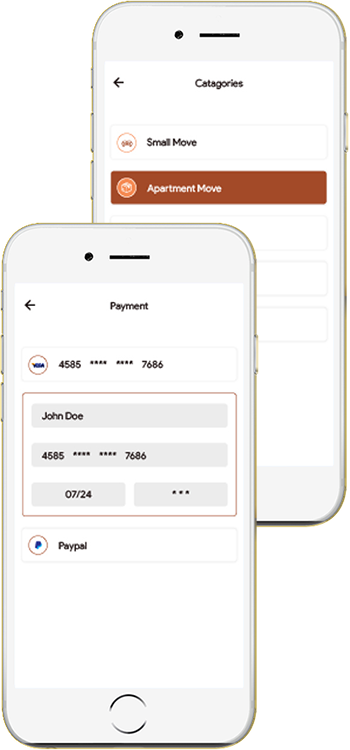 Get an App for
packers & movers
Our packers and mover's app can be easily customized as per your individual or business requirements. It enables independent workers or moving companies to get connected with the service providers willing to provide the services via the application.
Professionals register using requested credentials like email address and phone number and later sign-in to access the application.
After accepting a request from the customers, experts can track the location with the in-built navigation functionality of an app.

Registered movers receive notifications for every activity on the app via push, SMS, or Email. It includes service requests, payment confirmations, in-app chats & calls, and others.
Service providers can now track their earnings with details like date & time, amount, distance traveled, and more.
The unique feature of our app allows digital signatures from customers as proof of the services provided.
Service professionals can create and customize their profiles with details like name, number, display picture, experience, service offered, and others

Service providers can switch between availability or non-availability to serve packing and moving requests via the app of NBT.
Our app helps you update your services that are already in a queue. You can mark them as "Active," "Completed," "Cancelled," or "On-hold" accordingly.
Our range of expert designers and developers allows you to dispatch real-time services to customers using the Manager's dashboard. Moving companies get benefits from the dedicated dashboard and allows dispatching service professionals to customers in real-time. Based on the individual company, a large number of people can access the dashboard.
Manage service requests
As per customer's requests, managers can check the availability and experience of service providers and delivers the same to their location.
Track professionals
Managers can now track the location & activities of service professionals in real-time using our app.
Manage payments
After completing a service, managers added the amount with the deducted commission to the account of professionals via the active dashboard.
Help & support
Service providers can get in touch with managers via the in-built help & support feature of our app.

Manage Rating & Reviews
Managers view the ratings and feedback given by the customers and take action on poorly rated professionals as per service policy.
The robust admin panel of NBT is built for the on-demand service provider/owner or business admin. They monitor and manage the individual professionals and activities of moving companies.
Manage professionals/companies
Admins can monitor and manage the team of professionals and companies through our dedicated dashboard.
Manage payments
An admin can monitor and manage online payments via the admin panel feature of our app.
Manage customers
Track the number of customer registrations, payments, service requests, and others to understand their booking patterns and behavior.
Live-track services
Track all service requests and helps them view details like customer & professional ID, location & destination, service costs, and others while tracking movers.
Manage payments
Admins analyze the business data and download custom reports as per their discretion to make better reports.

Manage ratings & reviews
At NBT, admins can monitor and manage the performance of service professionals and moving companies via customer ratings & reviews.
Advanced Features
of Packers and Movers app

Service categories & subcategories
Our packers and mover's app are integrated with different service categories and further divided into subcategories for customer convenience.

Service details & descriptions
Before placing an order, Customers can check the service details and professional mover's description.
Customers and movers enter dedicated applications using social media like Facebook, Instagram, and more.
Customers can customize services on the basis of available options before making a booking confirmation.
Multiple service bookings
Our app enables customers to book multiple packers and movers service for themselves or others with ease.

Being the best Packers and Movers app development company, we offer digital invoices using end-to-end service & cost details.
Multi-language integration
We aim to fulfill global customers and movers with supporting languages like English, Mandarin, Spanish, Italian, and others via app.
Customers can add multiple delivery spots for the packed consignments. As per an additional stop, the cost will get adjusted.
NBT enables customers and professionals to view service history via the smart feature like date & time, cost of service, location & destination, or more.
How
On-Demand Movers & Packers App Works







We develop easy to use system where any non technical person can easily access all parts of App.
We develop top notch Mobile Application to cover all movers and packers business needs. We make it easy for clients and users to work with a easy to  use system.
Technologies we work with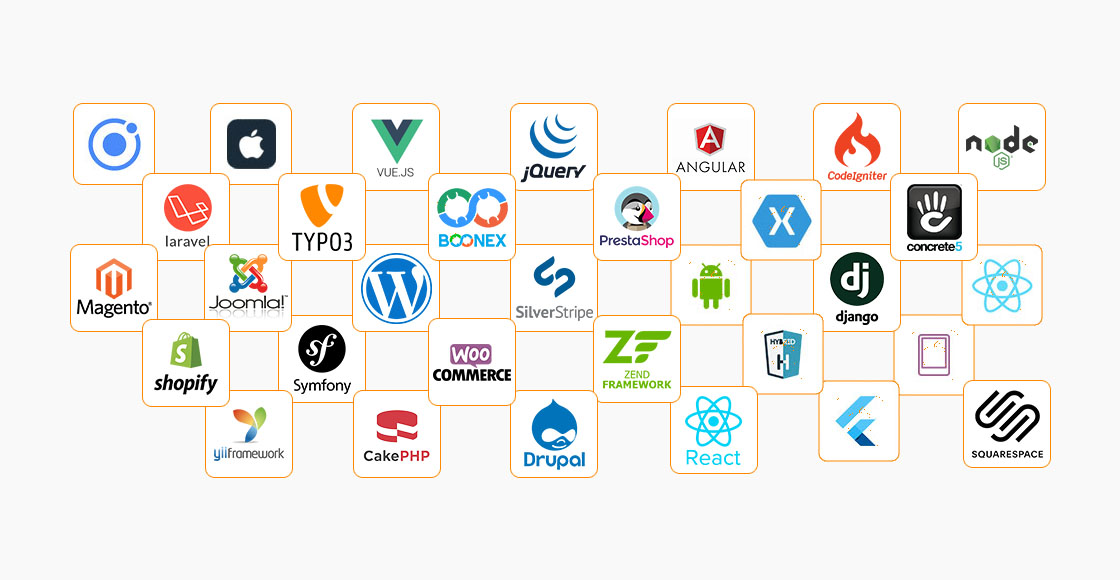 Yes, once movers get matched with service requests, you can live-track their movements via the panel.
Yes! It is possible to integrate your ideas into the app and make your app easy and convenient.
Yes! The app can be modified as per your business and infrastructure. Thus, you can centralize your operations for better efficiency.
We integrate numerous popular payment gateways into the application that boasts end-to-end security for customers, movers, managers, and business admins.
Our white-labeled solutions help you enter the digital ecosystem with a modified application in a short period.