WordPress is well known, most popular, and most widely used PHP CMS. It doesn't need any introduction. WordPress covers most of the Website Market with far. As a Top WordPress Web Development company, we provide complete WordPress Development Service which includes Custom Website Design & Development, Website Redesign, eCommerce Website Development with WooCommerce, Blog Website Design, WordPress Website Maintenance, Plugin Development, Theme Customization, Responsive Designs, Speed Optimization, Security Services, etc.
WordPress powers nearly thirty percent of the world's websites, from small individual blogs to the complex custom sites of major corporations and enterprise organizations. WordPress is only one of the site builders and content management systems nontechnical users can download and install for free, but it has a lot of unique and advanced features that make it the most popular and widely used content management system in use today.
WordPress Development Service & Benefits:
1. Simple and easy to use
WordPress is simple to use and easy to learn, anyone who doesn't have technical knowledge can create a basic WordPress website as per his own needs. There are many templates and plugins available in the market which cover all basic and advanced needs. Easy to install and configure, many hosting provides one-click installation for WordPress.
2. Stable and innovative
WordPress is a very stable system, has regular updates and enhancements, you can update WordPress, its themes, plugins easily from the dashboard. WordPress has a very easy-to-use dashboard. WordPress is an innovative system, we can customize it as per our own needs.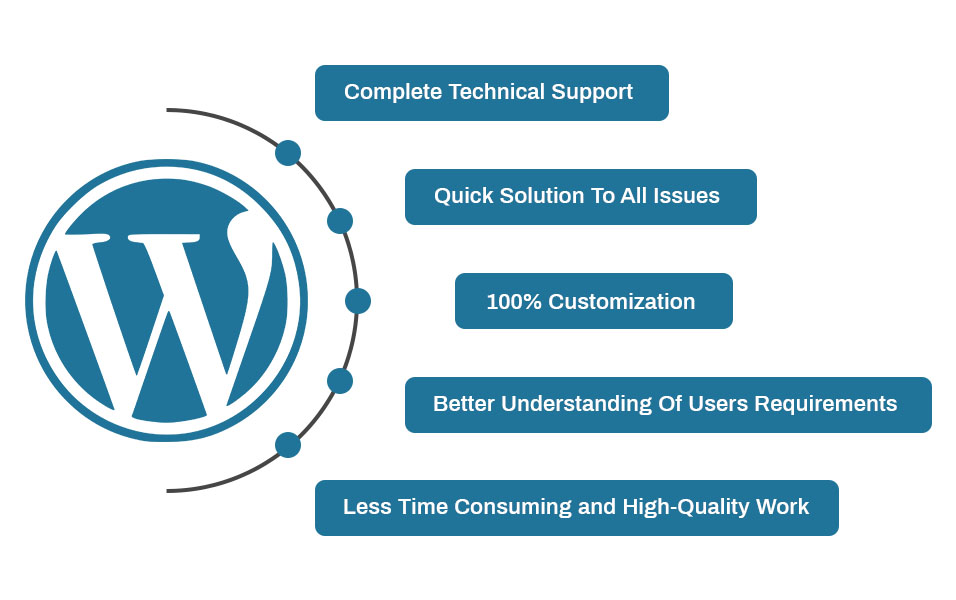 3. Attractive design options
We can get any designs in WordPress, there are many available templates free of paid, which provide attractive design options, we can choose from them or we can create our own custom designs as per our needs.
4. Flexibility
You can choose from thousands of plugins and themes, which will cover all your requirements. For each functionality or for each idea you will find a plugin or theme easily. You can find whatever you can think of in form of plugins and themes. These plugins and themes have been developed as per all business needs which cover all industries from small to large each kind of requirements.
5. Search Engine Optimization (SEO) Friendly
WordPress is an SEO-friendly platform, it is built using all SEO standards. Standard use of H1, H2, and H3 tags, the use of keywords in your website URL, and many supporting plug-ins like SEO Ultimate, All-In-One-SEO-Pack, Platinum SEO Pack, Yoast SEO, etc. This covers all your SEO needs for each page and you can easily follow them to keep each page of your website SEO friendly.
6. Lightweight and Faster
WordPress is a very light CMS and it's much faster to load. As per google guidelines website should be faster to decrease bounce rates. WordPress Websites are by default Speedy, even we can do more speed optimization in WordPress. There are many plugins available for caching like WP Total Cache, Wp Super Cache, Wp Fastest Cache, Wp Rocket, Autoptimize, and many more. Which allow caching in the website and compress all code including JS, CSS, HTML and reduce the number of request on a page. There are many other plugins available for speed optimization like Smush and imagery for image optimization and wp optimize for database optimization and Gzip optimization and CDN for faster responses.
7. Easy content management
WordPress provides a very user-friendly dashboard. Anyone can easily manage all content, images, and rest of data easily from Dashboard. It is very easy to create new pages, new posts, edit or delete any page or post, add new widgets, delete or edit any widgets, create custom fields, edit or delete custom fields, create new blocks, etc
8. Large Community
WordPress is a very large community, we can find many themes, plugins, and functions all over the internet. WordPress keeps updating WordPress on regular basis, each month we have a new update, they keep enhancing features and performance. Being a very large community we can find all kinds of solutions for all our queries easily on different forums and on git or on stack flow.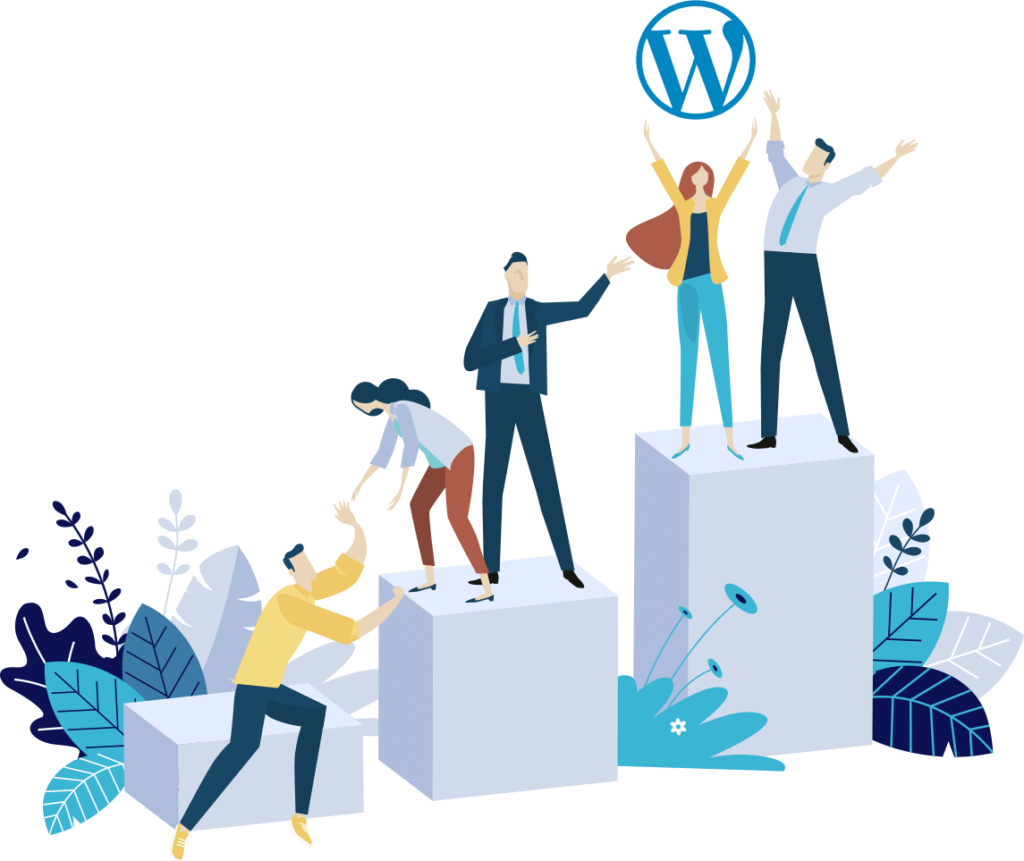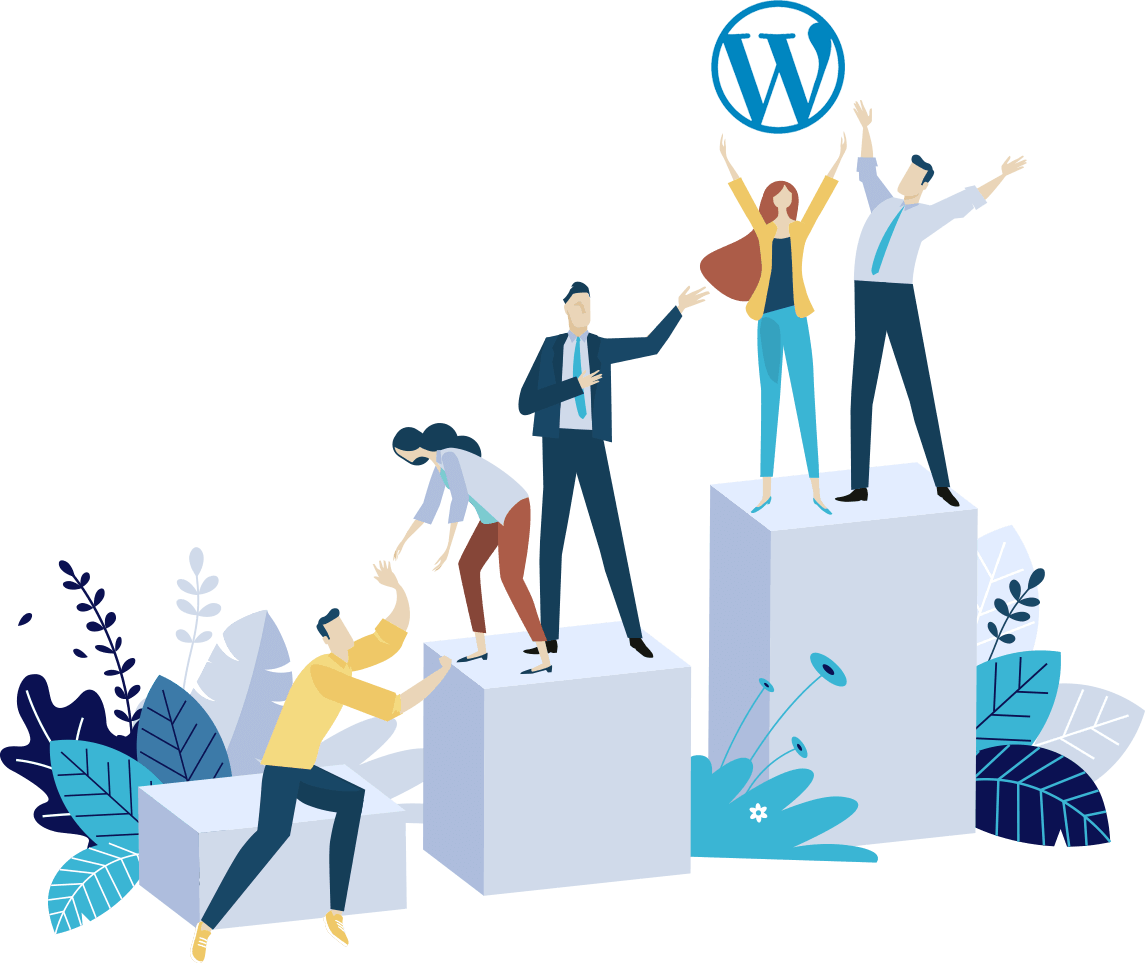 9. Sharing ability
WordPress allows us to share posts and pages easily on social media using some plugins or scripts. We can integrate all kinds of social media easily with the WordPress system.
10. Open Source
WordPress is a PHP Open Source, which can be easily modified and updated as per our own requirements. It is basically PHP and HTML code that can be easily updated as per our own custom requirements.
11. Responsive
WordPress is fully responsive, all WordPress themes and plugins are fully responsive too, it works perfectly on all devices including iPhone, Android Phone, Tab, Ipad, all desktop screens.
12.Functionality & Customization
We can add or update Website functionality as per our own idea. We can easily customize any function or website functionality by making changes in its theme code. Any theme can be updated as per new requirements.
13. Application programming interfaces (APIs)
WordPress support all kind of third party Api's, we can implement any third party Api in WordPress. We can create our own custom RestAPI's using WordPress as well. WordPress and many of its plugins provide their own APIs as well. WordPress can be used as a backend solution for Mobile Apps too.
14. Scalability
WordPress is fully scalable, we can scale it as per our needs. We can have a large database, a large number of images, content, pages, posts, tags, categories in WordPress. We can add as much we want to add to it. It supports an unlimited number of data.
15. Support
WordPress and its all plugins provide complete support. We can ask all our queries and discuss them any issues we are facing with WordPress and any of the plugin. WordPress support is very responsive and quick and they provide the best solutions.
16. Speed and efficiency
WordPress is a speedy platform, and it is efficient to handle any kind of request. We can develop any kind of Web Application using WordPress which is fast and high performing.
17. Cost-Effective
WordPress is a most cost-effective solution, if you need a website for your business, you can easily create all by your own, you can find theme and plugins which are needed as per your requirements. It's very easy and fast to create a website on your own.
18. Update Your Site Anywhere You Are
You can update your site from anywhere. You just need to have internet and a device to access it. You can control each and every part from Dashboard easily.
19. Upgrade Your Site's Capabilities Easily
WordPress site capabilities can be changed as per our needs. We can increase Website capabilities as per our own requirements and loads.
20. Ideal for Aggressive Content Marketing
WordPress is the best solution for website SEO and content marketing. WordPress is fully SEO-friendly and provides a blog option that allows us to market our content easily.
21. Ultimate Social Media Integration
We can integrate any social media into WordPress whether it's Twitter feeds, Facebook feeds, Instagram feeds, or any other social media feed or likes. We can easily integrate with help of plugins and scripts.
22. Increased Site Security
WordPress have many plugins like Wordfence Security, Bulletproof Security, Theme Security which provide complete site security, they have options like Limit Wrong logins, Block Unwanted IPs, Change File Permissions, Block unwanted activities, Notification for any unusual activity, Change Admin Urls, etc
23. Highly Customized
WordPress is highly customized, we can customize it to any level in terms of design and functionality. We can create a custom WordPress theme as per our own requirements from scratch.
24. Blog is Built-in and Ready to Go
WordPress is known for its in-built Blog feature. It provides a complete blog setup that includes Categories, Tags, Taxonomy, Post, Post Types, etc. It covers a complete blog setup that covers all Blog needs.
25. A large number of available plugins and themes
WordPress provides a large number of ready-made themes and plugins, which cover all requirements for any industry and business. You can find plugins and themes for any of your ideas and required functionality.
26. Multiple Users Roles
WordPress provides many user roles which have different permissions, each user roles have their own capabilities, we can manage or update their capabilities as per our own needs too. Here are WordPress default user roles.
-Administrator
-Editor
-Author
-Contributor
-Subscriber
-Super Admin
27. Multi-Site Support
WordPress support multisite, In one Dashboard we can have multiple WordPress sites, we can control many sites from one Dashboard, it is called Network Dashboard. All other sites have their part of Dashboard in Network Dashboard.
28. Multi-Currency & Multi-Language Support
WordPress supports multi-currency stores, we can have all currency Worldwide in one store. WordPress supports multi-language as well. WordPress provides many plugins for multi-language options like WPML. Where you can create separate pages or post for different languages.
29. RTL Support
WordPress support Right to Left language websites as well. Which is used for Hebrew and Arabic. WordPress works best with RTL transition and it's very easy to have sites in both RTL and LTR together.
30. Custom Web Application Development
We can develop any type of Custom Web Application using WordPress by creating our own Custom WordPress themes and Custom Plugins.
As a Top WordPress Web Design & Development Company. We build all types of WordPress-based websites. We are working in WordPress since the start of our Company and we are having an expert in-house team of experienced WordPress Developers. We are much confident and skilled in WordPress. We believe we can do everything in WordPress. Hire WordPress Developers with Next Big Technology for any of your website ideas. We provide developers of different bases as per client needs as budget. As a WordPress Development Service provider, we provide all types of WordPress Development services for all industries all over the World. Our WordPress Development Service includes Custom Theme Development, Theme Customization, Plugin Development, Responsive Websites, Plugin Customization, Mobile Websites, Website Redesign, Covert any existing site to WordPress, PSD to WordPress, Html to WordPress, Ai to WordPress, CD to WordPress, etc.