At the time of Covid-19 when people were not able to go out of their house and needed medicines, online medical apps stepped up and became the most convenient option for them to buy medicines. And even after Covid-19 people finds it convenient to order medicines online only. And not only for medicines, but checkups, tracking physical activities,  consulting to a doctor through video call everything is just an app away now.
Reports estimate that by 2025, the mHealth apps market will reach $111.1 billion.
Listed below are some of the most popular apps for medical professionals, mental healthcare, and in-person visit, many of which are free or available as part of an institutional subscription or pricing starts.
Also Read : Best Health Apps for Android & iOS
10 best online medical apps for doctors and patients
Doctor on Demand is an app based service that offers variety of medical care from your phone only. It offers variety of services like consultancy through video call, behavioral healthcare, preventive healthcare.
FEATURES
The app doesn't ask for subscription
It accepts medical insurance
Access to a licensed behavioral health provider is available 24/7
Different quick and convenient solutions charge flat rates to uninsured users.
Easy and simple interface
Customer reviews
Doctor on Demand has been a great help to many users and is said to be fast and convenient to most of them.
"I was able to talk to a Doctor within 5 minutes, and get a prescription filled in an hour. And I didn't have to miss work!" said one user about doctor on demand application
Another user said "Great program, great doctor and fast results. Sure beats sitting in a waiting room for hours."
Also Read : Fitness & Health Mobile App Development Services
Talkspace is one of the largest online counseling platforms, with thousands of licensed therapists, psychiatrists, and nurse practitioners across all 50 states. This startup has grown so much over the years that allows users to send text, video, or voice messages to their therapist 24/7.
FEATURES
Offers therapy for couples, teens, and individuals. Psychiatric services are also available for ages 18 and older.
Premium packages include live online sessions as well.
Detailed price sheet and explanation of therapy process
24/7 service available
Customer reviews
Talkspace has become one of the best apps which helps people in depression anxiety and mental illness
According to users, "I can't imagine my life without Talkspace medical care after being with my therapist for about one year and four months.""Their response time if you are having technical issues is too long. I signed up and my insurance wasn't going through and it took 1 week of emailing back and forth before I finally got my EAP sessions. Then my free intro meeting counted as an EAP session and they wouldn't fix it. If you need therapy, this is not the place. Honestly, it turned me off to therapy, which is the exact opposite of what this world needs. I am fortunate they never got money out of me."
This is an online medical platform for medical professionals including physicians, registered dietitians, dermatologists, and behavioral health specialists such as therapists, psychologists, and psychiatrists to connect with patients via phone or video call, without the need for in-person visits. Teladoc is an excellent option for anyone looking for convenient, accessible healthcare.
FEATURES
Teladoc visit can be shared with primary care physician if the service is authorized.
Offers appointments 7 days a week.
For an "Everyday Care" appointment without insurance, the cost is $75.
Easily can look through all the services provided and avail them
Customer reviews
The Teladoc app delivers on its promise of being a fast, convenient way to get medical help, according to its users. "It was easy to navigate and I loved how they text and email you about all updates and information.The Dr. came on at our appointed time and made sure that she had all of my medical information before we started." Stated a user.
Also Read : A Complete Guide to Hiring the Top Healthcare Mobile App Developers
Amwell is a telehealth service that provides quick, low cost, and easily accessible on-demand medical help 24/7. The secure system allows you to see a doctor, therapist, or psychiatrist face-to-face without having to leave your home. This app is also best for insurance coverage treatments.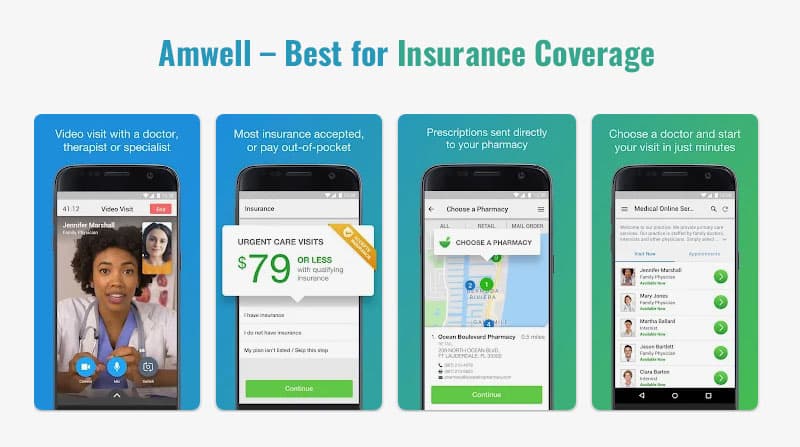 FEATURES
Treatments in a variety of medical areas, including breastfeeding support, pediatrics, menopause care, and psychiatric services
Cooperation with many insurance companies
Customer reviews
Majority of the users of Amwell has stated that they are happy with the services they received.  One of the users said "Always been quick and easy, very nice docs."
This is one of the best and fastest way to ask for an online dermatologist who can help you with your issues. The app is backed by scientific research studies and has over 400,000 users, available in 7 languages and over 160 countries.
FEATURES
As part of First Derm's free resources, patients can also access photos that can help them identify and treat common skin conditions without having to consult a dermatologist.
Board-certified dermatologists with over 10 years of specialized training
24/7 availability
Customer reviews
Majority of students got a good experience with this app. " I don't have insurance and using FirstDermOnlineDermatology helped me understand my skin condition better. Though it doesn't replace an actual in-person appointment, it does help you understand if it is serious or not. I paid for the 48-hour response and got a response the next day." Says a user.
Maven is a telemedicine app which caters the physical and mental healthcare of women. Using Maven, women can speak with medical providers about health concerns, nutrition, physical therapy, mental health, prenatal care, and pediatric care for their families through video chats and private messages.
FEATURES
A Maven appointment costs just $18 and is considerably less expensive than most face-to-face visits covered by insurance.
Maven allows those on the app to ask questions, browse health discussions, or book a video appointment with a health practitioner.
Customer reviews
Maven actually meets the promise it made to help women with their health. According to a user "The doctor was on time, really kind, listened, answered my questions, and made great recommendations."
Also Read : Latest Digital Health Technologies Trends to Watch Out In 2023 & Beyond
With Zocdoc's easy and quick services, users can get an appointment of doctor very easily. The ZocDoc app lets users select the types of care they need, such as primary care, dentistry, psychiatry, vision, dermatology, and more, and enter information such as their location, appointment time, and insurance type.
FEATURES
Online scheduling of appointments
It also sends you alerts and notifications
On Zocdoc you can find any general PCP or specialist, and their corresponding patient feedback under any healthcare plan as well.
Customer reviews
Most customers are generally satisfied with the services of Zocdoc. "The app makes it much easier to schedule an appointment and find a doctor." Says one user.
Fitbit is a cloud-based fitness tracker application that helps streamline corporate wellness programs. The platform helps individuals track sleep quality, monitor health rates, and access self-learning programs from a unified platform.
FEATURES
Fitbit's app comes with many features, including step tracking, heart rate monitoring, food logging, and hydration measurement.
Sharing workout photos and competing against friends and family is possible.
You can still track basic health and activity data using your smartphone with Fitbit's MobileTrack feature, even if you don't own one of Fitbit's wearable devices.
Customer reviews
Fitbit has helped a lot of people to live a healthier lifestyle. According to a user "I need encouragement and motivation all the time and with Fitbit, I can track my progress and challenge myself to reach my goals."
GoodRx is a pharmacy and prescription drug pricing and purchasing application where users cay purchase medicine at a lower price without any restriction and additional paperwork. Consumers can use GoodRx's mobile app or website to search for prescription medications and contact lenses at over 75,000 pharmacies.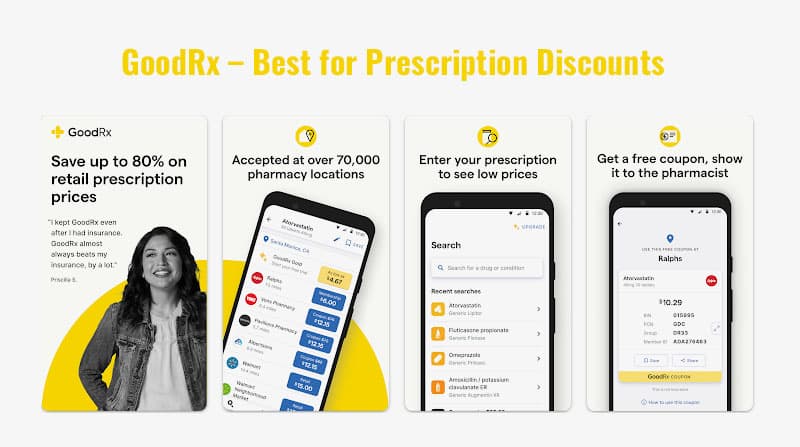 Features
Discounts and coupons to patients who may have trouble paying for prescriptions.
Service for healthcare professionals includes biweekly email newsletter, offering recent news, research, and tips
Price tracker available that lets users compare prescription prices at different pharmacies in their area.
Customer reviews
" The prices are very good and so easy to use." Says a user about Goodrx. And majority of the users have the same opinion.
Medisafe is an application which helps you to remind when to take your medicine, family scheduling, doctor communication and a lot more things
FEATURES
The app also lets you track prescription refills, get medical resources, and get coupons for future prescriptions.
Easy to use
Customer reviews
The medisafe app has been accepted by the users very easily and they are very happy to use this app. According to a user , "I really like how easy it is to use, and how the notifications help me stay on track."
Also Read : Essential cost and features to develop an online medicine delivery app
Other Medical Apps Gaining popularity
WebMD is another healthcare or medical app which is getting popular. Using WebMD you can you this app to check Symptoms, you can know about your condition, medicines, treatment and diagnoses, you can also find doctors and specialists in your nearby area. You can also use this app to get prescription and also set medication reminder notifications.
Using MyChart App, you can keep all your health information in your hand. You can use this app to manage health for yourself and for your family. You can manage below features using MyChart App:
• Communicate with App Care team.
• Check test results, medications, and all type of health details.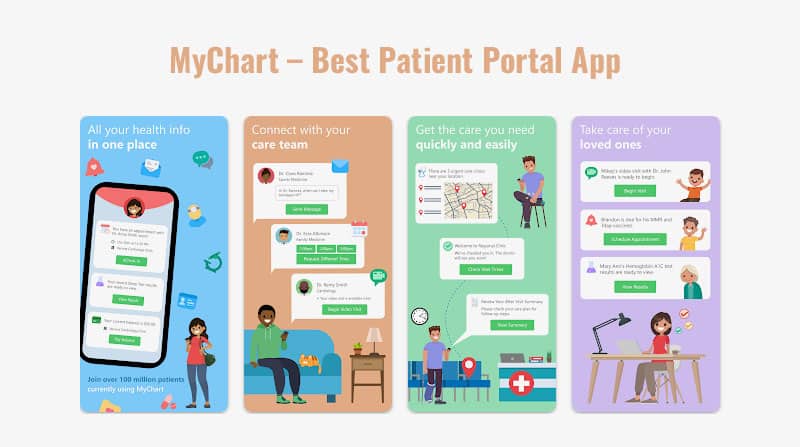 Medical ID use to create medical profiles that are accessible from your lock screen. This app can be used in case of emergency, you can use quick access to important details such as your allergies, blood type, medical contacts, etc. You can share your details with personal contacts as well.
Healow app allow you to communicate with doctor office and access your medical record. You can access your appointments, test results, medications and all personal data in this app. You can manage your and your family record using Healow app.
You can use this app to find a doctor, book an appointment with doctor. You can book appointment in few clicks as per your availability.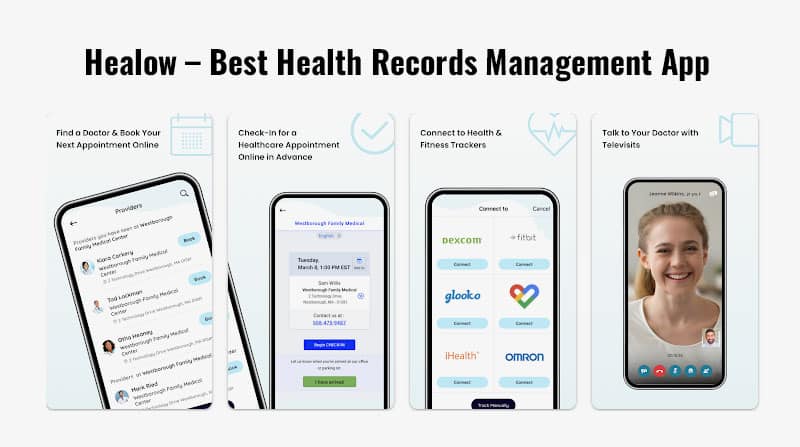 Heal App is used to do home care. It provide some important features like..
Doctor house calls
Virtual telemedicine visit
Remote monitoring
Patients can schedule telemedicine and home visit for specialist.
Benefits of Medical Apps for Patients and Doctors
There are many benefits in using the online medical apps for patients as well as doctors.
The apps help to prepare a customized approach for treating each of the patients because every ailing person needs a special care.
The prescription of the doctors have become digitalized, which means it can be accessed on your device. It helps them (medical professionals) to view all your reports through the app makes it easier to take quick and apt decisions in emergency cases. The information can be exchange within a wink of an eye.
The on-demand apps helps people from rural areas to book appointment with doctors and buy medicines online without having to travel to the hospital in the city.
Also Read : Healthcare App Development Cost and Features
Conclusion
In addition to help you make the decision regarding your health, these medical apps has become the best thing. But it is also important to note that apps do not replace medical treatment, and you should always consult your physician if you have any questions regarding an app. Medical apps for patients improve documentation so that your doctor will have more information about your symptoms and habits the next time you see them.
Thanks for reading our post "Top 10 best online medical apps for doctors and patients". Please connect with us for Medical App Development for doctors and patients.