"There's someone out there for you. God made a person for everyone." At least once in your life, you would've heard these lines. And whether you find the person in a traditional way or modern way of dating, it does not matter as long as you choose the right person.
We have noticed that today's generation likes the modern dating culture more than the traditional dating culture. and many entrepreneurs are finding the best way to make an income out of it by making so many dating apps for the generation.
Introduction 
Unlike a decade ago when people used to think that dating apps are only for desperate people, today almost everyone has downloaded at least one dating app in their life.
With the number of users, the number of dating apps are also increasing day by day. The average  revenue of the online dating app industry is estimated to reach US$4.83m in 2023 and the number of users is expected to reach 28.41m users by 2027.
So, from here we can see that dating app companies have become cash cows and earning a lot of money and If you also want to create an online dating app of your own with some unique ideas and features, you might want to check what features are already being used in the market so that you can improvise your ideas or come up with something completely unique. You can check these 15 dating apps with their platform availability and features to understand what makes them different from each other:
Top Dating App like Tinder in 2023
| | | | | |
| --- | --- | --- | --- | --- |
| SR. NO. | APPS | DOWNLOADS | ANDROID RATINGS | IOS RATINGS |
| 1 | Hily | 10 M+ | 3.8 | 4.2 |
| 2 | Her | 1 M+ | 3.7 | 4.4 |
| 3 | Match | 1 M+ | 2.8 | 3.8 |
| 4 | Facebook Dating | 500 Cr+ | 4.1 | 2.3 |
| 5 | Badoo | 10 Cr+ | 4.0 | 4.5 |
| 6 | Haapn | 5 Cr+ | 3.1 | 4.3 |
| 7 | Bumble | 5 Cr+ | 4.1 | 4.5 |
| 8 | Skout | 5 Cr+ | 3.6 | 4.3 |
| 9 | Zoosk | 5 Cr+ | 2.9 | 4.2 |
| 10 | Plenty Of Fish Dating App | 5 Cr+ | 3.7 | 4.0 |
| 11 | Hinge | 1 Cr+ | 4.0 | 4.3 |
| 12 | Okcupid | 1 Cr + | 3.8 | 4.3 |
| 13 | Coffee Meets Bagel | 50 L+ | 3.5 | 4.5 |
| 14 | Inner Circle | 10 L+ | 3.2 | 4.3 |
| 15 | Elite Singles | 10 L+ | 1.8 | 3.0 |
Hily is a French online dating application that employs machine learning to match prospective partners. Named as an acronym for "Hey, I Like You".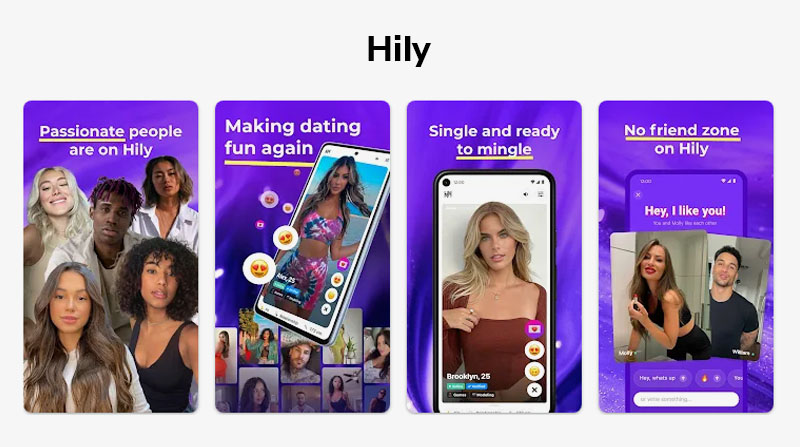 This platform requires account verification through live photo capture, uploading a photo of an official ID, or social media integration. With this app, you can find your new date locally or internationally and also go live streaming by the live feature.
The smooth interface and the live support staff add to the convenience of the users.
Also Read : What is the cost and delivery time to create a dating app like Tinder
If you're part of the lesbian, bisexual, non-binary, pansexual or queer community and hope to make friends or date while being unapologetically yourself, Her is a solid option. Her is built by queers for queers.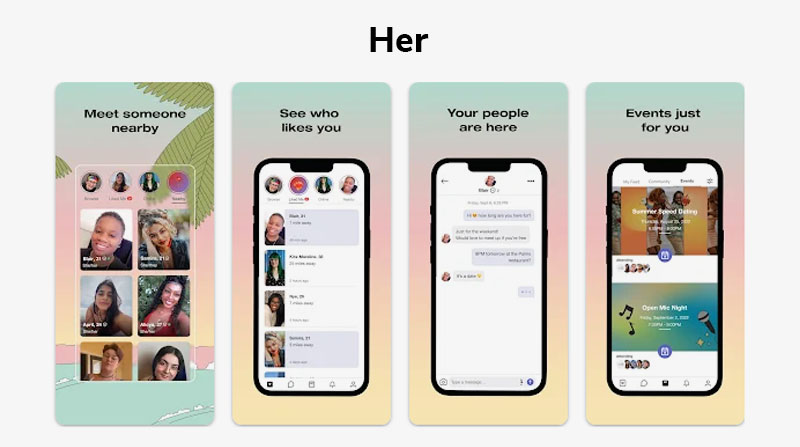 With Her's nurturing community, queer women can meet like-minded people, share their story and also helps to find the queer events happening in their locality.
Her provides a safe dating platform with access to around 30+ LGBTQIA2S+ communities for free! The apps' premium features let you go incognito, i.e., nobody can see you until you like their profile along with other features such as ads free experience and advanced search filters.
Also Read : Everything About Dating App Development: Cost & Features Highlighted
Match offers you a freemium dating experience on Android and iOS. You can set up online profiles, upload a few pictures and engage in some online flirting with "winks", and have new matches delivered to you daily.
It offers conversation starters from trending topics as well as access to dating experts by consulting about first date profiles.
Also Read : What is The Best Dating App For Young Adults
Facebook has updated its app and added a new feature where people above 18 can create a separate dating profile on Facebook where their current friends on Facebook or anyone outside of dating cannot see their profile.
You can use the feature of adding your Instagram posts directly to your dating profile and your Instagram followers to the secret crush list and if the secret crush does the same for you, it's a match!
Also Read : How Mobile Dating Apps Changed The Way We Find Love?
If you didn't get a chance to date your favourite celebrity crush, this app will help you to find your favourite celebrity look-alikes using facial recognition technology. The app will help you to find A-1 lookalike users from 465 million people worldwide.
Using the features of this app users can see and contact people nearby, as well as those they 'bumped into'. It provides features like video chatting, recording clips to the prompt questions, sharing pictures from other social media apps, and share your moods and intentions.
Also Read : How Much Does It Cost to Develop a Dating App Like Badoo?
Happn works differently than other dating apps. Every time any member of the Happn app crosses paths with another in real life, their profile shows up on their timeline.
If you're not into messaging at all, Happn lets you send voice messages or Spotify songs right in chat. This app can be a refreshing change from the endless swiping of Tinder and Bumble. Users can send a secret like or say hello to get notified.
Bumble was first founded to challenge the antiquated rules of dating. Now, Bumble empowers users to connect with confidence whether dating, networking, or meeting friends online. This USA-based app for dating becomes a single social networking platform that embraces women's empowerment and also breaks the traditional way of dating by letting women make the first move.
Via this online dating app, you can share your Spotify playlists and add your Instagram profiles to help other people to know more about you.
Here, you can easily switch between Dating, BFF, and Networking options and by responding within 24 hours you can know if the other one is the one with whom you want to connect actually or not.
Bumble has recently added a speed dating feature which helps people to vibe without even seeing one's picture for the first 3 minutes.
Skout was one of the first dating and mobile people discovery applications to emphasize generalized user location. It gives you the ability to connect with people across the world. It spans more than 180 countries and is available in 14 different languages. It lets you live broadcast yourself and watch others streaming live.
Zoosk is available in 25 languages and in more than 80 countries. This online dating app helps you find friendships, hook-ups, and short-term as well as long-term relationships all in a single app. Zoosk can be used via both its mobile application as well as through its website.
It gives you curated matches and empowers you to search based on your criteria. It has features like an advanced search filter, meet nearby singles, mutual like and connect etc.
Plenty of Fish takes a conversational approach to online dating, rather than a photo-heavy approach, like other match-making platforms. Its website says, "Whether you're into spicy dating games, live streaming or sending a good-old-fashioned DM, we've got lots of options to make finding your person actually fun."
This online dating app lets you play dating games like Cue'd Up that help users learn more about one another, join live streams, and restricting your first message to avoid one- or two-words intros.
If you want the best quality of interactions, then Hinge is the platform for you. Hinge is built on the belief that anyone looking for love should be able to find it.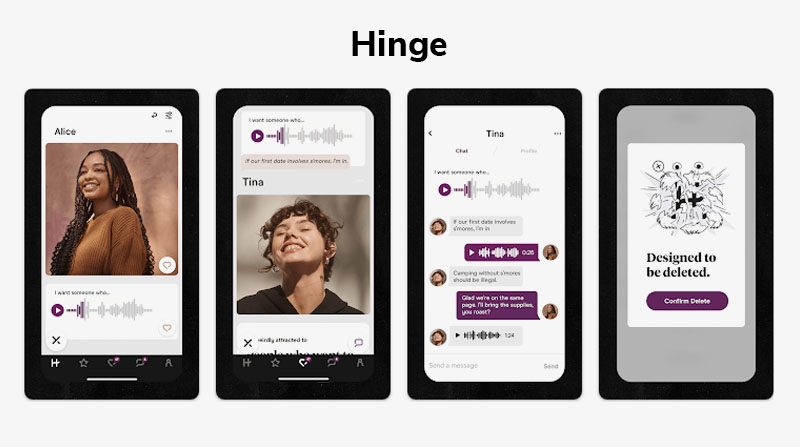 This USA-based dating app allows you to like exactly what you like about the other person through "individual page like" of the profile.
When you sign up for Hinge, you have to answer three "prompts" about yourself, which will appear on your profile. Unlike Tinder or Bumble, Hinge lets you like specific parts of someone's profile instead of the whole thing.
If you are looking for something specific in your other half, OkCupid will help you to meet the person. It features multiple-choice questions that help the users to get the right match. This app has a simple user interface which makes it easier to access.
Best app for busy daters. Coffee Meets Bagel is a dating app where you, the "coffee," are delivered a match, or a "bagel," at noon every day.
Unlike other dating apps where matches are provided mainly via quick glances of photos, Coffee Meets Bagel provides only one match a day based on detailed profiling. Its smart algorithm curates matches based on your preferences, so you can spend more time going on real dates with matches who matter.
This app believes that dating should feel like walking into your favourite bar. The app claims to bring together like-minded, career-driven singles by matching single users on shared interests and hosting singles parties across the world.
You get to invite five friends each, who are screened before approval by the team of Inner Circle. The app includes an inner circle widget to show potential matches every 5 minutes.
Elite Singles is an online dating app that caters to educated and successful individuals. The majority of members on this site have a college education, regardless of their age. However, the majority of its members are between the ages of 30-35. This is an app with an exception to the apps like Tinder for teenagers. Elite singles have icebreaking questions to help you start a conversation if you do not know how to start a conversation.
Also Read : How Much Does It Cost to Make a Dating App?
Conclusion
Finding the right match might take some time but finding the right online dating app will not. Though knowing what you want helps in sorting the list out, you might still find yourself in dilemma. Well, good thing that there is nothing wrong in trying out the free versions of various online dating apps. Try them out to find the right match!
Are you planning on designing an online dating app and need help with the same? Reach out to us and we will help you in curating your dreams into reality.
Thanks for reading our post "Top Dating App like Tinder in 2023". Please connect with us to know more about Dating App Development.