A home is a place where we make most of our memories. And to live in a place which is like our dream is almost everyone's dream. And designing a room is the first step toward it. However, designing a room can be a little disconcerting task. There are a lot of factors that are needed to be considered before you start to decorate it. From the type of flooring to the curtains that needed to be put on. In the current generation, everyone wants a modern house which is well designed and nowadays it has become a lot easier as well with the free room design apps which help anyone – be it a person from a non-designing background or an expert – to design their home according to their taste. We will discuss Top 10 Best Room Design Apps in further post.
These room designing apps are the best platforms where you can choose anything from the colour on the walls to the amount of finishing materials required to do so. The best part of these apps is the virtual reality tour which makes you feel like even if it is on the mobile or laptop, you are in your own house physically.
Let's check the top 10 room design apps to give you a basic idea about how these apps work. Some applications are even compatible with both PC and mobile phones.
Also Read : Mobile App Design Fundamentals – The Difference Between UI and UX
10 Best Room Design Apps
| | | | | |
| --- | --- | --- | --- | --- |
| Application name | Cost | Level | Android rating | iOS ratings |
| Houzz | Free | Professionals | 4.7 | 4.8 |
| MagicPlan | From $9.99/month+ free trial | Professionals and amateurs | 4.1 | 4.7 |
| Roomle | From €150/month+ free trial | Beginners and amateurs | 3.0 | 4.2 |
| Room Planner | Free | Professionals and amateurs | 4.2 | 4.6 |
| Home Styler | Free and paid versions are available | Professionals | 3.6 | 4.5 |
| Housecraft | Free | Beginners, amateurs, and professional | – | 4.5 |
| Home Design 3D | Free | Amateurs and professionals | 3.6 | 4.5 |
| Planner 5D | Free and paid versions are available | Amateurs and professionals | 3.4 | 4.3 |
| Amikasa | Free | Professionals | – | 3.0 |
| RoomStyler | Free | Beginners, amateurs, and professionals | – | 2.0 |
Houzz- Best Room App Overall
There's no better free interior design app than this one; you can do everything from arrangement to repair with this app. It has more than 10 million high-resolution pictures that you can style and decorate as per your likes. You also get access to the huge catalogue available on the app along with the furniture's price lists. Its one the Best Room Design Apps.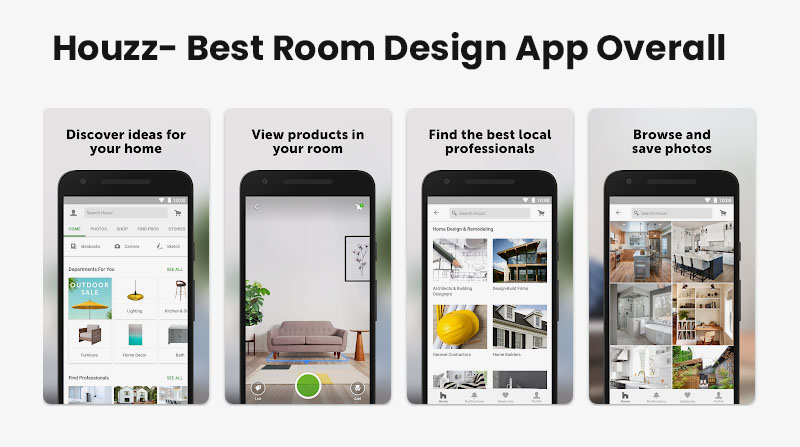 FEATURES:
You can easily personalize designs with 3D planner
Billing and invoicing process is smooth
Customizable branding is also available
PROS
It provides messaging feature so that you can share ideas with others
Customer support is kind and quick
CONS
You can face spam encounters
It might be difficult to use for beginners
MagicPlan
Magicplan is super easy to use and it reduces your time by ten folds if you are an architect, or interior designer and you are required to survey a site. You can easily build a floor plan or plot by scanning the area. You can connect your Bluetooth lasers to measure the dimensions accurately. These features make it a huge player in the market and gain customer loyalty.
FEATURES
You can calculate the cost of building specific space
It is easy to measure and sketch in 2D and 3D
Features like markup, 360-degree images, notes are great tools
PROS
It is easy to operate
It is compatible with AutoCAD, Excel, and Chief Architect
It provides a customizable price list
CONS
The free version of the app contains a watermark
Roomle
This is one of the easiest app which helps you to design your room as per your requirements. There are thousands of product choices available from many reputed manufacturers which you can use to efficiently and elegantly design your room. This app also provides 3D and augmented reality features which makes it advantageous for you as you don't have to recreate your room first to design it. However, the application is not free, you need to pay a minimal amount per month to use its features. Roomle has better visuals than its competitors.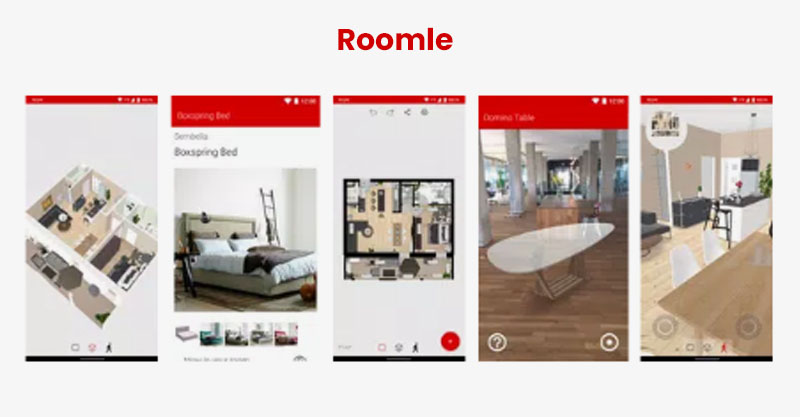 FEATURES
You can easily draw with your fingertips
It provides 3D feature
You can share your floor plans with friends, family, and clients
PROS
It provides a smooth 3D feature
It gives access to all standard tools
It has huge catalog of items of furniture
CONS
It does not work on offline mode
Room Planner by IKEA
Ever wondered how your favourite IKEA products will look in your home? Now you can visualize them without buying via this room planner app. This app is free as well as easy-to-use. Room-specific tools include a virtual kitchen planner, bedroom planner, bathroom planner, and storage planning solutions. The storage option is also customizable.
FEATURES
It is based on 3D and 2D model
It is easy to use
It offers a list of space resources
PROS
It gives multiple features
The brand IKEA itself is the person behind this app
CONS
You have to buy subscription to access some premium features
Homestyler
There are many floor spaces available on Homestyler that you can choose from or you can also create your own. Depending on your needs, you can choose, drag, pinch or zoom the furniture, or even rotate it. Other apps lack the rotating feature that many designers want. Are you one of these designers? If so, what are you waiting for? You should check it out right now!
FEATURES
It is based on 3D and 2D model
It has more than 1 million furniture options
You get access to customizable features
PROS
It is quick and easy to use
It works great in the web version
Once the design is complete, you can print it out
CONS
It has poor interactive 3D capability
It does not provide Polish language options
Android | iOS | MacOS | Windows
Housecraft
This interactive room designing app lets you drop furniture and decor items in your real space using AR technology. You can start the video streaming and choose an area where you want to place the desired furniture. The placed furniture will be there till you don't discard the stream. The app even lets you resize the decor items and furniture.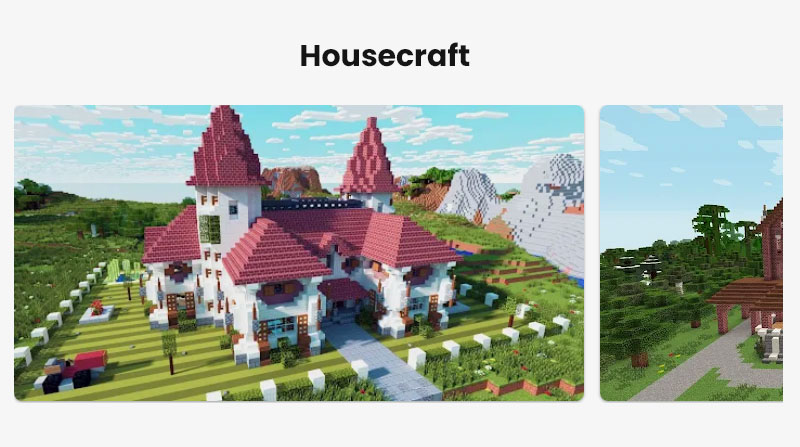 FEATURES
It allows you to adjust the length, width, and height of furniture
It is based on a 3D & AR model
It is best for beginner
PROS
It is regularly updated
It is easy to use
Bugs are fixed with every update
CONS
AR model results in lack of privacy
It has limited options
Some of the features are missing
Home design 3D
Home Design 3D is a beginner-friendly home design app which is available in both 2D and 3D modes. Don't have any experience in designing a room or a space? You don't have to worry as you can still enjoy and take advantage of the features available on the app. With the numerous filters available, the app made it easy peasy for you to visualize your room in different time zones and weathers.
FEATURES
It has multiple lighting format
It allows you to share your creations
You can import blueprints and save them in the drive
PROS
It provides wide range of furniture options
It is simple to control and easy to use
It gives you many editable elements
CONS
You have to buy subscription for full access to the application
Planner 5D
It is one of the largest free room architecture app which lets you design your rooms and office spaces. The precision provided by Planner 5D is commendable as it allows you to focus on and design even the smallest architectural details. It doesn't stop at interiors only it also has landscaping and pool design options. You can also upload the floor plan to get a fully customizable 3D plan.
FEATURES
It provides drag-and-drop option to create plans in 2D or 3D
It supports multiple languages
It provides fully customizable features
PROS
Full screen and compact mode of designing is great
It is beginner-friendly
It has high-quality texture rendering
CONS
It is not compatible with Windows XP
Advanced features are only available in the paid version
Amikasa
Want to redecorate your room without purchasing any new item? Amikasa might be exactly what you are looking for. You can log the precise dimensions of your room to ensure the virtual room is exactly the same as your real one. After designing, you can even share your design to spread creativity and to ask feedback from your audience.
FEATURES
You can quickly redecorate your room with advanced features
It provides predefine shape, so it becomes easy to select space shape
It features a massive color chart option
PROS
It has a huge range of interior options
By using the camera, you can project furniture onto a real picture
CONS
It might be a little difficult to use
It has confined set of tool
iOS | Windows
Roomstyler
To start designing your room, you would be required to first either upload a floor space or if you don't know how to plan one or are not interested in creating one, you can simply select any of the already uploaded layouts. Don't want to design anything? Well, Roomstyler lets you browse through millions of already-designed rooms as well. So, what are you waiting for? Grab that coffee and your smartphone right now!
FEATURES
You can browse more than 1000 room designs and also cast a vote in the best design contest
Its 3D library helps you to change the colors and furniture of the room
PROS
It allows you to see other's works as well
You get various design topics to compete
CONS
It has limited workspace
There is no real-time 3D design mode
Also Read : AR based interior design app development – A complete guide
Room Planner App Development Cost
The cost to create a room planner app depends on the requirements and features of the app. With basic features, the app will cost around $25000 to $35000, and with more advanced features it may cost you more than $60000 or more.
Also Read : Why on-demand Virtual Interior Design App Development is creating a revolution
Conclusion
There are a lot of free 3D room design apps available in the market that let you put your creative ideas on the platform provided by them. Even a non-design background individual can become a designer after using these apps for a while. Despite of many limitations, these app provides unique features to you so that you don't have to shift your furniture a quite a lot times and still be unsatisfied with the results. We hope that through this article you got a quick brief idea about the features provided by the market leaders. If you are planning on developing a room designing  app just like those listed above, you can contact us and we will definitely help you in transforming your ideas into reality.
Thanks for reading our post "Top 10 Best Room Design Apps". Please connect with us to know more about Room Planner App Development.