Is it your goal to find a solution that will automate the most complex and time-consuming business activities possible? We are looking for corporate mobile app developers to join our team!
Next Big Technology is one of the world's leading providers of enterprise mobile application development services. We create solutions that are tailored to your specific business needs. Through the use of enterprise mobility solutions, our team of highly qualified and devoted developers can automate your company processes.
We design and develop enterprise mobile applications to streamline your complex tasks and resolve business difficulties. With years of experience in developing bespoke enterprise mobile application solutions that meet communication objectives from the perspectives of both customers and employees, our developers are well-qualified.
Once you have shared your workplace mobility app development ideas with us, our professionals will work with you to identify your exact requirements and design solutions that will provide users with a smooth experience. We provide you the freedom to select resources and assemble your development team. Furthermore, you have the flexibility to scale up or down your staff as needed.
Enterprise Mobile App Development Services

Next Big Technology provides a comprehensive enterprise mobile application development service that is tailored to your specific company requirements.
Here are some of the benefits of working with our enterprise mobile application:
User-Friendly Interface
If you want to make money in classified advertising, you must create an appealing app that users can use with ease.
Also read : Understand the basics of an Enterprise Mobile Application Development
Affordable Cost

In order to keep costs down while maintaining quality, we provide comprehensive enterprise mobility solutions at an accessible price.
On Time Delivery
Our team is always on time when it comes to providing any service. We listen to your needs and respond accordingly.
Enterprise Mobility Solutions

Next Big Technology is equipped with a skilled business mobility development team that is capable of doing everything it takes to meet your needs on time and within budget. With years of experience, we have learned how to put cutting-edge tools and technologies to use in order to bring your ideas to life. It makes no difference how complex your project needs are; we are always here to assist you in reaching a successful conclusion.
Examine the following areas of our expertise:
App Development
We have a talented development team that can create enterprise mobile applications that are exactly what you desire. Our developers may create mobile applications and wearable gadgets that are both cross-platform and native in nature, depending on your specific requirements and preferences.
Marketing Campaigns

We partner with you to ensure that your sales campaigns and procedures are efficiently managed by our sales staff, who does so using sophisticated enterprise sales solutions. We make it possible for our team to acquire critical information about you and to reduce turnaround time when serving you.
Workforce Solution
We provide top-notch workforce management solutions to make the lives of your employees a little bit easier. Our developer's design and construct superior workforce solutions that assist you in managing and processing large amounts of information.
HRM Solution
Our mobile human resource management system increases the productivity of your HR department. When you use our service, your human resource experts will have an easier time managing employee profiles, leave information, attendance, salary information, recruitment, and payroll operations.
Benefits to Build Enterprise Mobility Solutions
Once you take advantage of our corporate mobility solutions, you will be able to drastically improve overall operations and propel your company to the next level.
The following are the primary reasons for developing an all-encompassing enterprise mobile application:
• Employee productivity is increased as a result of data-driven solutions.
• The ability to operate around the clock is provided through universal accessibility
• The absence of manual labor allows operations to run more quickly.
• Collaboration with diverse departments is a breeze.
• Enhancement of the process.
• Superb customer service experience
• Increasing the efficiency of your workflow will boost your returns on investment.
Our Enterprise Mobile App Development Process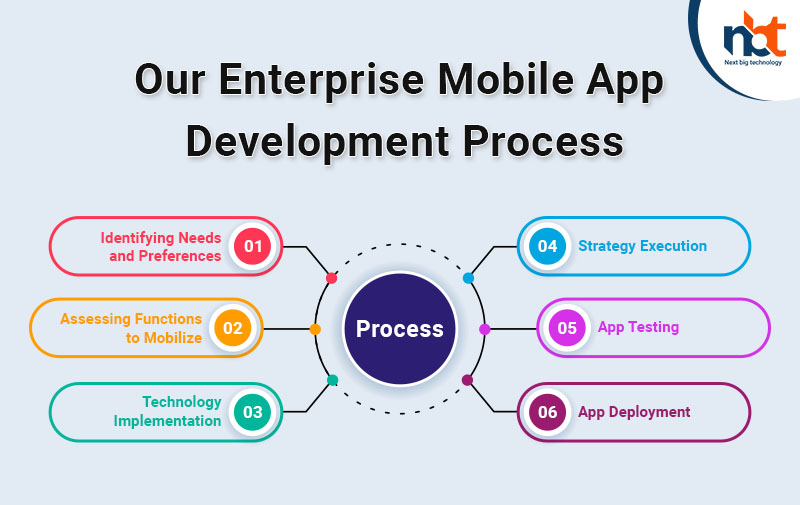 We use a well-structured procedure when developing enterprise mobile applications to ensure that the desired outcome is achieved.
The following are the stages that must be taken while developing an enterprise mobility solution:
Identifying Needs and Requirements
Our sales specialists will contact you to determine the specifics of your request. This will assist you in determining the type of application you desire for your company's needs.
Prototype and Functions

Following the identification of your requirements, our professionals comprehend a variety of functions that can be deployed for your company. We identify all of the critical functions that must be activated in order to make operations run more smoothly.
App Development Technology Implementation
With your requirements and preferences in mind, we select and apply the most appropriate technology to provide the required results. As a result of our years of experience, we understand how to leverage cutting-edge tools and technology to efficiently meet the needs of your company.
Also Read: Major Things to Keep In Mind While Developing An Enterprise Application
App Development Strategy Execution 
Following the implementation of technology, our developers implemented innovative techniques and created an enterprise application that supports your business processes.
Mobile App Testing
During the development process, our quality analysts rigorously test the application that we develop for your company. Each mobile device is tested to verify that our solution is error-free and performs properly on all of them.
Mobile App Deployment
We will deploy your enterprise mobile application to your server and make it available on the App Stores for download (Google Play and Apple App Stores). After the app has been deployed, it becomes available to all of your staff and users. Even once your app is live, we will continue to monitor and manage it.

Hire Enterprise Mobile App Developer

Your firm needs an enriched enterprise mobile app that improves your entire operations in order to stay one step ahead of your competitors and leave them behind. When you employ our developers, you will receive a bespoke application that meets your specific needs.
So what are you waiting for? Get started today! Engage the services of a professional enterprise mobile app developer from us to receive the best solutions at the most cheap prices!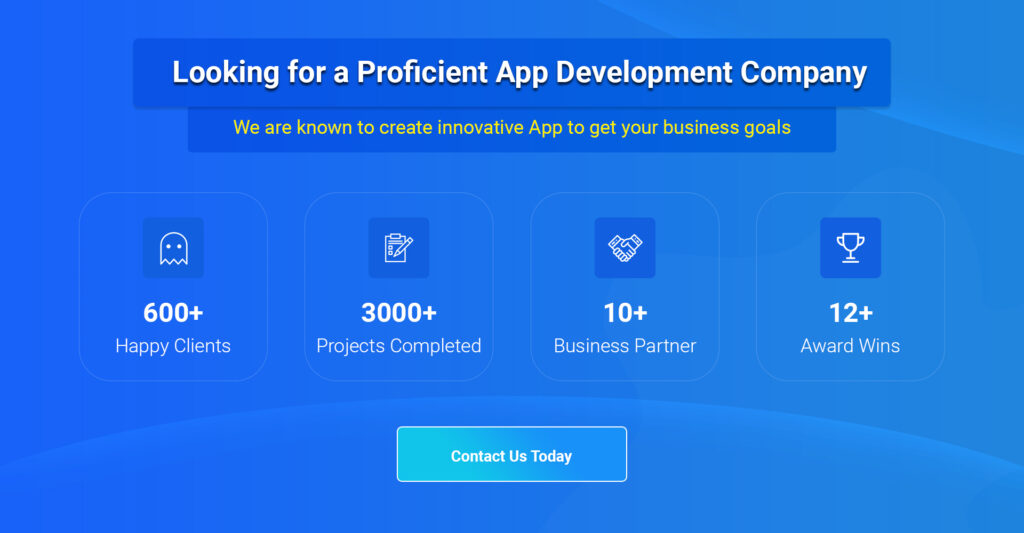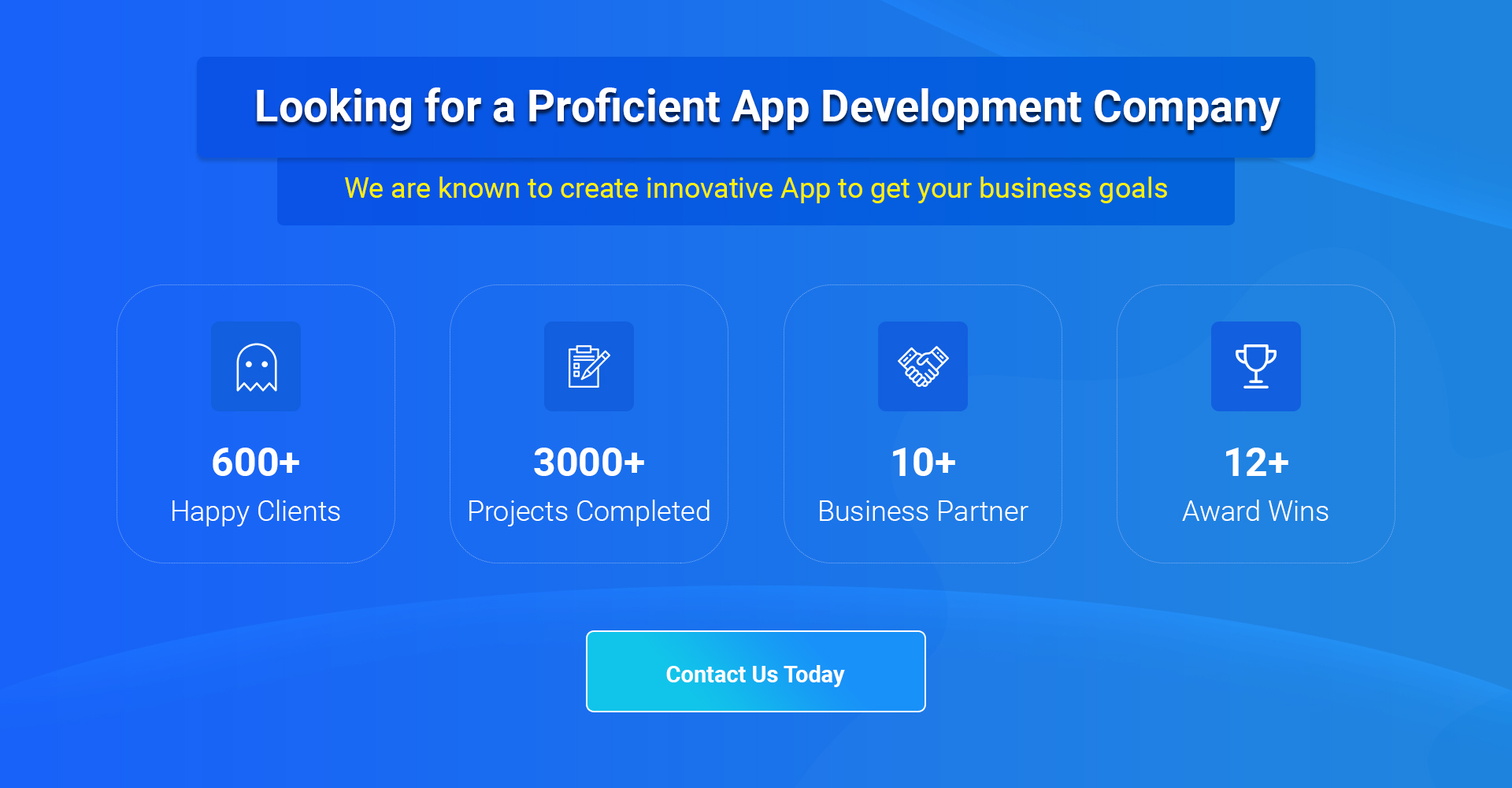 Thanks for reading our post "Enterprise Mobility Solutions", please connect with us for any further inquiry. We are Next Big Technology, a leading web & Mobile Application Development Company. We build high-quality applications to full fill all your business needs.