Market Overview of Music Streaming Apps
Gone are the days when we used to store music cassettes and discs. Technology has made it easier for us to stream online or to download music tracks to listen to them offline.  It has changed the way we live our lives. Be it the moment of happiness or sorrow, be it at home parties or business events, the music fits well in all the moments of our lives. Our lives have become very convenient with varied categories of songs, albums of their favorite artists, and even audio podcasts on numerous topics all available in one place with just a few clicks. The music streaming app industry has been growing ever since and businesses are very much attracted to the revenues generated by these apps. The market size of music streaming apps has been estimated to reach USD 103.07 billion.
Amazing Benefits of Music App Development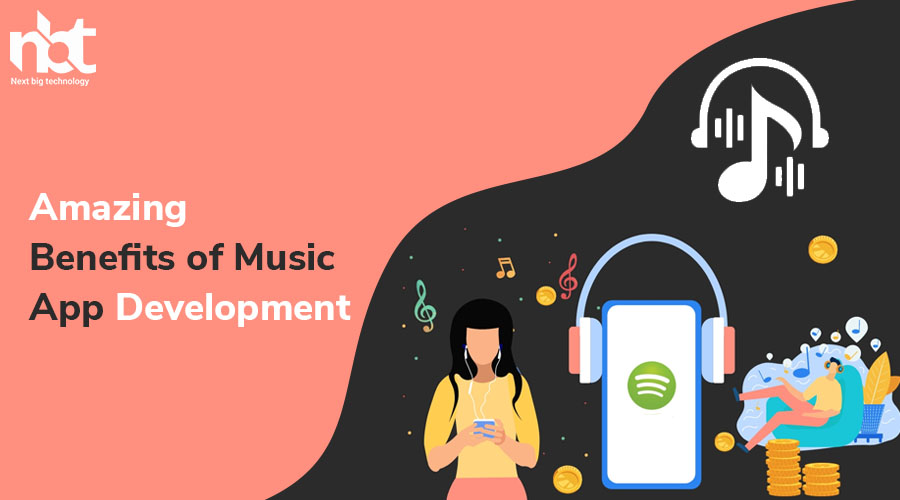 The shifting of people from traditional ways to digital media is one of the greatest benefits to making you decide to develop a music app. Other benefits are that this industry guarantees a great future ahead due to technology propagation and that the customizable app interface attracts more consumer base making it a great choice to invest in this sector.
Also Read : Music Stream Mobile App Development Company Cost and Features
Categories of Music Streaming Apps
Server-based Music Library
This is the most common and popular type of music streaming app service. In server-based music libraries, you get a library full of music tracks arranged according to their genre or type like jazz, hip-hop, rock, pop, etc. You can download or curate your personalized playlist either a public one or a private one. These features can be accessed for free or by paying for a subscription for advanced features.
Radio Station
Now you get the radio in your palms as well. Going digital provided the radio stations with a huge customer base. AudioBox is one of the music streaming apps which provides radio station services.
Cloud Storage
With technology and cloud computing reaching heights in this generation, many music streaming apps like ShoutCast provides you with a platform where you can upload and store your favorite music tracks and listen to them anytime and anywhere. Once uploaded on the cloud server, even when you clear the data from your device you can access the tracks uploaded on the server again with ease.
Also Read :Top Music Streaming App Development Company with Effective Solutions
How Do Music Streaming Apps Generate Revenue?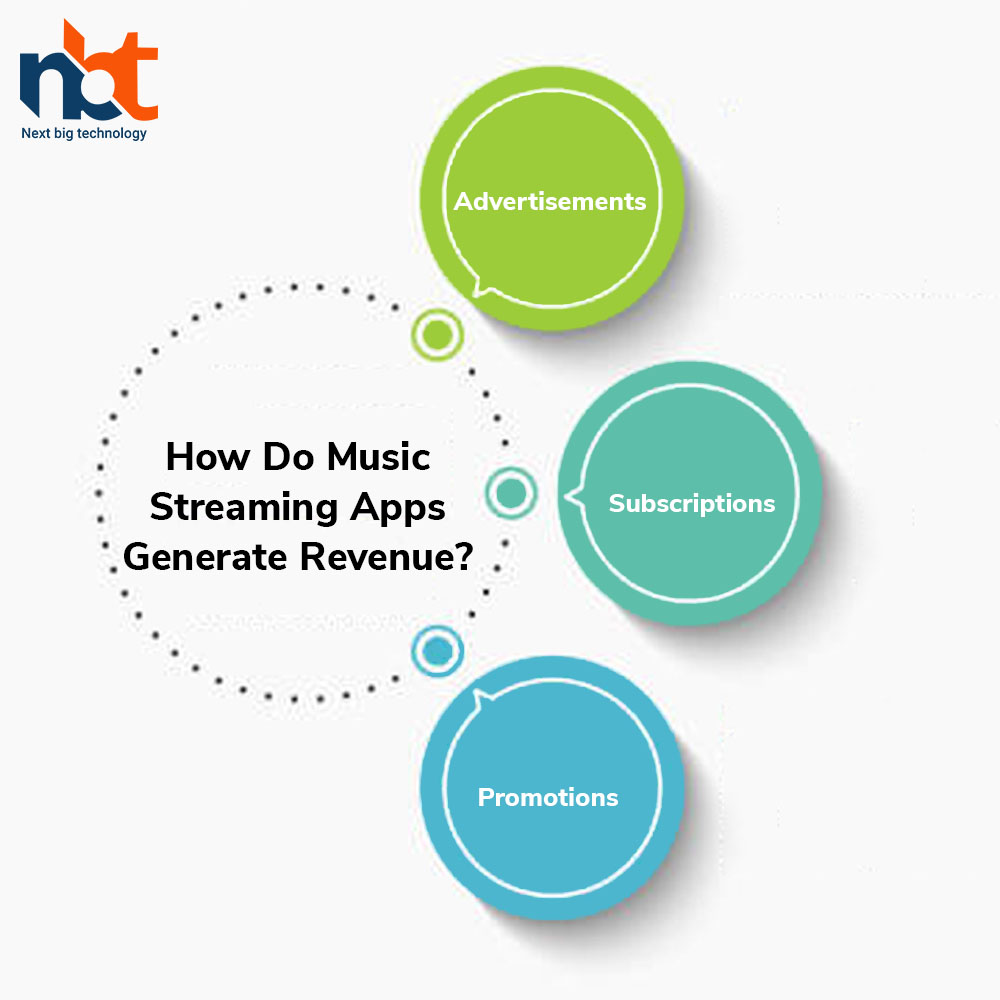 Since developing an app need a lot of effort and monetary resources, to cover such expenditure after the launch of your product you will have to look out for numerous ways to earn income. There are various ways in which a music streaming app can earn revenue, but the major portion of their revenue consists of the following:
Advertisements
Advertisement is one of the most used and most easy ways to generate revenue from your music streaming app. You can earn revenue even if your product is free for the users. Those who are fine with tolerating ads can continue using the free version of your app and others can subscribe by paying for ad removal and other features.
Subscriptions
As mentioned above, those users who got fed up with the ads can buy a subscription to your app on a monthly or yearly basis. You can provide your premium customers the feature of downloading their favorite tracks to listen to them offline, high-quality audio streaming, and other advanced features. This way you can retain customers and be sure of recurring income.
Promotions
Promotions would prove to be a great way of generating revenues for your app and developing a customer base for the young artists who have recently kickstarted their careers. You can join hands with these artists to showcase a promotional ad and campaign of their recently launched music tracks or albums for a decent charge. You can even collaborate with famous artists for the same with varied charges as per their popularity.
Also Read : How to Develop A Music Streaming App Development Like SoundCloud?
Top Players of the Music Streaming App Market
The following market leaders have established a great market share for themselves in the industry of digital music streaming. If you want to develop a music streaming app so good that you can have a remarkable share of the market, you should go through the features of the below-mentioned apps to ensure that you won't miss providing at least the essential features provided by other market players.
| | | | |
| --- | --- | --- | --- |
| Sr. No. | Apps | Founded In | No. of Downloads |
| 1 | Spotify | 2006 | Over 1 billion |
| 2 | Pandora | 2000 | Over 100 million |
| 3 | Amazon Music | 2007 | Over 100 million |
| 4 | Apple Music | 2015 | Over 100 million |
| 5 | Deezer | 2007 | Over 100 million |
| 6 | Sound Cloud | 2007 | Over 10 crores |
Features to Comprise into Music Streaming Apps
User & Admin Panel Features
People love a quick and smooth sign-up process. Provide the option to sign-up directly through social networks such as Facebook or Google, and have the option to fill in details, i.e., email ID, phone number, and password. Further, make sure to include features of reading OTP automatically and the forgot credentials option to make your app more user-friendly.
Also Check : Spotify – Top Music Streaming App
The main motive of the music streaming app is to provide users access to a huge library of music tracks. Integrating a quick search or discovery tool will help in providing a seamless experience to your customers. You can keep track of the searched tracks, albums, artists, and playlists to provide relevant suggestions as per their interests on the feed.
What is better than having your favorite songs or your most listened songs or your most preferred artists all in one place? One of the important features to include in your music streaming app is the ability to create, share, and delete playlists. If you provide your customers with a playlist of their most streamed music tracks either monthly or quarterly or yearly, it will help you in retaining more customers.
Also Check : Pandora  – Top Music Streaming App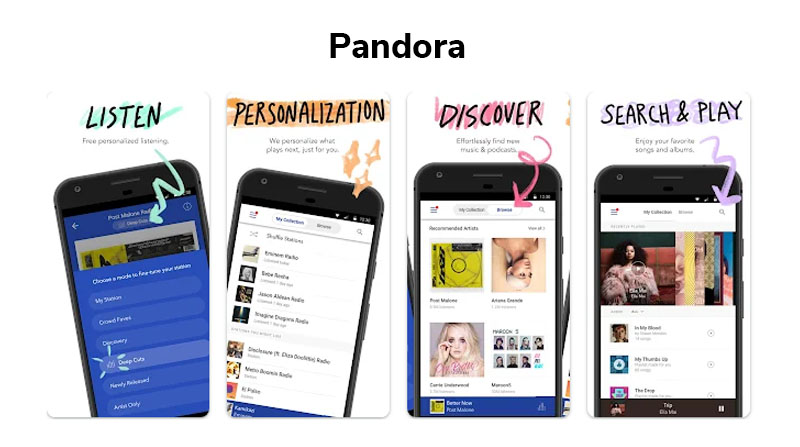 Of course, the main feature of music streaming apps is their music players. The fast and smooth your music player is the more likely you will retain your customers. You can even add a lyrical display to elevate the features. You need to have a great music player without any glitches or buffering to provide a seamless experience to the users of your app.
To let your customers customize your app according to their preferences, you will be required to include various settings such as audio settings, app settings, lyrical display settings, etc. This will help your music streaming app to be user-friendly as the users will feel that they are prioritized and will help you in retaining more customers as people go for those applications which provide them access to modify the app according to their needs.
Also Check : Amazon Music – Top Music Streaming App
Providing a feature where the users can download and listen to the music tracks any time they want even when they don't have an internet connection attracts more customers as they can now listen to the tracks without buffering in the areas where there is no network connectivity or if it is there it is slow.
You should include strong analytical tools and AI tools to provide your customers with carefully analyzed and relevant suggestions based on their past activities. When users get recommendations that they feel are appropriate and related to their musical preferences and taste, they tend to stay loyal to the brand which will eventually help them gain customer loyalty in long run.
Also Check : Apple Music – Top Music Streaming App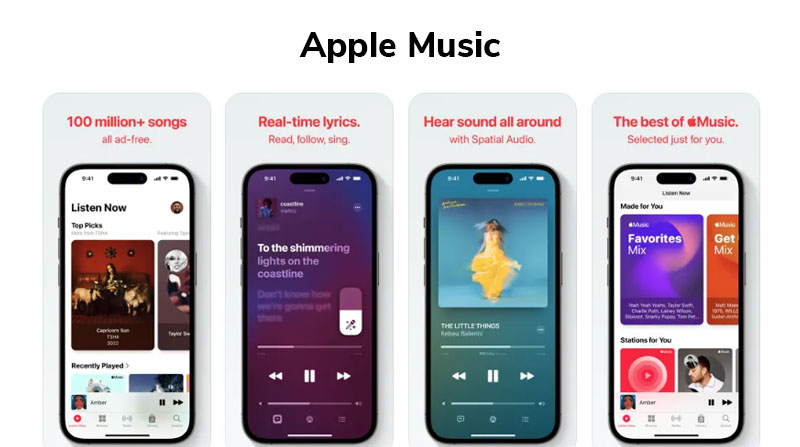 Including an in-app messaging feature in your music streaming app is how you can provide the users of your app 24/7 support to resolve their queries. You can add an AI bot for the repetitive queries and have a support team if the user is not satisfied with the replies of the AI bot.
Many people forget to use apps after finding alternatives of the same. Push notifications are the feature that will make sure the users of your music streaming app do not forget that your product exists on their devices. It is a way through which you can keep your customers updated about the offers and discounts available, the new addition of the songs in the library, new genres available on the app, and other updates.
Also Check : Sound Cloud – Top Music Streaming App
Advanced Features for On-demand Music Streaming Apps
You can add a feature of the lyrical display to the music player which will highlight the particular line of the lyrics when the respective music track is played by your customers. Further, a short video display of artists or music videos can also be added to enhance the experience of the users of your music streaming app. Make sure to include settings of the same so that those users who don't want lyrics or the video display can do so.
Today's world is full of busy individuals who prefer giving voice instructions on the go instead of typing every single word. This is why including an in-app voice assistance feature will make your music streaming app a great choice for such individuals. With this feature, the users of your app can easily command and search for or play their desired music tracks without having to use the keyboard, allowing them to enjoy while traveling and hustling.
Also Check – Deezer : Top Music Streaming App
Having an advanced feature where information about all the events, concerts, and tours of various artists is heaven for music lovers. Integrating a featured calendar where all the events are updated will help the users of your app keep a track of these events. Further, you can even sell the tickets for these events through your app making it a better choice for music lovers across the world.
Public & Private Playlists
As discussed, providing the ability to the users to create their playlists makes it easier for the users to listen to their favorite music tracks. These playlists can either be allowed to be accessed by the public or can be kept private where only the user who created them can access the same.
Amazing Music Suggestions
Providing suggestions based on the user's past activity and playlists curated by them, helps them feel connected to the brand as they feel that their preferences are being prioritized.
Music Streaming App Development: Tech Stack & Team Structure
Technology Stack
To provide the users of your app with a seamless experience, it is necessary for you to integrate the latest tech stack in your music streaming app. Following are the various popular technology stacks integrated by the market leaders of the music streaming app industry that you can consider integrating into your music streaming app to elevate the experience to be provided
For Backend development you can use Python, Swift4, Kotlin
For Frontend development you can use JavaScript, Swift4
For Frameworks you can use Hadoop, Apache Storm, Hub Framework
For Database you can use Cassandra, PostgreSQL
For Server-side & Back-end structure you can use PHP, Java
For Real–time data management you can use Kafka, Hadoop, Datastax
For Model–based tests you can use GraphWalker
For Platform infrastructure you can use Dataproc
For Cloud–based music streaming you can use Google BigQuery, Amazon S3, AWS Cloud Storage, Azure, Google Cloud
For User Interface you can use Chromium, React JS, Angular JS
For the Server you can use Nginx
For Web development you can use Bootstrap, HTML5
For Payment you can use Stripe, PayPal, Braintree
For App testing you can use Crash Analytics, Fabric, Jira
For Notifications you can use Bandwidth, Twilio
For DevOps you can use Datadog, Docker, TestFlight
For Business tools you can use G Suite
Team Structure
To transform your creative idea of your music streaming app into a reality, you will need an efficient, effective, and skilled team who will help you build the app exactly as you want. You can hire a mobile app development team with the following team members competent for every kind of challenge that might come up in the process.
UI/UX Designers
Back-end Developers
iOS App Developers
Android App Developers
Quality Assurance Engineers
Project Manager
Business Analyst
Diverse Factors to Affect the Music App Development Cost
Different Devices & Platforms
The platform you want to provide your app on is a crucial factor in determining the cost of your music streaming app. You can choose from Android platforms or iOS platforms, or you can even go for cross-platform app development. Cross-platforms would surely increase your costs and thus you should only go for it if you have a good budget. The platform you select for your product should be chosen only after selecting your target audience and their preferred devices for listening to music tracks.
Different Changes by Offshore Firms
Since having an in-house team requires huge effort and cost, it is usually advised to outsource the development task. You should properly research the software development teams available and should sort them out according to their competencies and your budget. If you can't find a competent team under your budget, you should think about increasing your budget as hiring a skilled team is important for the success of your product.
UI/ UX Design
The UI/ UX design of your application is what attracts and retains customers. Knowing your customers and developing an interface according to their likes and dislikes will help your product reach its heights. The interface design depends on the structure you chose for your app – simple or complex. Complex structures require more effort, time, and cost to develop as compared to simpler ones.
Features & Functionalities
The more features you plan to provide to your customer base, the more costly it will be. A simple app with only the core features will cost less than one with third-party integration and advanced features. It is on you to choose how many features you should provide keeping in mind the market requirements as well as your budget.
Third-party Integration
To provide your customers with better performance and functionalities, you should integrate third-party services into your app. However, integrating third-party services increase the cost of developing the music streaming app and thus you should decide which parties you should shake hands with according to your budget.
Team Structure & Technology Stack
Business is all about competitive advantage and thus to provide your music streaming application a competitive advantage over other you should make sure to integrate the latest technology stack and hire an efficient and expert team. There are various factors to be considered while selecting the team to hire such as their charges, competency, capabilities, etc. Even though the team charges are high you should not compromise the quality of your application.
A Complete Cost to Develop Music Streaming App
Developing a music streaming app for Android platforms or iOS platforms can cost you about $15,000-$50,000 and for cross-platform apps it could be $20,000-$50,000. However, these estimates will differ according to your location and your choices regarding the above-mentioned factors. It can even vary according to the size of your target audience.
Also Read : Music Streaming Mobile App Development Cost & Key Features
The Bottomline
We hope that this article provided you with a direction in your journey of developing a music streaming app. Above we have summed up the major factors and points to be considered however, if you have any queries regarding anything related to the development of your app, you can reach out to us. You can even hire our software development team for transforming your ideas into reality.
Thanks for reading our post "Developing Music Streaming App 2023". Please connect with us to develop music streaming app.