Introduction
The best grocery delivery services became particularly essential for many people at the start of the pandemic. But even now, grocery delivery services continue to remain in high demand. These apps may certainly reduce the stress of stocking your fridge, but you may be surprised to learn that they can also help you eat better, and be a more economical shopper. With the advent of apps that take care of your daily tasks, you no longer need to leave your house to get your groceries. Instead, you can have them delivered right to your front door, saving you valuable time.
Today we will discuss about the basics of online grocery shopping applications, including how it works and what it can do for you, as well as the names of the finest grocery ordering apps in the United States, which stand out among the sea of applications available worldwide.
15 top Grocery Delivery Apps in USA
we have prepared the below-mentioned list after a lot of research so that we can provide you with the best possible options available in the market. A few of these grocery shopping applications have their own inventory from where they supply products to their users, while others have strong partnerships with supermarkets and local shops to deliver the top grocery shopping apps to people in the USA. So, before diving into the detailed description of these applications, let's have a quick look at them first:
| | | |
| --- | --- | --- |
| S.no | Application name | Pricing |
|   |   |   |
| 1 | Walmart grocery | $7.95-$9.95 |
| 2. | Instacart | Free -minimum order of $35 |
| 3 | Shipt | $14 per month |
| 4 | Amazon Prime Now | $100/year |
| 5 | Fresh Direct | Minimum order amount of $30 |
| 6 | Peapod | $119 per year |
| 7 | Imperfect Foods | $4.99 to $8.99 |
| 8 | Hungryroot | Weekly plans start at $70 for 3 meals |
| 9 | Dumpling | Pay a set shipping fee |
| 10 | Boxed | $6.99 |
| 11 | Google Shopping | $5 to $7 |
| 12 | Postmates | Free delivery |
| 13 | Amazon Fresh | Prime membership is required |
| 14 | Thrive Market |  $9.95 each month |
| 15 | Delivery.com | Free to join |
15 best grocery shopping apps for Android and iOS
Now, let's check out all the apps in details:
Walmart Inc. Is an American multinational retail corporation that operates a chain of hypermarkets, discount department stores, and grocery stores. It has its own grocery app as well which gives you the option of home delivery or curbside pickup. Customers have the option to shop from their official website as well.
It is the best app for people who shops from walmart the most and also has a hectic schedule.  People who avail of the Walmart Grocery delivery app need to pay a fee to get their orders delivered to their homes. The Walmart plus membership gives its customers a huge list of benefits with free delivery option, in-home delivery, shopping rewards and much more.
Pricing and delivery fee
Walmart delivery fees are between $7.95-$9.95. A Walmart Plus subscription for free delivery is offered on a 30-day free trial, then it's $12.95/month or $98/year, plus applicable taxes.
Also Read : The Cost of Developing an On-Demand Grocery Delivery App Similar to Instacart
Founded in 2012, instacart is an online grocery delivery app that offers same-day delivery and pickup services for retailers and consumers in USA and Canada. Instacart already has over 500,000 items from local stores in its catalogue. Customers can choose items from variety of local stores. They can also mix multiple items from multiple stores in a single order.
Instacart is available in hundred of cities and is particularly good at finding and delivering the fresh food items on your grocery shopping list to your doorstep in as short as an hour for a cheap delivery price.
At some retail locations, Instacart also offers curbside pickup. Simply place your order and select a time for pickup, and a shopper will prepare your purchase at the store and later deliver it at your doorstep.
Pricing and Delivery Fee
Instacart charges fees based on the services being offered. Delivery starts at $3.99 for same-day orders over $35. Fees vary for one-hour deliveries, club store deliveries, and deliveries under $35. Instacart+ members get free delivery on orders over $35 or more per retailer. All orders must be at least $10 to be eligible for delivery.
Shipt is a delivery service that allows you to order products from your favourite stores in your area, including local and national retailers. It also offers delivery from a variety of retail stores, allowing its customers to order everything from pet supplies to home goods, medications, and baby products.
Local shoppers can have their goods delivered in as little as an hour after placing an order.
Due to increased demand, Shipt has recently collaborated with retailers to provide new delivery options. You may quickly connect with your shopper via SMS if something isn't available or if an order has to be changed.
Pricing and delivery fee
Shipt offers several options for delivery, which vary in price. A year's membership in Shipt costs $100, or $14 per month. On orders of $35 or more, members enjoy free shipping. When checking out, you can also add an optional tip for your Shipt shopper. You can adjust the tip after delivery and add an extra tip at any time.
Also Read : Cost-Effective Grocery Delivery App Explained
Amazon prime now is one of the most popular grocery apps in USA. Amazon's best grocery delivery services are available in more than 40 major cities, and customers can buy practically everything they have on their shopping list, including groceries, cleaning supplies, pantry staples and many more. Amazon has partnered with Whole Foods Market and local grocery stores in Prime Now markets to make this service possible. When a customer requests the service from their smartphone or laptop, a shopper will put together their order and a delivery driver will bring it to their home. With Prime Now, the online marketplace makes it easy to get essentials delivered straight to your doorstep in as little as one hour.
Pricing and delivery fee
Amazon Fresh grocery delivery service in the US is $9.95 for orders of less than $50, $6.95 for orders between $50 and $100, and $3.95 for orders of $100 to $150. Members can still get free delivery if their carts are more than $150.
Freshdirect is known for sourcing freshest and best-tasting meat, fish, produce, and specialty items through directly through the suppliers, growers, and farmers. If you're concerned about where your vegetables come from or whether your chicken is free-range, then FreshDirect is the app where you don't need to have the concern and get the best fresh produce, meats, and cheese. It provides many brands and products, with plenty of options available to fit your personal choices.
Fresh Direct also gives explanatory information for many of its canned goods, so you know exactly how your whole foods were made and arrived at your doorstep. People enjoy FreshDirect because of the high-quality fresh products. They also give quality rating for all the foods.
Pricing and delivery fee
FreshDirect delivers products from its own grocery facility. Prices vary  for most of the items, but most items are slightly more expensive here than traditional grocery stores.
There is a minimum order amount of $30 for home delivery. Delivery fees range from $5.99 to $15.99 which are determined based on customer's location. Membership costs $6.50–$13.17 per month based on the delivery preferences.
Peapod is one of the largest online grocery services in the U.S.. It one of the oldest and longest-running grocery delivery services. Peapod used to deliver from its own warehouses and operate as a fully online grocery store, it now partners with chains like Stop & Shop to provide grocery delivery. In select areas, Peapod also offers grocery pickup from these stores.Peapod carries most items that normal grocery stores carry.
Pricing and delivery fee
PodPass is an optional membership program which costs $119 per year and offers unlimited free delivery on orders over $100.According to the Peapod website, the minimum order size is $30 with a $9.95 delivery fee. Orders over $75 have a $7.95 delivery fee, while orders over $100 have a $6.95 delivery fee.Alternatively, if you become a PodPass member for $119 per year, all orders over $100 have free delivery.

Imperfect Foods was founded in 2015 with a mission to eliminate food waste and build a better food system for everyone. It offers a full lineup of carefully curated groceries that are the best of their kind, a little imperfect, and always delicious. This grocery delivery service has remained hyper focused on eliminating food waste and supporting farmers and producers at the time of excess and imperfect products. It saves the ugly vegetables from being thrown away – they're still good, just not as pretty as the ones in those country vegetable beauty pageants.
Pricing and delivery fee
The company now prices items individually, similar to a regular grocery store. The company charges a $4.99 to $8.99 delivery cost, depending on the location. There is no subscription or service fee.
Also Read : How can a business avail some benefits from a Grocery Delivery Application?
Rather than ordering takeout after a busy day or dealing with the perpetual question of "what should I make for dinner," a meal delivery service can be a helpful tool to increase your weekly cooking repertoire. Hungryroot can be the best fit for you here. Hungryroot is a meal planning tool and an online grocery platform all in one. It is considered one of the leading grocery ordering apps on the west coast because it only suggests healthy food that meets its three-point criteria:
They must be nutritious and produced from whole, high-quality produce
They must be simple and quick to make
And they must taste delicious.
Hungryroot makes it easy to accommodate your household's food and health needs. This application gives you all the power, allowing you to customize the groceries and meals you receive each week.
Pricing and delivery fee
Weekly plans start at $70 for 3 meals with 2 servings each, with costs increasing as more food is added to your delivery. Shipping is always free for orders of $70 or more. Food items are sold in "credits" that are provided based on the subscription plan.

Dumpling provides the tools, technology, and support people need to run their own local businesses – powering thousands of grocery shopping, delivery throughout 50 states. As opposed to companies that contract grocery shoppers, Dumpling allows all users the chance to run a small business.
Dumpling is something of a one-stop shop for someone building a grocery delivery business. You communicate with your own "personal shopper," so you're not dealing with a machine.
Pricing an delivery fee
You only pay a set shipping fee or a percentage of the total order value because you're working with independent contractors who are free to set their own pricing structure. The personal shopper compiles all the data for you to compare.
Also Read : Why Grocery Delivery Apps Are Changing the Shopping Experience? Benefits Listed!
Boxed is an online warehouse club that delivers bulk groceries, household goods, and paper goods directly to your home. Typically, Boxed ships orders within 1 business day after you place them, and shipping can take 1–3 business days. A Boxed shopper fulfils these orders in the store and delivers them to you.
Pricing and delivery fee
Boxed does not charge a membership fee to use its service. However, as it is a delivery-only service, You'll be charged a shipping fee of $6.99 on orders less than $75.Boxed Up is $49 per year but features free shipping on any order over $19.98 — along with 2% back in rewards on every order, which you can apply to future purchases.
Google Shopping is a specialized part of Google, where users can discover and purchase products from local businesses and other online retailers. Merchants accepted into Google Shopping generally are seen as higher quality than brands that might not make the cut. It is the greatest supermarket shopping app to take customer convenience and experience to the next level. It is a fantastic grocery app that you can use right away to get your essentials delivered to your door. It enables you to browse millions of things from multiple stores without having to leave your house.
Pricing and Delivery Fee
You'll spend $5 to $7 for shipping if you don't order enough to qualify for free delivery, depending on whether Google or the retailer ships your items.

Postmates is an on-demand food and goods delivery service that allows you to order any food or personal item you want, including groceries and restaurant meals. The goods will be delivered to your doorstep in less than an hour. It boasts a large delivery network and provides real-time tracking and delivery status updates.
Pricing and Delivery Fee
You can enjoy free delivery on all orders above $12 with an unlimited membership.
Amazon Fresh is Amazon's initiative to take on the grocery and daily essentials market with a state-of-the-art grocery delivery service. However, You need to be an existing Amazon Prime member to take advantage of Amazon Fresh.
While many customers use Amazon Fresh to order groceries, the company also works with local farms and supermarkets in each location.
Pricing and Delivery Fees
Your Prime membership is required to use Amazon Fresh features.
Thrive Market is an online grocery store sponsored by its members and focuses on supplying organic products with carbon-neutral delivery.
They have a large selection of healthy and natural foods, including allergy-free and foods specific to certain diets like keto, Paleo and Whole30. Orders usually arrive in 2-3 business days to reach at your doorstep. Orders can be filled using the Thrive Market app or online using a web browser.
Pricing and Delivery Fee
You can take a Thrive Market membership for $9.95 each month or $59 annually. The minimum order must be $49 to qualify for free delivery.
Delivery.com empowers the neighborhood economy by enabling customers to order online from their favorite local restaurants, grocery stores, wine and spirits shops, and even laundry and dry cleaning providers at laundry. It's available in over a hundred cities and is meant to work on even the oldest of devices.
As a marketplace platform, delivery.com does not make or prepare food, nor does it handle laundry or deliver any of the items sold. When a user places an order, the order details are automatically sent to the intended merchant; the merchant confirms receipt from delivery.com then prepares and delivers the order.
Pricing and Delivery Fee
It's free to join. However, certain orders are subject to delivery charges depending upon the distance.
 Grocery Apps Gaining Popularity
Hellofresh is a popular Grocery Delivery App in USA, HelloFresh delivers step-by-step recipes and fresh, pre-portioned ingredients right to your door.
Safeway is a supermarket chain in USA, you can shop at Safeway online store and get grocery delivered to your doorstep in easy steps. Use Safeway and get rewards & coupons to save money on grocery.
Kroger is American retail company that operates supermarkets and multi-department stores throughout the United States. You can use Kroger App to delivery Grocery at your home on best market rates, it provide fast delivery.
Checkout51 is another eCommerce App, which you can use to get grocery online, it provide best offers and market rates and timely delivery.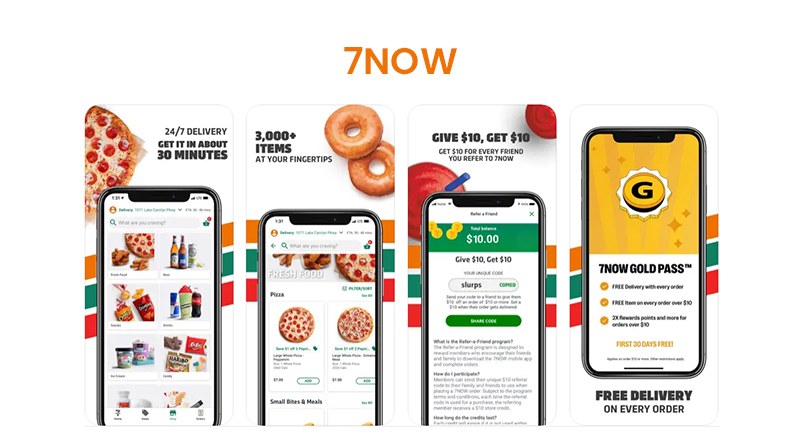 7Now is another popular eCommerce App in USA, which is used to deliver Grocery anywhere in about 30 minutes.
How Do Grocery Delivery Apps Actually Work?
The grocery delivery services have a very simple and straightforward shopping process to order groceries.  These grocery shopping apps connect buyers with local grocery stores to shop, then send a "personal shopper" to fill and deliver the order. Such platforms include three types of users- buyers, shoppers, and admins. Each type of use requires a mobile or web app with different functionality. Where buyer will buy groceries by creating a digital cart at a local supermarket or specialty store, rather than trekking through each aisle to find everything on their grocery shopping list. Once the shoppers gather user's order, the user will receive a notification with the delivery status and can track the delivery process via GPS in real-time.
If you need prepared foods right away, almost all delivery apps offer same-day delivery, but many also allow you to shop ahead of time and schedule delivery times for the following week. There will be no driving to and from the store, no browsing the aisles, and no lines. So we can say on-demand grocery delivery apps empower old shopping behavior's.
Why Use a Grocery Shopping App?
Having these best grocery shopping applications on your Android and iPhone can be immensely beneficial:
Its the most convenient And Time-Saving option for the people who has a really hectic schedule and doesn't get a lot of time of grocery shopping.
It lets its Customers Book Out-Of-Stock Products in advance so that they don't have to open the app again and again or check if the product is in stock yet or not.
You can also easily manage all the past, present and future orders and search for them easily.
Secure Payment Options from which you can easily pay for your shopping without any tension of mode of payment.
With the online grocery apps, the customer can get the most out of your services by being provided with personalized suggestions and having loyalty programs run effectively.
To Sum Up: Best Grocery Ordering Apps
This concludes our list of the Best Grocery Delivery Apps for Android and iPhone in the United States. Depending on the grocery apps you order from, the service fees and process for having groceries delivered differ. Simply investigate them and determine which one best meets your needs.
Thanks for reading our post "15 Top Grocery Delivery Apps in USA". Please connect with us to discuss more about Grocery Delivery App Development.