Who doesn't love shopping and that too if you can do it without visiting stores or where you don't need to try outfits after outfits and you can do that just with some taps on your phone sitting on your bed relaxed? Well, everyone does! When you can get all your desired outfits without doing much work and without any hassle then it would be like doing wrong with yourself if you don't get those outfits. There are so many shopping apps which helps us to get our desired outfits and has made shopping easy as well as helps us to get them in reasonable prices and with discounts most of the times.
If you are facing problems with choosing the best shopping app from where you can shop, you don't need to worry! Here, we have got you covered.
Our top picks
After doing a little research we have got the best shopping apps for women's clothing available in the market. With all the features and types of clothes this apps sell, you can get the app according to your preference. So without any delay check out these applications and get the best one for you.
Top 10+ women shopping applications
Before diving head first into all these applications, let's have a quick summary of these apps first.
| | | | |
| --- | --- | --- | --- |
| Application name | Downloads | Android ratings | iPhone ratings |
| Amazon | 100M+ | 4.4 | 4.7 |
| Zara | 50M+ | 3.7 | 3.9 |
| YesStyle | 1M+ | 4.0 | 4.6 |
| ASOS | 10M+ | 4.7 | 4.9 |
| Etsy | 10M+ | 3.7 | 4.9 |
| Zulily | 5M+ | 4.1 | 4.8 |
| Honey | 1M+ | 3.7 | 3.8 |
| ThredUP | 5M+ | 4.3 | 4.7 |
| Gilt | 1M+ | 4.7 | 4.8 |
| Zaful | 10M+ | 4.8 | 4.6 |
| Romwe | 1M+ | 4.7 | 4.7 |
| Shopstyle | 500k+ | 3.9 | 4.9 |
| StitchFix | 500k+ | 3.9 | 4.5 |
Now let's discuss this apps in more details so that you know which one is best for you.
Amazon is one of the best apps for women's clothing. There are varieties of options from where you can choose what you want for yourself. From casual tees to wedding outfits, everything you can find in the single app. There are also all the bigger brands like, Global Desi, Levi's, Only and many more. You get all your delivers at your doorstep with the option of prepayment and cash on delivery both.
Features
You can use your voice instead of typing to search for clothes.
Track your order and automatic shipment notification.
24/7 customer support
Wish list, 1 click ordering
Send and share links of your products with friends and family.
Reorder option available.
Zara is one of the top brands for women clothing. And the Zara app is also one of the best apps for women. It is one of the best place where women can find trendy and youth-oriented outfits. In this app you can even scan a product while you are in store or search your size and determine if it's in your near-by store or not. This app is easy to use as well.
Features
Scan barcodes of products while shopping in store
Find your nearby store
Easy interface
In-store pickup option
If you are a fan of Japanese and K-pop culture fashion fan then this is the right app for you to get your dream outfits. This app is not only best for clothes but also for makeup products as well. With high-quality products you also get a range of discounts which makes your shopping experience more exciting. This app is a hub of international style which is to die for.
Features
More than 250000 fashion items
Free deliveries to more than 220 countries
Points at the time of installation and signing up
Best deals and offers
This apps lets you to check all the latest trendy fashion that can keep you updated on what you need to wear next and also lets you buy it. You can have customized filter option to get outfits of your liking and fittings. This app also has a catwalk video feature where different models are displayed with clothing, shoes and accessories so that you get a better idea on how the product will actually looks.
Features
Camera card scanner to add new credit cards which helps in quick checkouts
Sale notifications
Free delivery option available
Return policy is also available
Share link with family and friends
This application not only lets you buy but also sell your own clothing items. Using this application, you can buy your favourite fashionable product just using your mobile phone or tablet. This app has various customizable features which filters through the options to let you get your desirable clothes. You can also directly chat with the seller using this application.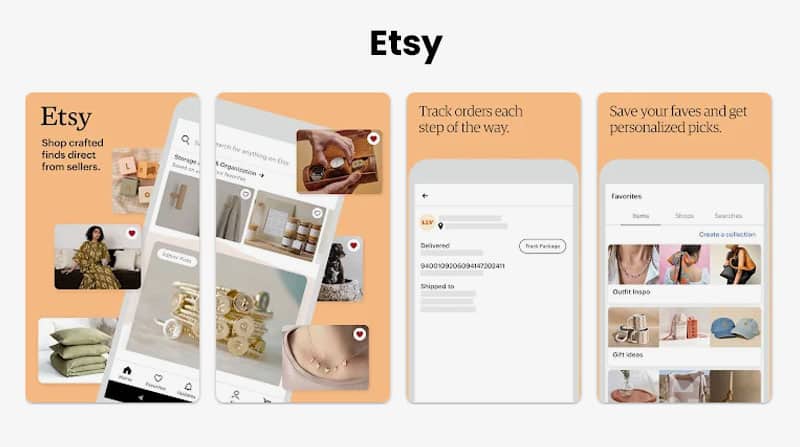 Features
More Personalized recommendation
Notifications option when your wish listed item goes on sale or when your favourite shop add new clothing.
Tracking option available
The app is in more than 5 languages.
This is one of the best apps to shop for clothing not only for women but also for babies and maternity wear. This app has huge discount offers which can bribe anyone to shop from this app and get the most comfortable and affordable clothes.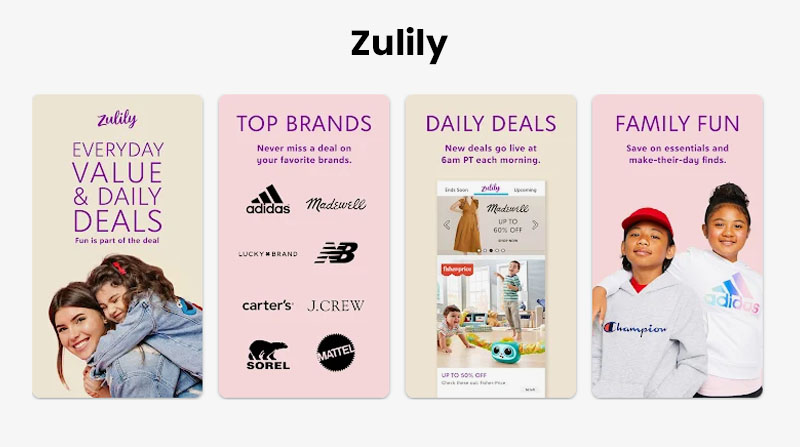 Features
Upto 70% discount every day
Trendy clothes for all seasons
Browse for maternity clothes in an affordable price.
New sale begins at 6am every morning which typically lasts for three days.
This app is one of the best when it comes to get you discounts. It is a free app and online browser extension which was first launched in the year 2012. By this app you can save on products from more than 35000 retailers. It basically aggregates and automatically applies online coupons on e-commerce websites which helps you to make your shopping even more affordable.
Features
All your favourite store discounts in one app
Apply coupons at the select of any store
Notification alert available so that you don't miss your favourite item going on sale.
This is one of the best thrift store and consignment application where you get all your favourite brands with heavy discounts. And if you wish to sell on thredUP, simply request a Clean Out Bag, which will be mailed to you. This app takes items that had minimal value and were sitting idle in closets, and creates value for sellers in a convenient, eco-friendly way.
Features
Upto 90% discount on your favourite brands
Buy and sell new-like clothing
Free shipping and easy return policy
Pay using UPI and credit card as well
Get more than 1000 arrivals every day
If you want to have top designers and one-of-a-kind experiences – all right at your fingertips, Glit is the app for you. Not only for women, but you can also shop for men, kids and your home using this application. With this application you can get discount upto 70% on brands like Valentino, Stuart Weitzman and many more. This app is a great choice for women who love stepping out of their houses with style and glamour.
Features
Easy sorting by designer or category to find the items you want most
Explore fashion of all categories in one place.
Free return policy
Most items featured on Gilt are eligible for international shipping
New sale every day with the latest clothes
Zaful is not only a shopping app from where you just buy clothes but it works as an inspiration for many fashionistas who wants to have they great idea about what they want in their wardrobe. This is an application where you can browse through its entire catalog and buy items right from your phone. All the items in this application are organized Into categories so that you can browse through your choices easily. Each product in this application has a long description which helps you to know all that you need before making a purchase. Each item's description also other users' reviews to help you make an informed decision. Zaful offers trendy and classic clothes for women with a great selection of new arrivals every Monday. This application has become a go-to app for women for sharing thoughts on fashion.
Features
Extra 15% of for new users
Win upto $1000 in givaways
Special offers for students
Affordable high quality clothing
Personalize and create your outfit under guidance.
More than 1000+ products updated daily. There must be at least one style that suits you.
Search for a personal stylist from 'Recommendations'
This is one of the best apps to stay updated with all the latest trendy fashion. This app divides all its content into sections, so you can browse according to your needs and preferences. One of the best things about ROMWE is that it has more than 200 new items each day, so you'll never run out of ideas for your new look, changing it up whenever you want. The app is easy to navigate and you also get exclusive daily offers.
Features
Upto ₹200 off on first order
Get chances to avail surprise gifts
Secure and multiple payment methods via PayPal and credit cards
45 Days return and Updated order tracking system
Shopstyle is your one-stop-shop for all things fashion. In this shopping universe you can purchase whatever you want in a unique way and also save the products for later. You get an option to shop from more than 4500 brands so you never run out of options. There is also an option on cashback which makes your shopping less expensive. You can search for your favorite brand or discover new brands based on your personal style. This is one of the best apps for women looking to up their style statement.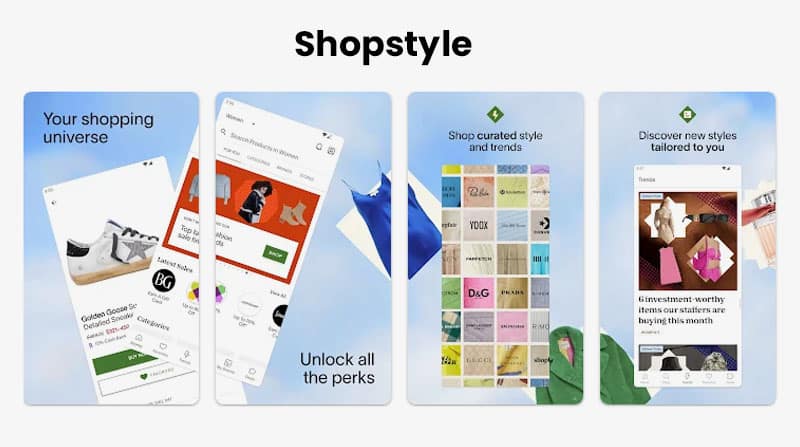 Features
Finding You Fresh Styles From Every Pocket Of The Internet
Latest deals and top Cash Back offers
Shop by occasion whether its a date night or wedding function, Shopstyle has you covered for everything
Convenient sale alert and price drop notifications
StitchFix is regarded as one of the popular women shopping apps. Whether you're building your dream wardrobe, want to explore new fashion brands or are just looking for a new way to shop for clothes, this application has you covered. It is also a Personal Stylist where you can share your preferences. If you don't like anything, you can just send the product back. Get helpful advice on how to style pieces or put together an outfit using style suggestions included on Style Cards in each delivery. You can also enjoy free shipping and returns with StitchFix.
Features
Opt-in to receive packages regularly
Choose clothing, shoes, and accessories based on your price range
Carries top fashion brands like Free People, Madewell, AG, Michael Michael Kors
Enjoy free shipping, returns & exchanges, plus no subscription
Conclusion
We hope that this article has helped you to understand which application is best for you to shop your favourite outfits from. Now you don't need to run to a store everytime you need a new outfit. Just relax on your bed open the app and browse and checkout your desirable clothing with huge discounts and return policies. And if you are still confused thinking which application to download then why not download all the applications and check for yourself. This applications doesn't take much space in your phone as well so you can download them easily without the fear of having your phone's storage full as well. Also, if you are a developer and need your product on our list, you can contact us, and we will start researching your product and add it to our blogs.
Thanks for reading our post "Top 10+ women shopping applications December 2023". Please connect with us for any kind of  Shopping App Development.