IT outsourcing is the practice of hiring third-party service providers to do mission-critical IT tasks and ensure compliance. Aid, infrastructure, consultation, and even development are all examples of this kind of help. In the digital age we live in now, every business wants a multifaceted online presence that raises brand awareness and makes their service more valuable to customers. Doing this can strengthen customer relationships and ensure their scaling process works well for stable and changing market needs.
When should you think about using a strategy for IT outsourcing?
An IT outsourcing strategy is a long-term plan that says which IT tasks should be done in-house and which ones should be done by a third party. Finding the right way to delegate can help you get more done and spend less. Unfortunately, there are almost too many options for outsourcing IT. They are trying to do the same thing: outsource tasks that can be done with the least amount of money while making the most money.
Make a detailed plan for outsourcing business IT.
Effective methods for IT outsourcing can be put together differently for different businesses. However, even though the company is getting more complicated, some things are always true. In the next few paragraphs, we'll talk about some of the steps you can take to make a good plan for IT outsourcing.
Also read : Is Outsourcing an Effective Strategy for App Development? Here's What You Need to Know!
When to hire outside help.
Knowing when to bring in outside help for your IT is very important. It's important to keep an eye out for the earliest warning signs that show you need help from experts outside your company. This can happen if some parts of the company consistently don't meet expectations. So, it is recommended that, when it makes sense, you hire third-party service providers to take care of tasks that aren't essential to running the business.
Make a plan for your money.
Before you outsource your IT operations, you need to make a clear and thorough budget. This is because there may be more costs than you expected. But the company should be ready to pay for regular expenses and costs coming out of the blue. Therefore, it is very important to make a budget and save money for unexpected expenses. With this help, you can also find the right outsourcing partners and tech tools.
Find out which tasks can be given to someone else.
Even though the digital revolution has already changed many industries in a lasting way, businesses aren't always ready to face technological challenges. Also, companies often try to do all the big jobs that take a lot of time in-house, which increases the downtime for all tasks. Instead, you can focus on your business's most important ways to make money by giving these tasks to professionals. This, in turn, makes the company more productive and efficient.
Figure out what you want to get out of outsourcing.
Businesses should decide what their goals are before they outsource routine tasks. By doing this, you may stay one step ahead of your competitors and leave no room for mistakes or wasted time. If you think carefully about your organization's goals at each step of the process, the right service provider can help your organization meet its needs. An organization can get the most out of its in-house IT team if its goals are clear. This leads to more efficiency, lower costs, and faster scalability.
Choose the best IT outsourcing model for your business.
You can choose from several IT outsourcing engagement models based on your business needs. In this way, three IT outsourcing plans make up most of the market for companies that need IT outsourcing. Here are a few examples:
The "staff augmentation model" is an example of outsourcing. In this model, outside experts in a certain technical field are brought in to manage a project in line with your business's goals and rules.
In the project-based model, it is up to an outside technical service provider to start from scratch and finish the project by a certain date.
The third way to outsource is to hire a group of specialists to work in-house and add to your existing resources. In general, this method has you focus on the most important parts of your business and give specialized tasks to a group of hired specialists.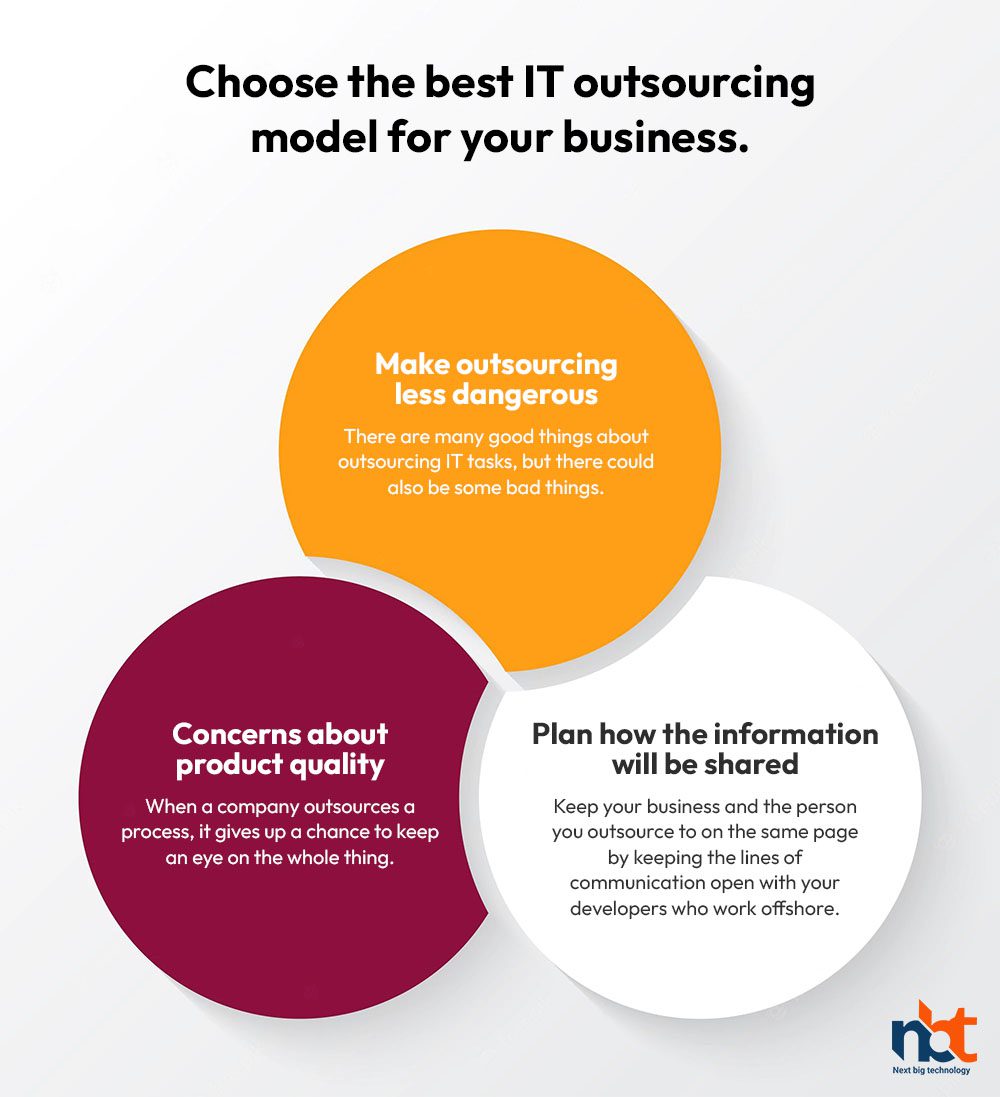 Make outsourcing less dangerous.
There are many good things about outsourcing IT tasks, but there could also be some bad things. By keeping a close eye on these risks, most companies can make it less likely that they will lose money or lose experts. Some of these possible risks are discussed in the following paragraphs:
You give up some control and trust when you outsource your IT operations. However, you also give up some administrative help. For example, your HR department might research the service provider, talk to some of their past customers and portfolio companies, and ensure that the vendor doesn't have a problem with how the company handles outsourcing. By taking these simple steps, you may be able to improve how you talk to and work with the third-party technology vendor. This will cut down on unnecessary steps and speed up your outsourced project.

Also read : Importance of outsourcing mobile app development for business expansion
Concerns about product quality
When a company outsources a process, it gives up a chance to keep an eye on the whole thing. This always raises questions about the quality. You can avoid this by working with third-party service providers who have shown over and over again that they care about doing good work. Also, it's important to know that outsourcing doesn't always mean sitting back and doing nothing.
IPR and Keeping Things Secret When deciding whether or not to outsource a project or business process, protecting intellectual property is one of the most important and long-term worries. All of these things must be covered, whether it's a patent, a trade secret, or a copyright.
Plan how the information will be shared.
Keep your business and the person you outsource to on the same page by keeping the lines of communication open with your developers who work offshore. If you do this, your project will stay on track, and you'll be able to help the customer reach their goals. A clear way for everyone involved to talk to each other is also important for the project to go smoothly. It can help set tasks, deadlines, and who is responsible for what.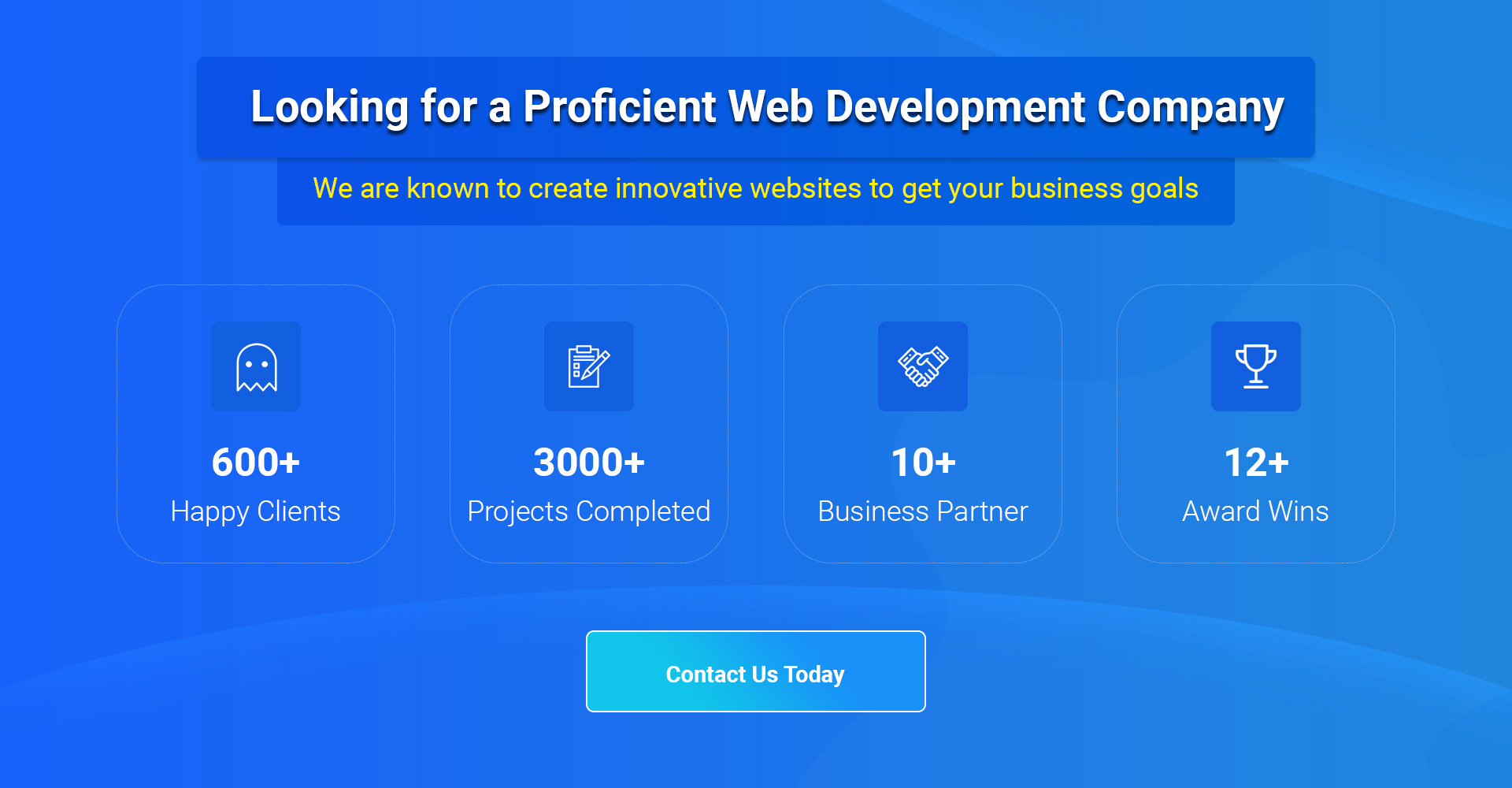 Thanks for reading our post "How to Come Up with an Effective IT Outsourcing Strategy for Your Business", please connect with us for any further inquiry. We are Next Big Technology, a leading web & Mobile Application Development Company. We build high-quality applications to full fill all your business needs.