Storytelling is a powerful method for eCommerce Themes Businesses. If you are willing to create a brand for your business then this method can be helpful to you. So before we talk about its benefits of it, you should learn more about storytelling and its importance.
Storytelling is the formation of a narrative about your company and the products your company sells. You are building a brand, not just offering the products.
The story structures how your offers are used, why you build them, what's the mission behind your company, and more. Everything you talk to someone or want them to know about you and your brand is a part of storytelling.
Think of it as a significant story you always tell when you meet new people. It's usually a quick narration that shows how you want other people to think of you. It structures how they understand who you are.
This is about doing that for your company, after all, we are looking at eCommerce, there are a few different considerations that you will need once the story is complete.
Also read: How to Start and Promote an eCommerce Business on a Budget
It includes background and on-page details to help you create your story and writing more authentic and powerful :
A Clear Ambition
Well-defined Audience
List of Emotions, Feelings, or Concepts you want to Bring out.
High-quality Images
A Call-to-action regarding the story you are telling.
Visitors' Comments and Reviews
A Genuine way for Visitors to ask Questions
Now you have got an idea of what storytelling is, here are the different ways to tell your next story that is fascinating and conversion-optimized :
Concentrate On How People Feel When They Use Your Products
Each company can be a lifestyle brand if it presents itself in that light. It is worthy to tell your story and focus on how people feel or what they experienced when they use your product.
Start it by telling or showing how your customer practiced a task before they had your product. Then, show them using your products.
Focus more on emotional language and faces in your visuals, so your visitors get a perfect understanding of how two different situations changed. You want visitors to combine the shift with positive feels.
Also read: How much does it cost to develop an eCommerce website?
Sell The Concepts Of What Your Product Does
You do not sell products by showcasing them to visitors with no ambiance. For those who are still in the older part of marketing, think of going to a music store to get a CD when it was released.
At the registry, there was likely a small, cheap, and bit plastic that we bought in our collection because it could cut the irritating plastic ribbons off your CD case. It made enjoyment of music easier and the whole store gave that situation we needed.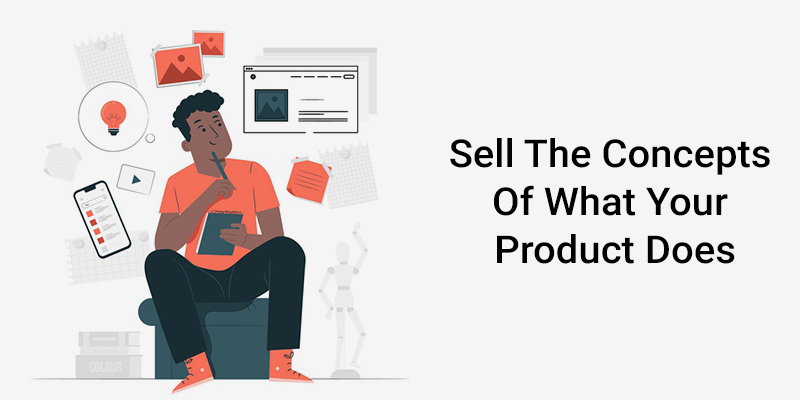 The product we engage with to relax or enjoy helps melt our anxiety away. We get to take a break from the daily grind and fun. Tell them about how that fun happens, what it looks like, and who it is when we get it.
Storytelling is not just the words you describe. It is the whole web page
So, prepare with remarkable photos related to the benefits. Pets shampoo should have one or two images of the product in action, but those can be dominated by images of the pets and the kids, and everyone else playing.
Board games and toys should have groups of people blushing and being happy together because that bond and emotion is your benefit.
Show Customers That You Care So You Have Spent The Time To Solve Their Problems 
Here is another example of the concept of highlighting your benefits: What's the problem your customers face that you solve better than your customers?
The structure of the discussion regarding the solution to the problem and all the long hours you put in finding the right solution.
We all have a variety of shared experiences. When you write out a comprehensive version of your story, you should be able to recognize some. Then, with those in mind, fill the details back in and structure your marketing and outreach with those kinds of messages and connections.
Hope you found out the essential guide that will help you to create storytelling for your brand business.
Author BIO
Nikunj Radadiya is a Content Writer and SEO optimizer at Webibazaar Templates. Specialized in Creative Content, Digital Marketing Ideas and helps eCommerce stores for branding on the digital platform.