In today's fast-paced digital world, mobile apps have become an integral part of our lives. Whether you're a startup, a business, or an individual with a groundbreaking app idea, having a dedicated app developer can be a game-changer. This guide provides insights into the process of hiring dedicated app developers to turn your app vision into reality.
1. Understanding the Role of Dedicated App Developers
Key Contributors: Dedicated app developers are professionals responsible for designing, coding, and maintaining mobile applications.
Technical Proficiency: They possess expertise in programming languages, frameworks, and tools required for app development.
**2. The Benefits of Hiring Dedicated App Developers
Expertise: Dedicated developers have up-to-date knowledge of mobile app technologies and trends.
Cost-Effective: Hiring dedicated developers can often be more affordable than maintaining an in-house team.
Time Efficiency: Outsourcing development allows you to focus on your core business activities.
Global Talent: Access a diverse talent pool of skilled developers from around the world.
Flexibility: Scale your development team up or down based on project requirements.
**3. Identifying Your App Development Needs
Project Scope: Define the scope, complexity, and objectives of your app development project.
Platform: Determine whether you're developing for iOS, Android, or both.
Required Features: List the essential features and functionalities your app must have.
**4. The Hiring Process
**a. Defining Your Requirements
Skills and Expertise: Determine the specific technical skills and qualifications required.
Experience: Specify the level of experience you're looking for in an app developer.
**b. Job Posting and Outreach
Job Boards: Post your job on relevant platforms like job boards, freelance websites, and networking platforms.
Networking: Leverage your professional network to seek recommendations.
**c. Reviewing Portfolios and Resumes
Portfolio Evaluation: Assess candidates' portfolios to gauge the quality of their previous app projects.
Resume Screening: Review resumes to identify relevant experience and skills.
**d. Technical Interviews
Coding Challenges: Use coding challenges or tests to evaluate candidates' programming skills.
App Experience: Discuss their experience with app development frameworks, languages, and tools.
**5. Types of Dedicated App Developers
**a. iOS Developers
Skills: Proficient in Swift or Objective-C, Xcode, and iOS app development.
Responsibilities: Developing and maintaining apps for iPhones, iPads, and other Apple devices.
**b. Android Developers
Skills: Proficient in Java or Kotlin, Android Studio, and Android app development.
Responsibilities: Building and optimizing apps for a wide range of Android devices.
**c. Cross-Platform Developers
Skills: Proficient in cross-platform frameworks like React Native or Flutter.
Responsibilities: Developing apps that work seamlessly on both iOS and Android platforms.
**6. Freelancers vs. Dedicated Development Teams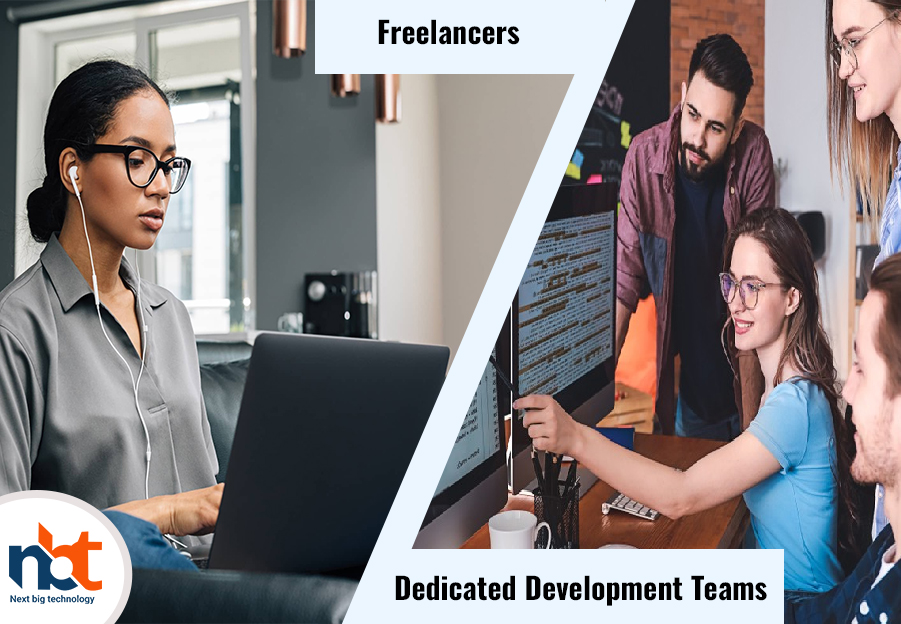 Freelancers: Individual developers offer flexibility for smaller projects and specific expertise.
Dedicated Teams: Agencies provide a team of developers with diverse skill sets and project management capabilities.
**7. Communication and Collaboration
Clear Communication: Establish effective communication channels and regular updates.
Collaboration Tools: Use tools like project management software and communication platforms for seamless collaboration.
**8. Cost Considerations
Hourly Rates: Freelancers often charge hourly rates based on their experience and location.
Fixed Project Pricing: Agencies may offer fixed pricing for specific app development projects.
**9. Legal and Contractual Aspects
Non-Disclosure Agreements (NDAs): Ensure developers respect the confidentiality of your app idea.
Intellectual Property: Clearly define ownership of the app code and intellectual property rights.
**10. Trial Period and Performance Assessment
Trial Project: Initiate a small project or task to assess the developer's skills and compatibility.
Performance Evaluation: Regularly evaluate the developer's work quality, communication, and alignment with your goals.
**11. **Staying Ahead in the App Development Landscape
Continuous Learning: Mobile app technologies evolve rapidly. Ensure your developer stays updated.
Feedback Loop: Encourage open communication for ongoing improvement.
**12. **The Future of Your App Dream
Hiring dedicated app developers can be a pivotal step in bringing your app idea to life. By following the steps outlined in this guide, you'll be well-equipped to find the right developer or team that aligns with your vision and technical requirements.
Hiring dedicated app developers empowers you to turn your app idea into a functional and user-friendly reality. By understanding your needs, selecting the right professionals, and fostering effective collaboration, you can ensure a successful app development journey that meets your goals and resonates with your target audience.