When embarking on a new web project, finding the right web developer is paramount to the project's success. A skilled and reliable web developer can turn your ideas into a functional and visually appealing website. With a multitude of options available, it's essential to navigate the selection process thoughtfully. This guide provides a comprehensive overview of how to find the best web developer for your upcoming project.
**1. Clarify Your Project Requirements
Project Scope: Clearly outline the scope of your web project. Determine whether you need a simple static website, a dynamic e-commerce platform, or a complex web application.
Functionality: Define the features and functionalities you require, such as user authentication, payment processing, content management, and more.
**2. Determine Your Budget
Set a Budget: Establish a realistic budget for your web development project. Consider the complexity of your requirements and the quality you expect.
**3. Assess Your Project Timeline
Project Timeline: Determine the timeline within which you want your project to be completed. Communicate your timeline expectations to potential developers.
**4. Research and Recommendations
Seek Recommendations: Ask colleagues, friends, or professionals for recommendations on reliable web developers they've worked with.
Online Research: Explore online platforms, such as freelancing websites, agency websites, and developer portfolios to identify potential candidates.
**5. Portfolio Evaluation
Review Portfolios: Assess the portfolios of potential web developers. Look for projects similar to yours to gauge their expertise and style.
Quality and Diversity: Evaluate the quality of design, user experience, and functionality in their previous works.
**6. Expertise and Technologies
Technical Expertise: Ensure the developer has experience with the technologies required for your project, such as frontend frameworks, backend languages, and databases.
Responsive Design: Confirm that the developer is skilled in responsive design to create a seamless user experience across devices.
**7. Communication and Collaboration
Effective Communication: Clear communication is crucial for project success. Choose a developer who is responsive and willing to discuss your ideas and requirements.
Collaborative Approach: Opt for a developer who involves you in decision-making processes, provides regular updates, and values your input.
**8. Customization and Scalability
Scalability: Select a developer who can create a website that accommodates future enhancements and features as your business grows.
**9. Support and Maintenance
Post-Launch Support: Inquire about the developer's approach to post-launch support, bug fixes, and ongoing maintenance.
Long-Term Relationship: A developer who offers long-term support can help you adapt and optimize your website as needs change.
**10. Development Process
Understand Development Process: Gain insight into the developer's development process. A clear process ensures that milestones are met and expectations are aligned.
Agile Methodology: Developers following an agile methodology can adapt to changes and prioritize continuous improvement.
**11. Transparent Pricing
Detailed Proposal: Ask for a comprehensive proposal detailing project scope, features, timeline, and costs.
Hidden Costs: Ensure that all costs are transparently outlined, and there are no hidden charges.
**12. Testimonials and Reviews
Client Testimonials: Look for testimonials and reviews from previous clients. Positive feedback indicates a developer's reliability and client satisfaction.
**13. Cultural Fit
Alignment of Values: Consider whether the developer's values and culture align with your business's ethos. A good fit can enhance collaboration.
**14. Security Measures
Security Protocols: Inquire about the developer's approach to website security. Security is crucial to protect user data and maintain website integrity.
**15. Legal Agreements
Clear Contract: Ensure there's a detailed contract outlining project scope, payment terms, intellectual property rights, and confidentiality clauses.
**16. Multiple Quotes
Compare Quotes: Request quotes from multiple developers. Compare their offerings, pricing, and the value they bring to your project.
**17. Trust Your Instincts
Gut Feeling: Trust your instincts. A genuine connection and trust can lead to a productive and fruitful partnership.
**18. Case Studies
Detailed Case Studies: Delve into case studies of projects similar to yours. This gives insights into the developer's problem-solving skills and creativity.
**19. Interview Potential Developers
Conduct Interviews: Schedule interviews with shortlisted developers. Discuss your project, ask questions, and assess their understanding and enthusiasm.
**20. Contact References
Reach Out to References: Contact references provided by the developer. Inquire about their experiences, the developer's communication, and work quality.
**21. Request a Prototype or Sample Work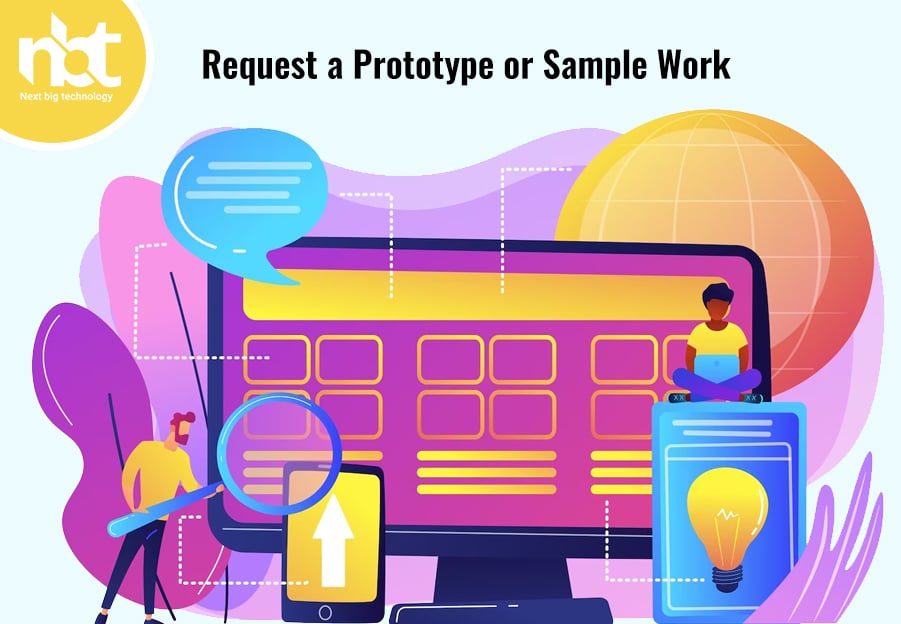 Prototype or Sample Work: Request a prototype or a small portion of your project to be developed as a sample. This provides a tangible demonstration of their skills.
**22. Consider Long-Term Partnership
Focus on Future: Choose a developer who is interested in a long-term partnership. This ensures continuity and consistent improvements to your website.
**23. Quality Over Cost
Prioritize Quality: While cost is a factor, prioritize quality over cost savings. A well-executed website can yield higher returns in the long run.
**24. Make an Informed Decision
Summarize Information: Compile all gathered information and make an informed decision based on your project's needs and your comfort level with the developer.
Selecting the right web developer is a pivotal decision that can significantly impact your project's outcome. By meticulously following these steps and thoroughly evaluating your options, you'll be well-prepared to choose a web developer who aligns with your vision, understands your requirements, and delivers a website that exceeds your expectations. Remember, a successful partnership with the right developer can result in a visually appealing, functional, and user-friendly website that elevates your online presence.