Online Taxi Mobile App Development is on Boom, online taxi applications synchronized taxi industry, and it become easy for users to use services fast and efficiently using their smart phone. As individuals prefer to be picked up or dropped off at their doorstep, the taxi company is currently in vogue and is expected to thrive in the foreseeable future.
Are you a newcomer to the taxi industry or an established name in the industry? Do you find it difficult and time-consuming to keep track of all of your drivers and to compute their salaries? Hiring an online taxi booking software developer from us will help you avoid all of these headaches!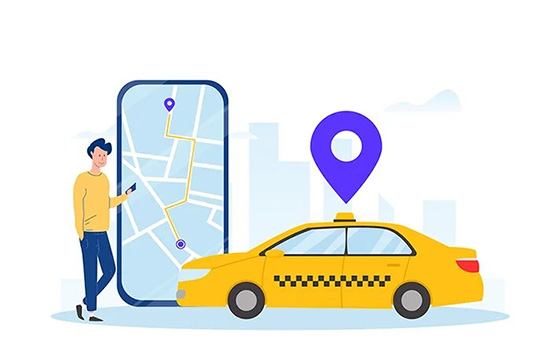 Next Big Technology provides an all-inclusive taxi booking app development solution at a competitive price without compromising on the quality of the finished product. Our professionals are well-versed in everything from cab booking to payment processing and report generation.
A comprehensive and feature-rich mobile application will assist you in impressing the greatest number of clients and propelling your company to the next level, much like Uber did!
When you employ our professional developers, you will receive a mobile application with a wealth of functionality as well as an administration panel that will make jobs easier for both you and your clients.
Online Taxi Booking Mobile App Development

User-Friendly Solutions, Adaptability
We at Next Big Technology provide an all-inclusive online taxi booking mobile application development service that is tailored to your company's requirements.
We have a highly trained development team that is always available to assist you, no matter how complicated your project may be.
Here are the reasons to hire our online taxi booking app developer: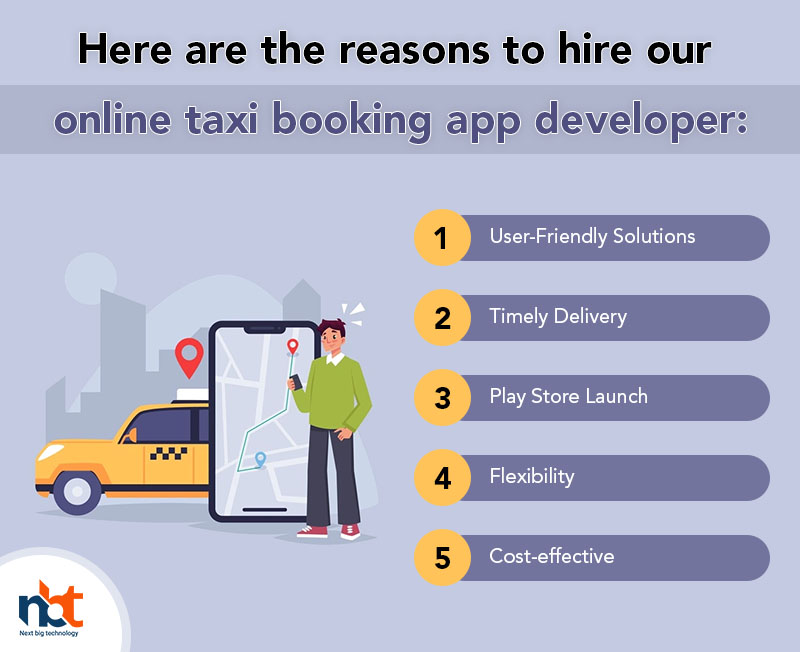 User-Friendly Interface
If you want to generate money in online taxi booking services, you must first create an appealing app that clients can use without difficulty. We make certain that consumers may specify the locations where they would like to take use of the service and that they have a positive experience using the mobile app as a whole.
On Time Delivery
You must develop and launch a mobile application as soon as possible if you want to achieve rapid success. With years of experience in the mobile application development market, we are able to incorporate extensive features while delivering results in a timely manner. This allows you to enter the market more quickly and earn the highest amount of earnings in the shortest amount of time.
Deployment
The development of an online taxi booking application is insufficient. It would be beneficial if you made it available on the Google Play and Apple store so that your customers could access it. When you employ our professional developers, we will take care of everything, from the first concept to the launch of your app on Google Play. Once we have placed your app in the shops, consumers will be able to simply access it, allowing you to reach a larger number of customers.
Easy Hiring Process
When you work with us, you will not be required to enter into fixed-term or long-term contracts. Hire our online taxi booking app developer on a temporary basis (on a daily, weekly, or monthly basis) to ensure that your project is completed on schedule. We give, but do not select, resources to meet your requirements. Building your development team and scaling it up or down later based on changing requirements is what you do.
Affordable Cost
In order to provide a cheap pricing without sacrificing on quality, we provide an all-inclusive online taxi booking app development service. In addition to development, we offer comprehensive maintenance and support at no additional cost. Hiring our team to develop your app is almost always a cost-effective and beneficial decision for both parties involved.
Online Taxi Booking App Development Services

Having a qualified and committed mobile app development team on hand, Next Big Technology can create an amazing taxi booking app that is tailored to your specific requirements and preferences. Because we have years of experience in this area, our developers incorporate excellent features to give your app a competitive advantage.
The following are some of the features that we can incorporate into the online taxi booking application: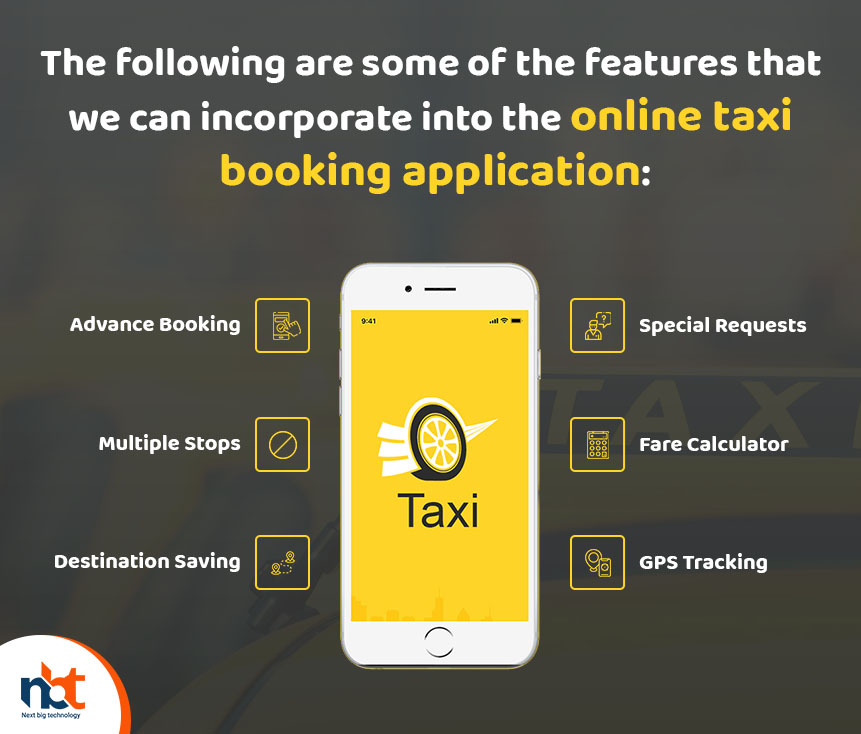 Advance Booking Option

This feature in your app enables users to book a taxi in advance in a simple and convenient manner. As a result, they will not be pressed for time or stressed about anything at the eleventh hour. When they need to take a flight in the early morning and make it to the airport on time, the 'advance booking' function comes in handy the most.
Multiple Drop Points

It is possible that multiple passengers will board the vehicle together and be dropped off at several spots throughout the journey. A rider may also be required to perform specific tasks at various times. The multiple stops option allows you to conveniently stop at a number of different areas without having to worry about getting lost.
Save Destination

Nowadays, many people prefer to take cabs to work rather than driving themselves to and from work. In order to assist such individuals, we have integrated a function into your taxi booking software that allows users to bookmark their destination, eliminating the need for them to enter the same location over and over again. This allows them to save a significant amount of time and effort.
Additional Requests

It's possible that your passengers will require a baby seat or excessive luggage. In such a circumstance, customers can request these specialized features as well as more efficient drivers in order to boost safety overall. When you incorporate this advanced function into your app, you will be able to provide what the passengers want without compromising on the quality of customer care.
Fare Calculator 
As soon as consumers select a vehicle type from a drop-down menu and enter a destination, the integrated fare calculator gives an estimate of the approximate cost of the travel.. As a result, they can easily set a budget and will not be charged an additional fee for ordering a cab through the mobile app developed by our talented developer.
GPS Tracking
A feature in your smartphone app that allows riders to track the whereabouts of their taxi after they have booked a ride is called GPS tracking. Additionally, this technology tracks the location of drivers on a second-to-second basis. When consumers order a ride, they receive a rapid confirmation with information such as the car number, driver information, and phone number.
Online Taxi Booking App Development Process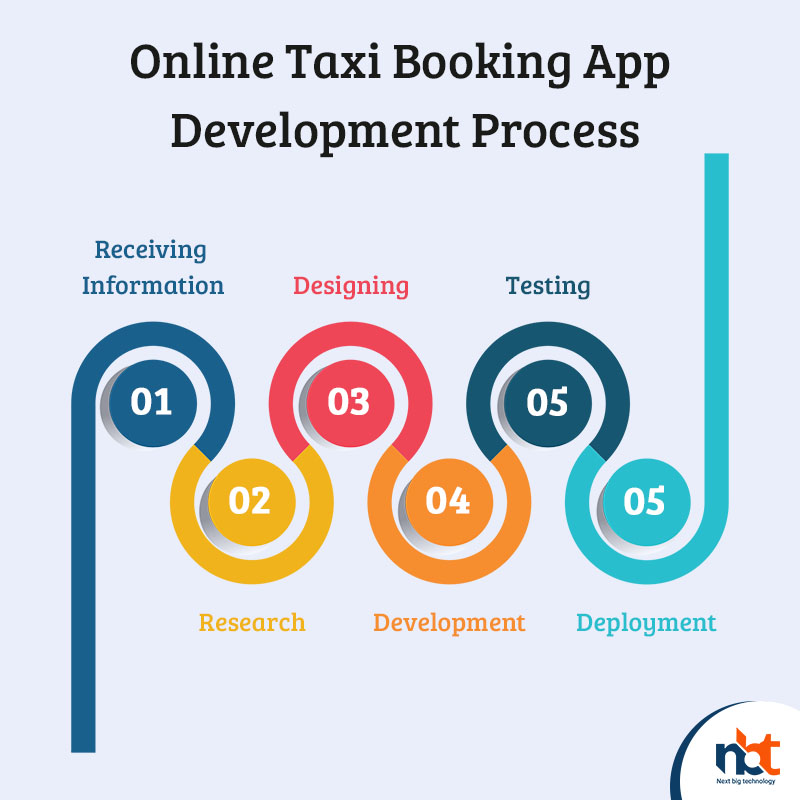 We use a well-structured procedure to give the required online taxi booking app development solution to consumers. This ensures that everything runs well and that you have complete customer satisfaction with our service.
Here's a breakdown of the steps that are involved in the development process:
Requirement Gathering

Please share your thoughts and objectives for the creation of an online taxi booking application with us. Specify in great detail what features you want to include in your app as well as how you intend to resolve client complaints. Your feedback assists our professionals in determining exactly what you want in your mobile device and then proceeding in the appropriate manner.
Research & Planning

Once we have a clear understanding of your requirements and preferences, we conduct extensive research on your potential customers and the industry in order to evaluate the performance of your competitors. We conclude the buyer journey based on the findings and create a wire-frame for each screen in the process.
Mobile App Designing
We provide you a wire-frame, gather your input on it, and then select a color palette and fonts that best represent your brand and its culture. In light of these considerations, we develop a theme and seek your feedback on it. Once you have given your approval, we will begin working on the overall design of your app.
Mobile App Development
We begin the app development process when we have made any necessary changes to the theme and finalized the design. In order for your mobile app to run effectively and provide your consumers with a fantastic experience, our taxi app development professionals ensure that it does. We customize your app by including all of the necessary features and functionality.
Mobile App Testing
Development is not the end! We test the mobile app to make sure it does not have any issues or bugs in the user flow. Comprehensive testing helps you to launch your app successfully to the app stores. When our quality assurance analysts detect any bug, they fix it immediately to deliver an error-free solution.
Mobile App Deployment
Development is not the end of the story! We test the mobile application to ensure that it does not include any faults or defects that interfere with the user flow. Comprehensive testing will assist you in ensuring that your software is successfully launched into the app stores. When our quality assurance analysts identify an issue, they correct it as soon as possible to ensure that our customers receive an error-free solution.

Hire Online Taxi Booking Mobile App Developer
What if you could get an all-inclusive mobile app development service at an inexpensive price for your online taxi booking mobile app? Hire a mobile app developer for an online taxi booking service from us without a second thought!
Having accumulated years of experience in the online taxi booking mobile application development market, we have become familiar with a wide range of cutting-edge technologies and talents that enable us to create amazing mobile application solutions tailored just for your company!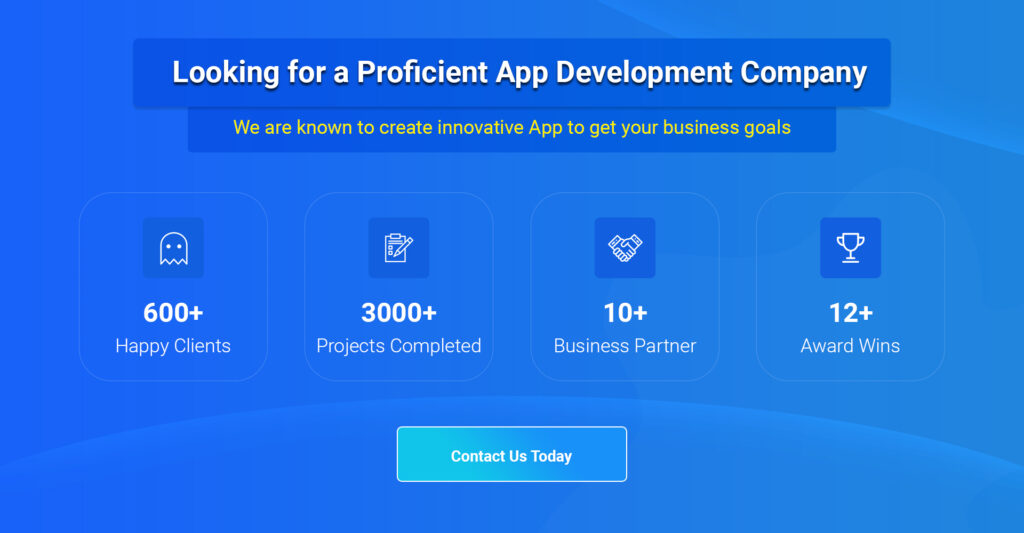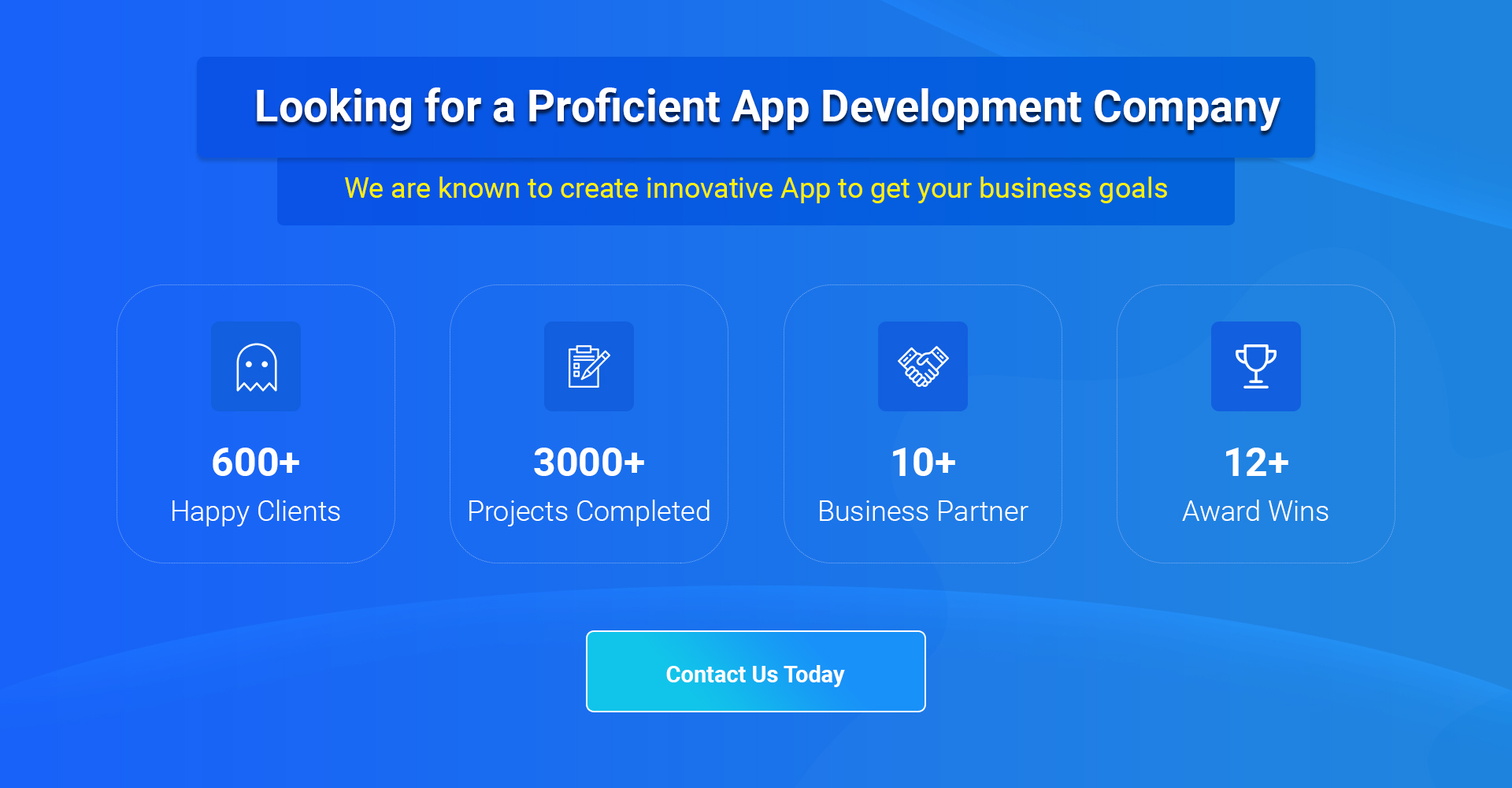 Thanks for reading our post "Best Online Taxi Booking App Development Services With NBT", please connect with us for any further inquiry. We are Next Big Technology, a leading web & Mobile Application Development Company. We build high-quality applications to full fill all your business needs.