The realm of e-commerce has undoubtedly witnessed an immense surge in growth over the past few years, and it is predicted that this trend will persist in the foreseeable future. It is evident that enterprises are fixated on e-commerce platforms to meet demand in light of the escalating popularity of online shopping. Your establishment stands to reap immense rewards if it avails itself of an e-commerce platform. Some of these benefits encompass a heightened level of customer engagement and profitability. This guide offers you a comprehensive insight into the advantages of e-commerce portals, encompassing their attributes and functionalities, the development process, and guidance on how to maximize the success of your portal. So, let's dive into it!
Also Read : Ecommerce Business: How Far Have We Come And What Is The Future?
Significance of E-commerce Portal Development for Businesses
E-commerce portals undoubtedly provide a myriad of advantages to businesses. Among the numerous benefits, one of the most notable is the significant increase in reach. By utilizing an e-commerce portal, your business can broaden its scope and target customers from all corners of the globe, rather than being confined to your immediate vicinity. This presents a marvelous opportunity for businesses to tap into a whole new market, which can result in substantial growth in revenue—a feat that is truly remarkable for any business.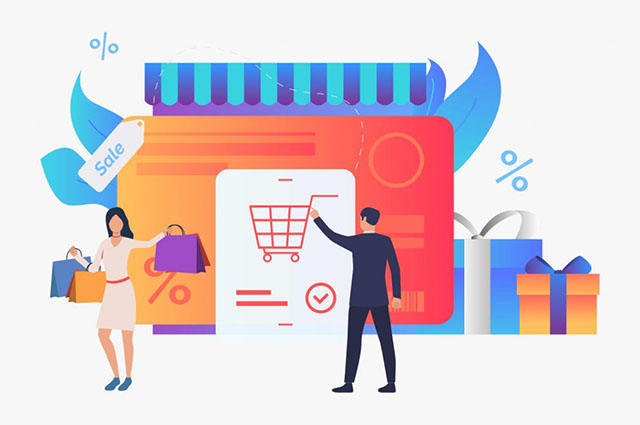 The enhanced level of customer engagement offered by e-commerce portals is yet another significant advantage. You can now easily connect with your customers, get their feedback, and build valuable relationships by using e-commerce portals. This presents an exceptional chance for each business to acquire a more profound comprehension of their customers' needs, tastes, choices, and assumptions. In the end, this will result in increased customer loyalty by providing them with personalised suggestions, which is beneficial to both the company and the customer.
Finally, e-commerce portals can lead to higher revenue for your business through various channels. By offering products and services online, you can increase your sales and reach customers who may have been unable to visit your physical store. Moreover, e-commerce portals can help you reduce costs by streamlining processes and reducing the need for manual labor. This leads to more significant profits and a better bottom line for businesses. It is a smart move for businesses to leverage e-commerce portals to their advantage and thrive in this digital era.
Also Read : Is Starting An eCommerce Business Worth It?
Features and Functionalities of the E-commerce Portal
When developing an e-commerce portal, it is important to consider the features and functionality that will make it successful. A few of such features are listed below:
User-Friendly Interface
Any e-commerce website must possess an interface that is user-friendly. It is imperative that customers encounter no difficulties while conducting transactions, promptly locate their desired items, and navigate the website with effortless ease. To achieve this, a meticulously designed layout, lucid product descriptions, and easy-to-use search and checkout functionalities are indispensable.
Mobile Compatibility
As an increasing number of customers resort to their smartphones to engage in online shopping, it is imperative for e-commerce websites to be adaptable to mobile usage. Essentially, this implies that the website must be optimised for mobile devices, featuring a responsive design capable of adapting to various screen sizes.
Secure Payment Gateway
To ensure the utmost comfort and confidence of your esteemed customers throughout their online transactions, it is absolutely essential to provide them with a payment gateway that is both trustworthy and reliable. This requires the utilization of cutting-edge encryption technology that can effectively safeguard the privacy of any sensitive data transmitted through the network.
Robust Inventory Management
To ensure optimal performance of e-commerce platforms, it is imperative to possess a top-notch inventory management system that boasts exceptional proficiency in its functionality. This system must equip businesses with the ability to closely monitor their inventory levels, handle orders with ease, and make essential alterations to product specifications as and when required.
Customer Support
Customer assistance is of utmost importance for every e-commerce portal, as it serves as a pillar of trust and reliability for the customers. It is imperative that the customers can effortlessly establish contact with the assistance team, be it via electronic mail, chat, or phone. Moreover, companies ought to establish a well-structured and comprehensive plan of action for returns to cater to any issues that may crop up.
Also Read : Working process of eCommerce website
Steps in Developing E-commerce Portal
Developing a successful e-commerce portal requires careful planning and execution.
Here are the key steps in the development process:
The first step in developing an e-commerce portal is to choose a suitable platform. There are myriad e-commerce platforms available, each with its own distinctive merits and demerits. The most prevalent platforms include Shopify, WooCommerce, and Magento. It is imperative to consider your business necessities, monetary capabilities, and technical expertise before finalizing a specific platform.
After selecting a suitable platform, the next step is to craft and build your e-commerce portal. This entails formulating a user-friendly and aesthetically pleasing layout and design, as well as programming and merging essential features and capabilities.
Prior to launching your e-commerce portal, it is imperative to conduct a comprehensive examination. This encompasses evaluating its functionality, safeguarding measures, and adaptability across various devices and web browsers. After ensuring that the portal is operating seamlessly, it is appropriate to initiate its launch.
After its launch, it's time to begin promoting it. This entails utilizing a variety of marketing channels, such as social media, email marketing, and search engine optimization's (SEO). By promoting your portal with utmost effectiveness, you can amass traffic and augment sales.
Also Read : Future of Ecommerce: Factors & Trends
Conclusion
Developing a prosperous e-commerce portal necessitates meticulous planning, implementation, and continuous enhancement. By selecting the ideal framework, crafting an easy-to-use interface, and incorporating crucial components and capabilities, you can unleash the potential of your business' e-commerce portal. Furthermore, by effectively promoting the portal and optimising it for search engines, you can attract more visitors and boost your business' earnings. By adhering to the guidelines provided in this comprehensive article, you can establish a successful e-commerce portal that caters to the requirements of your customers and spurs the expansion of your business.
Thanks for reading our post "eCommerce Portal Development". Please connect with us to discuss more about eCommerce Portal Development Services.