In the dynamic landscape of digital communication, a blog website stands as a powerful platform for sharing insights, ideas, and stories. Whether you're an individual looking to express your passions or a business aiming to engage with your audience, developing a blog website using WordPress offers an array of opportunities. This comprehensive guide takes you through the essential steps to craft a captivating blog website that resonates with your target audience.
Why Choose WordPress for Blog Website Development?
User-Friendly Interface: WordPress provides an intuitive dashboard, making it easy for beginners to manage and publish content without technical expertise.
Versatile Customization: Access a diverse range of themes and plugins to create a unique design that aligns with your brand or personal style.
SEO Optimization: Built-in SEO features and plugins enable you to optimize your blog posts for search engines, driving organic traffic to your site.
Community and Support: Join a global community of WordPress users, where you can seek advice, troubleshoot issues, and stay updated on the latest trends.
Step-by-Step Guide to Blog Website Development using WordPress
Domain Selection and Hosting:
Choose a domain name that reflects your blog's topic or identity.
Select a reliable hosting provider that offers sufficient storage, speed, and security features.
WordPress Installation:
Many hosting providers offer one-click WordPress installation, simplifying the setup process.
Theme Selection and Customization:
Browse through the extensive collection of WordPress themes to find one that suits your blog's aesthetics and content layout.
Customize the theme's colors, fonts, and layout through the WordPress Customizer.
Content Planning:
Define your blog's niche, target audience, and content categories.
Create an editorial calendar to plan and organize your blog posts.
Creating Engaging Content:
Craft well-researched, informative, and engaging blog posts that resonate with your audience.
Incorporate various media elements such as images, videos, and infographics to enhance the visual appeal.
Optimizing for SEO:
Use an SEO plugin to optimize each blog post for relevant keywords, meta descriptions, and readability.
Focus on creating high-quality, valuable content that naturally attracts search engine traffic.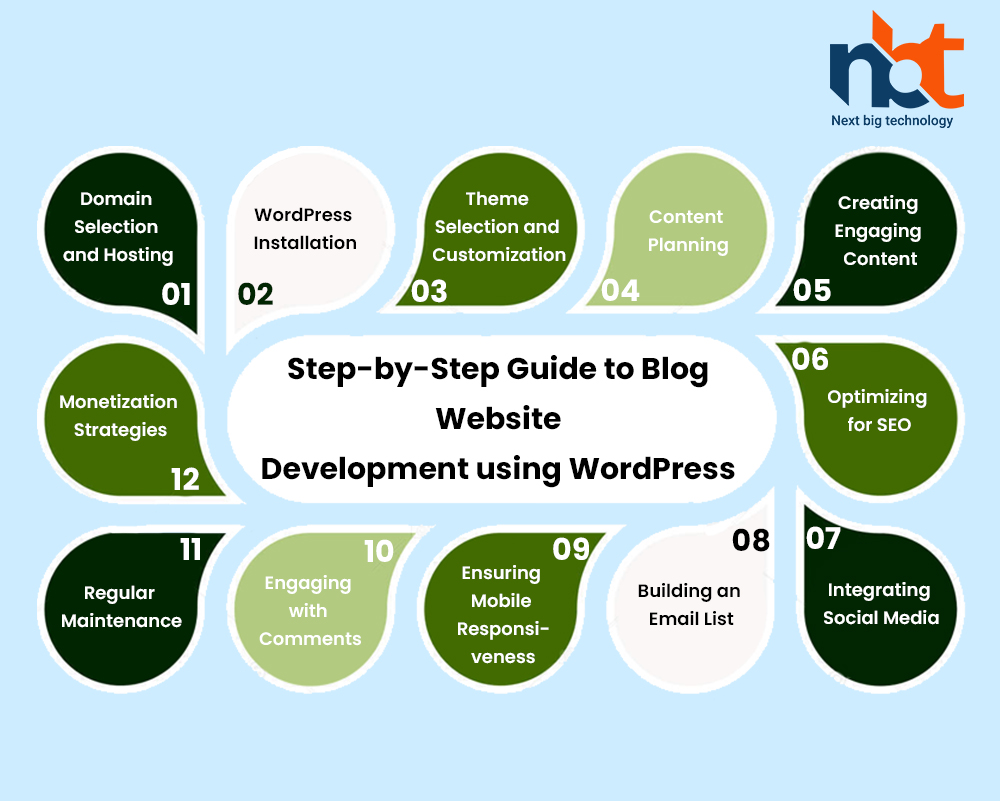 Integrating Social Media:
Incorporate social sharing buttons to encourage readers to share your content across platforms.
Utilize social media plugins to display your social media feeds and engage with your audience.
Building an Email List:
Integrate an email subscription form to collect leads and build a loyal readership.
Offer incentives like free e-books or exclusive content to encourage sign-ups.
Ensuring Mobile Responsiveness:
Test your blog website's responsiveness on various devices to ensure a seamless user experience.
Optimize images and other media for faster loading times on mobile devices.
Engaging with Comments:
Enable comments on your blog posts to foster interaction and discussion.
Respond to comments promptly to create a sense of community and engage with your readers.
Regular Maintenance:
Keep WordPress, themes, and plugins updated to ensure security and compatibility.
Regularly backup your blog's content to prevent data loss.
Monetization Strategies:
Explore monetization options such as affiliate marketing, sponsored posts, and selling digital products or e-books.
Conclusion: Empower Your Voice with a WordPress Blog
A blog website developed using WordPress empowers you to share your thoughts, expertise, and creativity with the world. By following the steps outlined above, you can create a visually appealing, well-optimized, and engaging blog platform that captivates your audience's attention and keeps them coming back for more. Dive into the world of blog website development, leverage the customization capabilities of WordPress, and watch your ideas transform into a captivating online presence.