Businesses in almost every field can gain much from a mobile app strategy. Mobile app development services are in high demand because more and more people are using smartphones and mobile apps. At the moment, the goal of every company using this medium is to make as much money as possible.
You'll need several different parts to make an excellent corporate mobile app. To be popular with the people you want to reach, you'll need to research and ensure the design and layout are appealing. One must also consider how much money they will spend on making their perfect mobile app. It would be worth it for your business to spend on a full-featured mobile app. Goods and services that are overpriced are usually not worth buying.
Read this post to find out everything you need to know to make your mobile app a huge hit on the Google Play Store and the App Store without spending a fortune.
How to Make a Perfect Layout for an App: Making mobile design as efficient as possible
To make the perfect mobile app, you need the right ingredients. To start your mobile design project, you must do certain things in a particular order. The first step is looking at your target audience and their needs. By following the tips below, you can speed up the process of making your mobile app and make it better in the end.
It would help if you Used Wireframes.
Creating a successful mobile app involves more than just writing the code. Writing down your ideas and thoughts is an essential first step, but before you start building, you must also list the things you'll need. This method is called "wireframing." It would help if you also thought about what devices your app will work on.
Also read : UX/UI Design Trends for Mobile Apps to Watch Out In 2021
The type of system you're making the app for, like iOS or Android.
Choosing a Style for a Wireframe
Making a wireframe can help your project's development process go much more smoothly. There are many different kinds of wireframes, but the two most common are • Low-fidelity wireframes, which make it easier to talk about content and UI elements by showing them in black and white with no labels or colors.
Apps that need to show specific information usually use high-fidelity wireframes that can be made quickly.
Set up a transparent wireframe – Putting Content Online
Once you've decided on the wireframe, you can focus on the project's content and how it will be shown. To make a high-quality design, it's essential to start wireframing with well-written, relevant content. Organize the information in your app by using headings, paragraphs, bullet points, tables, etc. This will make the page look nicer and easier to read.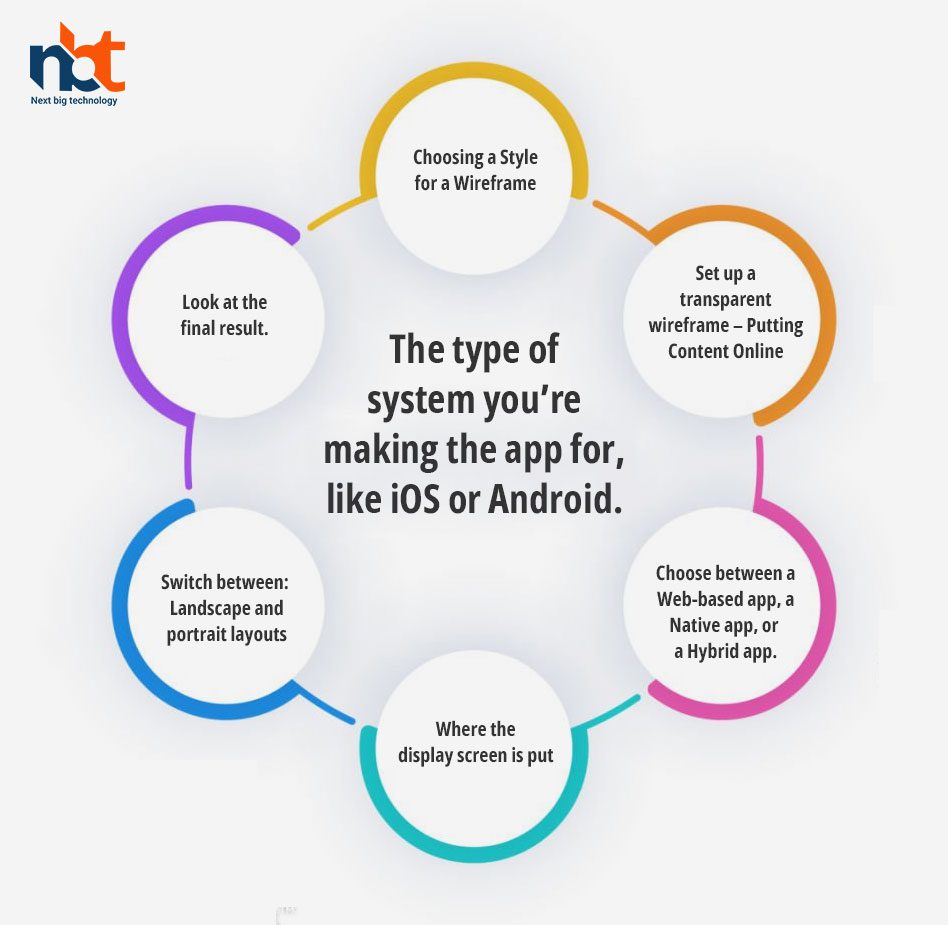 Choose between a Web-based app, a Native app, or a Hybrid app.
If you make smart choices early on, it might help you keep going. At this stage, you should consider the big questions, such as whether your software will be native, hybrid, or web-based.
All native apps are built from scratch. So even if they are productive, they are harder to grow and cost more.
Developing web-based apps saves time and money because hybrid apps combine the best of both worlds. They can use a device's native features and capabilities while using open-source software. As a result, prices can be changed a little bit.
Where the display screen is put
Your app must be built with the screen orientation in mind. Pick from the options below: • Landscape design mode.
Switch between: • Landscape and portrait layouts
The same design looks very different when seen in the landscape and when seen in portrait mode. Okay, so tell me: what are you looking for? Do you like your screen to be in portrait or landscape mode? Before you start wireframing, make the call.
Look at the final result.
As you work on the wireframes, think about the big picture. This means ensuring that the information flows smoothly from one part to the next and that people can easily find their way around.
Now that you know what to do to build a mobile app, keep reading the article to find out how much it will cost to design a mobile app.
What Makes Things Go Up How much it costs to make a mobile app
The total cost of making a mobile app depends on several factors, including the following: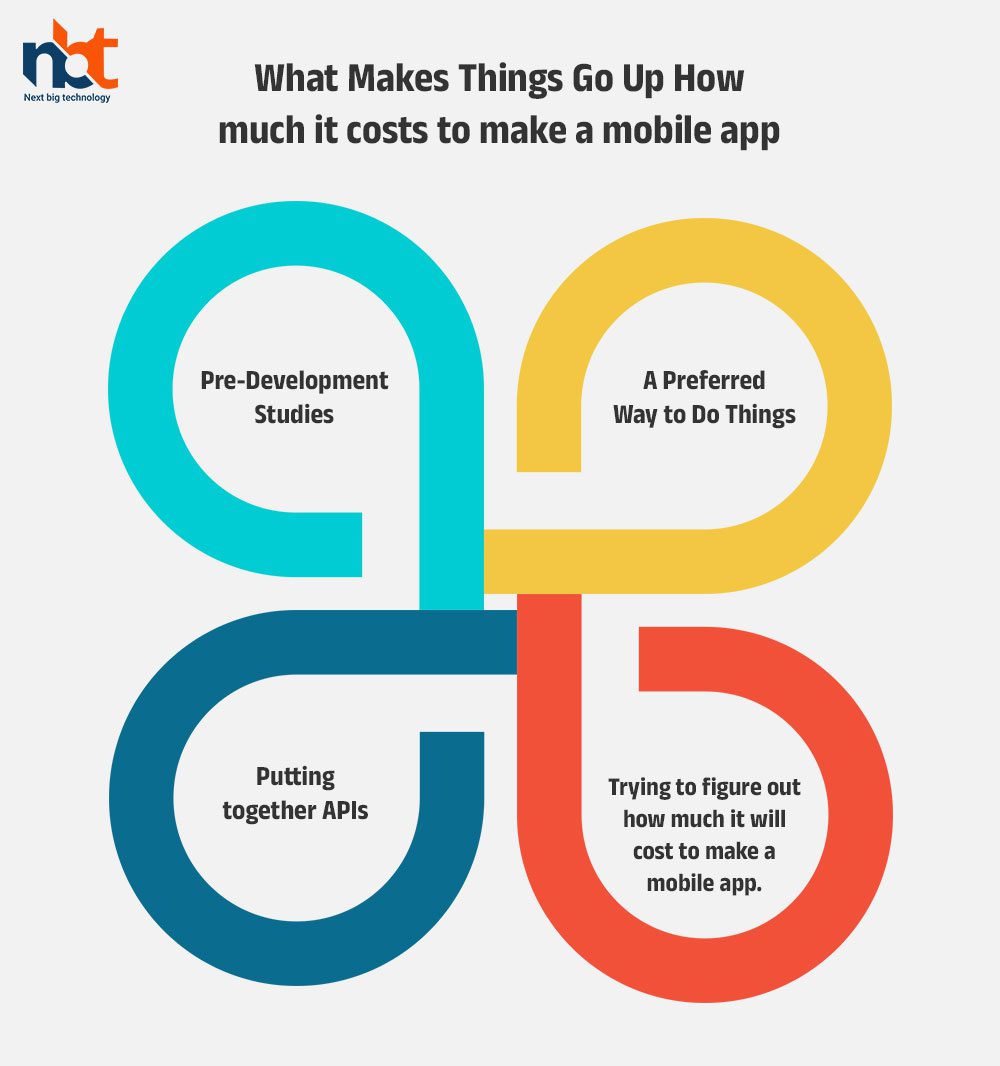 Pre-Development Studies
It would help if you did a lot of market research to find out what kinds of apps people use the most now. This gives designers a complete picture of the industry and an idea of what a successful mobile app needs to be able to do. However, it has been shown that doing preliminary research could make the cost of making an app go up.
A Preferred Way to Do Things
Choosing which platform to use is another factor that affects the total price. Because there are apps for many different devices, developers have to try out new methods.

Putting together APIs
Many companies' mobile apps can't work without APIs, especially those for social networks and other popular platforms. If the social media site upgrades its API, you will have to spend more money to keep your app running.
If your app stores or sends sensitive information, like a user's name, email address, or payment information, it must take the proper steps to protect it. Unfortunately, for your developer to make apps with a high level of security, they will need more time and money.
Also read : How Much Does It Cost To Design a Mobile App?
Trying to figure out how much it will cost to make a mobile app.
In addition to what has already been mentioned, the following also affect the total cost of app design:
It would help if you considered:
The place where you'll build the app
The features, both simple and complicated, you want to include (For example, designing and building an app in the United States would cost a lot more per hour than in India.)
Time spent
How your app development team is set up
Depending on the app's usefulness, making a complicated app can take up to a thousand hours, while making a simple app can take as little as thirty hours.
A developer can expect to make between $150 and $200 per hour in the United States. You can also hire Asia engineers for much less, say between $15 and $25 per hour.
Based on what has been said, it is estimated that a single-platform mobile app with essential features and a simple user interface will cost between $10,000 and $20,000. Most likely, the people hired will be from India. Cross-platform development could cost up to $40,000, depending on how it is done.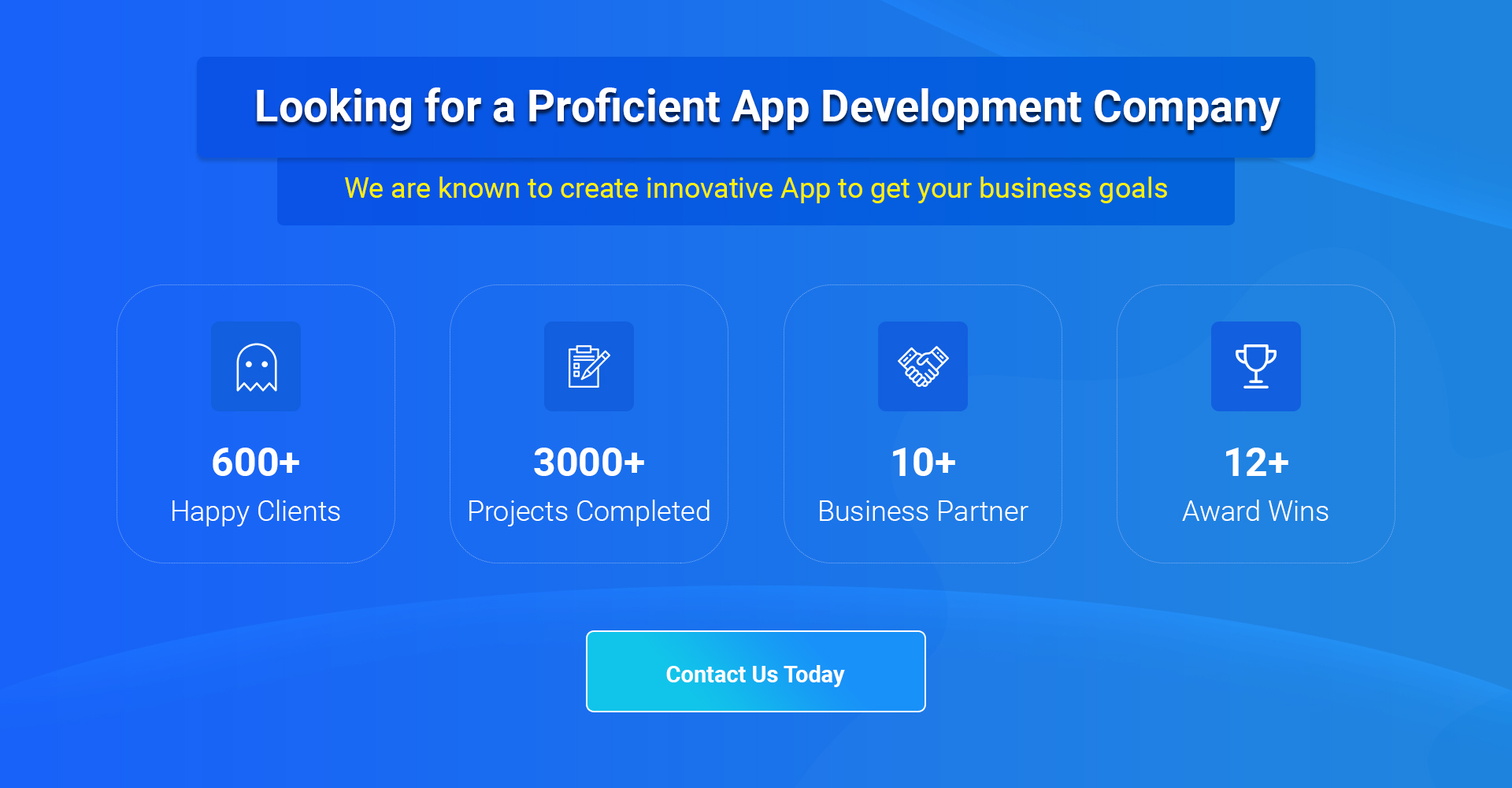 Thanks for reading our post "How Much Does It Cost to Design a Mobile App?", please connect with us for any further inquiry. We are Next Big Technology, a leading web & Mobile Application Development Company. We build high-quality applications to full fill all your business needs