Spotify Clone App Development - On Demanding Audio Streaming

A particular Spotify clone with the potential to disrupt the music streaming industry. Create a robust application for iOS and Android platforms and launch your industry.
Spotify Clone App Development Services
Get in hands with the popular music streaming service, also considered as a revolutionary app. Next Big Technology's Spotify Clone App will give robust performance among the competitors.
Benefits of Spotify
Clone App Development
Music is the language of artists and also universal no matter what the language is. Get started with Next Big Technology's Spotify Clone App as the original app is having more than an 80 million active user base. We are offering the best customization of that popular app for entrepreneurs. Get to know about all the benefits you will be getting with Next Big Technology's Spotify Clone App.
Next Big Technology's Spotify Clone App will offer to categorize music according to the preference of the users. Get multiple categorization options which is one of the best ways to arrange your tunes.

Next Big Technology's Spotify Clone App will let you download any music from the app for offline access. This feature can save data while listing to the same songs over and over.
A user-friendly interface makes the user use the app freely. Enjoy all the features in a hassle-free manner including registration or downloading music.

Next Big Technology's Spotify Clone App trial period will allow users to access and listen to music for a limited period. The trial period gives an overview of the app before choosing any subscription plan.
Next Big Technology's Spotify Clone App will have the same collection of a continuously growing music library. Millions of songs will be available to listen to from various genres.
Generating Revenue with
Spotify Clone App Development
Every business is all about generating revenue by offering products or services. Few easy ways will allow you to earn money with Next Big Technology's Spotify Clone App.
Next Big Technology's Spotify Clone App will always have the opportunity to get inbuilt ads due to the potential for a huge userbase. Generate revenue easily with those ads displaying on your app.
Few features need to be let access to the users with subscriptions, which will let you earn revenue. Features like offline access and download to the device should be given as prime access to the app.
Subscription-based services mainly earn revenue from subscriptions to the app. Subscription enables all the premium features which are not available in the trial version of the app.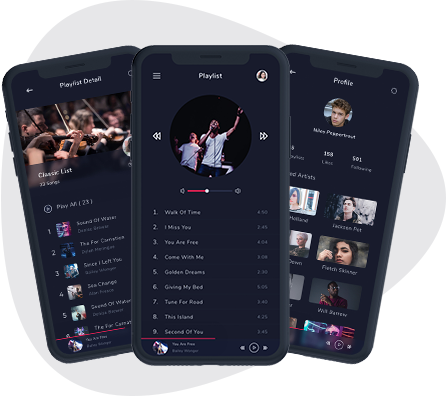 Major Features of
Spotify Clone App Development
Features are the main things that make users attracted to the app. We have listed all the advanced features offered in Next Big Technology's Spotify Clone App.

Registration is the first step of accessing the app, which allows login access in the future. It can be done using email addresses or social media accounts.

Easily download any music tracks from the app for offline access.
Browsing through Song List
Next Big Technology's Spotify Clone App lets you browse through millions of songs library before choosing your fav track. Easily search by name of the track, artist name, or genre using the advanced search option.

Trending tracks are those which were listened to more than any other tracks in the library. This enables the users to know about all the latest tracks trending in the industry.
Support for multiple languages enables users from any region to access easily. This helps the app to operate globally.

Music tracks will be recommended according to the interest of users in the app. This shows the similar songs which users are listening to in the app.
This section of the Next Big Technology's Spotify Clone App always shoes all the recently played tracks by the user.
Easily share any of your favourite tracks directly on social media. Although you need to log in with your social media account to access this feature.
Make a playlist of the user's favourite songs. The music playlist can be named by the user, and perhaps songs can be added or removed from the list. Users have the option of sharing their playlist mostly with their own friends.
Get easy payment options for purchasing the subscription plans using Credit cards, debit cards, UPI transfers, or bank transfers.

Next Big Technology's Spotify Clone App allows users to create groups according to preference. This will also allow other users to follow and listen to the tracks added to that group.
Music runs in the soul. It can make you happy when you are feeling low and help you to express your feelings. Earlier, people used to listen to a particular type of music which is definitely changed by now.
The music world is in great demand and popular apps like Spotify have entered the app store with a major success. Next big technology offers a Spotify Clone App to all the music lovers. Now, you can own an app with millions of songs of all genres. We offer a customizable Spotify clone script to match all the music demand of the users with ease.
The expert developers at NBT enable the users to discover music under assorted segments like reggae, metal, acoustic, hip-hop/rap, electronic, pop, folk, punk, jazz, blues, soundtrack, classical or many more. Our Spotify Clone App development services are packaged with astonishing features that helps you to grow an astonishing online music streaming business. Users can now pursue and stream the audio data with comfort.
NBT is an advanced Spotify Clone App Development Company that offers customizable Open Source Script with all the essential features as per your niche requirements for unique online music business
Our Spotify clone app script provides you the tools required to make a big splash and corner the market in a profitable manner