On Demand Online Pharmacy App Development
Adorn your pharmacy business with our state-of-the-art Uber for online pharmacy delivery app. Our online pharmacy delivery app Fulfill all your customers' needs and take your business to a greater height. It is built with the latest technology in the on-demand application development industry.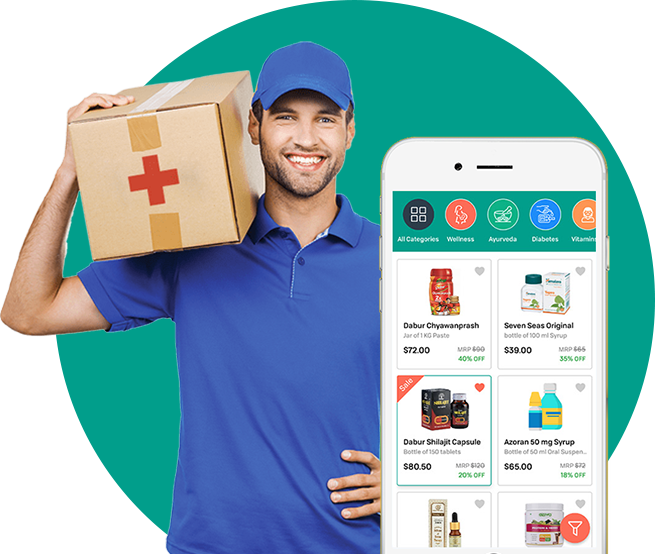 On-Demand Online Pharmacy App Development services
In recent years, the on-demand industry has seen a great rise from the widespread adoption of smartphones and cheaper internet across the globe. Various sectors have moved their businesses to the digital sphere from taxis to grocery stores. The pharmaceutical industry is no more an exception in the past few years, an increasing number of patrons chooses digital solutions for their medical needs. Customers largely prefer the ease and comfort provided by on-demand solutions, no matter whether it is a telemedicine consultation or getting your medicines delivered straight to their house via an app.
An Uber for pharmacy delivery app of NBT provides the safest, most convenient, and efficient solution for today's pharmaceutical needs. Our innovative solutions enable your customers and the growth of your pharmacy enterprises.
What We Offer For Online Pharmacy Delivery App?

An on-demand pharmacy delivery app of NBT includes the tools needed to establish yourself in this competitive market. The all-in-one solution with us leaves no stones unturned. It will help the customers and businesses to carry out pharmaceutical transactions from anywhere, at any time, and across numerous devices with supreme ease and convenience. Here are the important things that our on-demand pharmacy delivery app includes: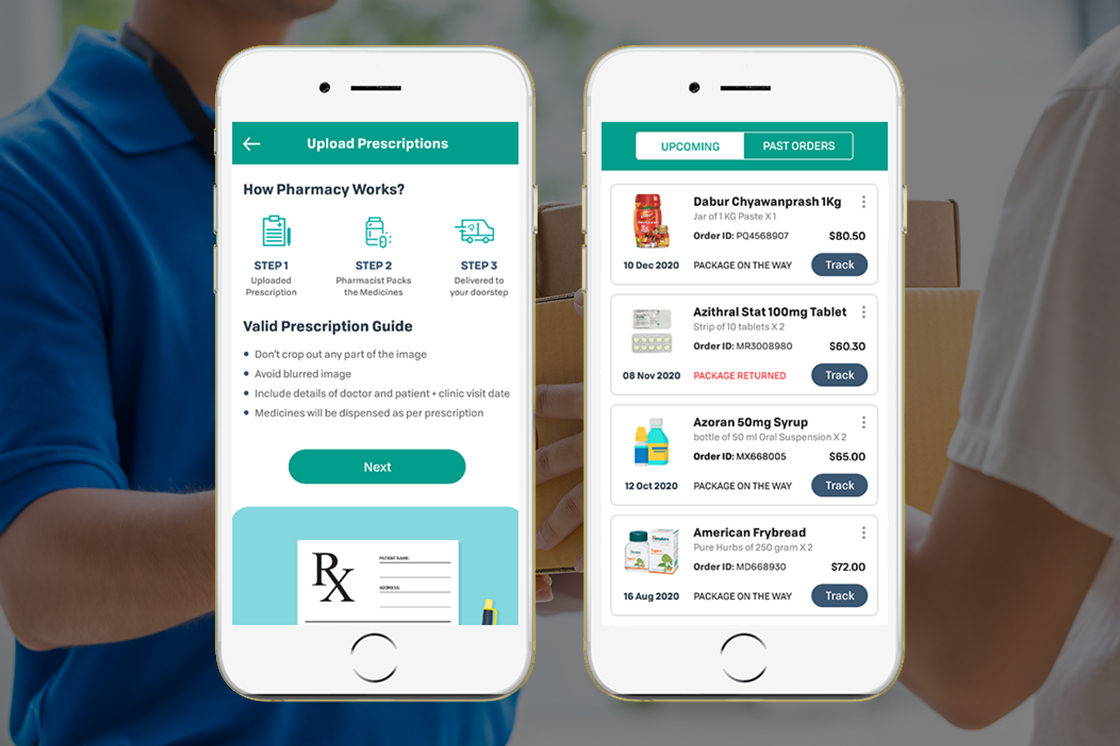 A Website with a Branded Domain Name

iOS App for Clients
Android App for Clients
Web Panel for Clients
iOS App for the Delivery Workforce
Android App for the Delivery Person
Web Panel for the Delivery Group
iOS App for the Pharmacy Industry

Android App for the Industry
Web Panel for the Industry

Web Panel for the Admin
iOS App for the Admin
Android App for the Admin
These complete software solutions allow pharmacies to fulfill to their customers, delivery personnel can deliver seamlessly, admins can oversee operations and, further help customers get their medicines delivered from the comfort of their homes.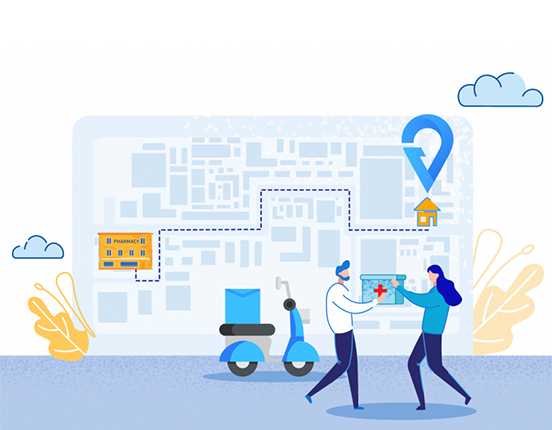 Why You Need A Online Pharmacy Delivery App?

The future of the pharmaceutical industry is in the digital frontier. On-demand application software solutions provide all the ease and convenience. With this, customers are increasingly moving toward the digital mode of transaction. To make a successful and growing customer base, NBT invests an optimum time in an on-demand delivery app.
Your customers will use alternative and easier methods like the competitors who have invested in such solutions. Declining to do such things can even negatively impact your business. With our extensive experience in this field, you can prevent this by being a part of this shifting tide and be at the forefront of it.
Why Online Pharmacy Delivery Apps Are Popular?


Traditional pharmacies make customers feel uncomfortable purchasing prescription and over-the-counter medicines in front of others. Due to this, they enjoy the anonymity of online shopping.
The electronic pharmacy ordering system brings services in the form of daily alerts, preventing people from running out of medication, and failing to refill their medications.
Since drugs are shipped to the doorstep, consumers are saving money. It is especially convenient for remote buyers.
Customers can search and review both instructions for particular details on drugs.
Customers can quickly find a competitive price that is universal to purchase online for their expensive prescription medicines.
Key Features of Online Pharmacy Delivery App Development

Customer App
Delivery Personnel App
Pharmacist Panel
Admin App
Other Features
Customer App

Login/ Register
Customers can register by signing-up and later log in to the app with ease and convenience.
Filtering Options
Customers can filter both stores and medicine through categories like medicine, locality, proximity, and more.
Search Stores
Customers can search for pharmacies in their locality or a particular medical store by typing the name of the pharmacy.
Information
Customers can read complete details of medicine that they wish to purchase like ingredients, uses, and directions for safe usage.
Search Medicine
Customers can alternatively search for the desired medicine. It will automatically guide them to the pharmacies that have them.
Refill Prescriptions
Once ordered the first time, the prescriptions get saved for future use. With this, customers can easily refill at a later date in just a few clicks.
Upload Prescriptions
Without using a prescription, customers can purchase over the counter medicines. However, people needed a doctor's approval can upload their prescriptions digitally and get the medicine.

Track Order
Customers can track the real-time order from the pharmacy store to ensure a speedy delivery.

Compare Prices
Customers can compare the price of medicine across different stores and choose one that fits their budget.
Ratings / Feedback
Customers are asked to rate the service provided and further offer their feedback to improve the service continuously.
Delivery Personnel App
Pharmacist Panel
Admin App
Other Features
How Online Pharmacy Delivery Apps are useful for your business?

A medicine delivery app of NBT can be easily customized or modified to prominently feature your branding. Access the required features and make your app unique.
Our one-stop software solution can be built effectively and efficiently to ensure that you are ready to launch sooner than later.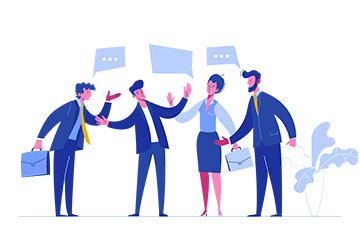 All our healthcare products and services are perfectly suitable with the highest standards decided by medical experts and institutions.
UI or UX are the hallmarks of a great application. Our pharmacy delivery app can be used simply with an aesthetic, visually appealing design.
Scalability is essential for your business expansion. Our app solutions can grow along with your business.
Our extensive experience in the field of application development guides you on the path to success and extend our support in every way possible.
Inventory Management Software
The pharmacy delivery software of NBT will streamline your processes in a different way. You can manage your inventory efficiently from one convenient location through our robust inventory management software.
Our Supply Chain Management software can streamline your processes, eliminate redundancies, and increase the operational efficiency of your company.
Medical Web and App Development
An extensive experience in the development field provides you a web panel and a standalone app that is compatible with multiple devices.
Sales and Distribution Software
At NBT, our software tool manages your sales and distribution in an effective manner. You can keep track of your sales and distribution, review them periodically, and further improve your business.
Medicines Delivery Mobile App
Enhance your pharmacy business with a user-friendly software solution. It will help your customers order and receive medicine at their doorsteps.
Pharmaceutical CRM Software
The team of programming experts makes your Customer relationship management software secure and easy. It is HIPAA compliant and follows the highest regulatory standards, further allows you to fulfill all your customer's demands in an efficient way.
How Pharmacy Delivery App Works
Users can search for the required medicine from the repetitive stores at their disposal.
Users can add the available medicine into the cart as per their requirements.
Users can review their products in a cart and place an order to get medicines at their delivery location.
Users can make cash payments or through different online modes for their ordered products.
What Services We Offer With Pharmacy Delivery App Development
Install your pharmacy delivery app on your server with low or no cost, once it is ready to be launched. Your app will become live immediately.

Publish your app in all the different and available stores and platforms like iOS Apps in the App Store and Android apps in the Play Store.
Launching is the fundamental support of an application solution. After this, it requires regular maintenance to make it free of bugs and malfunctions at very nominal prices.

Based on the selected package, you will get a complete source code. In other words, clients can enjoy all the privilege to edit and change the source code and get complete control over your app.
NBT will feature your brand, color scheme, and logo at every possible place. It will increase your visibility and bring brand awareness to your app to simply attract more customers.
Our customer support services offer you a dedicated team of professionals who are ready to help you out with any queries or issues you might face. An extensive experience of NBT in the field allows us to tackle all problems head-on.