Non-Fungible Tokens, or NFTs, have been making headlines recently for their astronomical sales prices, with some pieces of digital art selling for millions of dollars. But what exactly are NFTs, and why are they becoming so popular? In this beginner's guide, we'll take a deep dive into the world of NFTs, exploring what they are, how they work, and why they're causing such a buzz in the art and tech worlds. We'll break down the jargon and help you understand the ins and outs of this exciting new technology. Whether you're an artist looking to sell your work as an NFT, or an investor curious about this emerging market, this guide will provide you with everything you need to know to understand and navigate the world of NFTs. So, let's get started!
What is NFT and How NFT Works?
NFTs refer to digital assets created to portray exclusive ownership of a distinct item or content. The information is kept in a blockchain, a decentralized electronic ledger that securely and transparently documents transactions. NFTs stand apart from various cryptocurrencies as they are not interchangeable or fungible, but rather they boast uniqueness. This implies that every NFT embodies a unique asset that cannot be copied or reproduced. Over the past few years, NFTs have gained a lot of popularity, especially within the art industry. They present an innovative approach for artists to profit from their creations and for collectors to possess exclusive digital art pieces. NFTs possess the capability of being utilized in a wide array of fields other than just art, including but not limited to gaming, music, and the domain of real estate. NFTs are exclusive to digital collections and do not exist in the form of physical paintings that one could display on their wall. The buyer of an NFT acquires ownership rights that were previously held by the seller. Moreover, NFT can only be possessed by a solitary proprietor at any given point. The unique information provided by NFTs facilitates the verification of possession and transfer of tokens from one holder to another. The metadata NFT provides an opportunity for the owner to store their information, such as their signature, within it.
How to Buy NFTs?
Step 1: Sign Up
Cryptocurrency trading platforms are utilized to engage in transactions involving digital currencies, however, in order to procure an NFT, a registered account with a reputable exchange is still necessary. WazirX, Binance, and CoinDCX are just a few examples of renowned cryptocurrency trading platforms that have a plethora of features and capabilities such as safeguarding measures, ease of use, and liquidity – enabling you to select the exchange that caters to your specific requirements.
Step 2: Make a Crypto Wallet
A digital currency wallet is an awesome way to keep your virtual money super safe and secure! But, just a heads up, it's crucial to remember a set of 12 random words in order to access your wallet. Without them, you might find yourself locked out for good. And trust me, not being able to get to your non-fungible tokens, funds, or cryptocurrency can be a real headache!
Step 3: Link Your Crypto Wallet with Your NFT Wallet
In order to engage in the NFT arena, it is imperative to synchronize your digital wallet with your NFT purse. Upon successful completion of this step, it is essential to establish a connection between your NFT purse and the market for NFTs.
Step 4: Buy Your First NFT
Once you have successfully completed and followed through with each and every one of these aforementioned steps, you are now officially able and well-equipped to effortlessly purchase and divest NFTs of your liking and preference on the ever-so-popular and highly sought-after NFT marketplaces.
Also Read : BEST NFT EXAMPLES AND IDEAS 
List of Top NFT Apps and Marketplaces for NFT Trading
OpenSea stands out as an extraordinary portal for NFT trading and its reputation as such is widely acknowledged. This NFT application was one of the pioneers in the market and became available to the public in 2017. This application is distinguishable from others due to its comprehensive backing of numerous NFT categories such as art, music, sports, GIFs, and photos, among others. Due to its ability to facilitate NFT transactions on the Ethereum-Blockchain platform, it is commonly recognized as a pioneer. When using this platform, customers must incur a 2.5% transaction fee and a gas fee when purchasing or selling NFTs. Rest assured that when buying from Polygon, you need not be concerned about any expenses related to gas. Undoubtedly, acquiring from Polygon is not only easy but also budget-friendly. OpenSea is a trustworthy and genial platform for NFT trading.
The year 2017 proved to be a triumph for the digital currency sector, especially with the remarkable emergence and consolidation of Binance as a potent and reliable exchange platform. Binance is an exceptional NFT platform that offers a secure and reliable platform for buying and selling NFTs, establishing itself as a commendable leader in the industry. It has impressed many people with its exceptional skills and has garnered their appreciation. The application has been thoughtfully crafted for user convenience, empowering them to conduct transactions in a seamless manner. This results in a distinct and pleasant encounter that enables effortless functioning. NFTs can be conveniently accessed using an individual's pre-existing Binance account, which operates flawlessly on multiple platforms to meet the distinct needs of its extensive user community. By providing Android and iOS apps, it makes sure that users can conveniently access the NFTs they prefer. Its coveted "Mystery Box" offers users the chance to obtain valuable NFTs merely by recommending the app to others. Sharing NFTs is an excellent means of expressing affection and disseminating happiness. Its outstanding capabilities empower you to discover your creator's top picks and enable the creation of personalized NFTs, thereby enhancing your encounter to unprecedented levels. Due to its outstanding service and dedication to meeting users' needs, it has become a highly sought-after choice. Become a member of Binance today and immerse yourself in the most exceptional NFT encounter available in the digital domain.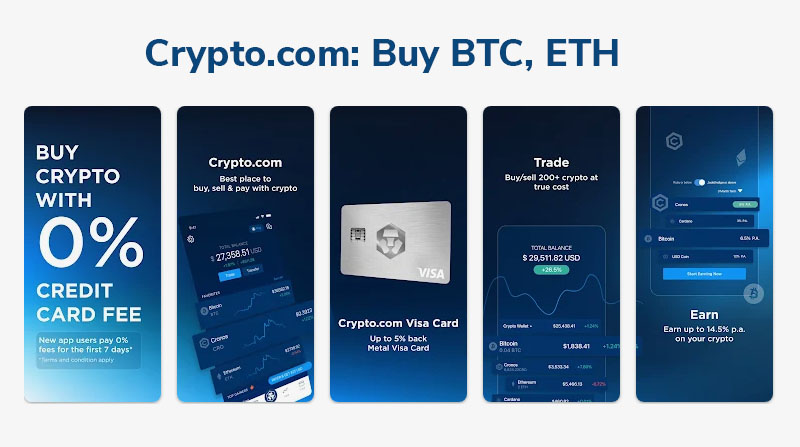 Over the course of the past few years, Crypto.com has been able to amass a rather sizable and impressive user base consisting of no less than ten million individuals. This not only speaks volumes about its widespread appeal and popularity but also its reputation as one of the most prominent and noteworthy NFT applications available on the market today. It is a name that is well-known and highly regarded across the globe, thanks in no small part to its exceptional cryptocurrency exchange facility that has managed to capture the attention of many. In fact, it was just this past March of 2021 when the platform decided to hop onto the NFT trend and unveil its very own NFT application, which has been an overwhelming success since its inception. And the great news is that thanks to the immense success and popularity of this initiative, you too can now generate your very own NFT with ease and confidence. And as if that weren't enough, the platform's Blockchain development efforts have also been extended to support NFTs based on Ethereum as well, thus giving you even more options and possibilities to explore. Perhaps one of the most appealing aspects of using Crypto.com's NFT platform is the fact that purchasing and trading NFTs will not incur any extra charges whatsoever, thus helping to minimize your gas fees and save you money in the long run. And unlike other platforms that require you to connect multiple wallets before you can conduct transactions, this platform allows you to conveniently conduct all of your transactions using either your Crypto.com wallet balance or a debit/credit card for buying and selling.
Are you acquainted with Rarible, the extraordinary digital art exchange platform? With a colossal user base of 460,000, its fame is rapidly soaring. Rarible, acknowledged as the principal marketplace, has recently partnered with Adobe to further solidify its credibility by verifying and validating artists' digital masterpieces. The variety and impressive range of products offered on Rarible are acquired through the utilization of Ethereum from diverse origins. Rarible provides a remarkable platform for authenticated artists to showcase and promote their imaginative creations, providing truly captivating and immersive experiences. Can you imagine the profound elation and thrill that awaits you on this extraordinary platform? Rarible offers a pathway to explore 20 different domains where extraordinary digital artwork, referred to as NFTs, can be effortlessly bought and sold. The platform provides a user-friendly method for individuals to browse a diverse variety of fascinating videos, images, and animations, facilitating their decision-making process when it comes to purchasing. The most beneficial facet of the platform is its user-friendly approach to offering fixed prices or carrying out auctions directly on the platform.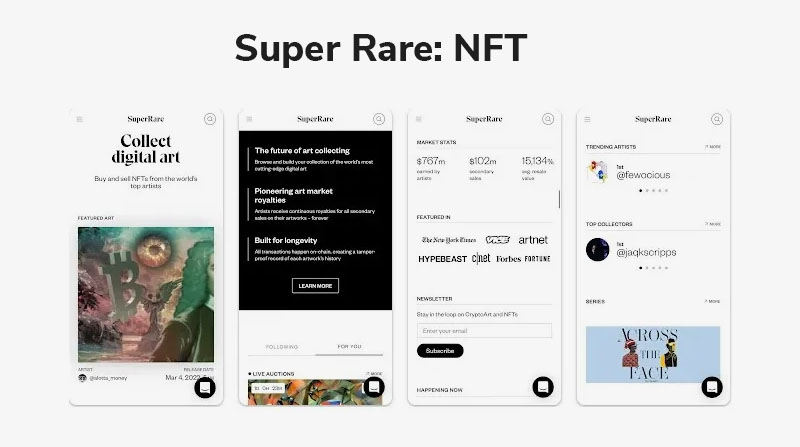 Super Rare is an exceptional and extraordinary digital marketplace that exists in the virtual world, where one can purchase and vend NFTs built on the Ethereum blockchain. It is a platform that enables users to engage in the process of procuring and vending the most unique and one-of-a-kind networks that are exclusively designed for creators. Super Rare is an ever-evolving and dynamic platform that is an integral part of the NFT ecosystem, which encompasses a vast array of creations such as art, videos, GIFs, selfies, and even 3D paintings, thereby, making it the most sought-after app to buy NFTs. What sets Super Rare apart from its contemporaries is the fact that it takes ample time to meticulously scrutinize and assess every NFT, thereby, cherry-picking only the most exceptional and superior designs, thus, giving sellers a sense of assurance with regard to their NFTs. Super Rare is often referred to as non-custodial in nature, which essentially means that when a seller's NFT is sold, it only departs from its wallet from a locked NFT Smart Contract. It doesn't allow meme art and solely focuses on NFT art and offers royalties to the creators to encourage the trading of good quality and premium content. It provides a user-friendly and easy navigation interface.
Also Read : A Complete Guide to NFT Marketplace Development
Lucky Block
Compared to other commonplace lottery and contest options, Lucky Block is a unique and unparalleled choice. The platform offers a multitude of exceptional functions that seem almost too remarkable to be real, signaling its outstanding quality. Its selection encompasses a grand total of 10,000 NFTs belonging to the Platinum Rollers Club, with 25 of them being highly coveted. And you know what? The collection remains obtainable for purchase, providing you with an opportunity to obtain a rare NFT. It's crucial to bear in mind that the rarity of the NFT can only be determined after the purchase has been made. Do not fret, as in case you happen to obtain an uncommon token, you will receive a jackpot prize worth twice as much along with other amazing benefits!
Foundation is an Ethereum blockchain-based platform designed to facilitate the exchange of NFT artwork within a marketplace setting. The NFTs remain on the platform for a period of 24 hours as they are made available through an auction-style listing method. The marketplace levies a fee of 5% on the vendor's commission when the NFT is purchased. They solely appeal to top-notch NFTs with this approach. There is currently no NFT trading app available, as accessing Foundation can only be done through a web browser. Upon the sale of your NFT in the secondary market, a percentage of 10% will be granted to you as a royalty. Payments can be made using both debit and credit cards alongside Ethereum.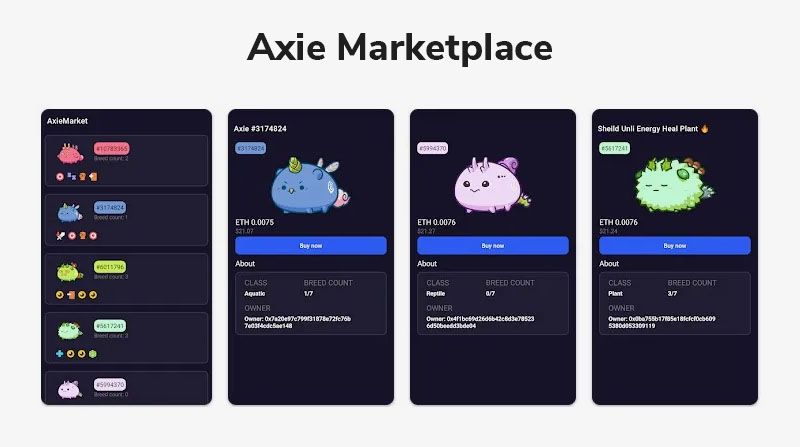 Are you seeking a great NFT platform to indulge in NFT games? The Axie Marketplace should be your ultimate destination. It's an incredible recommendation worth exploring. The marketplace presents a diverse range of gaming commodities comprising weaponry, attire, property, and numerous other items. These products are carefully selected for the monster companions of the characters featured in Axie Infinity. This innovative NFT platform, utilizing the Ethereum Blockchain, has revolutionized the P2E gaming realm. This app is highly esteemed for buying NFTs. One exciting aspect is that engaging in a Pokémon-themed game can lead to a noteworthy chance to make money, with participants receiving both SLP and AXS tokens as rewards. Acquiring the necessary ETH for NFT transactions has become more convenient with the amalgamation of the Axie Marketplace and Ronin Wallet.
NBA Top Shot is a wonderful online centre for swapping exclusive and official NBA game highlights in the form of non-interchangeable tokens (NFTs). On this platform, users can acquire, sell, or collect NFTs backed up by blockchain technology. The NBA and its players' association have affirmed that each NFT featured on the platform represents a distinct moment from an official NBA match. NBA Top Shot makes it easy to buy NFTs using a range of payment methods, including credit and debit cards, as well as popular cryptocurrencies such as Ethereum, Bitcoin, and USD coin. While buying packages with various items can increase your chances of getting rare NFTs, there's also a bit of luck involved. Nonetheless, NBA Top Shot is a fantastic place to get your hands on exclusive NBA highlights!
Nifty Gateway stands out as a premier NFT marketplace within the digital realm. The NFT marketplace is overseen by Gemini, a premier digital currency exchange under the administration of the Winklevoss twins. This is a specialized marketplace built on the Ethereum blockchain that allows individuals to create, market, and purchase unique NFTs which fall solely within the artworks category. Nifty Gateway has put in place a trustworthy approach that highly esteems inventiveness and genuineness. Therefore, its reputation precedes it due to its exceptional verification system which is considered one of the best globally.
Also Read : The Ultimate Guide to Creating an NFT Marketplace
If you relish accumulating autographs of your most adored stars through NFTs, you ought to explore this platform. Autograph presents a private collection exhibition facility for celebrities and VIPs. Within this browser marketplace, you can procure celebrity autographs in NFT form. Initiated by illustrious superstar Tom Brady, who accumulated funds from several trustworthy sources to launch Autograph. In this marketplace, you have the opportunity to view popular artists and their creations, with upcoming releases and top artists showcased at the forefront. You can obtain 10% royalties for each resale of your work. Payment options include credit or debit cards, PayPal, and cryptocurrency.
If you're a novice in NFT trading and clueless about where to commence, our suggestion would be to opt for Ninja FT. Ninja FT stands apart from every other NFT investment application on account of its straightforwardness and convenience in creating NFTs on your handheld device. NinjaFT is an ideal option for those unfamiliar with NFTs who are looking to obtain unrivalled complimentary perks. Join the arena of NFT Ninja Battles featuring an array of characters and merchandise to purchase, sell, and exchange amidst a supportive community and an enjoyable NFT marketplace. This NFT generator app stands out as it offers users the opportunity to design and produce their very own NFTs. Initially, you must retrieve all the previously crafted graphics saved on your iPhone by downloading them. An attractive and appealing feature of the app is the availability of the NFT crypto wallet for its users, along with the advantageous integration of external crypto wallets.
Have you ever desired to create your unique and customized NFT masterpiece but lacked the knowledge to start? You need not worry because the NFT creator app provides you with the opportunity to easily trade NFT artwork and personalize your artwork with the use of your smartphone. Requiring no assistance from a graphic designer, your image can be transformed into a distinctive masterpiece. This highly functional platform empowers you to produce NFTs independently. In order to enhance the marketing of NFTs, the NFT creator app provides the opportunity for users to share their NFT artwork with their acquaintances and followers, thereby increasing engagement in their artwork. There is a vast selection of fonts, designs, and filters at your disposal to create a distinctive and captivating NFT from your art. Moreover, it presents the opportunity for you to exchange your NFTs on several e-commerce platforms including Axie Infinity and Super Rare.
Enjin is akin to a happening gathering place for aficionados of NFT, where one can indulge in the purchase and sale of digital art and collectibles. And what's more, their wallet renders the entire process superlative in ease! One can fashion and exchange NFTs for an array of items ranging from gaming paraphernalia, music, sports, and other such fascinating paraphernalia. Furthermore, Enjin's capabilities are not limited to Ethereum alone, as they extend their support to the likes of Binance, BEP20, and ERC-20 as well! Hence, one can repose their trust in Enjin to furnish them with the best collectibles out there.
Magic Eden, with its illustrious reputation in the SOL NFT market, has amassed an unparalleled respectable user base that outperforms its peers. The platform has managed to capture the attention of collectors who are constantly on the lookout for new and innovative pieces, thus enhancing its standing in the community. It demonstrates its commitment to innovation, as it regularly hosts NFT workshops, giving creators the opportunity to showcase their masterpieces and connect with collectors. Originally, the platform was designed to meet the needs of Solana natives; However, it has since expanded its reach to include Ethereum-based NFTs, with other networks in the works, ensuring a wider audience the opportunity to experience what Magic Eden has to offer.
Also Read : Metaverse NFT Marketplace Development – Types, Features, Costs, and more
Conclusion
NFTs are a fresh and thrilling technology that presents a plethora of potential applications and use cases. Even though they have garnered noteworthy attention and value in recent months, there are also hazards and obstacles linked with this technology. As with any nascent technology, it's crucial to conduct your due diligence and approach NFTs with prudence. Whether you're an artisan seeking to monetize your creations, a collector yearning to possess a distinctive piece of digital art or an investor intrigued by this budding market, NFTs furnish a captivating peek into the future of blockchain and digital ownership. With meticulous contemplation and readiness to probe novel possibilities, NFTs could be the solution to unlocking a realm of new prospects.
Thanks for reading out post "Top NFT Apps and Marketplaces for NFT Trading". Please connect with us for NFT Marketplace Development.