Today we are living in a world that is completely technical. Every business would want profits. To enlarge and grow their businesses whether it is small, middle level or big, enterprises are showing more interest in mobile app development because they are requiring personalized mobile apps specifically designed for their respective industries. The enterprise might be any coffee shop or any salon or any cosmetic shop. They are knowing how important It is to own and develop an app. Hence, many sectors are needing mobile apps in order to reach many customers and make the process easy. Ultimately, the users require a user-friendly website and a much-simplified process.
Many Enterprise Mobile App Development companies spread across the globe are working hard and are keeping themselves busy in order to bring out extraordinary features in the app so that they prove useful to the people.
Now, let us move on and find out the reasons why your business needs a mobile app.
Noticeable to the clients
Any person owning a smart mobile would obviously browse and use his/her phone. Even though most of the population doesn't use the apps as much, but getting recognized is a very first step. Our subconscious mind always looks for something interesting which is colorful, catchy, and trendy. So, when a person is just scrolling up and down, the person might come across your mobile applications on his/her phone. This will definitely help boost your business as many clients will look through what they need when using his/her phone.
Quickest connect
Any app can be easily used when installed on his/her phone. Nowadays anyone wants an easy process. Instead of browsing and finding your business website on search engines, app unlocking and usage is a quick method that consumes less time compared to website browsing. The client can quickly respond and give any feedbacks or reviews related to your business.
To any negative comments, your in-house team must take appropriate action in fulfilling the customers' queries as these negative comments are readable by anyone. So, rapid action might be necessary. Before the response from the clients goes public, prompt action can be taken which is again a plus.
Connect with continuous clients
Certain customers always use their phones 24*7. Many surveys have shown that more than 75% of the time is spent using mobile apps.
A good marketing medium
An app has multiple benefits. Through an app, a person can get to know very basic info regarding your company such as when and where it was initially established and related stuff. Apart from that, many features are integrated into your mobile app specific to your industry which eases the process for any customer. And, various things regarding your business festive sales or discounts can easily be made aware to your customers through the push notification button.
Valuing customers
A mobile app using customers can be rewarded by offering loyalty program bonuses instead of a points scheme. Such appreciation can encourage customers to use the app for the longer term and the app might be shared among the customers' friends which thereby brings more downloads and loyal customers.
Expand your brand value
To grow your brand value, your mobile app must have all the necessary attributes and elements which are trendy, catchy, and most importantly informative. The app must be responsive and user-friendly of course. The app must not stop working in the middle and such flaws must not be present.
In order to get your brand built, your app's features speak and in order to get publicity, your app must be used by the customers. As soon as they start using your app, they will be ready to avail your service. This mechanism in the advertising field is called "effective frequency": hearing and looking at your business brand about 25 times will get your business brand recognizable.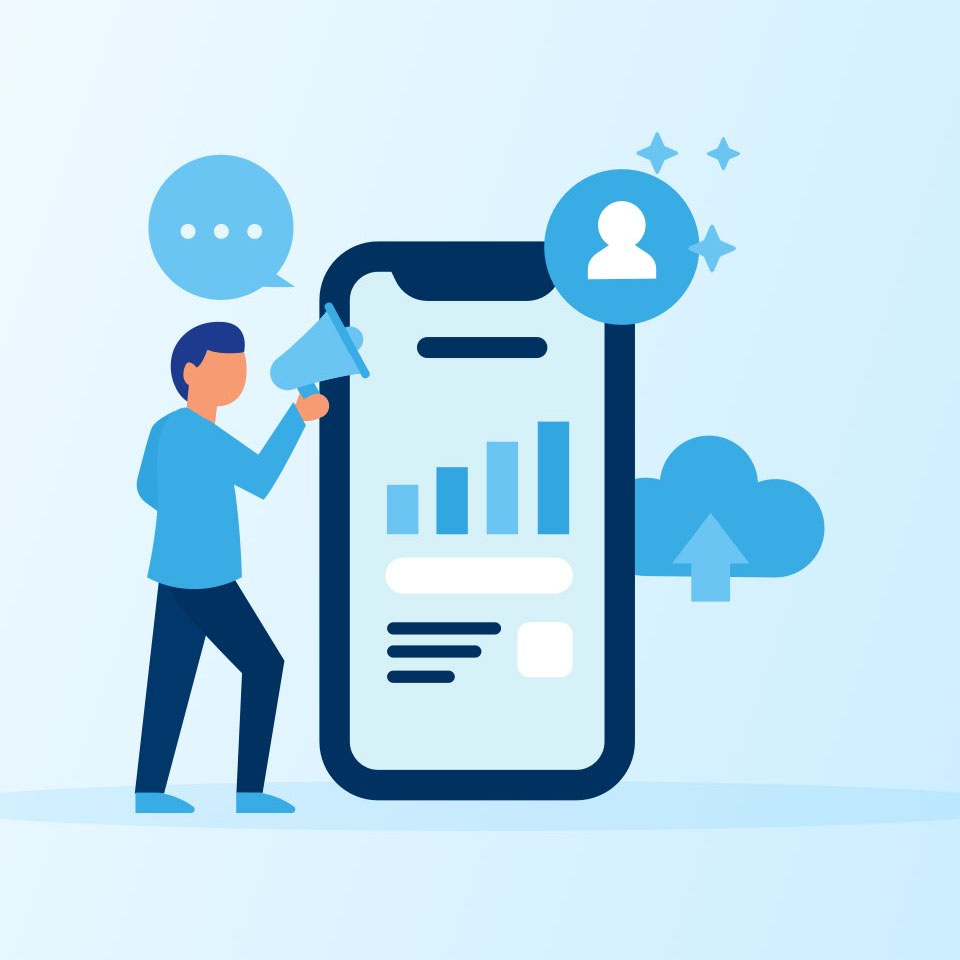 Upgrade your association with the customers
Your app must serve its purpose. Suppose you own a coffee shop and your app has been designed for it, the customers can book a particular table for a minimum number of clicks let's say. The connection with your clients can be strongly established by integrating messengers into your app so that a better communication strategy is entrenched.
Stand out of the crowd
If you are owning a small company you can build a mobile app specifically designed for your company and this step can prove advantageous as you would be standing against your competitors in your locality and thus winning the battle because even now small companies are still not yet showing any delight in developing mobile apps.
Loyal customers
Loyal customers could prove an excellent step to boost your business. The mobile app would bring in loyal customers. A good relationship with the customers would enhance your business in many ways. There might be many responsibilities weighing on your shoulders to make your brand recognized such as magazine ads, banners, Facebook ads, or any ads on social media and many more. In many corners, there is only commercialization to look at where you often miss and forget to create a good bond between you and your clients.
Good connect with the customers would definitely help to improve your business in many ways.
App aids in providing hassle-free service
An easy order can be placed by the customer through the app and the best service can be offered by your business to your customers.
Also read the Article: Features that Enterprise Mobile App Should Have
Conclusion:
Owning a mobile app for your business sector is a very good proposal as we have enlisted above as to why your business might need a mobile app.
In order to run a business in a successful manner, this digital world would definitely call for a mobile app so that you can stay close to your customers through the app, and moreover, app usage would simplify the customer's order.
In case you are looking for any mobile app development company or Enterprise Mobile App Development company which is having a good reputation and experience in developing and building mobile apps, you can approach Next Big Technology  – the best Enterprise Mobile App Development company as professionals at NBT have tremendous knowledge in building mobile apps.
All the best!