WordPress has evolved into one of the most powerful and widely used content management systems, empowering businesses, bloggers, and individuals to create and manage websites with ease. While WordPress offers a plethora of themes and plugins, sometimes you need a tailor-made solution to achieve your unique goals. Hiring a WordPress customization expert can be the key to transforming your website into a customized masterpiece. This guide provides a comprehensive overview of the process of hiring a WordPress customization expert, from understanding their role to finding the right candidate.
Introduction to Hiring a WordPress Customization Expert
Understanding the Importance of Customizing Your WordPress Website
Role and Impact of WordPress Customization Experts
Why Hire a WordPress Customization Expert?
Unique Branding and Identity
Crafting a Distinctive Online Presence
Aligning Your Website with Your Brand's Aesthetic
Tailored Functionality
Addressing Specific Functional Requirements
Enhancing User Experience with Custom Features
Optimal Performance
Optimizing Your Website for Speed and Efficiency
Ensuring Seamless Navigation and Fast Loading Times
Security and Reliability
Implementing Custom Security Measures
Minimizing Vulnerabilities and Risks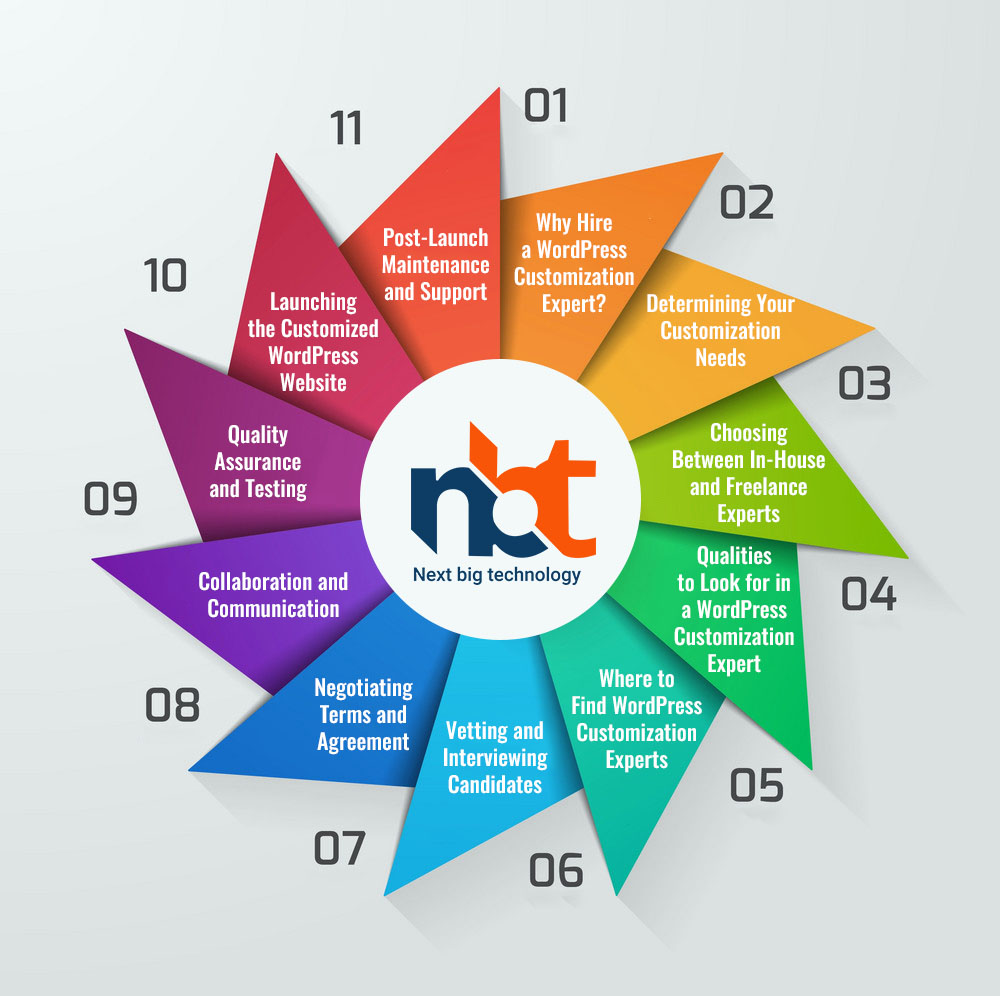 Determining Your Customization Needs
Identify Your Goals and Objectives
Define What You Aim to Achieve with Customization
Pinpoint the Areas That Require Tailored Solutions
Map Out the Required Functionality
List Specific Features and Functions You Need
Prioritize Features Based on Importance
Visual Design and Layout
Clarify Your Design Preferences and Aesthetics
Provide Examples of Websites or Design Elements You Admire
Choosing Between In-House and Freelance Experts
In-House Experts
Pros and Cons of Hiring a Full-Time WordPress Developer
Ensuring Consistency and Communication within Your Team
Freelance Experts
Advantages of Hiring Freelance WordPress Customization Experts
Flexibility and Cost-Effectiveness of Freelance Arrangements
Qualities to Look for in a WordPress Customization Expert
Technical Proficiency
Strong Command of WordPress Core Functions and Architecture
Demonstrated Expertise in Customizing Themes and Plugins
Problem-Solving Skills
Ability to Analyze Complex Issues and Devise Solutions
Creative Approach to Customizing WordPress Features
Portfolio and Experience
Reviewing Past Projects and Case Studies
Assessing Compatibility with Your Customization Needs
Communication and Collaboration
Effective Communication Skills for Clear Understanding
Collaborative Approach to Working with Your Team
Attention to Detail
Meticulous Approach to Implementing Design and Functional Changes
Ensuring a Polished and Professional End Result
Where to Find WordPress Customization Experts
Freelance Platforms
Utilizing Platforms like Upwork, Freelancer, and Fiverr
Posting Project Descriptions and Reviewing Freelancer Profiles
Online Communities and Forums
Participating in WordPress Forums and Communities
Seeking Recommendations and Referrals
Professional Networking
Leveraging LinkedIn and Networking Events
Connecting with WordPress Developers and Experts
Vetting and Interviewing Candidates
Reviewing Portfolios
Assessing the Quality and Diversity of Past Work
Examining Projects Relevant to Your Customization Needs
Technical Interview
Presenting Realistic Scenarios and Challenges
Evaluating the Candidate's Problem-Solving Approach
Communication Assessment
Gauging Clear and Effective Communication Skills
Ensuring the Expert Understands Your Requirements
Negotiating Terms and Agreement
Scope of Work
Defining the Scope of Customization Work Clearly
Outlining Specific Features and Deliverables
Project Timeline
Estimating Realistic Timeframes for Completion
Setting Milestones for Progress Tracking
Budget and Payment Terms
Agreeing on a Fair Budget for Customization Work
Discussing Payment Schedule and Methods
Confidentiality and Ownership
Specifying Intellectual Property Ownership Rights
Ensuring Your Customizations Remain Confidential
Collaboration and Communication
Regular Updates
Establishing a Communication Schedule for Updates
Keeping the Client Informed About Progress
Feedback Loop
Providing Constructive Feedback on Completed Work
Encouraging Open Dialogue and Iterative Improvements
Quality Assurance and Testing
Rigorous Testing
Conducting Thorough Testing of Customized Features
Identifying and Addressing Bugs and Errors
User Experience Testing
Engaging Users to Test Customized Functionality
Gathering User Feedback for Refinements
Launching the Customized WordPress Website
Final Review and Approval
Reviewing the Completed Customizations in Detail
Approving the Finalized Changes
Backup and Data Safety
Backing Up Your Website Before Implementing Changes
Ensuring Data Safety Throughout the Customization Process
Post-Launch Maintenance and Support
Ongoing Maintenance Plan
Establishing a Plan for Regular Updates and Upgrades
Addressing Potential Compatibility Issues
Technical Support
Discussing Post-Launch Technical Support Arrangements
Ensuring Prompt Assistance in Case of Issues
Conclusion:
Hiring a WordPress customization expert can be the catalyst for transforming your website into a tailored online platform that perfectly aligns with your brand identity and goals. By following the insights and steps outlined in this guide, you can confidently navigate the process of finding, hiring, and collaborating with the right expert to bring your customized WordPress vision to life.