YII is a popular open-source MVC PHP web application framework that is object-oriented and component-based. Clients all throughout the world get benefit from Next Big Technology's high-quality YII development services. Hire Dedicated YII developer from us to create a rich and scalable web application that meets your company's needs.
We have a staff of highly skilled YII developers who can create websites for companies of all shapes and sizes. Hire our professional developer to customize solutions the way you want them and accomplish your next YII development job effectively. Our YII Developers are expert in developing high-quality Yii applications.
Why Should You Hire a Yii Developer?
Hiring a dedicated YII developer for a large project is always a good idea.
The following are some of the most compelling reasons to hire our development team:
Customization
The YII framework is extendable to a significant extent.
Our developers are skilled at customizing solutions as much as is required to meet your business objectives.
Technologically Experts
To satisfy your needs, our YII developers use the majority of PHP features, such as SPL interfaces and classes, functions, and static binding.
Data Transfer
YII migration utilities provide sufficient control over database alterations, allowing app versions to be upgraded or downgraded on a variety of platforms.
Rapid Progress
Your framework makes it easier to perform basic CRUD operations and accelerates the building of web applications.
We also ensure that the application we develop is highly secure.
Installation is simple and painless
When you deal with our developers, installation and configuration are never a hassle.
Our developers completed the installation quickly because Yii is so simple to set up.
Our developers receive strong community support when they work with YII.
Forums/discussions, the Hall of Framework, group news, and live chat are all included in this framework.
Hiring Approach
In the employment process, we use a flexible approach.
As a result, our YII developer can be hired on a daily, weekly, or monthly basis.
You can collaborate with our developers for as long as you wish!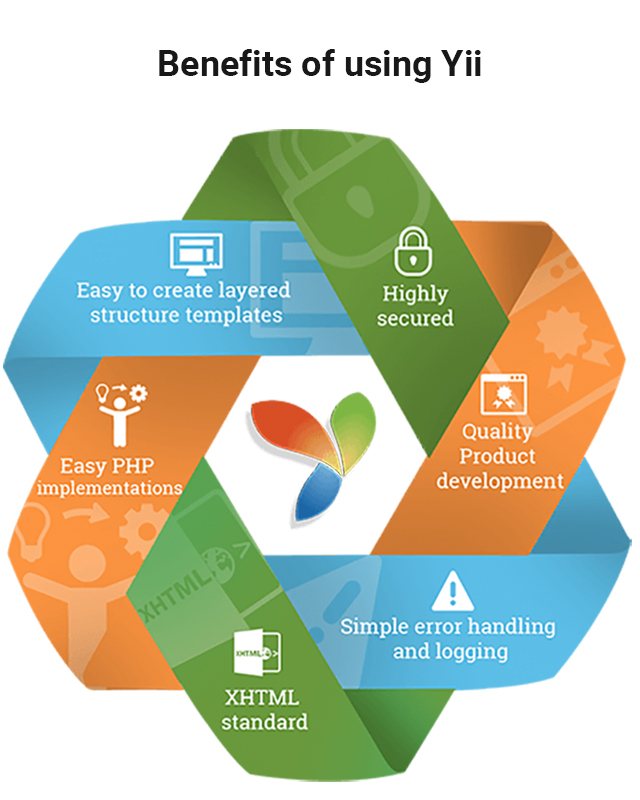 Our Areas of Expertise – Hire a Yii Developer
You must hire the correct developers to achieve the required results in your YII development project.
Our skilled development staff is always accessible to listen to your specific requirements and provide the level of service you demand.
Take a look at some of our areas of expertise:
Business Solutions
We recognize that each company's needs are unique.
As a result, we value your requirements and create personalized websites to meet them.
No matter how complex your requirements are, our experts are capable of creating business-specific websites.
Web Application Development by YII
Our developers are diverse when it comes to YII web application development.
We can create everything you need to grow your business, including user-friendly, versatile, and scalable web apps.
Business Oriented Applications
You'll need distinctive online and app solutions to propel your business forward.
Our YII developers can create feature-rich and visually appealing apps that are developed for your business needs.
What we create is mobile-friendly, allowing you to reach out to more people.
Development of a Framework
We have a talented team of YII engineers who can easily create any type of YII framework to meet your specific needs. When you work with us, you want to achieve the best outcomes possible.
Development of Plugins and Modules
Your website must be fully functional in order to impress your target audience.
Hire our YII coders to improve the functioning of your website.
We understand how to customize and design plugins/modules that help businesses grow.
Development of Extensions
Extensions, like plugins/modules, help to improve the speed of your application.
Hire our YII developer to create an extension that enhances your website's functionality and is compatible with all web framework sessions.
Upgrades to the website/portal
We provide a YII website/portal upgrade service tailored to your individual requirements.
Our programmers have experience with a wide range of websites, including multimedia, news, and entertainment.
Maintenance and Support
Our YII development experts make certain that your website has the most up-to-date foundation features.
This allows you to provide a fantastic web experience to your visitors while also increasing conversions.
Our developers are always available to provide help and focus on maintenance as needed after web construction.
Why Should You Hire Us for YII Development?
We have served the industry across all sectors and delivered customized solutions on time since our involvement in YII development.
Our programmers are well-versed in the intricacies of this framework as well as cutting-edge tools and technologies.
As a result, regardless of the complexity of your development project, we are capable of completing it.
The following are some of the benefits of working with our company for Yii development:
Priority Support
We recognize the need of providing technical support as needed after your Yii development project is completed and delivered.
As a result, we provide rapid responses to your questions via phone conversations, emails, and Skype/chats.
Transparency
We communicate with you clearly and preserve maximum transparency after you hand over the obligation to work on your YII development project.
We provide frequent updates so that you are always up to date on the status of your project's development.
Workflow and Prototypes
We follow a well-defined and well-organized workflow whenever we work on a YII development project.
This increases the quality of your work and allows you to complete projects on schedule.
Aside from that, we provide complete project documentation to assist you in resolving project-related concerns.
Cost-effective
We provide a full YII development solution at a reasonable cost without sacrificing quality.
Our developers make every effort to produce error-free solutions, so you won't have to spend any money on repairs afterward.
Choose us to employ Yii developers if you want to save money while getting the best development solutions.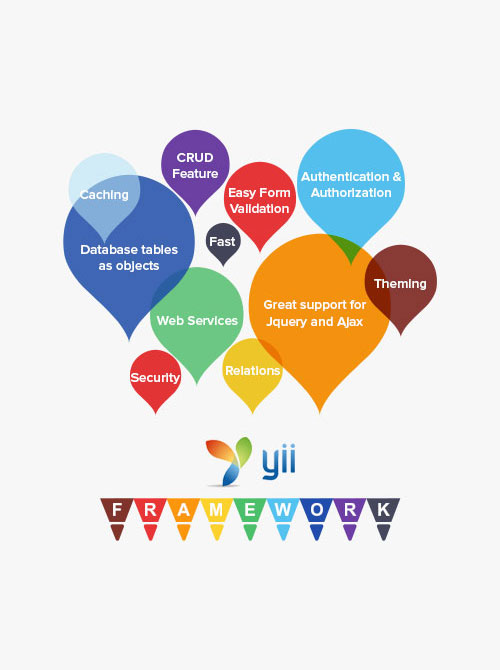 Hiring Process for YII Developers
When it comes to hiring Yii engineers, we follow a well-structured procedure to ensure that everything goes well from start to finish.
The steps in our Yii development process are as follows:
• Describe your specific project requirements and preferences.
• Select our resources and assemble a development team.
• Pick the best hiring model
• Establish timeframes, terms, and conditions.
• Begin with project planning.
To complete your project successfully, hire Yii developer India from us.
Are you seeking a qualified and dependable YII development company?
Without hesitation, hire dedicated YII developers from us.
With years of experience in this field, we can pinpoint your exact requirements and do everything it takes to meet them! Please connect with us to discuss your requirements.