Today most web companies around the globe have started to convert their website from static HTML to WordPress in a very easy way. Just with the help of a converter plugin, the conversion is done in an easy manner.
Very few web developments companies are using HTML -100% for building up their site. Many companies are migrating towards CMS. Using HTML5 is the best option to build a website without CMS.
If you are heading towards your site conversion from HTML to WordPress, you can get good suggestions from any HTML to WordPress Conversion Company
We will be discussing a few steps which give you an outline on the conversion of HTML to WordPress and HTML to WordPress Conversion Company. Before that, we will also check out the benefits which you fetch or gain out of the conversion.
1. Business Friendly:
You can manage any kind of business once you have a WordPress website. It eases all the processes and creates a flexible environment for businesses.
2. Tailor-made designs:
Customized designs can be easily made and the theme can be picked up according to your business preferences. You can opt for such themes where tailor-made WordPress themes are available.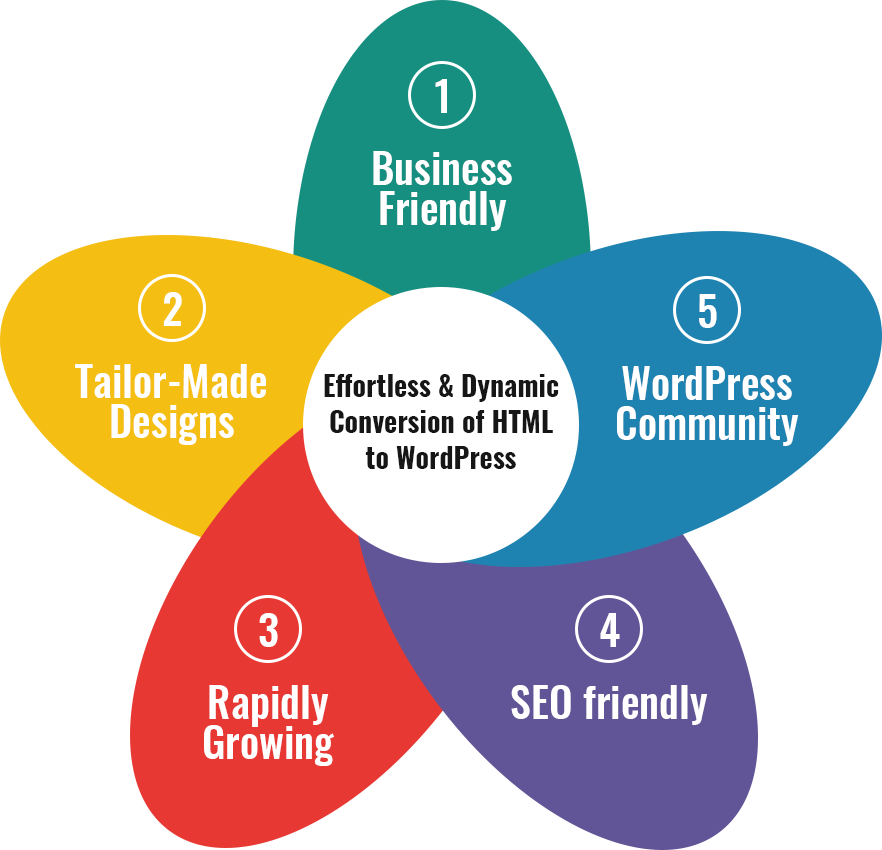 3. Rapidly growing:
WordPress is rapidly growing and will continue to support all kinds of business. WordPress has extensive features which would support various kinds of business.
4. SEO friendly:
A website can be SEO-friendly only if it endorses search engines. WordPress helps in creating SEO websites which as a result helps the website to stand on the top when searched or browsed.
5. WordPress community:
There are large WordPress developers available and they can assist you in any kind of activity and active solutions can be obtained by approaching WordPress experts. Apart from the good security which WordPress provides, you can contact the WordPress community and experts to clear all your doubts.
There are many online services too to combat all your issues if you come across them during your migration.
Now we will discuss few steps regarding the conversion of static HTML to a Dynamic WordPress website:
1. Schematic representation of your website:
Blueprint of your future website is very much necessary as planning in advance saves a lot of time and money. Proper planning and a systematic approach are necessary to obtain the desired website. In the schematic representation of your desired website, you must try to represent the developmental activities like the type of website you are planning for, business lines, website layout, and design content, migration, etc.
2. Choosing the right WordPress theme:
There are many themes available. Some of them are available for free and some are priced. Accordingly, you can opt for. If you have knowledge in coding you can do coding and customize the theme as you wish and according to your business preferences. If you are not a developer or if you don't have enough knowledge of coding, then you can go for the migration from HTML to WordPress.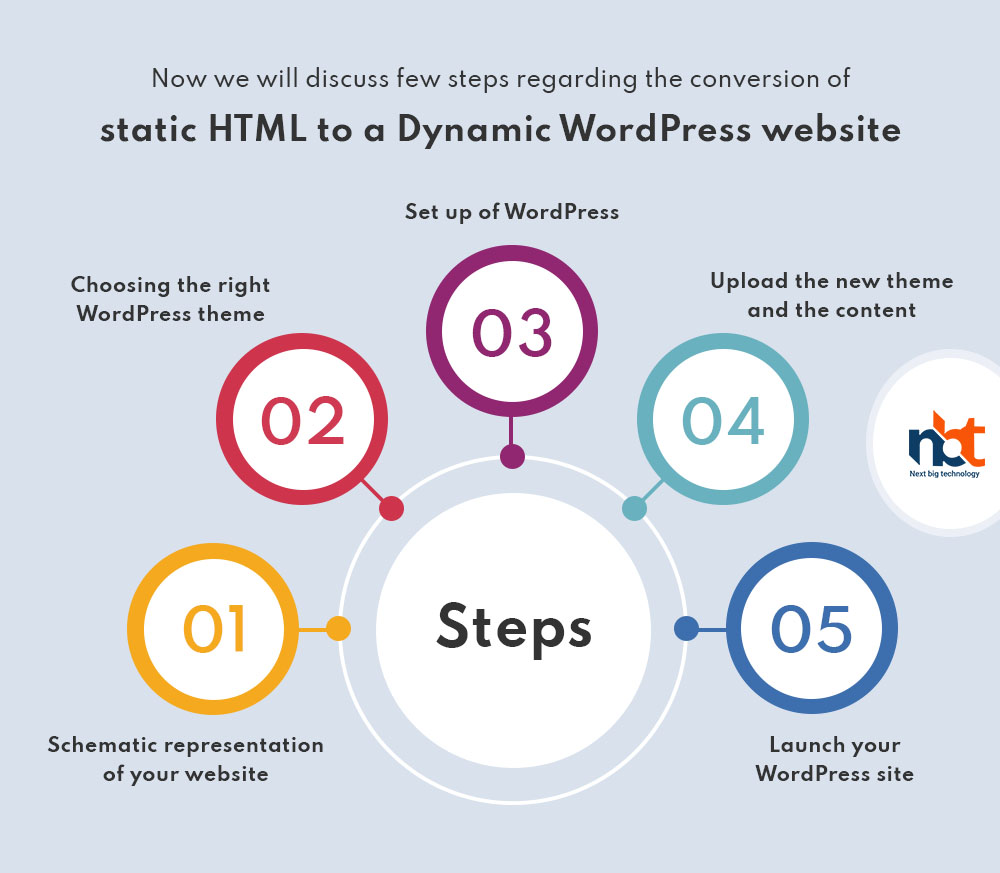 3. Set up of WordPress:
Installation of WordPress is done once the hosting plan is chosen. You should also review the best web hosting companies and pick up the best one according to your needs and budget. Then, you can install WordPress on your hosting server. You can log in to the CPanel of your account and install WordPress. Then you can move ahead according to the instructions which appear.
In your code editor there is a need to create few files:
Style.css Index. PHP header. PHP sidebar. php footer. PHP
Then you can just copy the present CSS into the fresh/new style sheet as below:
/*Theme Name: Substitute with your Theme's name.
Theme URI: Your Theme's URIDescription: Describing the outline
Version: 1.0Author: YouAuthor URI:
Your website address.*/
Then you can save the changes and close the file. You can create the rest of the files in a similar way.
4. Upload the new theme and the content
After the installation and set-up of the WordPress, the icon can be hidden so that it doesn't become visible to the visitors and the search engine bots because either of them does not have any idea on the development stage of your WordPress website. The next step is to upload the WordPress theme and content to your developing site.
Before uploading the theme, make sure you create a folder inside and this is the path that is to follow- /wp-content/themes>WP Admin> Appearance > Themes > newly created theme. Next, you can activate it. HTML to WordPress services are available and you can avail of their services for your queries.
Also, all the data related to the site is stored in the MYSQL database. You can extract the file and upload it to your site. There are plugins that are made available to operate these actions promptly.
5. Launch your WordPress site.
So, after all the above steps, you now come to the last step. You need to make sure to test before launching and activating your site in order to eliminate UX/UI issues, loading problems, 404 errors, navigational issues, etc.
After testing properly and thoroughly, you can launch your WordPress site for visitors and search engine bots. Make sure there are no bugs and disturbances for the smooth functioning of your WordPress site.
Also read the article: Top 5 WordPress Web Development Trends That Will Rule in 2020
Conclusion:
I have discussed a few points which you can follow in order to get your HTML site converted to a WordPress site and get in touch with HTML to WordPress Conversion Company. WordPress developers are available and you can get the help of them for your issues if you are not able to sort them out. It is a good idea to discuss the migration project of yours from HTML conversion to WordPress with the WordPress developers so that they can provide you with more updates and ideas regarding the migration. And, you can implement those ideas and suggestions while building up your new website.
Today web development company is preferring more WordPress to build sites. You can Hire WordPress Developers to assist your tasks and also for obtaining a WordPress site that works seamlessly across all platforms.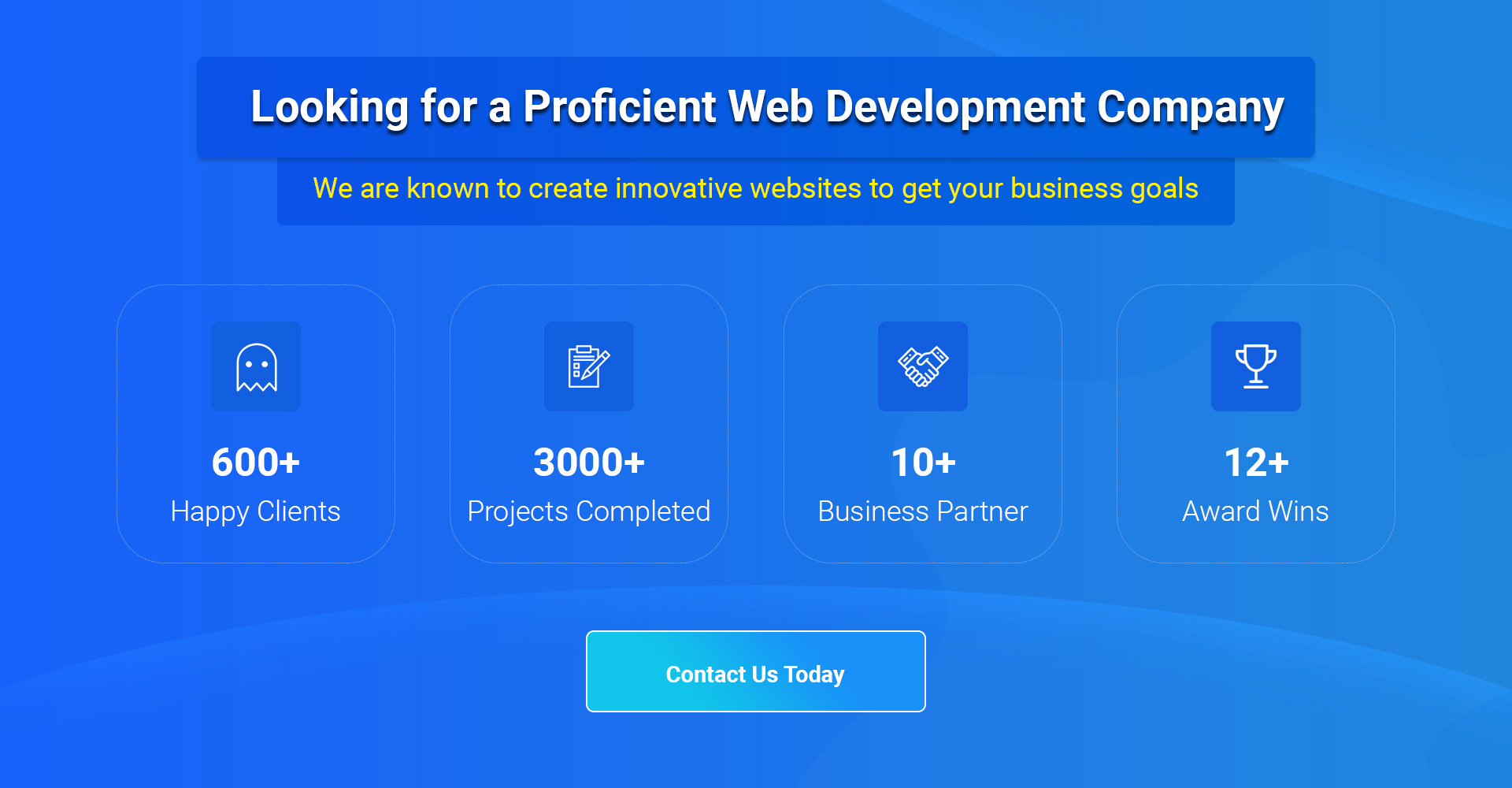 Thanks for reading our post "Effortless & Dynamic Conversion of HTML to WordPress", please connect with us for any further inquiry. We are Next Big Technology, a leading web & Mobile Application Development Company. We build high-quality applications to full fill all your business needs.