E-wallets have become increasingly popular since the invention of the internet. Both peer-to-peer (P2P) and business-to-business platforms have been transformed as a result of advancements in technology. If you wish to create a cutting-edge payment system, get in touch with Next Big Technology for assistance.
We provide a powerful and feature-rich e-wallet that is tailored to your specific requirements. With our years of experience, we are proficient in the details of mobile application development. As a result, when you hire our e-wallet development service, you will receive exactly what you desire. Work with us on a temporary basis (fixed price, hourly, weekly, or monthly basis) to ensure that your project is completed on time. Together, we can put together a team and achieve the necessary outcomes.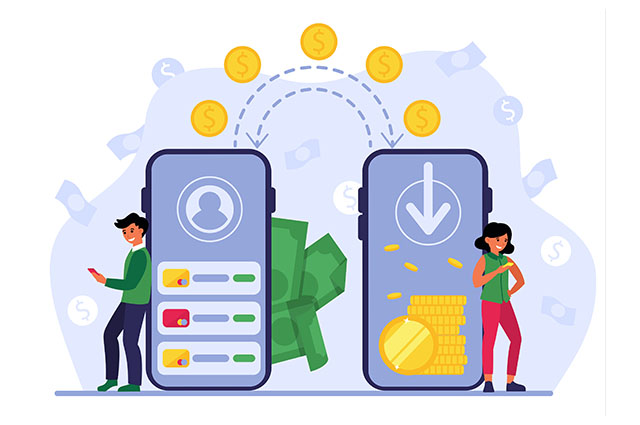 Digital Wallet Development Services
Next Big Technology provides a comprehensive e-wallet creation service that is tailored to your specific company requirements.
No matter how complex your project requirements are, our highly qualified development staff is always there to assist you with them.
eWallets and mobile wallets are all the need of the hour to make contactless payments and stay safe. At NBT we are a leading eWallet System development company offering ready-to-go and customized solutions. Our eWallet System development services are secure, fast, and customizable to suit the needs of different jurisdictions. The app, front-end website, and back-end are easy to use, manageable&ready-to-deploy, providing a similar experience as popular apps at a fraction of the costs.
Users can link their mobile numbers and bank accounts, can transfer money between bank accounts and eWallets, pay bills, and make payments by scanning QR codes or the mobile number of the recipient. Shopkeepers can display their QR codes or mobile numbers to receive money. The eWallet System clone and its web-enabled back-end are ready for deployment in a few days on your request.
Our eWallet System development team is highly experienced in providing all the essential features needed for a functional eWallet System.
Some features of our eWallet System are:
Also Read: Mobile Wallet App Development For All Payment Needs
Digital Wallet Development Solutions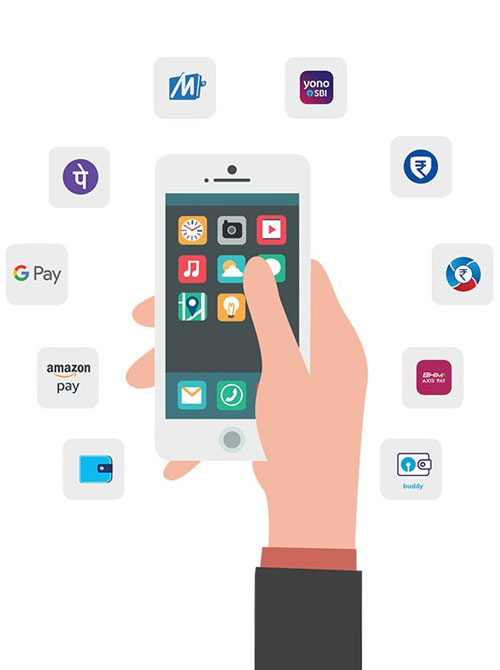 user-Friendly Solutions

Building an engaging app that customers can use easily is essential if you want to make money in the delivery of goods business.
Individuals will be able to easily access your app and specify locations when they choose to use your service once it is developed by us.
On-Time Delivery
Nowadays, in order to grow your business quickly, you must develop a powerful app and publish it on the Google Play Store.
Our extensive experience in app development allows us to pack it full of fantastic features while yet delivering timely solutions to our clients.
After you have established yourself in the market, you may maximize your revenues by developing the ideal mobile application.
Affordable COst

We provide an all-inclusive e-wallet development solution at a competitive price without sacrificing the quality of the final product.
Maintenance and support are included in the price of our services and are not an additional cost.
Hire e-wallet mobile app developers if you want to save money while still getting the best results.
Deployment
We develop and publish your e-wallet application on the Google Play and Apple Store so that users can access it whenever they want.
Our team conceptualizes everything and remains by your side to ensure that the launch is successful, as well as to make any necessary improvements.
Once we have placed your app in the stores, people will be able to easily access it, allowing you to increase your customer outreach.
Also Read: Developing a Mobile Wallet that Would be Loved by Millions
Online Digital Wallet Development
It is possible that using our professional service to create an e-wallet is the best option when it comes to building one.
Following your communication with us, we will take whatever steps are necessary to meet your needs.
Examine the following areas of specialization for more information.
Development of an Online Mobile Wallet Application
In addition to providing direct access to bank accounts, we provide high-quality mobile app development solutions that allow you to easily manage credit, debit, and prepaid gift cards, as well as various cryptocurrencies.
P2, Quick Response (QR), Near Field Communication (NFC), and Magnetic Secure Transmission (MST) are all technologies that our developers use to make payments easier (MST).
We draw out innovative ideas from our minds in order to provide you with one-of-a-kind solutions that set you apart from the competition.
ewallet Development

With our help, your mobile wallet app will have exceptional features, such as digital ID management, loyalty card tracking, reward points, archiving, and receipt generation, that you will be proud of.
In addition to these features, we provide additional security in the form of fraud protection and fingerprint scanning.
Hiring our professional developers will provide you with a comprehensive e-wallet application development and integration.
Development of a Cryptocurrency Wallet Application
Our developers create bitcoin and other cryptocurrency wallet applications for purchasing, trading, and liquidating bitcoin and other cryptocurrencies.
As part of our hardware wallet development, we add capabilities such as private and public key management, mapping tools to locate brick-and-mortar sellers, and access to exchange platforms in order to store cryptocurrency offline.
We remain up to speed with the latest mobile app development trends in order to provide cutting-edge services in the blockchain technology and cryptocurrency industries.
It doesn't matter how intricate your requirements are; our bitcoin, cryptocurrency, and blockchain developers can handle anything for you with ease and efficiency.
Merchant Mobile Wallet Development

We design and develop business-centric mobile app wallet solutions that are consistent across devices such as PCs, tablets, and smartphones.
In addition to time tracking (for contractors and freelancers), invoice creation cost dividing allowance, and Automated Clearing House (ACH) integration, our engineers design custom functionality.
api Integration of Mobile Wallets
We make use of open+source APIs to include mobile wallet functionality into websites and applications.
Google Pay and Apple Pay are two of the e-wallet integrations with third-party services.
Our experienced engineers know how to seamlessly link your e-wallets with third-party point-of-sale software in order to maximize their capabilities.
Mobile Wallet Development for android & IOS

Our e-wallet developers create native (Android and iOS) and cross-platform apps with excellent user interface and user experience (UI/UX) designs.
With our solutions, you may enjoy no-click NFC transactions, push notifications, simple multi-card management, and social media/messaging functionality (including Facebook Messenger and Apple Messages) without having to leave your seat.
QR Code integration

Our digital e-wallet creation services make it simple for users to trade money online.
With the latest QR code capabilities, you may connect with a large number of people, pay bills promptly, scan quickly, join groups, and download a variety of applications.
Emerging Technologies
IBeacon Technology and Bluetooth are two examples of emerging technologies
In order to enable your e-wallet to connect with nearby devices and exchange data/information with them in seconds, we have implemented Bluetooth and Ibeacon technologies on our servers.
These technologies assist you in acquiring information about objects in your immediate vicinity.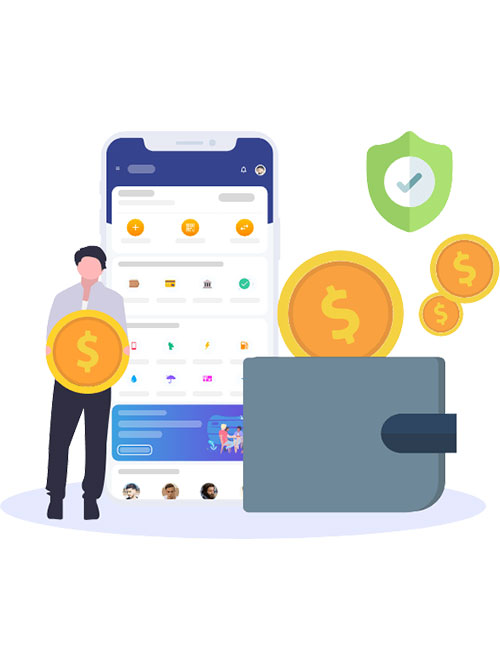 Mobile Wallet Development Features
When you engage our e-wallet developers, we guarantee that we will incorporate the best features and provide you with the most comprehensive solution.
The following are the features that we have included in your electronic wallet:
Geo location
You can conduct business with users in your immediate vicinity who utilize comparable sites.
A camera embedded into the app The cameras built into the app scan QR codes to pay, accept, and transfer money.
Secure Transaction

We provide specific codes to ensure that users can conduct transactions in a safe and secure manner.
Complete and total protection
When you get an e-wallet from us, you can rest assured that your financial transactions will be completely safe, secure, and protected.
Push Notifications
Users will receive notifications regarding offers, prizes, transactions, and promotions when they use this function.
Portability
Because your e-wallet is portable, users can take it with them wherever they go and use it to make payments in both online and offline modes.
Categorization
Users can make payments using a variety of credit and debit cards from various categories.
Tokenization
This functionality allows you to use a single card on several systems without the risk of your data being compromised.
Backups and Restoration

You can restore old data through the auto-backup option in your mobile wallet that we created for you.
Receipt in digital format
The users' cell numbers, apps, and emails are all used to receive digital receipts for all transactions.
Referral from a Friend
Users can refer your e-wallet to others and receive rewards in exchange for doing so.
Gift Certificates
Users that use your e-wallet receive incentives and loyalty points, which help to increase engagement and revenues.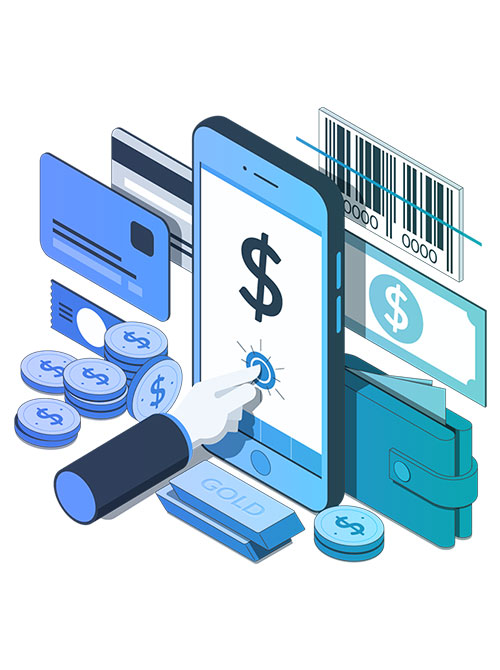 Hire Digital Wallet Developers
Is it important to you to have an all-inclusive e-wallet creation solution at an affordable price?
To match your needs, we can provide you with a skilled and experienced Digital Wallet Developer.