Everything may be more accessible now that we have the internet and other advanced technologies, but it's still hard to keep up with living costs. So, it is suggested that we use an app to track how much money we spend since this will better meet our needs.
Technology-advanced smartphone apps make it possible to keep better track of finances, budgeting, and spending habits. Finance apps have made it easier to deal with everyday transactions that could be time-consuming and boring otherwise. The financial sector is another one that has gotten a lot out of the rise of mobile apps.
How people handle their money has changed dramatically because of how the financial industry and smartphone apps work together. This includes everything from trading stocks and investing to sending money, paying bills, and splitting bills. Amazingly, an app on your phone can help you track how much you spend.
Mobile apps can help people keep track of their income and expenses well. For example, a monthly cost tracker app for smartphones can automatically add up expenses by category, log transactions, and keep track of progress toward goals. In this article, we'll talk about what an expense tracking app needs to do and give rough estimates of how much it will cost to make one.
Also read : Secure Mobile Wallet App For All Your Payment Needs
Why should you make an app to track how much you spend?
Every working person has difficulty keeping track of their spending because they get paid monthly. This makes it harder to stick to a budget.
With the help of expense tracking software, you can safely keep track of your receipts, income, spending, budget, taxes, income vs. spending, card sync, and much more.
Here are some of the most important things about the cost tracking app: Record the receipts: When you're trying to keep track of your spending, it's a significant pain to lose the paper or electronic payment receipts.
So, if you want to keep track of your money, you need an app that was made just for that. For example, to save a receipt, you must click on its picture in the app you use to keep track of your expenses.
Handle your paperwork:
Documents written by hand are usually hard to handle and aren't even safe. In the same way, it's time to stop keeping track of cash payments and digital transactions on paper.
On the other hand, Excel's online solution is not very helpful when it comes to managing money. So, it's better to make software for budgeting that can mine data for insights and help businesses make decisions.
Avoids data corruption:
When it comes to one's own money and expenses, keeping track of everything by hand isn't accurate enough.
This causes a lot of fraud to happen. When you use an app to track your spending and make a budget, it is easier to keep track of your money. By doing this, we reduce the chance of fraud and make the process more reliable and open.
What specific features does your app need?
Know what your business needs and features you want in an expense-tracking app before looking for a good app development company. You don't have to know everything about it, but you should have an idea of what's going on.
Because of this, we've made a list of the essential things your app for tracking expenses must have.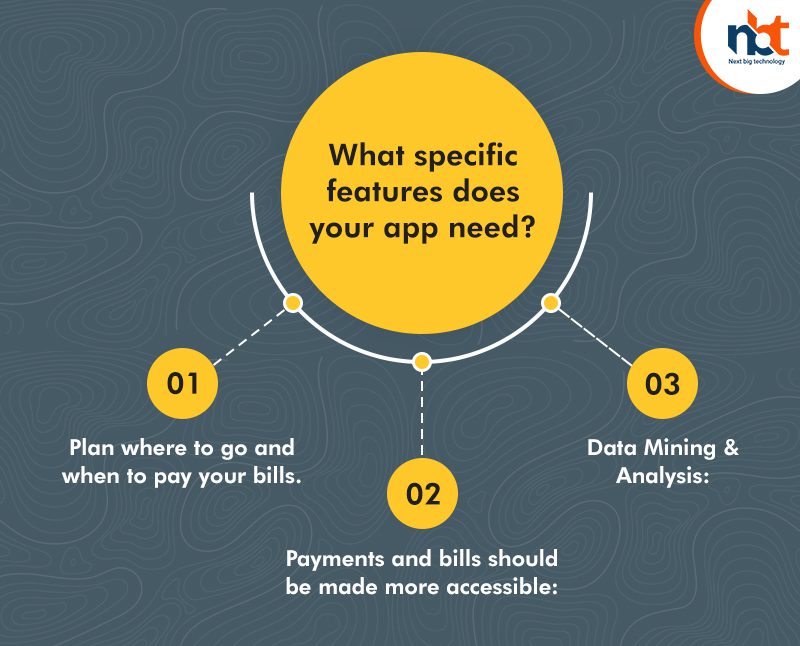 Plan where to go and when to pay your bills.
If you lose track of some payments or forget to finish a transaction, this feature and capability can help you find them again. Taking a picture of your receipt after each transaction makes it easy to keep track of your cash and digital payments. If you do this, the spending tracker will remind you to put it back where it belongs. Because you can store pictures in the cloud, you never have to worry about losing them. You can also get your receipts quickly and easily whenever you need to.
Payments and bills should be made more accessible:
For example, the software for managing expenses lets you pay in many different ways, such as through bank transfers, debit/credit card transactions, net banking, and UPI.
So, with the help of this kind of app, we can keep track of how our credit card bills and other accounts are being paid. But, of course, you can also start from scratch and make invoices with logos.

Data Mining & Analysis:
With the analytics and insights feature, you can get ready-made reports with clear charts, graphs, and visualizations. The data in these reports can be used to judge and draw conclusions. You could add this feature to the app as an in-app analysis tool to help users quickly figure out how well their businesses are doing.
You can keep track of sales data with the same tool you use to track how much your business spends. By adding the ability of a mobile card reader, you can accept credit cards and link them to use apps. You can also tell your customers where to find the e-commerce APIs you like best. The app will add taxes to your bill by itself.
It's a well-known fact that keeping track of your finances can be difficult. You can use this app to give people safe access because of this. You could also give limited permission to use some parts of the cost management software to reduce mistakes. This app can help your team be more productive and get more done. It can also make work more empowering. This software ensures everyone on the team is on the same page so that information can be shared more easily.
Also read : 10+ Top Digital Payment App Development Companies in India
A good financial management program can make expenses, loss and profit, balance sheets, and income reports. You can In addition, Yousef this function to make budget and stock reports, which are more complex kinds of reports.
So, these are the essential things a cost monitoring app should have. Of course, the app's features can be changed to fit the needs of your business, so feel free to add any new functions you think are essential. This kind of app makes it easier to keep track of costs and income.
This post has made it clear that using spending tracking apps to keep track of your money can be helpful for both people and businesses. It can help them with many things. If you want to make an app, talk to our professional team and tell them about your unique ideas.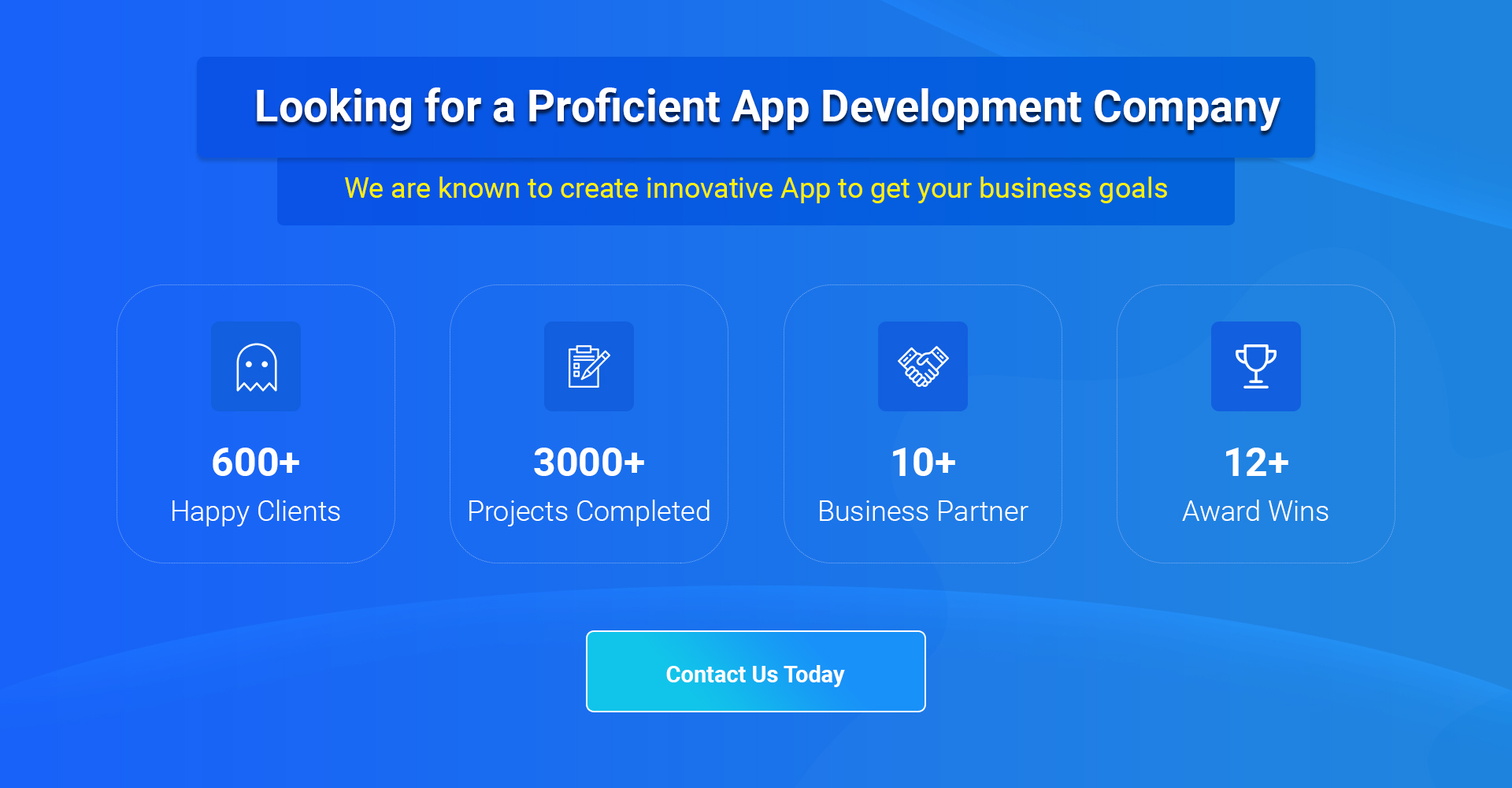 Thanks for reading our post "Developing an Expense Tracking App – A Complete Guide", please connect with us for any further inquiry. We are Next Big Technology, a leading web & Mobile Application Development Company. We build high-quality applications to full fill all your business needs