Experts have long predicted that the pace of technological advances would slow down significantly: first in the 1990s, with the burst of the tech bubble, then in the 2000s, with the predictions of Moore's law. But despite these predictions, the cutting edge of technology continues to advance faster than all but the most forward-thinking companies can keep up with.
At Next Big Technology, we push ourselves to look forward at all times, enabling us to deliver solutions that put our clients ahead of their competition instead of attempting to imitate them. We've delivered custom development for companies from on-demand home services to cross-platform mobile applications for over ten years and have learned a lot of lessons along the way.
That approach is the reason our company stands out on platforms like Clutch. co, a B2B ratings, and reviews service platform. Clutch has a team of independent business analysts who verify content to ensure unbiased, reliable ratings. Thanks to our client's willingness to give back, we have achieved an overall rank of 4.9 out of 5 stars!
In our most recent review, we worked with a mobile app developer to create a cross-platform MVP for a product that would provide fashion recommendations based on astrological signs. We drafted, tested, and rolled out the app, pleasing all project stakeholders with our technical expertise and our positive collaborative attitude.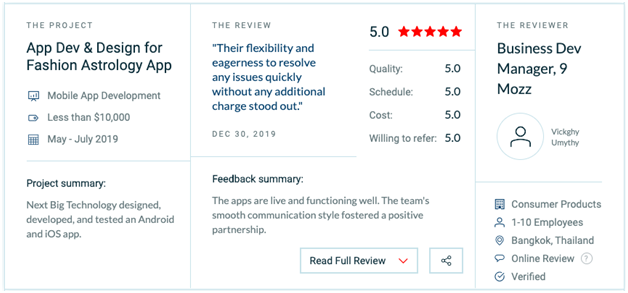 "Our teams worked well together, and our communication was fluid via Skype and worked out well. Their flexibility and eagerness to resolve any issues quickly without any additional charge stood out." – Vickghy Umythy, Business Development Manager
Feedback from our valued customers plays a large role in how we conduct our business, as it informs how we provide value to our customers by spotlighting our strengths and illuminating our weaknesses. We are thankful to Clutch for providing a platform on which businesses can find such reliable information!
In addition to Clutch, potential customers can find company profiles on The Manifest, which hosts ratings on industry directories accompanied by blog-style articles and explanations. Other companies can be found listed on Visual Objects as industry leaders by their portfolios, allowing viewers to visualize the eventual results of their work.
If you are thinking about starting a new company or developing a new product and want the best technology partner to do it, reach out to us! We can't wait to get started with you.