Today, almost everything has been digitalized, and this is being treasured more than ever in the current circumstances, as it not only assures convenience but also safety, which is a must in today's world. Anyone would be unwilling to stand in long lines and increase their chances of contracting a virus only to get their bus tickets booked in this day and age. As a result, smartphone apps for online bus ticket purchases have become increasingly important.
Several popular bus-ticket buying applications, such as RedBus, BookBus, and several others, were already in existence when the pandemic began to take hold. As a result, many new enterprises are venturing into this field, and they all require access to the internet as a means of conducting their operations successfully. Throughout this post, we will cover a wide range of topics, including the numerous facets of developing a bus ticket booking application.
What is a Bus Ticket Booking App, and how does it work?
Bus ticket booking apps are mobile-based applications that operate on the network management system of a transportation company. This solution streamlines everything into a single platform, including monitoring bus seat availability, purchasing tickets, making online payments using a variety of secure payment methods, and, if necessary, canceling tickets. Also available is the possibility for clients to get their problems handled immediately within the app itself if they encounter a problem.
Clearly, this bus ticket booking system differs significantly from the standard database, which is computerized to handle ticket booking and track the real-time location of the bus in question. It keeps track of user information, booking information, bus information, and reservation information, making it seamless, convenient, and travel-friendly. When making a reservation through an app, the traveler may simply choose the bus that is most convenient for them, taking into consideration the departure time, bus ratings, bus type, and amenities/facilities supplied while aboard the bus.
An In-Depth Look at the Most Recent Trends in Online Ticket Booking Apps
Since travel agencies became aware of the growing need for mobile applications, they have worked diligently to utilize this technology to propel their travel businesses to new heights of success. And today, most agencies have expanded their services to include a variety of travel-related services such as tour and travel booking, hotel bookings, flight booking systems, and a variety of other services, which has resulted in a growth in the total use of mobile applications.
With the growing number of smartphone users, which is predicted to reach 2.87 million by the end of this year, it is expected that mobile applications will generate total revenue of $188.9 billion by the end of this year, primarily through advertisements, in-app purchases, and downloads. This makes it abundantly evident that the future of online travel booking is quite promising, with revenue of $817 projected by the end of the year 2020. As technology advances, bus reservation software is becoming a vital aspect of travel software solutions, which is also becoming increasingly common nowadays.
Monetization Prospects for a Bus-Ticket Booking Application
Commissions
A method of monetizing the app is to finalize a commission from both sides, i.e. the bus service as well as the passengers, in order to generate revenue.
Listing on the front page
Businesses dealing in hotel booking, taxi booking, and other similar services can approach the app's owner to secure a space in the app's listing, and the app can charge a fee to the businesses in exchange for including them in the listing.
Advertising and Promotional Selling
The ability to earn money through the sale of advertising space to advertisers, who are interested in having their business or products marketed or promoted on your app, is an option to consider. This is a simple approach to generate a lot of money without having to put in a lot of effort.
Mobile Apps for Bus Ticket Booking That Are Popular
RedBus
Redbus This is one of the most popular bus ticket booking applications, and it not only allows you to book bus tickets simply, but it also provides you with a number of great deals. This bus service, which can be found in many countries, is the quickest and most convenient option to book bus tickets and hotel accommodations. Customers can simply enter their destination into the RedBus service and then choose from a wide range of bus services based on their preferred bus operator, desired buses and their preferred bus type, pickup and drop-off locations, departure time, and prices. Ratings and reviews can also be left by customers. You can select the seats you want and make a secure payment using the choices that correspond to your location.
MakeMyTrip
MakeMyTrip It is the most widely used bus booking app and travel platform in India, and it also offers the greatest rates on hotels, flights, and train tickets. This software may be used to travel not only within India, but also across borders and around the world. Here, visitors may find the lowest-priced bus tickets, as the company provides services on 12,000 bus routes and has partnered with 1300 bus operators around India. Among the many types of buses available are Deluxe, Sleeper, AC Luxury, Volvo AC, Volvo, Mercedes, and a variety of others.
Swvl
Swvl This bus reservation app is accessible for users of both Android and iOS devices. Users can search for and book bus tickets from a variety of bus operators through this website. Travelers can choose from a variety of bus models, including air-conditioned Volvos, Deluxe buses, sleeper buses, air-conditioned seaters, and more.
Yatra
Yatra Bus tickets may be booked quickly and easily with this travel app from a wide-ranging network of bus operators that serve more than 15,000 routes throughout the country. Passengers can choose from a wide range of bus kinds, including AC Volvo, Deluxe, Non-AC, Sleeper, AC, seater, and many others, while at this location. Yatra app also makes it simple to book hotels, flights, IRCTC trains, and even cabs through a single interface.
Goibibo
Goibibo This major travel platform also allows you to book bus tickets with a large network of bus operators all throughout India through its extensive network of bus operators. A real-time bus tracking feature is also available, as is the ability to travel using electronic tickets. Volvo, Mercedes, Volvo AC, Volvo AC luxury, Sleeper, and Deluxe, to name a few of the bus types available. It also offers charter services.
Also Read: Thinking to Create Event & Ticket Booking Website & Mobile App? We Are the Perfect Destination for You!
Other Bus Ticket Booking Apps in the United States and the United Kingdom
Amtrak, Rome2Rio, Greyhound Lines, Gopilli, Trainline United Kingdom, Wanderu, CheckMyBus, Citymapper, and Omio are some of the most widely used bus and train ticket booking mobile applications in the United Kingdom and the United States.
The Characteristics of a Successful Bus Ticket Booking Mobile Application
1. Allow travelers to select their own drop-off and pick-up locations.
Travelers will appreciate the ease and convenience of being able to select a drop-off and pick-up location within the application. This also influences travelers' decisions to choose this app over others.
2. Encourage co-traveler management to be successful.
Only a small number of passengers find it acceptable to travel with a co-traveler of a specific gender. For example, many female passengers prefer to travel with a female co-traveler next to them, while some male passengers may prefer a male co-traveler next to them. As a result, providing this functionality to manage co-travelers can have a significant impact on the success rate of a bus ticket buying software.
3. Make information available within the institution.
If particular information (such as travel schedules, food availability, or anything else related) needs to be communicated to passengers while they are traveling, the app can serve as a convenient means of communicating the information to them. In this way, having this function can help to increase the popularity of your application.
4. Allow passengers to review and rate their experience.
There are a few advantages to including a review and rating option for your service in your mobile application. First and foremost, providing users with a venue to communicate their opinions and complaints about the app would be extremely useful. Second, rather than going to the play store and leaving their reviews there (which can be detrimental in the case of unfavorable reviews and ratings), they will first be given the choice to do so within the app, rather than straight on the play store.
5. Ensure the safety and security of passengers
Because the safety and security of customer data is critical, the app must exercise extreme caution when handling this information.
General Characteristics of the Bus Ticket Booking Application
Panel for Customers and Passengers
Registration/Login

View the most popular routes, most popular cities, and most popular offers.

Login with confidence

Bus availability can be found by searching by source, destination, date range, and stops.

Take control of your profile

View the buses that are currently available with various transportation agencies.

Payments in multiple currencies are supported.

Sort and filter buses based on amenities, drop-off and boarding locations, fare, time, and the number of seats available onboard.

Inquire about customer service.

The number of reserved a
See what customers have to say about us.nd available seats are depicted graphically on a map.

Tickets can be refunded or canceled.

Select a seat and purchase tickets.

Follow the real-time location of the bus

Selecting different ticket types is an option.

Calculate your fare according to your boarding and dropping points.

The ticket can be printed and downloaded via the app and email.

Packages and deals for tourist destinations can be found here.

Reminder to board the bus using an automated system
A panel of Tour Operators and Travel Agencies
Registration and secure login are required.

Check out the sales summary

Manage bus routes and reservations.

Manage the ticketing process.

Organize and manage tourism packages

Analytical reporting and evaluation

Real-time passenger boarding information can be seen here.

Bus tracking in real-time
Admin Control Panel
Create an account and use a secure login method.

Notifications through Push

Take control of your profile

Manage the permissions of individual users.

View the administration dashboard

Manage your email and SMS marketing campaigns.

Manage both users and travel agency/operator relationships.

Integration of a content management system and a customer relationship management system

Ad promotions and affiliate partners are overseen by this department.

Integration with a payment gateway

Vouchers and discounts can be created and managed.
Developing a Bus Ticket Booking App with Advanced Functionality
Signup/Login using Social Media
Offering a social signup/login option makes it easy for consumers to utilize the app anytime they want, regardless of where they are. This eliminates the need to enter lengthy information while signing up or logging in.
Notifications through Push
The users can be informed whenever information is required, whether it be about special offers or an altered departure time. All it takes is a single click to send this information to everyone. The travelers will be notified in real-time of the change in their itinerary.
Bus Tracking in Real-Time
This feature allows passengers to keep track of the bus's current location in real-time by checking their smartphones.
Validation of tickets by the use of a QR code
In this feature, the app can be used to scan the QR code on the ticket in order to validate the purchase.
Integration with Customer Relationship Management (CRM)
This feature allows for smooth integration of the CRM (customer relationship management) software with third-party apps and other systems on the network. The integration results in the execution of automatic operations, which in turn increases the functionality of the app.
Integration with Live Chat Support
This is another useful feature to have because the chat functionality allows app users to communicate at any time of day or night, whenever the need arises.
Marketing and Promotional Instruments
This feature performs admirably in terms of pleasing users and increasing user engagement with the app. Customers' loyalty programs, coupons, and special offers can be made available to users on a regular basis by the app's proprietors, keeping them interested and engaged.
Real-time analytics and a dashboard are provided.
This feature of the app allows you to keep track of the everyday actions that take place within the app. Everything can be tracked easily and in real-time by the app's administrators. This allows you to keep track of the app's performance and make adjustments as needed.
Integration of a Loyalty Program
This is a compelling idea that will keep app users interested in using the app. This will allow the app owners to simply track the users who have shown a strong commitment to the app, and this will allow the users to receive periodic rewards for their continued support of the app. This will make them feel special and will encourage them to use the app in the future.
Navigation within the application
When integrated into a bus-ticket purchasing app, passengers will be able to easily track the bus's whereabouts and would be alerted to forthcoming stoppages, which is an extremely valuable feature.
Integration with the in-app calendar
Another application for this type of app. Not only would it be handy during the ticket purchase process, but it would also be useful for sending reminders and updates regarding the upcoming trip.
Integration with third-party hotel and taxi booking services
Due to the fact that tourists who use the service to purchase bus tickets may also need to book hotels and cabs once they get at their location, this can be a unique selling point for the bus-ticket booking app. As a result, if these third-party integrations do take place, they can be extremely advantageous to the popularity of your app and the recruitment of new users.
The Technology Stack Required for the Development of a Bus Ticket Booking App
Here are some of the technologies that were employed in the development of an app for purchasing bus and rail tickets.
Hosting: Amazon Elastic Compute Cloud (EC2)
Content delivery network: Cloudflare/Amazon CloudFront
Push Notifications – Twilio, Push.io, Firebase, and mobile operating systems (IOS and Android).
SMS, Voice, and Phone Verification – Nexmo and Twilio are examples of cloud-based services.
Payments – Braintree & PayPal, Stripe, eWallets, and netbanking are all options. Database – MongoDB, HBase, Cassandra, and Postgress are examples of NoSQL databases.
Email – Integration with Mail Chimp Cloud Environment – AWS, Google, and Azure are three of the most popular cloud computing services.
Real-time Analytics – Hadoop, Spark, Apache Flink, Cisco, and IBM are all examples of big data technologies.
Map Navigation – Maps provided by Google
Designing a Mobile Application for Bus Ticket Reservations
The team structure required for the Bus Ticket Booking App
The team's requirements for developing a bus ticket booking app would be relatively basic, similar to the requirements for developing any other type of app. However, the following is a list of the individuals that would be necessary to develop a bus ticket booking application:
Project Manager
This individual is in charge of the overall management of the app developer and is responsible for ensuring that the developer's work is carried out smoothly. He or she also serves as a communication channel between all of the specialists involved in the app development process at various stages.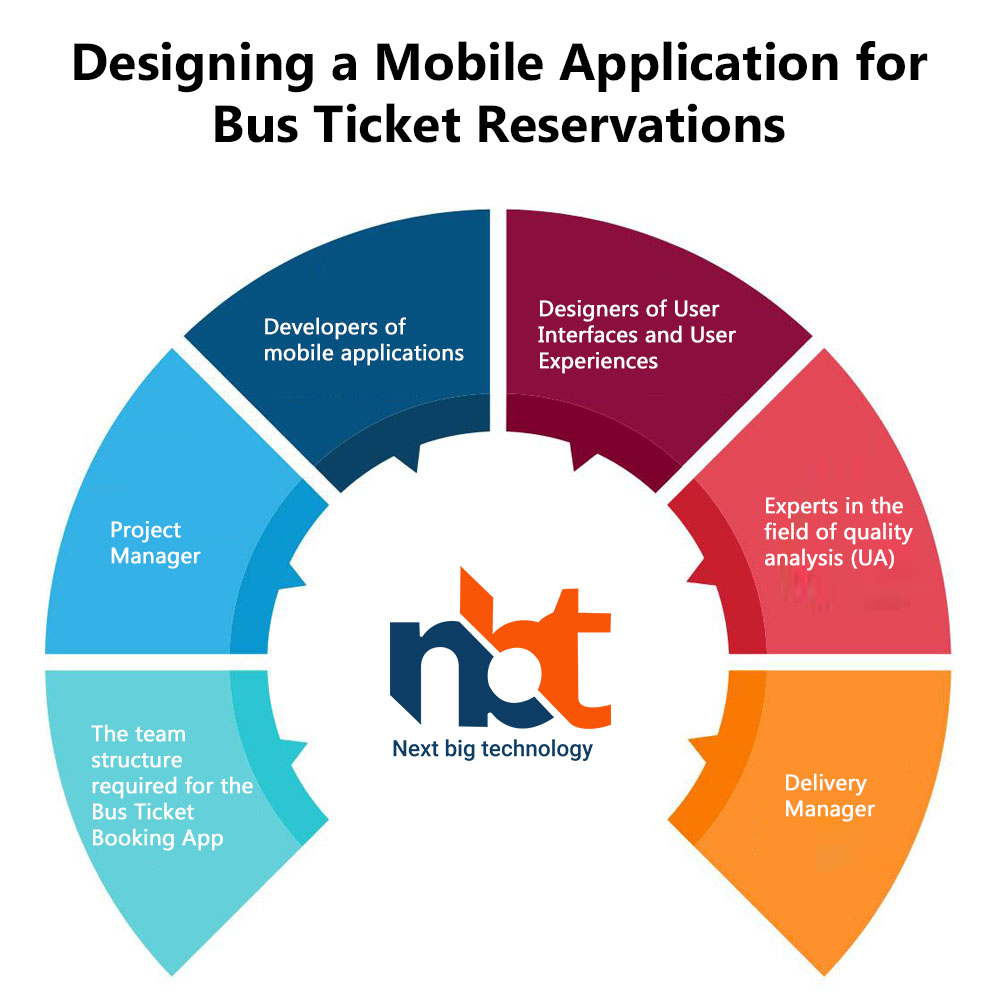 Developers of mobile applications
In this picture, you can see a group of app developers who are examining the front-end and back-end development work for the app.
Designers of User Interfaces and User Experiences
These are the individuals who are in charge of the whole appearance and feel of the app since they are not only concerned with the design but also with how user-friendly the app can be made.
Experts in the field of quality analysis (UA)
The quality assurance team is in charge of looking for defects if any, and then sending the report to the team of app developers and designers to look into the matter. Once the repairs have been made, the app is sent back to the QA team for a last proof checking and approval.
Delivery Manager
This is the individual who is in charge of delivering the app to clients and subsequently is in charge of any promotional and marketing activities that take place.
What is the approximate cost of developing a bus ticket booking application?
The cost of app development is determined by a number of factors, including the region in which the app is being developed (the cost of app development is higher in regions such as America and Europe, whereas it is significantly lower in regions such as India), the number of platforms for which the app is being developed (Android/iOS or Android & iOS), and, finally, whether the app will have basic features or will include unique advanced features that distinguish the app from the competition. According to estimates, the cost to design a bus ticket booking app should be around $30000 for a basic-featured app, but the cost to construct an app with advanced features should be over $45000 for an app that is available for both Android and iOS platforms.
Final Thoughts
As a result, according to the statistics, there are several prospects for you to design your own bus ticket booking mobile application and capture a significant portion of the market. But in order to be successful, you will require the support of expert app developers as well as a mobile app development business with previous experience working on similar projects. Next Big Technology has developed a number of mobile applications for clients located all over the world. If you are planning to launch a bus or train ticket booking application, please get in touch with us.