We develop voice applications based on your requirement!
Next Big Technology stands as the top-rated Voice App Development Company.
COVID-19 has changed the complete scenario! Upcoming years are about to witness the power of voice-based applications.
NBT comprises skilled and capable professionals who can build voice applications according to your needs! We have experts who have substantial experience in voice app development.
Contact us so that we can discuss further the project's requirements and much more!
Voice App Development:
Voice-based applications depend on speech and in this process the search requests are fulfilled based on the voice and nowadays these applications are gaining much prominence. Touchless interfaces have become more popular especially due to the pandemic situation. And therefore, years to come would definitely foresee the significance of voice app development.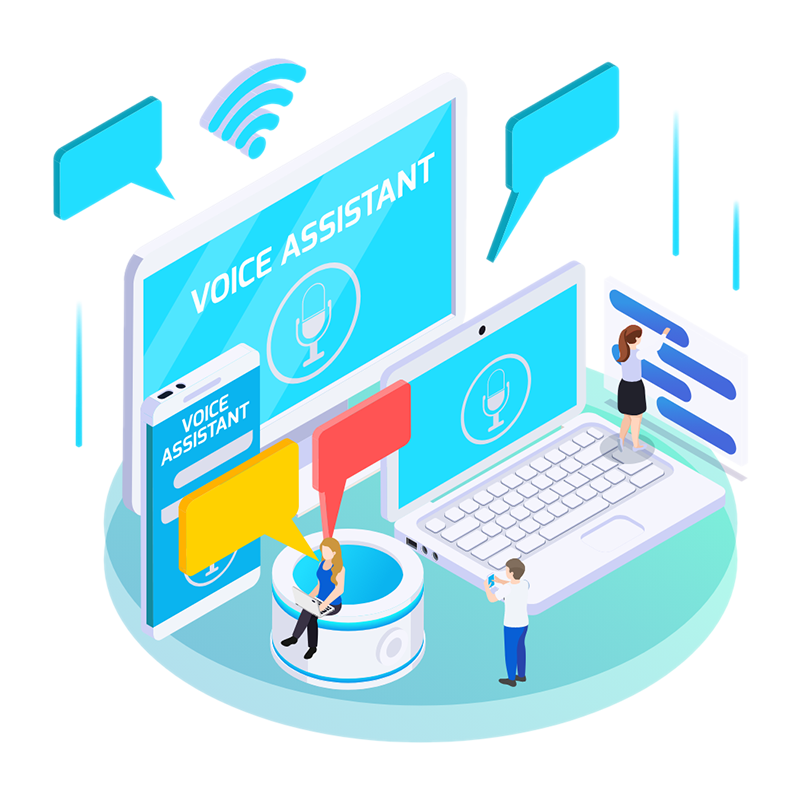 Why voice-based applications are required?
Voice-based applications turn out to be very much important for businesses for a number of reasons. In order to reach a wider audience and to compete against competitors in the market, it's very much essential to keep up with technology and therefore gain more profits.
Quick engagement.
Reach more number customers.
Stand out of the crowd.
Enhancing the brand image of the business, etc.
Prompt action.
Services:
Build voice applications to boost brand recognition and engross your customers via voice experience!
–> Our crew provides E2E development, design as well as execution of the voice-based application.
–> We always focus to fabricate customer-friendly experiences via voice assistants.
Voice consultation and services.
Whatever your requirement might be, do contact us so that we can assist you in building customized voice applications.  We have developed extensive experience in building voice-based applications – AI, Google Home, Amazon's Alexa, and stuff. We can fulfill your needs. You just need to contact us so that we can discuss further.
Voice applications are gaining more importance and we can extend our help If you would want to incorporate voice into mobile apps – Android or iOS.
We are proficient and experts in designing and developing voice assistants – AI platforms.
Integration – web and as well as mobile platforms and wearables as well as IoT applications.
Voice Chatbot Development.
Based on customers' requirements, we can provide the necessary assistance in building voice chatbots.
Voice Transcription & Speech Analytics.
Many meetings are conducted in order to discuss various topics and in order to retain all the stuff, with the assistance of our above service, one can convert the voice to meaningful and readable text which might prove very much useful.
Alexa Skill Development.
We construct skills that would enhance Alexa and thus you could get associated with Fire TV and various IoT devices.
Google action development:
We provide E2E design, development, and as well as maintenance for Google action to mechanize the processes.
Speech to Text transcription:
Be it calls, meetings, or any kind of conferences, etc., our services would be of great assistance.
Why choose Next Big technology?
Our team is talented and are experts and as they have extensive experience in front-end, back-end, as well as server-side technologies and therefore they, can tackle any kind of complexities in a successful manner.
Our crew members are experts in various aspects – developers, testers, voice technology experts, analysts, etc.
We adopt an agile methodology to lessen the risk and therefore deliver concrete applications.
We provide solutions that would help businesses grow and we provide support and maintenance services as well.
We always deliver the product after performing testing thoroughly and we deliver in time.
We value our client's time and money! We deliver in time and product which is of high-quality and standards.
Talk to us to get all your doubts clarified!
In case you are looking for the best voice app development company, you can contact Next Big Technology.