Django, a Python-based framework that is used around the World for developing small web applications to complex and large web applications. Django is the best framework to use while you are looking to build an enterprise and powerful web application. As a Best Django Development Company, we provide all Django Development Services for any custom Web Application Development requirements.
Significant highlights of Django:
– Easy Management: Simple to use, perfect for in-house administration with ground-breaking features. Easy to add or edit content, pictures, and all.
– Customization: Design and Functionality can be customized as per your needs, it can be customized in any way, many times whenever you have any new thoughts, you can always change them. It is highly customizable for any custom requirements.
– Webpage Administration: Admin can manage many web pages and their content easily from the admin panel. Admin can also add new pages or deleted any existing pages easily from the admin panel.
– Apps: We can constantly include Apps for different pages of the CMS.
– Social media: We can incorporate online networking effectively and broaden business development. Social Media can be easily integrated as per our needs.
– Search Tools: It is SEO friendly which helps us to get sites easily on google searches. It is made SEO in mind which makes it fully Seo friendly and allows indexing on Google and other search engines.
– Written in Python
As a Python Framework, Django is completely written in Python Programming languages. This makes it easy for any developer to build Web Applications with readable, clean, and customizable code by using syntax and rules of Python Programming Language. Also, Developers can easily create custom Web Applications without writing additional code due to its many in-built functions and features which save a lot of development time.


– Accelerates custom web application development
Django allows us to rapid development for any custom web application by using its in-built features and functions. Many Python developers use Django as well for fast development for any Python Web Application. Django is the best solution to develop any python based web application faster and with proper quality.


– Designed as a batteries-included web framework
Django is designed as batteries included a Web-based framework. which makes it high performing and reliable out of another available web framework.
– Supports MVC programming Structure
Django is based upon the MVC structure. Which means it is easy to code, easy to customize, and secure. MVC structure means code is well maintained and controlled.
– Compatible with major operating systems and databases
Django support all popular operating systems and databases which include IOS, Windows, GoogleOS, Linux, Ubuntu, Mysql, MongoDB, MariaDB, etc.
– Robust security features
Django provides inbuilt security features which keep the site secure and safe. Django is well known for its security features. It has better security elements than another framework which make it dependable and secure.
– Easy to extend and scale
Django can be easily modified as per our requirements. We can update it in terms of design and functionality as per our own custom needs and requirements.
– Supported by a large and active community
Django is supported by a large community, which keeps it updated in terms of features and functionality always. They keep enhancing its features. Which makes it reliable.
As a Top Django Development Company, we develop high-performing and rich web applications utilizing Django, which is based upon Python web system. We provide all Django Development services for different clients and industries all over the globe. Hire Django Developers to build high-quality web applications as per client needs which is productive and customer-oriented.
Django Development Services:
Next Big Technology has a high reputation of reliably taking care of customer requests and offering Best Django Development Services. A portion of these services are recorded underneath:
– Django Web Application Development
– Django Python Web Application Development
– Django Website Updates
– Django Website Redesign
– Django Complex Application Development
– Django eCommerce Application Development
– Django Application Design
– Django Module Development
– Django UI Design
– Python Django Existing Application Support
Django Development Company
 Enforce long-term prosperity with the latest next-generation tech programming.
Django Programming Development solution is quite a big deal in choosing a web development framework. It becomes difficult, as there are quite a few frameworks in the market. For many independent developers and companies, the Django framework is an easy choice, designed to address different project needs. Without any doubt, it is among the most popular tools of web development as for most companies, it is the primary tool for backend development. There are several reasons to develop your web projects using the Django framework through the most trusted Django Development company.
The market is equipped with software development companies, but finding an experienced developer with the best technical knowledge is like finding a needle in a haystack. That's why, choose a company with practical technical solutions based on Django, along with a great Python framework. If you are looking for a skilled Django development team, then you are in the right place. Ready to convert your idea into reality? You can get access to our senior and experienced experts.
Django is an open-source and full-stack framework for backend web applications, based on Python. It is basically a set of ready-made components that help you develop your dream website with pragmatic and clean architectures. We use it for its limitless programming approach, security, and ease to create complex websites. Django is a powerful and easy-to-learn Python programming language, which offers great innovations. Our dedicated developers know how to handle projects with huge data and media content.
What Do We Offer?
The framework at NBT emphasizes many factors, including reusability, pluggability of components, less code, low coupling, rapid development, and the principle of don't repeat yourself (DRY). Django also enables optimal administrative creation, read, update, and delete an interface, generated using the process of introspection and configurations via admin models.
Area of Expertise
Next Big Technology web development Company have built diverse websites like travel, e-commerce, music, e-learning, education, job portals, etc., using formidable approaches and products. Django framework is used to build both web and mobile applications with no limitations to organization size. Exports will help you identify the best technology stack for you. So, you just have to focus on growing your business and the rest is taken care of.
Quality to clients
Django is a high-level web framework, written in Python, caters to web project development. It keeps high-quality transparency, code writing, updating, and integrating, maintaining equal importance for developers and clients.
Super-Fast Development
The application is developed from the initial concept, scratch. The super-fast process is targeted by Django developers.
Security & Scalability
Django framework offers security and scalability, enabling you to analyze with high flexibility. Compromise on the security part doesn't exist in the mind of developers, so, it is pretty taken care of, without even saying.
Model-view Template Structure (MVT)
Model-view Template Structure is a software architectural pattern installed by Django to split the data presentation from the logic of handling user interactions. Our team of experts will help you secures a lot of time and is one of the best ways to develop client-server applications.
Versatility
Django is an efficient framework, managing all aspects of content management, scientific computing platforms, and even big organizations.
Supports High-Load Projects
ensures a fast-loading page facility along with quick data processing. It provides users stability and fast access.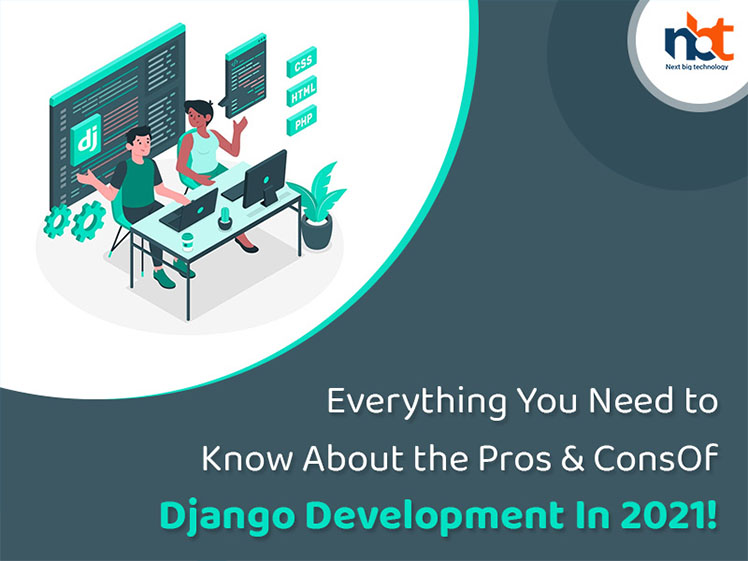 Essential Features
Restful API and GraphQL development
eCommerce application development
Payment gateway integrations
Social authentications
Third-party API integrations
Scheduled tasks
Hire a Django Developer using celery
Django Unit tests
Database setup
Function tests
CI & CD
Performance tuning
Load testing
Hosting and maintaining the framework
Migration from other languages to Python
Convert monolithic applications to microservices
Building search engines
Advantages of Django
Written in Python
The web frameworks become clean, readable, and maintainable. Developers at NBT can easily curtail the time of development by developing web applications without written code.
Accelerates Custom web app development
The design rules focus extensively on reducing development time as Django is the most mature framework. It enables developers to meet both goals and deadlines.
Batteries Included Framework
It adopts the batteries-included approach and provides resources required by developers. It provides code for operations like manipulation, HTML templating, URL routing, session management, and more.
Enables MVC Programming Paradigm
The Django framework supports the model-view-controller (MVC) design rule, helping programmers to separate the web application's user interface and business logic layers.
Compatible with Operating Systems & Databases
The accessibility is enhanced through Django as major operating systems are taken care of. Developers can even use ORM systems to perform common database operations and migrate from one database to another without writing additional code.
Large and active community support
The cost of development at Next Big Technology is reduced significantly as it is supported by a large and active community of developers. The process speeds up for custom web application development.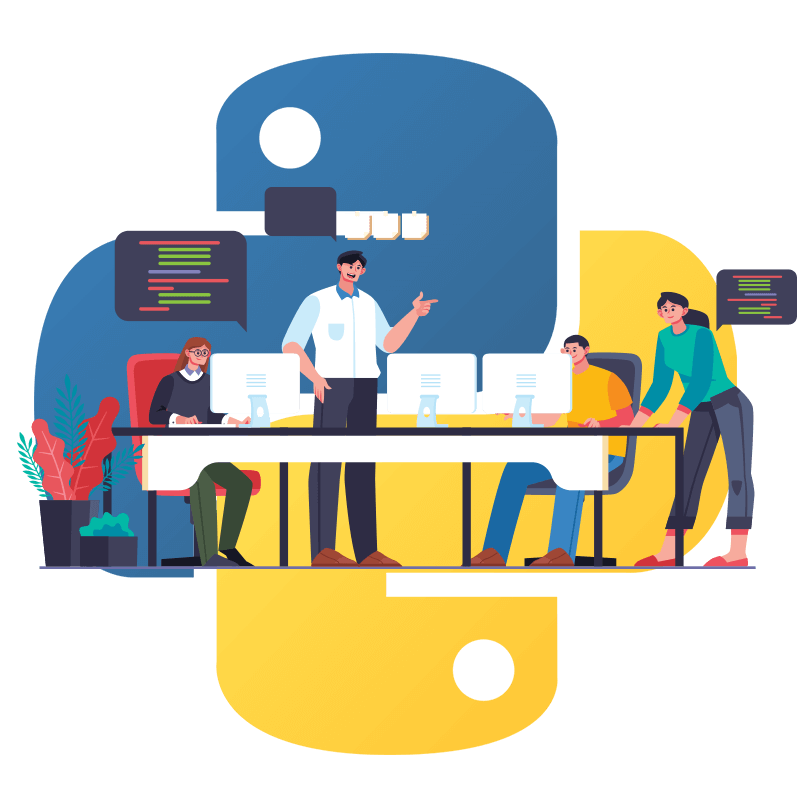 Hire Django Developers at NBT
If you want to hire Top Django developers, then keep these things in mind before approaching an independent developer or company. Look into the following criteria before choosing one:
Check for portfolio and projects of the developer of Django Development company
Get or connect with previous client's feedback
Test technical and soft skills
Sound knowledge of Python as Django based on it
Check for object-relational mapper
Ask for multi-purpose architecture
Know about Restful API applications
Responsibility and time management
Seeking expert help? Connect with our Developers
Now, you can hire the best and competent Django development company with knowledge of technical and non-technical backgrounds. You can connect with our line of experts for your web or mobile application development. We have managed various projects with large volumes of content, user interactions, or heavy traffic. We can deal with complex functions or technology. You have to simply choose us, and we will make it happen for you. It doesn't matter whether it is small-scale projects or large-scale. We are here for you! Expand your business and achieve all your set goals without facing any hurdles.
Please connect with us to discuss your requirements. Hire dedicated Django Developers with us to develop top-notch Web Applications.