In today's era everyone wants to have a trip which is perfectly planned, even if it is just to go out with one's friends. And waiting for a taxi till the last minute or not getting one can ruin all the plans. So, most people want to plan when they get a taxi as well. And in today's digital era with some taps in your phone you can get a taxi exactly from where you want it without shouting or waiting too much for one.
Introduction
Intense competition between traditional taxi companies and ride-hailing services is expanding since there is a wave of new companies entering this ever-evolving market. Companies providing ride-hailing services are moving from providing traditional taxi services to services that can be booked via apps, which makes the process more convenient for customers than ever before. The ride-hailing and taxi apps are expected to reach USD 242.73 billion by 2028.
Despite the existence of the market leaders like Uber and Lyft, this dynamic industry will keep providing opportunities to those deciding to enter the market. To develop one of your own you must first look into the features already available in the market and to make it easier for you we have provided you a list of the existing apps which gained huge popularity in a short span: –
| | | | |
| --- | --- | --- | --- |
| App Name | Downloads | Android Ratings | iOS Ratings |
| Uber | 500M+ | 4.4 | 4.8 |
| Lyft | 50M+ | 3.7 | 4.9 |
| Bolt | 50M+ | 4.8 | 4.8 |
| Cabify | 10M+ | 4.0 | 4.8 |
| Free Now | 10M+ | 4.7 | 4.8 |
| Careem | 10M+ | 4.3 | 4.6 |
| Gett | 10M+ | 4.4 | 4.8 |
| Curb | 1M+ | 3.2 | 4.8 |
| Blacklane | 100K+ | 4.5 | 4.9 |
9 Best Taxi Apps That Are Performing Well Despite Heavy Competition
Uber's name comes from the German word über, meaning "over, above", which also appears as a prefix, as in Friedrich Nietzsche's Übermensch, translated by George Bernard Shaw as "superman". Doing justice to the meaning of its name, Uber has proved to be superman for us. It is one of the oldest ride hailing mobile apps and is included in 5 expert collections, including supply chain and logistics tech.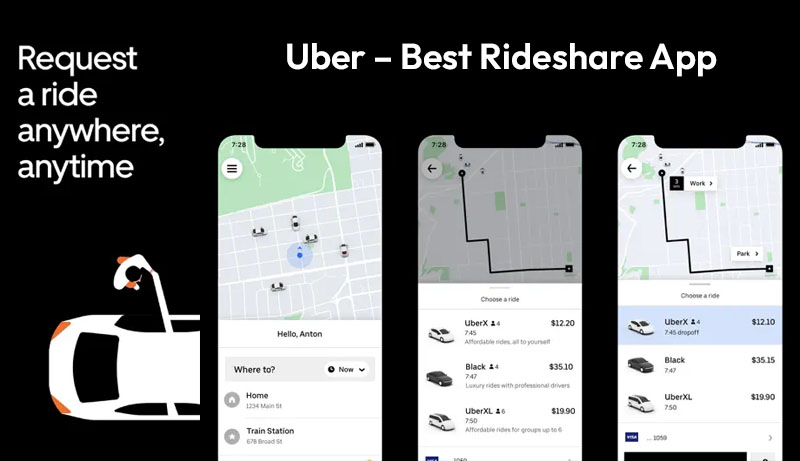 It enables you to use various options such as UberBLACK, UberX, Uber Rentals, Pre-scheduled rides, Uber Travel, and Package delivery. You can receive or send packages, gifts, and food as well all in one app. It allows you to sync your business mails and schedule your rides automatically in advance. The efficient support team, slick interface, and multiple options regarding both vehicles and payment make it a convenient option for the users.
Rather than letting technology distance people from each other, Lyft emphasizes the power of technology to bring people together and "reconnect communities." Being the strongest competitor of Uber, Lyft has served more than 45 million customers via its multi rides facilities in both USA and Canada.
With just a few clicks on the phone you can get your desired vehicle within a few minutes and go to your desired destination comfortably. And not only you but the drivers also get many advantages through the app. Destination mode for the drivers allows them to choose the riders who are nearby. The real-time updates on the location help both the riders and drivers in avoiding chaos.
Unlike other taxi apps, Lyft lets you choose pickup time to avoid any waiting charges later on if the driver arrives early. All in all, Lyft is a very straightforward app for both riders and drivers which simplifies the overall experience of drivers and riders, streamlining everything through the app.
Bolt is an European taxi app with over 100 million customers in 45 countries and 400 cities across Europe and Africa. The company challenges personal car ownership, offering better alternatives for every use case, including ride-hailing, shared cars and scooters, and food and grocery delivery.
This taxi app allows riders to use features like multiple stops, trip sharing, editing destination, contacting the driver or get driver's details and many more. You can choose your ride from – Economy, Bolt, Comfort, and other options. It gives multiple options for payment including credit cards, Apple Pay, cash, debit cards, and other wallets. It further lets you add the drivers in your favourite list for re-contacting them.
 Also Read : Want to Know about Taxi Booking Apps Business? Here is the Detailed Overview
Cabify is a Spanish taxi booking app which provides you with many options including premium cab, private car rides, taxi, and package delivery. It claims to be faster than Usian Bolt in ordering a cab ride or making delivery.
Cabify stresses on carbon neutral trips by offsetting the CO2 emissions generated by the trips. It allows you to personalize your journey by selecting how your ride moves, payment options, the beats you want to play on the radio, and other preferences such as AC, conversation, and open doors.
It is only available in 8 countries. Few of the cities in which Cabify operates are Lima, Madrid, Bogota, and Buenos Aires. Further, it keeps integrating new apps and services to provide you exciting rides.
Also Read : How to Build a Similar Taxi Booking App Like Uber? Read Here!
Free Now, which was formerly known as, My Taxi, is one of the biggest ride-hailing apps operating in 11 countries of Europe. It is part of the mobility joint venture between BMW and Daimler, formed in February 2019.
Free now values reliability and impeccable service for all its mobility services. It offers faster, safer and cheaper rides to all its customers. Through this app riders can book TIER/ Voi/ Dott e-scooters, e-bike, private cars and taxis.
To use e-scooters and e-bikes you are required to unlock them by scanning the QR code. There are cabs available with partition screens for the anti-social riders. It allows you to book your ride up to 4 days in advance. The loyalty program offered by FreeNow makes it even more exciting to use the app.
Also Read : Taxi Booking Mobile App Development Cost and Key Features
Careem taxi app operates in over 100 cities in 14 countries in the Middle East, Africa, and South Asia. It was acquired by Uber for $3.1B on March 26, 2019.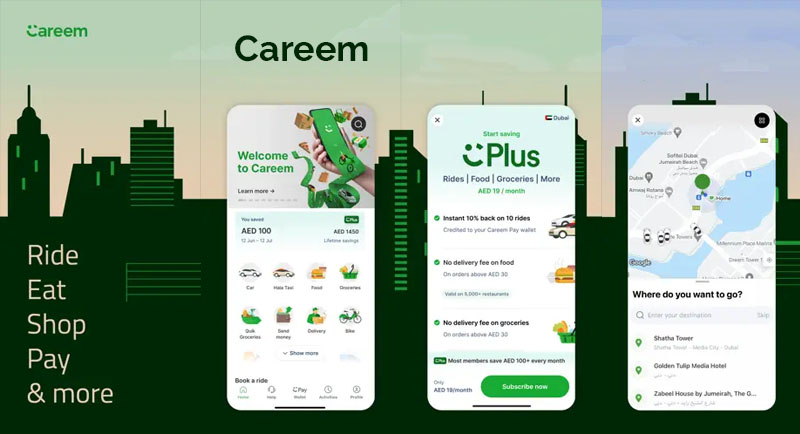 Its platform provides a marketplace of community drivers where you can request a ride in minutes, see the cost, and have it charged to the credit card of your choice, giving you access to convenient transportation.
It provides features such as selecting your preferred vehicle for the ride, tracking and sharing rides, multiple payment options, credit facilities, phone recharge facilities, food delivery, virtual wallet, package delivery, and exciting offers.
UK's highest rated black cab app, Gett, mainly focuses on corporate Ground Transportation Management (GMT), for a spend estimated to exceed $100B globally.
Gett, like other apps, provides a comfortable taxi ride experience to its users with pre-determined price. It is also planning on expanding the market to include the business class by providing hassle-free travel specially designed for those requiring frequent travel for their business meets.
It also lets drivers keep all of their tips making itself a prominent platform for the drivers as well. It lets you choose Gett Electric for booking an electric black taxi as an environment-friendly option, and Gett Green to make donation of £1.99 towards plantation in urban areas.
Curb is a proper taxi app which only provides taxis and not cabs. It lets you have a luxury cab-like experience in the traditional taxi. The inexpensive and never-changing surge prices with a comfortable experience make Curb a great option for the riders.
Curb also offers special preferences like wheelchair, AC, baby-seat, and music. One of the feature called 'Pair & Pay' lets you start the ride with a 7-digit code displayed on the screen in your requested ride. Other features are licensed and fully insured drivers, multiple payment options including credit card, PayPal, cash and earning free Curb rides via referral codes.
Blacklane provides you luxurious chauffeured rides in over 60 countries. Blacklane has been awarded 'Most Outstanding Chauffeur Service' by the Global 100 Index 2023, 'Best on the Road 2022' in the Travolution Awards, and 'Best Global Chauffeur Services Company 2022' by the Leaders in Luxury Awards.
It lets you choose from at least three vehicle classes including the electric vehicle for promoting an environment friendly ride. Airport pickups are provided with a complimentary wait time of one hour. The decent and rapid support services of Blacklane make the experience even better.
Also Read : How Much Will It Cost to Develop an Online Taxi Booking App?
Want To Create Your Own Taxi Solution?
Apps like Lyft, Blacklane, Uber are popular across the world for their unique features, price rates and reliability. Despite heavy competition all the apps are quite growing in their respective cities, countries and also worldwide.
If you want to create an app like Uber or Bolt or Cabify, then the best way is to share your unique ideas with any taxi app development companies who has the experience of making such apps and give a tough competition to the already available apps in the market.
In case, you have any query like how much it costs to make such app, how to hire taxi app developers to develop a taxi app, or how much time it will take to develop such app, just contact us and we assure you that sales representatives will get back to you and answer your queries without any cost.
Thanks for reading our post "Top Taxi Apps in 2023". Please connect with us to know more about Taxi Booking App Development.