The navigation app is very important in the current scenario. As we are living in an advanced world, a navigation app is necessary! Nearly 80% public use navigation apps. Instant guide aids the public to reach their respective locations. Is it not?
Next Big Technology has built navigation apps for android and as well as app For iOS/iphone platforms and NBT have vast experience in constructing such apps. Therefore, NBT stands as a leading Navigation App Development Company
You can approach NBT in case you need any assistance in navigation app development.
The large population use smartphones and they also tend to use navigation apps. You can simply contact any reputed mobile app development company such as NBT to assist you with your requirements and moreover you can also approach any experienced mobile app developer to clear your doubts.
First, let us know what is navigation app is and how is it built?
A navigation app is basically an app that directs you to the location where you want to. Previously before 10 to 15 years days were difficult because everyone if they wanted to reach their respective destination, they had to ask someone. But now if you own a smartphone in your hand then that is enough to direct you to the exact location where you want. You can use it when you are cycling, driving or if you are using any means of transport. Just you require a mobile phone, that's it!
For instance, every one of us would have used the Uber or the Fastrack app in our life. Is it not?
Let us discuss how the app is developed
There are few basic mandatory features necessary for building a navigation app.
Map
This is the key functionality of the app Without a map, the app is nothing. Through a map, the location is identified and direction is determined. When the app developer unites the cell id functionality along with the GPS, then the geographical location is located without any hurdles.
Developer use tools such as Google Maps API, HERE, Mapbox, Mapfit, or any other Application programming interfaces.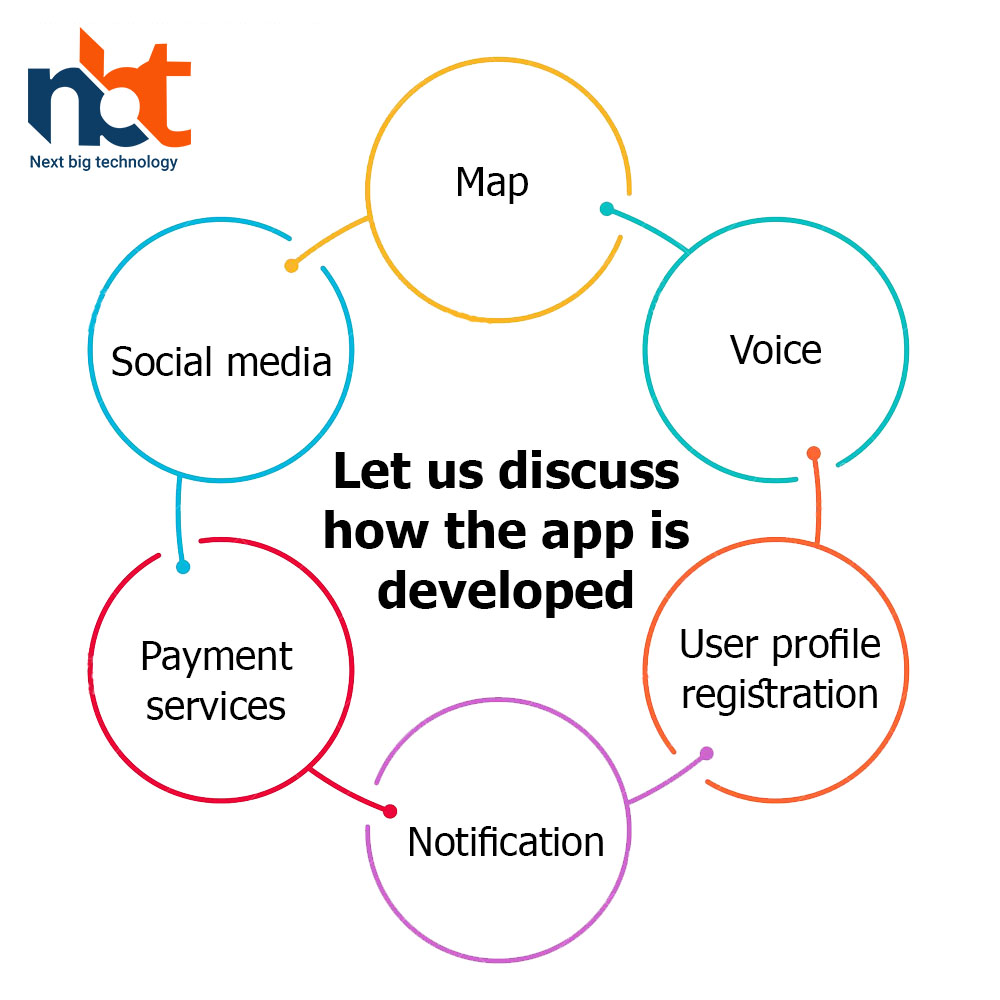 Voice
It is one of the prominent features which is used by the users. It is very much helpful, especially during driving. A person can choose the kind of voice he requires and with the help of the voice the directions are expressed and hence the drivers can follow that route.
User profile registration
It is also a significant step when starting off with the app because registration of the app is very much necessary so as to keep up the information regarding the person and hence the person receives all the notifications regarding traffic on the roads and more over all the history regarding the users past route searches, notes, and anything can be looked up.
Notification
Notification can be by either direct messages or by through the push notification method. You might need to decide which kind of method to be used, else you can use two of them.
Payment services
Payment services are a mandatory add-on to any kind of app. You need to incorporate all kinds of flexible payment systems so that it eases the customer. Meanwhile, you need to also think about shaping your app, especially the payment segment. In order to avail the complimentary deposits sometimes if the user cash backs, etc. You have the possibility to earn an additional income.
Social media
If you link your app with social media, not only the audience will get to know about your app, but also there would be no possibility of fake profiles when people log in through social media links. The audience can save time instead of building new user accounts and so on.
These 6 steps are fundamental attributes that are very much mandatory for building a navigation app, be it for android or iOS platforms.
Also Raed: Features to develop the right Android applications
A rough estimate of cost factor to build a navigation app
Based on the development factor, I.e. how many hours the developer works on building the app would simultaneously count the cost too.
On average to construct a navigation app – the front-end development might require 550 – 650 hours. Back-end development might require more focus as the user has to get the data downloaded. It might take around 550 hours roughly. User interface development might consume 200 – 210 hours.
The final stage is testing and the rest of the operations might consume around 100 – 120 hours.
Roughly the whole amount to build a navigation app might consume 57000$. Later technical support and maintenance scenarios also incur costs for you.
These costs are just a rough figure to build a basic navigation app. Cost depends on many other factors too. For Android or iOS, the costs are almost the same.
Next Big Technology is the best Navigation App Development Company to build a navigation app?
Here, we analyze the requirements and then proceed further. While analyzing the requirements we communicate with the client at regular intervals so that the scope of the project is well understood and then mention the cost. Costs at NBT are always reasonable.
Our developers are experts and are experienced and can tackle complex situations as well.
We deliver the deliverables at the correct time.
Our work speaks only of quality deliverables.
We make sure that we are communicating with the client regularly so that our beloved customer knows all about the project's status.
Depending on the customers' navigation requirements, projects cost might differ.
Factors you need to consider while building a navigation app.
A poor interface, voice, advertisements, slow functioning of the app, limited maps, high battery consumption, etc. Will make your navigation app unsuccessful.
These drawbacks must be corrected and fixed and hence Next Big Technology is the best choice because NBT makes sure that there is no place for such issues to happen as our team of developers possess extensive experience in the field.
Also read the Article: Logistics and Transportation Mobile App Development Cost and Features
You can also refer to our testimonials on our website so that you could know about our feedback from our clients.
Conclusion
We stand as the leading mobile app development company and web development company  due to our consistent efforts and hard work and moreover we have immense experience in building navigation apps and hence you can approach Next Big Technology the best Navigation App Development Company
The cost definitely relies on the project's navigation requirements. We always deliver the work at the right time as promised and of course with high standards and quality.
Our team of developers are well versed and experienced and it is always better to prefer the agency which has a lot of experience in order to avoid issues.
All the best!
Thanks for reading our post "Why Next Big Technology is best choice to develop online navigation app for android and iPhone devices", please connect with us for any further inquiry. We are Next Big Technology, a leading web & Mobile Application Development Company. We build high-quality applications to full fill all your business needs.