After a long, boring, and tiring day at work, the vibes of relaxing music while you are on your couch calming your mind might sound just right. But when you have to hear "Moonlight set thi, his favorite dish was also ready, but jaise hi Spotify playlist on kari, ad aa gayi – get Spotify premium now to enjoy music without ads", or when the network just goes down taking your mood along with, you might start considering the day as one of the worst ones. We can get how frustratingly annoying such ads and buffering become and to help you ease up a little we have listed out a few music playing applications that help you in avoiding annoying advertisements and enjoy your music tracks without interruptions.
We have prepared the below-mentioned list after properly using and researching them to provide you with the best possible options available in the market. These great applications will let you listen to your favourite music tracks without any intervention and alter the bass and other settings of the music to enhance your musical journey. Few of these offline music playing app provides you with only the basic functions a music player should have, whereas many of them provide more than just the essential features. To know more about the features provided by these apps dive into the list and information given below:
| | | | | |
| --- | --- | --- | --- | --- |
| Sr. No. | App Name | Downloads | Size | Ratings |
| 1 | jetAudio | 1 Crore+ | 13 MB | 4.3 |
| 2 | Music Player & MP3 Player | 1 Crore+ | 8.5 MB | 4.2 |
| 3 | AIMP | 1 Crore+ | 6.4 MB | 4.4 |
| 4 | Rocket Music Player | 1 Crore+ | 11 MB | 4.3 |
| 5 | Musicolet | 1 Crore+ | 7.7 MB | 4.6 |
| 6 | Boom | 50 Lakh+ | 19 MB | 4.1 |
| 7 | Simple Music Player | 10 Lakh+ | 4.6 MB | 4.1 |
| 8 | MediaMonkey | 10 Lakh+ | 16 MB | 4.1 |
| 9 | Stellio | 10 Lakh+ | 17 MB | 4.5 |
| 10 | Shuttle+ Music Player | 1 Lakh+ | 4 MB | 4.2 |
10 Best Offline Music Playing Apps
jetAudio
jetAudio is a very small app that will only use 12 megabytes of your Android phone. It offers plenty of useful features such as an audio enhancer, equalizer, and other editing features along with the usual feature of streaming audio music tracks. jetAudio could be a great delight for you if you own a great pair of headphones and are good at finding the perfect equalizer settings. You can save the perfect preset you just found after focusing on it for so long so that you can apply it again on other audio tracks as well. The AMD3 Audio Enhancer and Bongiovi Plus could be accessed only by buying the premium version of the app.
FEATURES:
It has an in-built AM3D audio enhancer.
It provides you access to multiple equalizers.
It allows you to save your work to reuse the settings again.
It includes sound effects automatically if you allow it.
It supports more than 10 audio formats.
Few of the features can only be accessed with a premium subscription.
Also Read : Developing Music Streaming App 2023
Music Player and MP3 Player
Music Player and MP3 Player is a totally free app but with not-so-annoying ads. The app automatically syncs the music tracks stored on your mobile phone and even displays the lyrics of the song tracks. The ads don't have sound so you can be assured about not having any jump scares if your volume is higher than usual. It even lets you listen to your call recordings and saved audio besides the usual song tracks. The app shortlists the albums automatically to make it even more convenient for you.
FEATURES:
It is available for free to download and is easy to use.
It only showcases the banner ads, i.e., without background music ads.
It has been downloaded more than 100 million times.
It supports lyrics during song streaming.
It shortlists the albums automatically for you.
It lets you listen to call recordings as well.
AIMP
Common music files formats, such as FLAC, MP3, MP4, and others, are supported by this offline music player application. A tonne of customizing possibilities, theming, and other fun features are also available to you for making our experience even more exciting. You will not have any trouble navigating the app and listening to music because of its straightforward and smooth user interface. It maintains simplicity with a decent Material Design user interface. Its excellent volume normalization, HTTP live streaming, and equalizer are to be commended. You can select any of the themes available as per your needs as it will alter how you can interact with the application. It definitely improves upon the majority of simple music player applications. To kill two birds with one stone, there is also a PC version available.
FEATURES:
It controls and manages sound effects automatically.
It includes a sleep timer.
It offers customizable UIs and four different themes.
It scans music and audio files saved on your phone to add to the library.
It supports multiple music file formats.
It is also available on PC.
Also Read : Music Stream Mobile App Development Company Cost and Features
Rocket Music Player
Rocket Music Player gives you total control over your music collection be it in any file format. You can organize your music tracks easily with just a single click. You can organize your entire library of music tracks by song, album, artist, or genre. There are more features offered like editing audio tags and creating your own playlist to help you customize your experience. If you want it to stream the lyrics of the song playing at the moment, you can download the lyrics separately and integrate the same with the app. Even though this music player app for offline nirvana experience provides many useful features, it has a catch – it comes with in-app purchases and annoying ads.
FEATURES:
It hands over total control to users.
It allows third-party integration for lyrics display.
It automatically syncs audio files on the device.
It provides customizable colour themes.
It includes ads and in-app purchases.
It contains a tonne of useful features, many of which you wouldn't often connect with music player applications. This music player app provides you with a totally offline experience, a minimal user interface, and a compact APK size of 7.7 megabytes. It also gives you features of widgets, folder browsing, an equalizer, and a tag editor. A unique feature offered by this app is that you can have multiple queues simultaneously. If you are looking for a simple offline music player application without any chaotic features, this app could be the one for you. Because it is totally offline, you don't have to deal with any annoying ads in between your music track streaming. It does not have any in-app purchases making it the perfect alternative for a music player app used for listening to music tracks offline.
FEATURES:
It quickly creates automatic playlists.
It allows a multi-selection of songs as well as their inverted selection.
It supports the synchronization of lyrics.
It provides widgets and other non-music player app features.
It provides many powerful equalizers.
It allows multiple queues of the song tracks.
It does not contain any ads or in-app purchases.
Also Read : How to Develop A Music Streaming App Development Like SoundCloud?
Boom music player lets you easily customize your music using its advanced equalizer presets and decent user interface. Additionally, you can activate the effects with a single click, transforming common songs into awesome-sounding 3D soundtracks. You can alter and adjust the parameters like bass, speaker source, and many more in real-time giving you a great music experience. You can even change the output and modes without having to pause your music track. Boom lets you stream Spotify music as well in addition to the offline tracks you've saved on your Android phone. You also get access to over 40k podcasts and radio stations.
FEATURES:
It allows streaming over 40k radio stations and podcasts worldwide.
It has a user-friendly interface.
It accesses music stored on Dropbox & Google Drive to add.
It allows modifications in output modes while listening to songs.
It provides immersive 3D surround sound.
It provides multiple equalizers.
Simple Music Player is one of the best music players to listen to soundtracks offline without ads! Yes, you read it correctly, it does not show any annoying ads. For a simple man with simple needs, this app hits the mark on everything. If you are looking for an app that seems perfect for playing music, this will get you by as you keep looking. As the name implies, it is just a basic and simple music player with equalizer preset settings. There are no fancy stuff and features and hence it is easy to use. Further, it sorts your playlists and folders automatically.
FEATURES:
It is totally free to use.
It sorts music tracks automatically.
It provides a no-ad experience.
It comes with an in-built equalizer.
It allows customization.
It has a simple user interface.
MediaMonkey is one of the underdogs among music player applications. It contains a tonne of features such as categorization of podcasts along with the basic features of seamless streaming of the music tracks, and equalizer presets. You can even sort your music tracks by composers rather than just the artist and genre. The feature which sets MediaMonkey apart from other players in the market is that it allows you to wirelessly sync your music libraries from your phone to your desktop and vice versa. However, it might be a difficult task to get a hold of this particular feature. Although it is mostly free, some of its features require a Wi-Fi connection and are only available after you pay for them.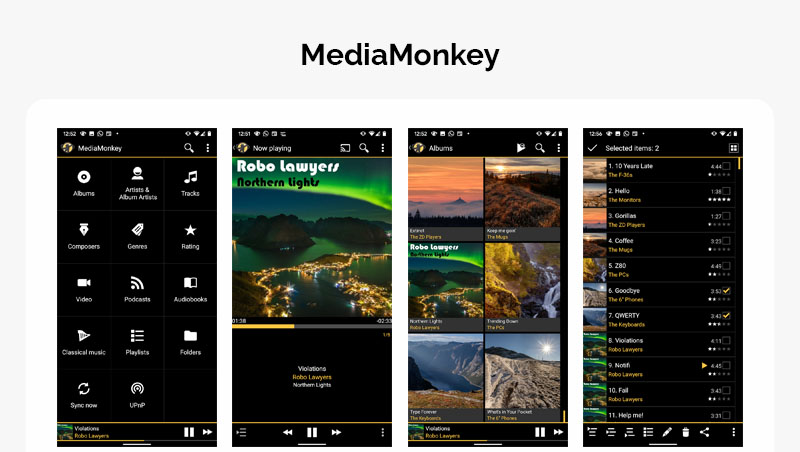 FEATURES:
It syncs music wirelessly among devices.
It allows bookmarking files to find them faster.
It includes a widget tool.
It sorts music tracks by composers.
It supports third-party lyrics.
Features involving Wi-Fi are not available for free use.
Also Read : Music Streaming Mobile App Development Cost & Key Features
Stellio plays music surprisingly well. It offers standard features, like playlists, different views, and even different themes. Further, you can look up lyrics online; once you do, they are accessible offline for you as well. It also provides you with features such as widgets, customization options, and add-ons like crossfade and a tag editor. Audio codec support is also above average. It also has an attractive white and blue designed interface that will surely catch your attention. This theme is considered to give you a calming experience that lets you enjoy your music tracks even more. Stellio works in the background making it easier for you to use other apps simultaneously. In this busy schedule, and loads of traveling, Stellio provides you with a soothing experience.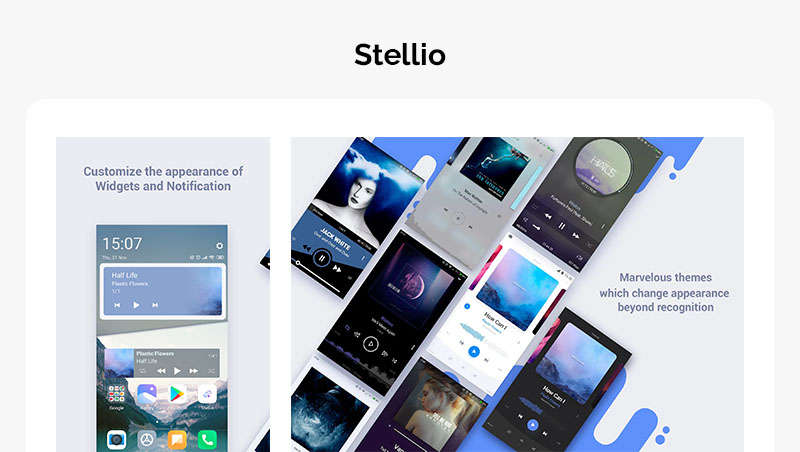 FEATURES:
It has a white and blue colour theme.
It provides 12 bands and presets for equalizers.
It has a widget tool as well.
It allows changes in the app theme.
It integrates lyrics through browser search.
Shuttle Music Player has been back with the name Shuttle+ Music Player with a complete rewrite in Kotlin with a promise that it will provide better performance and experience than Java did. With its automated reading of tags and folders, it provides a more reliable and accurate music library. It also provides you the ability to stream music from Plex, Jellyfin, and Emby servers. Besides the usual offline listening to music, you get access to a 10-band equalizer with frequency graphs, Chromecast support, a sleep timer, album shuffle, and many more such features ensuring you have a great time using this app.
FEATURES:
It is free to use.
It has a colourful user interface.
It allows tagging and music editing.
It shortlists albums and artists automatically.
It allows streaming music from other platforms.
It has been rewritten in Kotlin.
It provides frequency graphs with equalizers.
It has a sleep timer.
Conclusion
We hope this article has given you a quick overview of the features that offline music streaming applications provide and which you can use for free, for your after-work relaxation sessions available on the market. Now we would leave it up to you how to choose the best offline music streaming app for you. If you're not sure which one to choose, why worry when you can just download them to test their performance? These apps don't take up much space on your device, and experimenting is never a bad way to sort through apps to find the one that best suits your needs, right? So, what are you waiting for? Lay back on your couch, grab your phone, and start testing these great music streaming apps now! Also, if you are a developer and need your product on our list, you can contact us, and we will start researching your product and add it to our blogs.
Thanks for reading our post "10 Best Offline Music Playing Apps 2023".  Please connect with us to know more about Music App Development.