What is Shopify?
Shopify is the best E-commerce platform for many sellers. You can Hire Shopify Developer to simplify your web development process and to acquire an online store according to your requirements. Benefits of Shopify is one of the flexible, user-friendly, and scalable online platforms with many extraordinary features in-built and also come up with many numbers of apps.
There are many E-commerce platforms such as Magento, PrestaShop, OpenCart, etc.
Shopify has become one of the most prominent and the best E-commerce web builder in recent days after WooCommerce. Sellers can sell from any single product to any number of products using Shopify. Certain products cannot be sold via the Shopify E-commerce portal.
Also read the Article: Top Shopify Development Company
Now let us know the benefits of using Shopify for your E-commerce portal:
Easy to handle:
There is no need to depend on anyone for the setting up of the shopping portal using Shopify. It is a very easy process as the package itself comes up with everything needed to develop and maintain the portal. It offers all the software and hosting which is required for the set-up of the e-shopping portal. The admin alliance is instinctive and is very interactive for anyone who would want an online e-commerce shopping portal. It is the best start for any new business person.
App Incorporations:
The app has also come up with integrations. Many apps can be integrated into the portal. The portal can be customized according to the needs of your requirement. Hence incorporating and integrating additional features with the portal is a remarkable idea and the sellers are benefitted out of this prominent feature.
Magnetic appearance:
The platform has come up with many interesting features as such and the professional templates have given a unique and appealing look and these pleasant and magnificent colors encourage the customers to be glued onto the screen. Even though the package comes up with a smaller number of themes, Shopify Developers and designers are working on creating a store with affluent UI and uncommon UX.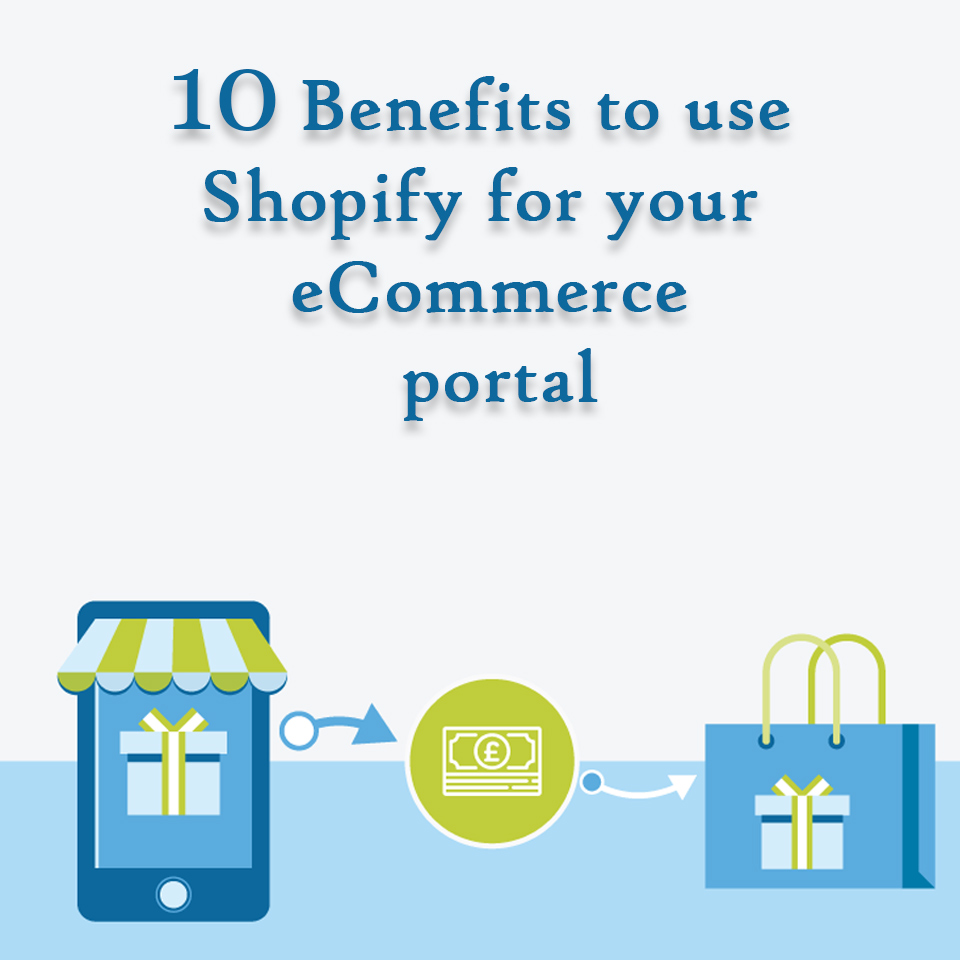 Security:
This sub-topic is generally an important concept for sellers before choosing any web builder to build their e-shopping sites. Because ultimately the data of either the customers or the sellers must be secured. All confidential and personal data must be handled with utmost care and intricacy.
To prevent hacking certain precautions are necessary. Considering all these factors you can choose Shopify undoubtedly as all the precautionary measures are taken with the hosted solution which in turn guards upgrades and maintenance.
Mobile sensibility:
Any user or customer will use mobile or any kind of handheld device. This is a key factor to run an online shopping business successfully. Shopify themes are mobile sensible and quick. A mobile-optimized store is availed. And many free apps from either I-phone or Android devices can be utilized to manage the store.
Marketing Aids:
Shopify comes up with marketing tools too. The basic version has SEO attributes combined with advanced e-commerce analytics. It provides many marketing tools such as custom gift cards, store statistics, discounts, targeted email marketing, and many more.
24/7 Customer support:
If you have any doubts or if you need any assistance then you can contact the Shopify customer support center. There are many channels through which you can approach them such as via email, phone, etc. They can address your issue and the support service people can provide a solution for your queries instantly. Meanwhile, there are many community forums and Shopify Help centers with elaborate documentation are present through which you can analyze your queries and can get a solution.
Easy payment gateway:
It is one of the biggest pluses if you have selected Shopify for building your online store. Shopify itself comes up with different types of payment options that help customers. The platform has come up with a Stripe payment option that permits you and your customers to complete the transactions without incurring an extra fee. If customers are not holding any credit cards, then can pay through a PayPal account. The process is very easy and many alternative payment options are provided. The payment done is also processed securely and there are no complaints regarding payment or transactions from any customers. Shopify comes up with a self-hosted payment option.
Cart-Recovery:
More than 50% of the population when browsing any online shopping store, then just skip the browsing process without buying their product. If the customer wants to look out or search for the same product online, in such cases the feature which comes up in Shopify benefits the customers to a large extent without wasting their time and efforts. Customers can easily recover their searched product and can start their process of either hunting for some other product or buying the same product which is recovered. In this manner, your conversion rate naturally increases as many people tend to purchase the product once they are reminded.
SEO-friendly:
Once the online storefront is ready, it is important to optimize your store for search engines. SEO-friendly is mandatory because if the customer tries to search and find the product by browsing the said online link must appear and the search process must be easy from the customer's perspective. Shopify is SEO-friendly and therefore you need not worry about it. Shopify enhances the searching process and allows custom title tags and meta tags for finer SEO.
Conclusion:
I have discussed the above 10 points which will be really helpful. If you are planning to construct an online e-store using Shopify, you can Hire Shopify Developers, if you are interested in customizing your online storefront. Benefits of Shopify is the best solution if you are planning to run an online e-store. There is always an option for you to close the subscription process and move on to other kinds of models and propositions. This option is left to you. Hence this flexibility is an advantage for any sellers who are setting up and want to run the online business initially. Shopify adapts to our needs and is the best platform to start with.