Since the pandemic's start, inventory management has been one of the most talked about topics (sadly, it still lingers in our life). When a global disaster hit, every company knew it was important to have good inventory management, but only a few could do it well.
It can be hard for businesses to keep track of their stock correctly. But many companies have trouble figuring out the right amount of inventory, avoiding stockouts, keeping storage costs low, and setting lead times, all of which are important for running a successful business.
We're glad you've chosen our system to keep track of and run your warehouse.
Warehouse inventory management is getting stuck into a warehouse or other storage facility, keeping track of it, auditing it, and managing it so that orders can be filled.
A warehouse manager ensures everything goes smoothly and safely when it comes to getting, storing, moving, processing, and delivering goods.
In a warehouse, there are three main ways to keep track of the stock: the push system, the pull system, and the just-in-time method.
How to keep track of stock in a warehouse
Just-in-time
Just-in-time delivery, also called JIT delivery, is a method of distributing goods in which small amounts of goods are made at the last minute and sent out as soon as needed. It is often used to make foods, medicines, and other products where quality and freshness are very important.
Cross-Docking
Suppose you have a warehouse with a receiving dock and a loading dock facing each other. In that case, you can use cross-docking to manage inventory that involves moving goods diagonally across the ports. Cross-docking is when cargo is moved from one dock to another when the other dock is empty. So, cross-docking can work as efficiently as possible. In addition, cross-docking eliminates the need to load from both ends of the ports simultaneously, which takes a lot of time.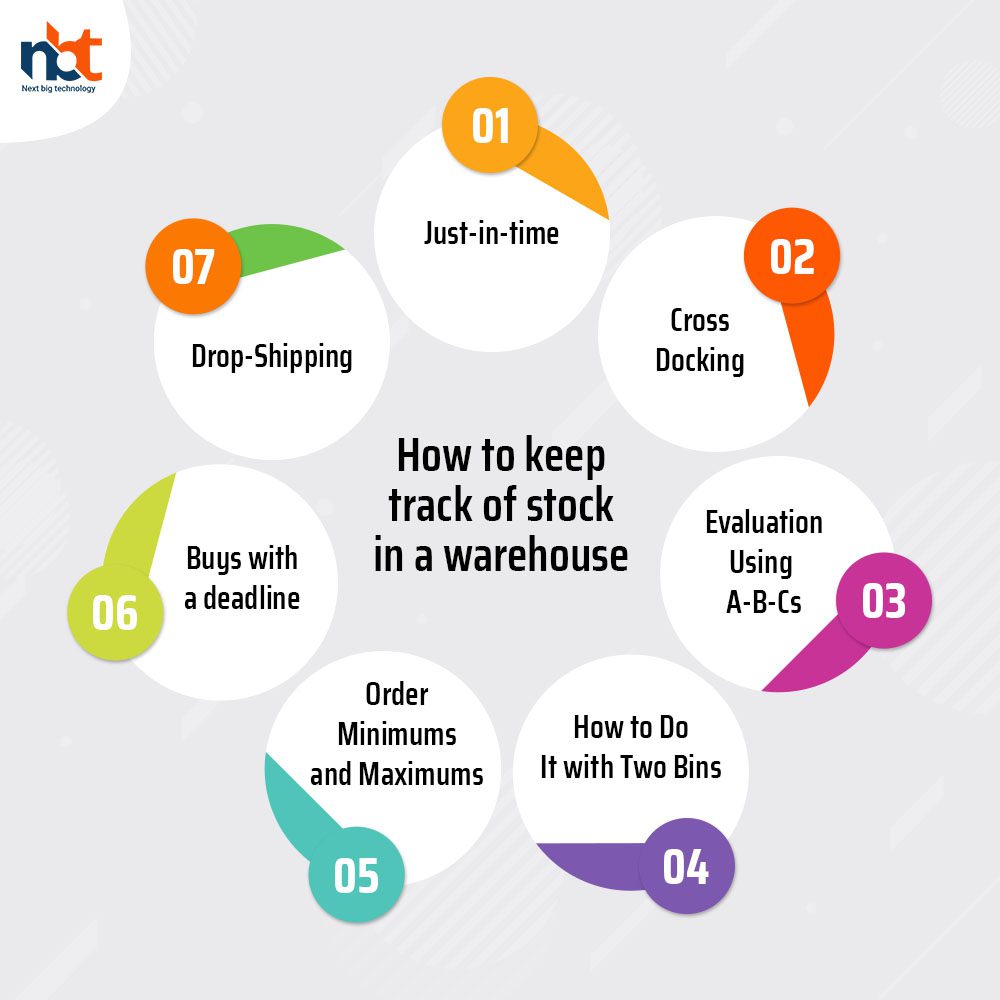 Evaluation Using A-B-Cs
The ABC analysis is a tool that businesses often use. It is important to keep track of stock and ensure your inventory management plan has the right amount of people working on it. For an ABC analysis, you would divide your store into three groups: A for your best-selling items (usually 20% of the stock), B for your average-selling items (30% of stock on average), and C for your worst-selling items (50% of stock on average).
How to Do It with Two Bins
So that there is always enough stock on hand, the working stock of an item in the working bin would be moved to the reserve bin when there wasn't enough room in the working bin. The other option is the single-bin system, in which both your working stock and your reserve supply are kept in the same place.
Order Minimums and Maximums
With a fixed order amount, you can avoid running out of stock by only ordering what you need when you need it. In addition, if you take steps to reduce unused inventory, you may be able to serve better customers who buy a lot and spend less time restocking every day.
Buys with a deadline
The FPO method, or just the FPO method, ensures that the same amount of money is always deposited on the same day.
Even though it's been said before, fixed-period order is still a good way to sort things, even though it repeats stuff repeatedly. These orders are often used again to do something like manage risks or figure out how much trade will cost. Stock Controlled By Vendors
To meet customer demand, there has been a recent shift toward using vendor-managed inventory. When a company expects to make a lot of sales quickly, it may use this method. Vendors take care of ordering and distributing products in vendor-managed inventory models instead of retailers or warehouses.
Drop-Shipping
You won't have to worry about stocking products using Drop Shipping. When a consumer orders, you get the product from the vendor and send it to the end user. The package goes straight from the seller to the buyer. Then, you put the item in a new box and send it to the buyer.
How to put together a good warehouse management system.
Set up a list of your stock's priorities
When managing your inventory, you should first figure out which items are essential to running your business and which are holding it back financially or in other ways.
Often, the first step in turning a losing inventory situation into a winning one is to work with what you already have and then add more inventory.
Hold Information on Items
As you learn more about how much your stock is worth, you'll be better able to spot problems and find solutions.
It's important for managing your stock always to have accurate and up-to-date records of everything you have. You might be surprised by how much this will affect your company's bottom line.
Stocks Are Checked Often
An audit can help you save money by showing you expenses you didn't know about, cutting down on waste, and making the most of how you manage your inventory. Frequent stock audits are the best way to ensure your company has enough of the right list to meet its needs and reach its goals.
Tell us about sales
Keeping track of sales is another seemingly simple thing that can help you manage your stock. However, setting goals and keeping track of how many of those goals were met is only one part of sales tracking. It also involves finding patterns, figuring out where problems are, and developing plans to fix them. In addition, it is very important to know when a new business opportunity comes up and how and when to take advantage of it.
What do you think, in the end?
Our ways of stocking, moving, and displaying goods are getting better to serve our customers better and speed up our processes. However, today's warehouses have many problems with storage and transportation that can't be solved by just taking a quick look at the stock. To make the most of the space you have and save money, you need to be able to see the stock levels in full detail.
You need a WMS with the features you need to get the most out of your inventory and cut costs.
Thanks for reading our post "Warehouse Inventory Management Solutions: A Complete Guide", please connect with us for any further inquiry. We are Next Big Technology, a leading web & Mobile Application Development Company. We build high-quality applications to full fill all your business needs.