The real estate industry includes many types of property which include development, appraisal, marketing, selling, leasing, and management of commercial, industrial, residential, and agricultural properties. Any industry can fluctuate with the economy of a country but this one stays almost same with the time whether anything happens or not people will be needing a roof over their heads and businesses will need office space to operate.
And this real estate market moves quickly when it comes to a time of buying or selling a house. People can easily get lost in all the procedures needed to be done before they sell or buy a house. But today there are many applications that help you to stay on top of it all.
WHAT IS A REAL ESTATE APPLICATION?
Real estate apps allow people to filter their choices by location, type of place, budget, and many more. These apps help people to connect with real estate agents or the owner of the property directly which makes it a lot easier for people to get their dream home.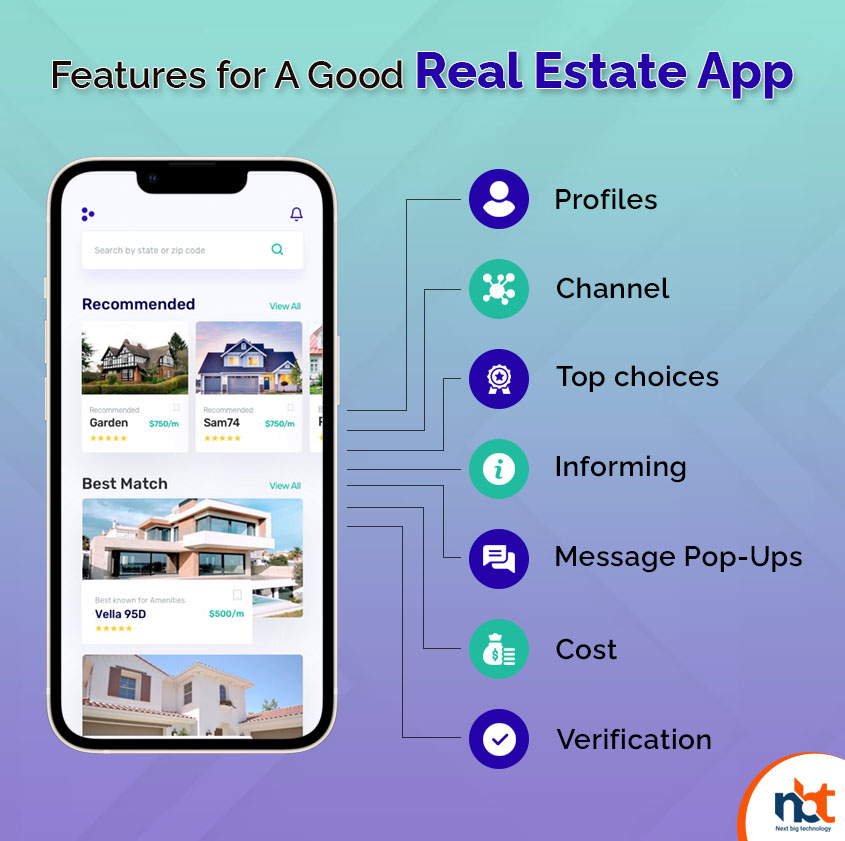 TYPES OF REAL ESTATE MOBILE APPLICATIONS
There are various types of applications with different features are available. Here we have given you a breakdown of the same:
Dedicated real estate company application:

This application helps real estate agents to list properties, upload pictures and videos and list information about the properties and it also lets the agents share the same with potential buyers. These apps sometimes let the buyers have a video walk through the property.

Property buy-sell app:

These kinds of apps are used as an online marketplace for buyers and sellers where they can register themselves, browse through their options and check out properties and list them here.

AR VR real estate mobile applications:

These kinds of apps are best to get a thorough experience to their buyers when they are looking for properties. With these apps, users can visualize the space, feel the layout, and see how the property will look with furniture. It's like an app where you can check your dream place without even moving into it or even if it is not even constructed. With these apps, they can have a 360-degree walkthrough of the properties from their mobile or laptop itself.

Smart home (IoT) mobile application:

With the help of these apps users can control their homes from their phones only which can make it easy to do a lot of things like switching on or off a light or adjusting the thermostat or even unlocking the property. These apps can be a great help for those who want to manage their properties remotely.
Here we will share the top 9 real estate apps with you from which you can get an idea of how this work.
TOP REALS ESTATE APPS OF 2023
| | | | |
| --- | --- | --- | --- |
| Serial no | Application name | iOS rating | Android rating |
| 1 | Zillow | 4.7 | 4.8 |
| 2 | Trulia | 4.3 | 4.8 |
| 3 | Redfin | 4.8 | 4.7 |
| 4 | Loopnet.com | 4.8 | 2.6 |
| 5. | Realtor | 4.7 | 4.2 |
| 6 | Apartments.com | 4.8 | |
| 7 | Xome actions | 4.3 | 4.6 |
| 8 | Magic bricks | 4.3 | 4.0 |
| 9 | Homesnap | 4.8 | 4.3 |
Zillow is the top pick for the best real estate mobile app overall in 2023. It's an all-in-one app that lets you search for homes, estimate your mortgage payments, and find local real estate agents.
It has features like the safety of neighborhoods in a particular area,  pre-approval assistance and easily customizable search filters, keeping up to date with fast-paced real estate markets,  virtual tour of properties.
PROS:
Access to over 1 million listed properties
Comparison between properties
Customized filters
CONS:
Doesn't show all available properties in an area
Price listing not accurate
Also Read : Develop an App Like Zillow and Trulia-Real Estate App Development
It is one of the best apps which provides more information about what goes into a home value than any other apps. It uses Zillow data to provide properties and other information but in a different manner than Zillow.
This app has a feature that lets the users check how the price fluctuates of a property. It also let the users save the previous searches and get notifications when new listings that match a user's criteria is posted.
PROS:
Nearby places
Buyers can ask questions to the agent
Pre qualified financing and calculator
CONS:
Not many listings
Dropped crime data feature
Similar to Zillow
Also Read : Everything You Need to Know About the Cost & Features of Real Estate App Development
This app is a combination of both cutting-edge technology with actual Redfin real estate agents and customer service employees that keep the human element in process.
This app has simple features like customizable filters, setting up notifications, booking of home tour.
This app has a lower commission fee as well
PROS:
Free market analysis for sellers
Home buying calculator to budget
CONS:
Limited details surrounding neighborhood
Operates in selected market.
Also Read : How to Develop A Successful Real Estate App for Your Business?
com
It is the best app for entrepreneurs as it only lists commercial properties.  It is also useful for investment purposes as it includes detailed infinity on property values, demographics and market trends.
PROS:
Easy to navigate maps
Save previous searches
Seamless messaging system between buyer and seller
CONS:
Outdated information
Bugs in filter option
No residential properties
It is the official search portal for the national association of realtors. It offers properties that are directly sourced from over 800 MLSs.
Realtors can update their listings for free.
PROS:
Hiding listings from search result
Last updated shown
Neighborhood noise level assessment
CONS:
Also Read : How Much Does It Cost to Build Real Estate App, Website?
com
Thanks to the 1.1 million listed rentals combined with amazing imagery, this app is renter's favorite place. It allows users to set up alerts for the new listings
PROS:
Advance search option
Filter includes wheelchair access
CONS:
Sorting and update may not be reliable
Paid in-app features
Cannot save searches as favorites
It is the best app if users want to buy the property through auction as it has a comprehensive online bid listings. This app also let the users know whether the property is financeable or the amount needs to be paid in cash.
PROS:
Largest database of auction properties
Access to pre-auction properties
Contract e-signing within the app
Access to real time bidding
CONS:
Bugs
Relatively new with a small client base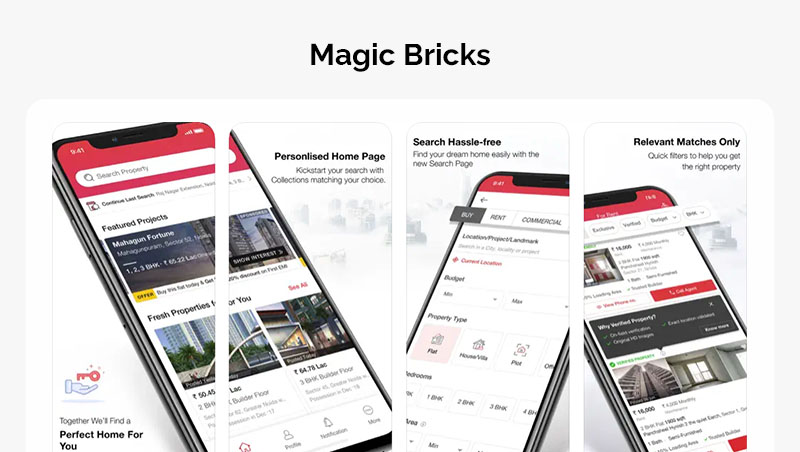 This app is always available to help it's users whenever they need it because of its great customer service. It also Integrates services like Google Maps and ola service to move around easily.
PROS:
Properties pre-certified by registered architect
Feedback
Comprehensive information about property
CONS:
Works with certain developers, so, if builder is not on the list then they cannot use the services
Paid subscription service
Also Read : Top-Notch Real Estate App Ideas for Your Real Estate Business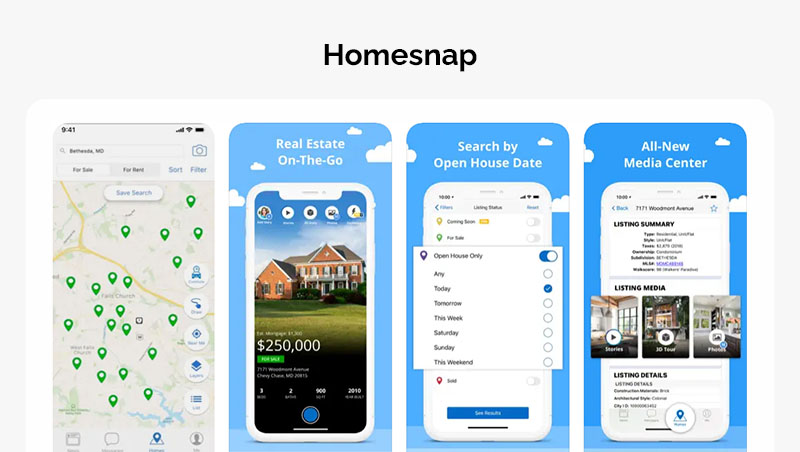 Homesnap is the leading real estate mobile app, connecting millions of homeowners, homebuyers, and renters with top local real estate agents and brokers.
Sellers on Homesnap can create their listings with photos and videos from within the app as well as add personal notes about what sets their house apart from others on the market. The app also makes it easy to find sellers that are willing to accept all-cash offers, have no closing costs, and come with extra incentives like furniture packages.
PROS:
CONS:
Works with licensed agents only so, if you are not one then you can't use the app.
Fewer data provided
No built-up mortgage calculator
Also Read : How Building a Mobile Application Can Be Beneficial for Your Real Estate Business?
HOW REAL ESTATE MOBILE APPLICATIONS WORK
A real estate mobile app must have all the features like customizable search options, desired amenities, wheelchair accessibility, uploading of pictures and videos of the property etc. so that a buyer can get their dream house and a seller can sell or rent their properties.
BENEFITS OF REAL ESTATE MOBILE APP
Using these apps, buyer can get a list of properties available in their desired area quickly and without much hassle.
Property sellers can benefit from an extended reach via these real estate apps. They can easily list their properties on the app, reach a wider customer base, and secure information about potential buyers.
With these apps, buyer can customize their searches as well which makes it even more easy for them to get their next home.
HOW REAL ESTATE APPS DETERMINE VALUE
The top real estate apps offer tailored home value listings to help you evaluate the fairness of the property's listing price. Although each real estate app has its own valuation method, it is typically based on the following factors:
Square footage area
Location of the property
Number of bedrooms and bathrooms
Amenities offered
Prevailing market trends
Recent comparable sales
The algorithms being a private matter, the exact way to assess the prices are not known. But it is seen that most of these apps use Comparative Market Analysis (CMA) to determine the value of a property. Alternatively, some apps also use AVM (Automated Valuation Models), which leverages algorithms to try and determine value.
CONCLUSION
Real estate apps are not new in the market. But with advanced technology, it is sure that this opportunity is not going anywhere. In fact it will only grow and come with more benefits for both buyer and seller in the future.
Thanks for reading our post "Top Real Estate App 2023". Please connect with us to know more about real estate app development and real estate portal development.