INTRODUCTION
A news app is an extensive interactive database that recounts the tale of a breaking news event. The main focus of this application is to connect news articles from all around the world and deliver it to user as fast as possible in best visualize way. It can help readers understand a story in a significant way by providing them with data that is specific to them. A news app should tell a story, and like any good news story, it should include a title, byline, lead, and nut graph. Some of these notions can be difficult to spot in interactive software, but they're present if you look closely. An app for breaking news should also be generative, which means it should generate more stories and reports.
Numerous news websites are available, and keeping track of them all might take time and effort, leading to decreased demand for newspapers. The revenue of the paid breaking news apps was projected to grow by around 2200 million USD in 2023.
TOP 10 NEWS APPS IN 2023
Here is a quick look of the top 10 news apps which we are going to see in details after it:
| | | | |
| --- | --- | --- | --- |
| Sr no | Application name | Build year | Availability |
| 1 | AP News | 2018 | Android and iOS |
| 2 | The New York Times | 2008 | Android and iOS |
| 3 | CNN NEWS | 2009 | Android and iOS |
| 4 | BBC NEWS | 2010 | Android and iOS |
| 5 | NewsBreak | 2019 | Android and iOS |
| 6 | Apple News | 2015 | iOS and macOS |
| 7 | Smart news | 2014 | Android and iOS |
| 8 | Google news | 2006 | Android and iOS |
| 9 | Feedly | 2008 | Android and iOS |
| 10 | Flipboard | 2010 | Android and iOS |
TOP 10 NEWS APPS (ANDROID AND IPHONE )
Let's talk in details about these applications:
The associated press news is an American not-for-profit news agency which provides real-time news updates. It is one of the largest and most trusted sources of news gatherings. AP news provides both audio and video news to its users.
FEATURES
Free download
Personalized newsfeed
Local, national and international news
Hubs of curated content
Award winning article and images from across the world
Compared to other applications, the New York times is the most popular news application among the users. It keeps its users updated on the latest events and cultural stories from 50 bureaus worldwide. It has won 112 Pulitzer Prizes, more than any other news organization. This app is easy to use and customizable as per the topic interest of its users. It also has augmented reality and 360-degree movies for a more immersive reading experience.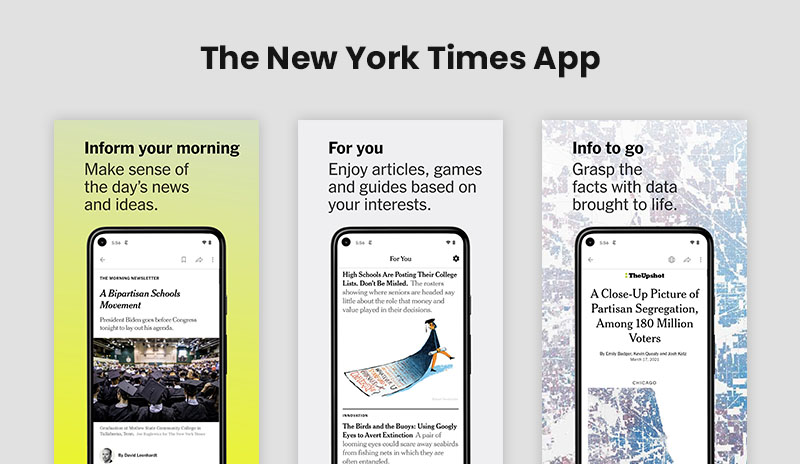 FEATURES
News alert in time
Saving favorite articles to offline reading section
Podcasts and audio news available
Users can share news in other social sites
Dark mode
CNN news is known for its dramatic live coverage of breaking news, some of which has drawn criticism as overly sensationalistic. CNN's official mobile app accounts for 40% of all internet traffic, and users find it fascinating and straightforward. CNN claims to be "The Most Trusted Name in News".
FEATURES
Up and down navigation
Configurable alert notifications
Video news and photo gallery
Access to CNN's original series, TV shows, and movies.
Also Read : Why Create a News App to Kickstart Your Online Magazine?
The British Broadcasting Corporation news is a British public service broadcaster. Its main responsibility is to provide impartial public service broadcasting in the UK, Channel Islands and Isle of Man. BBC is a public corporation of the Department for Culture, Media and Sport. The design of the new BBC App (right) is more modern and attractive than the previous version (left). The use of white space and large images make the app feel less cluttered and easy to use.
FEATURES
Personalized news feed
Rapid content location by search tool
Photo galleries, movies and audio news available
Works in offline mode as well
Newsbreak takes the cake when it comes to location-based news, which makes it one of the best app for news. It is a website and app aggregating purely local news depending on location. This app has a social media-like approach to news, where users can like and comment on each news post. This element of interaction can be pretty interesting for social media buffs. This apps is free and can be accessed offline as well.
FEATURES
Save news
Offline reading
Quick and easy to use
Notification alert
Interactive like social media where users can like and comment on news post
Card-view for a more engaging, less overpowering experience.
Apple News is an exclusive news platform for iOS users. It's designed with a clean, modern aesthetic that's perfect for catching up on the news. This app lets you follow your favorite websites and manage subscriptions if you have any. It's a pre-installed application in all the Apple devices.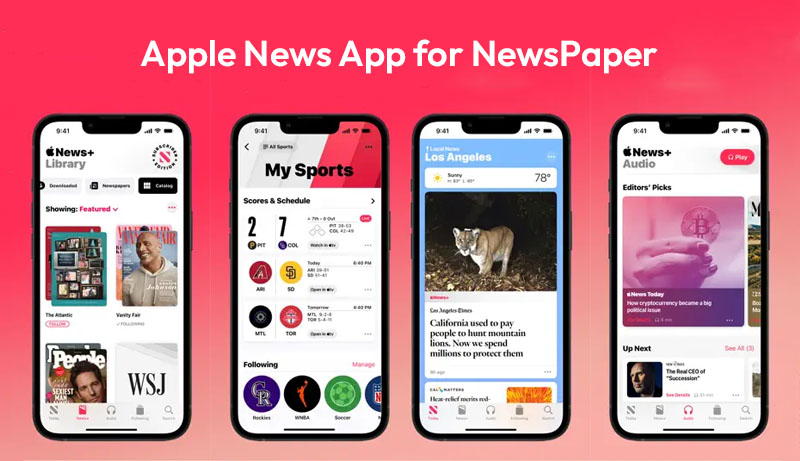 FEATURES
Apple News improves based on your preferences and employs "on-device intelligence" to recommend stories.
Apple News only has specific permission to access your information and does not allow marketers or publishers to track you.
A Today section that compiles important stories and News Digests, which are curated by Apple's editorial team.
Pre-installed in Apple devices.
This application provides its users with only the most high-quality, trusted content. There's a unique tab manager at the top through which you can quickly switch between various sections like Sports, Technology, and others, and a Search and Explore tab is available if you're tired of your usual destinations. Like others, SmartNews has standard features like an offline mode.
FEATURES
High quality content
Offline and travel mode available
Create a schedule based on personal daily needs.
Easy and efficient news reading experience with pictures
Google News app is another Google Inc. news aggregator app. It is a straightforward news reader relying on several contextual frameworks to catch stories tailored to user's interests. Google News also allows its users to read magazines and even sync their paid subscriptions. Users can also choose what content appears in the Google Feed or its news feed.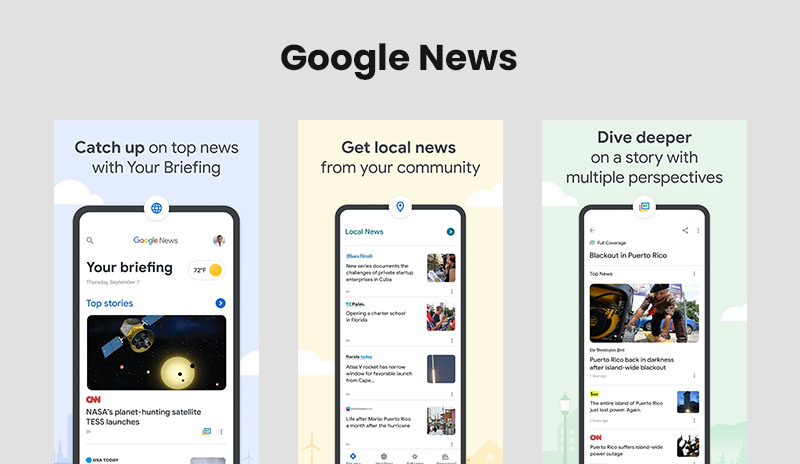 FEATURES
The "Full Coverage" option under each headline allows users to gather coverage from the best news sources on a specific topic
Subscription for news outlets
Interconnected updates on the most recent developments for existing news updates.
Also Read : Everything You Need to Know About Newspaper App Development
Feedly is for people who depend on their own RSS list for news instead of an algorithm. It is one of the first apps to utilize RSS feeds, and it quickly developed a loyal following, propelling them to prominence in the news and information sector.
FEATURES
Integration with Facebook, IFTTT, Twitter, Pinterest, LinkedIn, Evernote, OneNote, and other services is simple.
Easy UX to customize reading option
Machine learning that assists in the delivery of tailored content to users.
Flipboard takes a more visual approach and tries to emulate an authentic magazine experience which means that users have a proper page flip animations in the news feed. It is established on the idea of curating digital magazine, a collection of content culled from user's favored news sources, blogs, and any other site from which users may plug into Flipboard (which is all of them). It's close to an RSS reader but more of a news app.+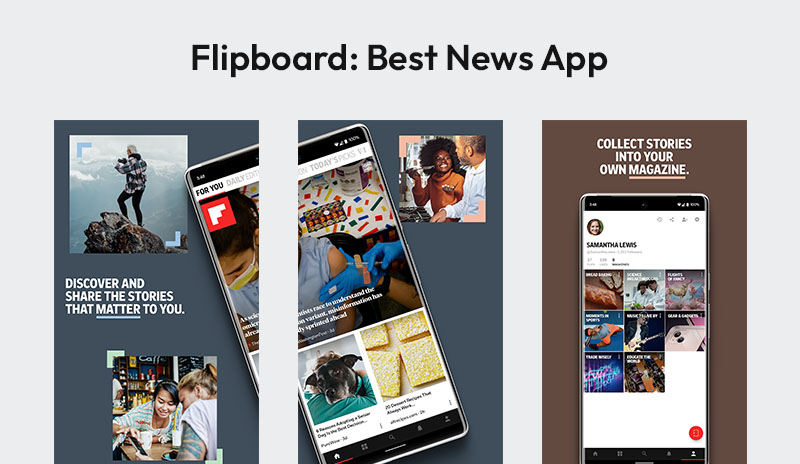 FEATURES
Simple access to the top nine interests
Read, like, and share breaking news and articles.
Other Popular News App
Digg App
Digg is also another popular news and story app. It delivers interesting stories and news online. It provide news and stories with quality articles, images and videos.
Also Read : News Mobile App Development – A Complete Guide
HOW TO BUILD A NEWS APPLICATION?
Developing a news app might not be easy but it is surly very beneficiary. And there are various way to develop a news app whether you are developing a news aggregator or a free news apps for a particular publisher. Here is one of them:
Blog post: sync with your site's blog and write for your customers
News RSS: Sync with your RSS feed to keep your customers up to date with the latest on your business.
Push notifications: Notify your users when new article is published.
ADVANTAGES OF DEVELOPING A NEWS APPLICATION
Here we have shared 4 critical advantages of creating a news app
Control over content distribution: when users find your content through search engines or social media, you have less control over how it is distributed. You even might have to go through many hoops so that your material is noticed. But you develop a news app and users read the news by downloading it, you gain control over your content distribution. Here you can share most meaningful stories which will intrigue the audience .
Create a superior user experience: A popular news app helps you present your users with the best experience available. You might utilize your data and see what will interest your audience the most and how they can customize notifications for topics of interest and providing newsletter can make people coming back again and again. These advantages boost user engagement and give a more gratifying user experience.
Push notifications: notifications has one of the vital roles in engaging audience to a news app. If they get to see their interesting topics on the notification they will surly open the app to read further about it .According to eMarketer, 43 percent of US smartphone users click on news notifications all the time, 45 percent click on them occasionally, and only 11 percent claim to rarely click on new alerts.
App store optimization: Having an app is best because then users don't have to search everyplace to find about their news. These apps can easily be found in the google play store and app store from where users can download these apps easily. That is why, you must utilize ASO to ensure that your app is exposed to a relevant audience, allowing you to acquire organic users cheaply.
COST OF BUILDING A NEWS APPLICATION
The cost of developing a news app varies with its features and requirements. The usual MVP of a popular news app development estimate varies between $5,000 and $20,000 for a basic app. The range may differ if you want to add complex functionality to your app. A high-end news app that allows more user interaction costs between $5,000 and $50,000.
CONCLUSION
Today when users go to search for a news app in app store, we find so many apps there providing us so many stories. And they know which app will help them the most to get the news about the topic they are interested in. These news applications have reimagined how we read the news by providing a more tailored user experience based on our needs and interests.
And not only for the users, for an entrepreneur it can be compelling, profitable, and unique field of work with intense competition.
So , for people who are thinking how to start how to manage, sustain the competition, and ensure that you have a tremendous lightweight news app, we hope that with this article you get an idea how these apps generally works, so that you can develop your own app. And if in any step you feel stuck and need help, feel free to contact us. We have a team of expert developers who can help you develop your app.
Thanks for reading our post "TOP 10 NEWS APPS 2023 (ANDROID AND IPHONE)". Please connect with us for news app development.