If you are planning for starting a business with the health care app then you need to know about everything regarding the healthcare industry. We need to have a complete market analysis before we progress further with the health care app. According to various reports, the health care app development has globally increased annually between the year 2015 to 2020. With the increased demand for medical start-ups and various other healthcare, applications are on the demand.
We can easily hire healthcare app developers for developing in both iOS and Android app platform food stores in this article we will completely talk about everything regarding hiring healthcare app developers. Every developer needs to have proper knowledge in programming languages but it will not be enough for the best health care app development. We need to understand that coding is not entirely about health care software development we also need to have various expertise and skills to properly have a final version of the app.
Also read : Top trending mobile applications used in the healthcare industry
Guide to Hire Healthcare App Developers:
There are various ways that we need to properly follow to get the best health care app, developer. We need to properly analyze and understand the market along with the usefulness of the developers to have the most professional outcome.
Hiring developers based on advanced skill:
Before hiring an app developer, we need to know that they think beyond the coding. Any expert healthcare app developer will guide you through the entire process in a professional manner along with proper suggestions and recommendations. Most importantly they will have better knowledge and experience on the apps as they have worked in the same industry with several other clients.
Checking the rating and review from the clients of past work experience:
We need to properly check out all the client review from the past work experience. To get the proper knowledge on any health care app developer we need to explore their website with all their portfolio and past work data. We can also check their testimonials on the page and get the various reviews being posted on the developers. We can also have communication to know about their past work experience before hiring them for any health care projects.
By checking out their passport we will get to know about the proficiency while building any health care. If they're having lots of experience in this industry then they will offer us the best possible innovative solution for our healthcare app project. So we can easily hire them according to their expertise due to their proper involvement in the industry.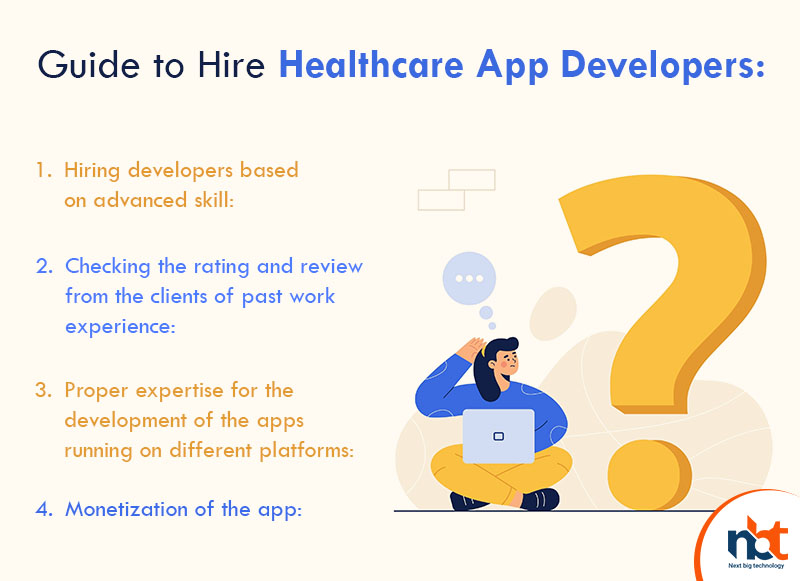 Proper expertise for the development of the apps running on different platforms:
We need to make sure that our health care app needs to be launched on all the major platforms including Windows, Android, and iOS. This is the best way to get engaged with all the target audiences in every platform without much requirement for marketing. This methodology will help us to get ahead of all the competitors so that we need to properly analyze and hire any app developers who are having expertise in developing on different platforms.
Monetization of the app:
We need to make sure that our app will have the best monetization model to give the best chance to increase the user base along with boosting the revenue income. In case you are looking for the best start-up for the digital healthcare service then we would suggest you go for the monetization model.
Any experienced app developer will suggest you regarding the monetization of your app to ensure you the best experience on health care app development. Various ways can be used for advising the app which includes upgrading to remove ads, affiliate programs, the ad revenue model for monetization of the app, in-app purchases, and mobile marketing automation.
Also read : A Complete to Hiring the Top Healthcare Mobile App Developers
Choose the Whole Package Instead of Coding:
To get the best experience in mobile app development we need to think beyond coding. Before hiring any health app developers, we also need to understand that they will also think about other functionality is apart from creating just coding. It also includes the functional design as long as proper user experience. It is recommended to never hire any health care app developers in case you are not having a proper understanding of their work process.
We need to properly analyze and have the access to testing performance, the team of designing and usability. The user interface of the app will also play an important role in the success of the healthcare app. We also make sure that the developer can be delivered a seamless user experience and attractive functionalities for developing both Android and iOS development. So, we have provided all the best ways to hire any healthcare app developers apart from focusing on the coding.
Every app developer needs to have the right mixture of talent and development skills to have an innovative healthcare app outcome.
Most Important Skills for Healthcare App Developers:
Every project is the dream project for any industry so we need to be cautious about hiring any healthcare app developers. Any wrong decision can change the dream into our worst nightmare. Various skills need to be properly analyzed before hiring any professional for a healthcare app development project.
Data Security:
Data security is much essential for any happy industry which also includes the health care industry. Every app developer needs to have proper knowledge on strong encryptions with libraries, tools, and secure coding practices to have the best possible security for the app.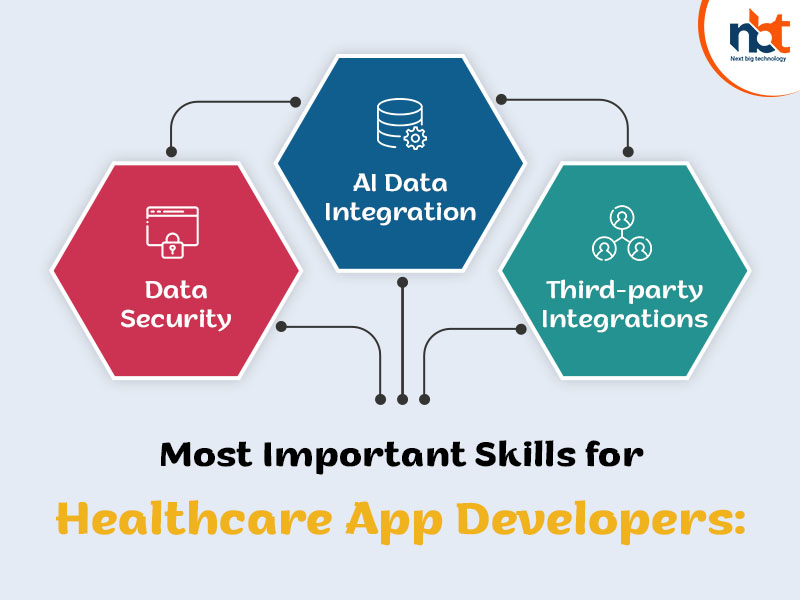 AI Data Integration:
With the increasing demand for health care management in the digital process, we also need to focus on offering the same existing healthcare data structure with artificial intelligence. It will help in maintaining all the organizational structures along with the implementation of the risk models.
Third-party Integrations:
Almost every computer in the healthcare industry has started implementing third-party integrations to offer more functionalities. It will help in taking care of the proper workflow delivery by quickly promoting the service. It is much important for having proper knowledge of various integration standards by the healthcare app developers.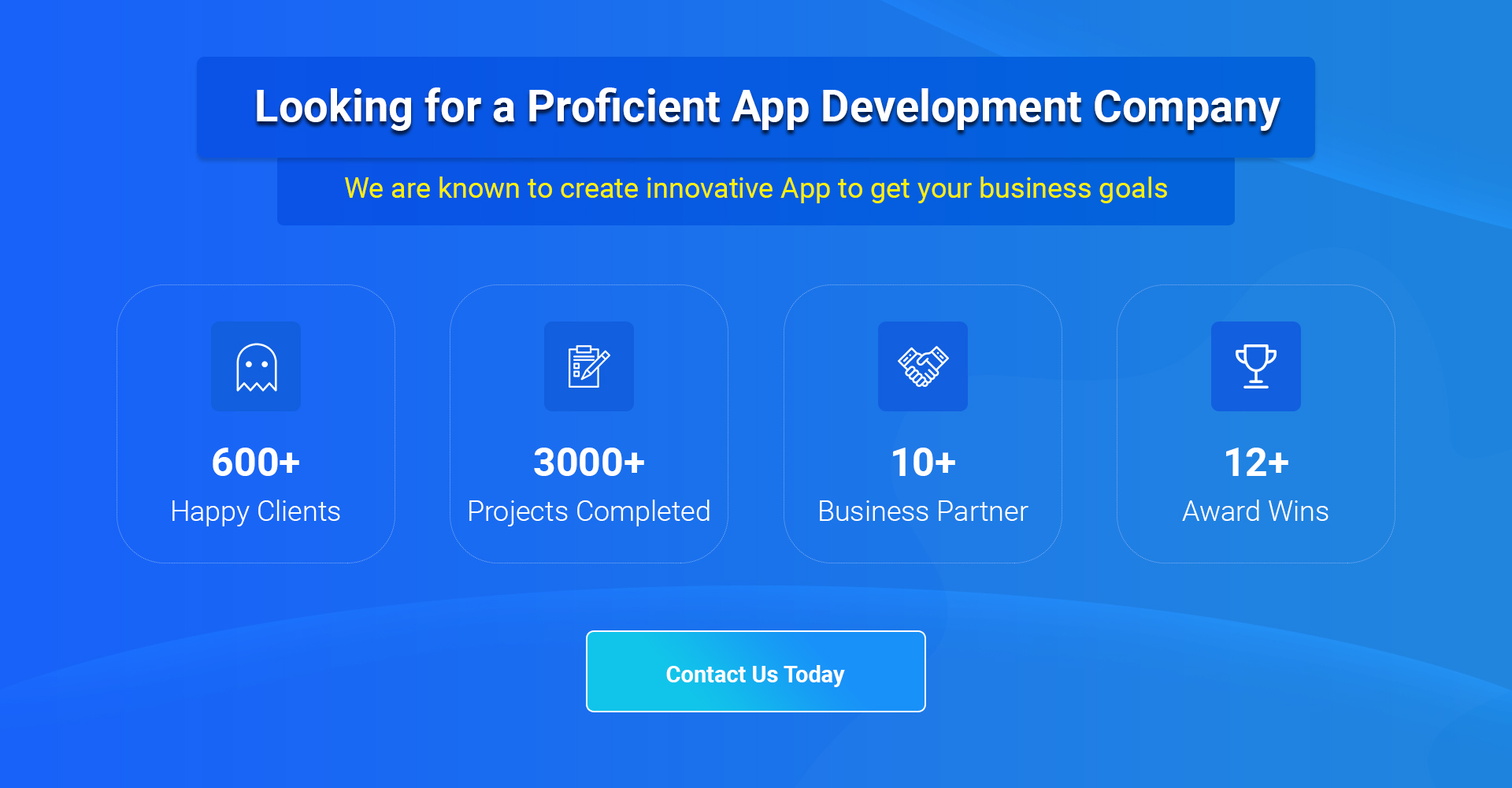 Thanks for reading our post "How to Hire Healthcare App Developers", please connect with us for any further inquiry. We are Next Big Technology, a leading web & Mobile Application Development Company. We build high-quality applications to full fill all your business needs.