Having the best educational training can help your kids with great knowledge and information. It will make them aware of the new age educational plan and keep up with all their employment requirements. With this, the next big technology app development company offers a tutor application for the kids. Nobody can deny the fact that learning has no limit. Therefore, students need additional guidance to improve their skills completely. There are certain factors to consider while developing an education and tutoring apps, including the following:
1.Educational app ideas – Everything starts with just an idea. It is undoubtedly half the success. Therefore, try to innovate and create ideas that could make your tutoring easy, special, and original.
2.Market research – Check the originality of your idea. In addition, competition shows the relevance of your future mobile service. To avoid the possibility of getting lost among competitors, do your best to find ways that make you stand unique.
Also read : What Are the Best Education App Ideas for 2021?
3.Testing educational app ideas – Test your idea among representatives of your target audience including kids, students, or teachers. Ask about their interests and use them when developing an app for education.
4.Hiring educational app developers – This is an essential stage that should include prototyping (creating a screen flow), UI/UX design, development stage, testing, release assistance, or more.
Tips on educational application development
Knowing the tips to build an educational app, you need to know how to improve its profitability. Under given are some important ones:
1.Use real teaching methods – Education should be always efficient. If you do not understand the pedagogy, do not stay on the expert advice.
2.Game elements – Try to put the knowledge into practice. In other words, learning apps can be implemented as exciting games.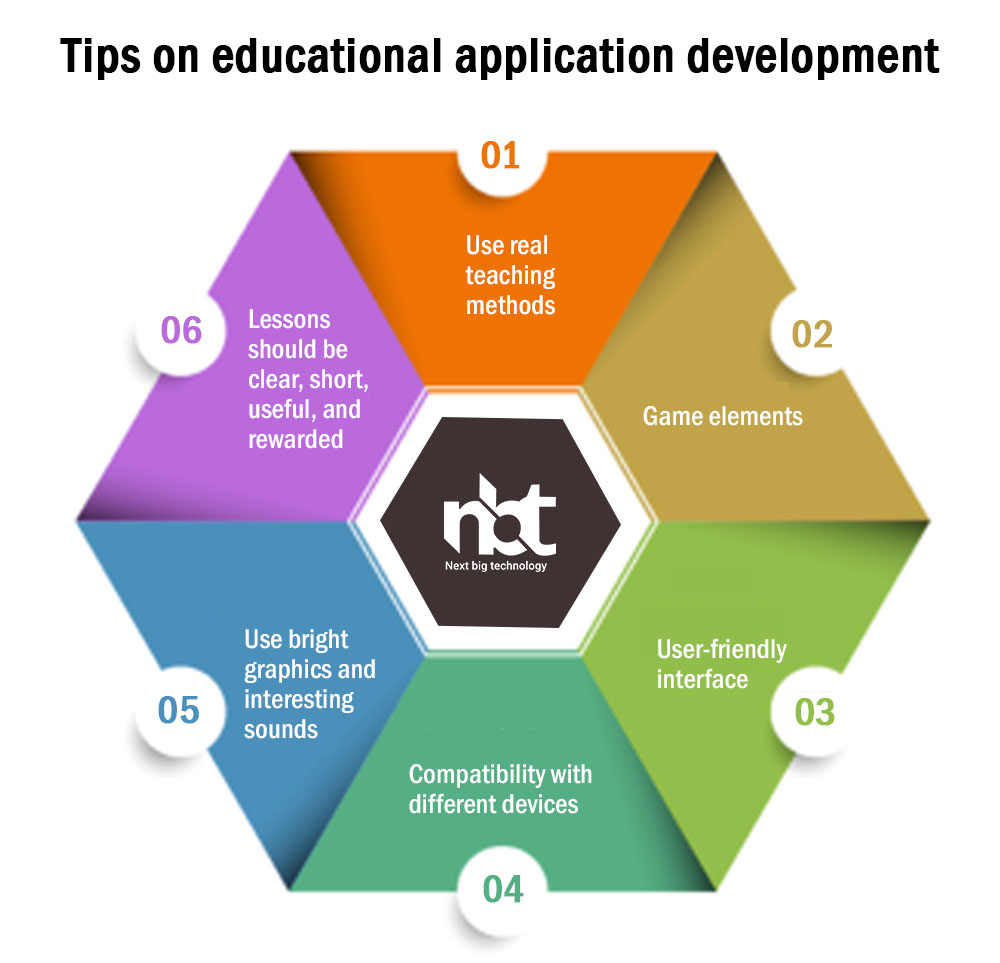 User-friendly interface – It must be simple, clear, and nice. When it comes to children, the simplicity of application design is paramount.
4.Compatibility with different devices – Consider all the possibilities because you do not know which platforms your users prefer, whether iOS or Android.
5.Use bright graphics and interesting sounds – At the same time, developers must ensure that the sound effect can be turned off in order to accommodate the needs of all customers.
6.Lessons should be clear, short, useful, and rewarded  – If a user has to spend too many hours doing the task, he will get bored, and it is dangerous when it comes to mobile training services. While developing education & tutoring apps, reward the learner if he/she has successfully completed the task. A bright & innovative greeting sticker with a cheerful musical accompaniment would make a great reward for the user.
Also read  : How to Make Rock Paper Scissors in Python | Intermediate Python Tutorial
Conclusion
The tutoring services are booming with time. Earlier, if students require help with their homework, they could hire a neighborhood tutor to come to their home, or seek out after-school centers. Today, online tutoring sites enable them to work with a tutor at any time of the day. The development world has made it a very innovative and helpful concept.
Thanks for reading our post "A Complete Guide to the Mobile App Development FutureFactors to consider while developing an education & tutoring apps", please connect with us for any further inquiry. We are Next Big Technology, a leading web & Mobile Application Development Company. We build high-quality applications to full fill all your business needs.